By Sophia Hussain
It's the season to embrace the magic of mists!  I absolutely adore facial mists, as water is the perfect natural beauty boost for a sweltering summer, especially when they are infused with botanical concoctions designed to promote healthy glowing skin.  This year-round beauty staple not only cools summer hot skin and nourishes dry skin ravaged by winter cold climate, but it works on long-haul flights too.
Although they may not be a high priority on your beauty shopping list, I can definitely state as a beauty expert and makeup artists that facial mists are a multi-functional beauty must-have – they can be used to hydrate the skin, soothe irritations, impart a youthful glow, and even set your makeup to perfection. And on the hottest, most humid days, store your spray in the fridge and spritz liberally for an extra burst of cool. To use, hold the product away from the face, close your eyes, and spray the facial mist starting from the forehead to the neckline.
Whether you love the scent of coconut or roses, need something with astringent qualities or anti-ageing, there'll be something for you from our list of 12 natural and organic hydrating mists. They're also all vegan friendly, and are perfect for boosting your skin's beauty routine right now.
Reveal luminous skin with this popular French beauty elixir, which contains the perfect botanical blend to instantly hydrate, and even treat a rogue blemish within a few days.  Containing the brand's signature grape extracts, combined with citrus extracts, myrrh, and mint oils, the mist will leave a mild tingling sensation to instantly boost skin's radiance. Oh, and yep – we know it says Parfum on the label, but we've been assured this contains a 'secret blend' of essential oils and no nasty chemicals, just so you know.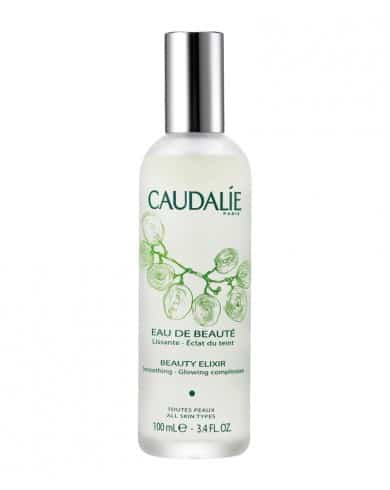 Beautiful fragrant roses are the secret to an ethereal glowing complexion, since rose water is a natural astringent that helps tighten pores to maintain youthful supple skin. Containing only purified water, distilled rose water, and rose oil, this Turkish delight is so natural, it's also edible! A few drops added to a glass of water provides a natural detox formula.
A kiss of this mist will hydrate sensitive skin types. Containing fresh flower extracts, hyaluronic acid, natural antioxidants and hydrating glycerin, this soothes and repairs dehydrated, fragile skin, restoring the natural pH balance to encourage self-healing. Smells divine, too!
Want super soft skin like a supermodel?  Get misty with this juicy infusion of orange, mandarin, and bergamot, to reveal a fresh face especially suitable for oily and combination skin types. It's a favourite of Kora founder, Miranda Kerr, especially on the many long-haul flights the Aussie model takes around the world.
Refreshing and uplifting, this alcohol-free mist uses the scents of Himalayan cedarwood, Indian Lime and an Asian citrus fruit called Narangi to add a zing to the senses and revive your energies. Personally, I absolutely adore the invigorating scent of this one! It's perfect for spraying all over the body before a yoga workout.
Containing nothing but mineral rich water from France, this is possibly the most natural way of re-hydrating your skin and reviving your energies. Perfect for hyper sensitive skins and excellent on a long haul flight: just gently spritz on every hour or so to avoid a dehydrated complexion when you land.
Great for closing pores and removing traces of cleanser, HerbFarmacy's vegan-friendly Rose Toner is also a great skin tonic. Echinacea's gently astringent qualities help to close the pores after cleansing and the rich Damask Rose provides a good skin toner with an uplifting aroma.
Herbivore Botanicals Hydrating Face Mist Rose Hibiscus  was created with pure plant actives and no nasties at all. A refreshing base of coconut water is infused with youth-boosting hibiscus flower petals and moisture-enhancing rose to tone, hydrate, and soften all skin types. Bonus: this is vegan friendly, too!
This refreshing floral mist acts as a toner with its 21 high-performance ingredients to deliver moisture and create a plumper-looking appearance. The all natural formula also helps enhance the performance of moisturisers and serums that follow, while natural humectants help draw moisture from the environment for extra hydration.
This facial mist helps to support the skin's natural defenses against oxidative stress caused by pollutants, including that hard-to-avoid city smog. It reduces the appearance of dullness and combats signs of fatigue on the skin. The effects of cigarette smoke, exhaust fumes and heavy metals are all reduced thanks to the natural oils and waters in this mist – just use it regularly and you'll see a difference!
Need a collagen boost? This is the mist for you! Farmacy's Skin Dew contains a unique form of echinacea that contains the highest known concentration of cichoric acid, which helps protect the skin by supporting natural collagen. Cichoric acid also promotes a more evenly toned complexion. Horsetail juice -a natural extract of the perennial horsetail herb that contains vitamin C, tannins, and mineral salts – helps freshen and tone the skin while providing both antioxidant and skin soothing benefits.
Ever felt like your skin has been in need of a pick-me-up during the day? It's easy for skin to become bogged down by pollution and toxic elements, especially if you work in the city, but AlkaGlam has created a facial mist to bring hydration back to skin wherever, whenever. And all you need is filtered water, which you add to the mineral beads to release a mix of anti-ageing properties that will both refresh and revive skin. It's the perfect skincare accessory if you travel often, as its 50ml size will allow you to carry it with you on a flight. It also works to set makeup; just pop it in your handbag and pull it out when your skin needs it. But the best part? This refillable mineral spray lasts for a whole year, no matter how much you may use it! Just keep adding that filtered water. Simple!
Main image: Miranda Kerr Instagram
This site uses affiliate links with brands we trust, and if you make a purchase using a link, we may receive a commission.
Did you enjoy this post? Want to show your gratitude? Please support us on Patreon!