Dry skin? Red and inflamed? Too oily? We found the best natural and organic face masks for every skin care need!
By Diane Small
No matter what the season, it's a fact that weather can play havoc with your skin. In the winter, central heating makes it dry and flaky, whilst the wind and cold outside can lead to redness. A lack of sunshine can lead to vitamin D deficiency and duller skin, and we tend to drink less water in winter too, favouring hot chocolate, tea and coffee – none of which are as hydrating as simple H2O.
In the summer, of course, the sun does a number on our skin, doing damage that eventually ends up transforming into brown spots and wrinkles over time. So, how can we mitigate the effects of weather (and time) on our skin?
Good news!  A simple face mask with gentle yet power-packed organic ingredients list can target many of your skin's main issues, restoring your visage to radiance with just a few applications.
Whether it's resurfacing, hydrating, or detoxifying that your skin needs, these natural and organic face masks are here to the rescue. Oh, and they're all vegan friendly, too!
The Best Clean Facial Masks For All Skincare Issues
A natural beta-hydroxy treatment, this mask works like a traditional acid peel to give dull skin an instant boost. It contains pomegranate enzymes to minimise pores, and white willow to eliminate dead skin cells, amongst other organic ingredients.
I know that 'resurfacing' sounds harsh, but actually it's a very gentle mask that gives a bit of instant cellular renewal.
Price: $68
Best organic face mask for: Acting as a natural peel, shrinking pores
Doing double duty, this wonderful organic face mask uses three kinds of purifying clay to pull impurities from the skin to detox, but also uses activated charcoal to exfoliate.
I know these ingredients sound potentially abrasive, but never fear: raw cacao leaves the skin soft and rejuvenated.  
Price: $50
Best organic face mask for: Purifying the skin, removing dead skin cells
What's SuperNAD, I hear you asking? No, it's not the latest Marvel superhero. Though it is a kind of 'superhero' for your skin!
NAD, a.k.a Nicotinamide Adenine Dinucleotide, is a coenzyme present in every cell of your body. It provides intense lifting, hydrating, desensitising, and renewal effects for your skin. These sheet masks by INVITY are full of the stuff, as well as loads of nourishing plant-based ingredients, such as prickly pear seed oil, white snow tea, and tamarind seed gum. Each active ingredient is designed to hydrate and protect the delicate skin of your beautiful face.
But that's not all! These sheet masks are made of a soft, natural banana natural fibre that's non-toxic and fully biodegradable.
Price: $55
Best organic face mask for: Anti-ageing, repairing damaged skin
This clean, simple, natural anti-ageing treatment will remove accumulated debris from the skin, while enriching it with phytonutrients and minerals.
The main ingredients are extracted enzymes of pineapple, papaya and cellulase, among other enzymes, that are there to nourish and hydrate the skin.
Add your favourite facial serum or oil to this mask to create the ultimate skin nourishing experience.! 
Price: $39
Best organic face mask for: Exfoliation
If you're wanting the ultimate pamper session, this detox mask from Baroque & Rose will feel like you've just left the spa. The unique and innovative mask produces immediate results, improving the look and feel of skin from the very first application.
The mask works by stimulating the natural process of skin repair. Once applied, the mask provides soothing, hydrating, plumping, and revitalising action to the skin.
What can you expect post-mask? Super soft skin that is actively glowing.
Price: Around $200
Best organic face mask for: Detoxing, anti-ageing
Deep hydration is the name of the game here. Organic olive and jojoba oils will improve elasticity and moisture levels, while Vitamin E and tea tree extracts to fight free radicals. Hyaluronic acid plumps fine lines and wrinkles immediately, making this the perfect for mature or dry skin.  
Price: $50
Best organic face mask for: Really deep hydration
This pre-prepared sheet mask is like a spa in a package! Ginseng is known to be anti-ageing, and improves collagen production for a more elastic skin. The hydrogel in this natural face mask is composed of 95% organic aloe vera gel, which allows the active ingredients to be absorbed right into the skin.
It doesn't cost a fortune, and it's a lot of fun to use! 
Price: $7.98
Best organic face mask for: Improving collagen production
This is like a refreshing cup of matcha – for your face! It's a detoxifying enzyme peel made from upcycled food. It's almost pure enough to eat! You need to add water, hydrosol or vinegar, depending on your needs, to activate it.
Since it's super concentrated, a little goes a long way.
Price: $38
Best organic face mask for: Detoxing
Andalou Naturals Pumpkin Honey Glycolic Mask sounds good enough to eat! It's based on organic pumpkin and honey. Rich in Vitamin A and glycolic acids, it gently dissolves and removes dull surface cells.
But that's not all! Fruit stem cells stimulate circulation and healthy cell renewal for even tone and texture, revealing a luminous complexion
Price: $16
Best organic face mask for: Making your skin really glow.
Here's another matcha based face mask. But this one is paired with clay and lemongrass to help those with acne prone or blemished skin.
This mask specifically reduces the appearance of pores, targets blackheads, spots and oil. The end result? Your face is left feeling cleaner, softer and more revitalised.
Price: $33
Best organic face mask for: Those prone to acne and blemishes.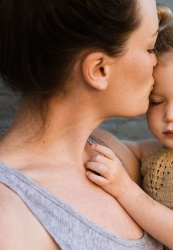 Latest posts by Diane Small
(see all)