By Jenna Catherine
Agh, winter! It's simply plays havoc with your skin. Central heating makes it dry and flaky whilst the wind and cold outside can lead to redness. A lack of sunshine can lead to vitamin D deficiency and duller skin, but we tend to drink less water in winter too, favouring hot chocolate, tea and coffee, none of which are as hydrating as simple H2O.
By now, you're probably fed up with your dull, winter complexion. But there's  good news!  A simple face mask with gentle yet power packed organic ingredients can target many of your skin issues,  restoring your visage to radiance.
Whether it's resurfacing, hydrating, or detoxifying  there's a natural or organic mask to treat your concerns.
Organic Masks for Exfoliation
A natural beta-hydroxy treatment, this mask works like a traditional acid peel to give dull skin an instant boost. It contains pomegranate enzymes to minimize pores, and white willow to eliminate dead skin cells. It sounds harsh, but actually it's a very gentle mask that gives a bit of instant cellular renewal.
Doing double duty, this face mask uses three kinds of purifying clay to pull impurities from the skin to detox, but also uses activated charcoal to exfoliate. Sounds harsh, but never fear: raw cacao leaves the skin soft and rejuvenated.
This anti-aging treatment will remove accumulated debris from the skin, while nourishing it with phyto-nutrients and minerals. Add your favourite facial serum or oil to this mask to create the ultimate skin nourishing experience.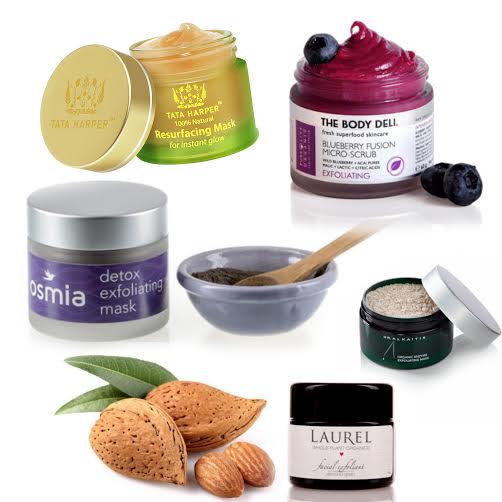 Hydrating Masks
Packed with flower oils and algae, this cut-out, peel off mask makes you look a bit bizarre whilst it's on, but when you peel it off after around ten minutes, the results are incredible – my normally dry skin was seriously glowing, and it stayed like that all day! It says it's a firming mask, but to be honest, rather than feeling 'tight', like some firming masks make you feel, I just felt super dewy and hydrated after using this, which is why I put it in this category.
Using  fruit stem cell science, this mask will renew, repair, and hydrate the skin, by mainly using essences of rose, which has been known for ages to hydrate and counteract aging.  Using all non-GMO, vegan, and cruelty free ingredients, this mask smells lightly floral and leaves your  skin plump and glowing.
Deep hydration is the name of the game here. Organic olive and jojoba oils will improve elasticity, while Vitamin E and tea tree extracts to fight free radicals.  Hyaluronic acid plumps fine lines and wrinkles making this the perfect for mature skin.
This prepared sheet mask is a spa in a package.  Ginseng is known to be anti-aging, and improves collagen production for more elastic skin.  The hydrogel is composed of 95% organic aloe water, which allows the active ingredients to be absorbed right into the skin – plus it's a lot of fun to use! (see the video for more info).
Mango and Shea butter make this face mask ultra-rich and soothing.  It also boasts organic aloe vera leaf juice, which is known for its healing and anti-inflammatory properties, so this one is great if your skin is red and irritated by the elements.
Deep Cleaning, Detoxifying Masks
This is a super fun mask to use! Made in Korea, the Onyx Youth Magnet Mask seriously deep cleans your pores thanks to electromagnetic technology. The rich formula is removed with a 'magic wand' that rather surprisingly removes the mask from your skin,  leaving it cleansed, toned and enriched with the Earth's natural vitamins and minerals. The healing properties of magnet therapy have been used to promote health and wellbeing since the earliest civilisations, and the cutting-edge technology behind the Onyx Youth Magnet Mask also uses magnetic filings to stimulate blood flow through the thousands of microscopic blood vessels in your face.
Chocolate lover?  Look no further.  This mask smells good enough to eat, and will undo any damage done to your skin by  free radicals  thanks to the anti-oxidising properties of cacao.
Eucalyptus and mint make this weekly rhassoul clay mask a detoxifying dream.  From the Atlas Mountains in Morocco, this very special clay draws out impurities and replaces them with nourishing trace minerals.
Maple syrup, need I say more?  The Canadian in me dies for anything with this sweet ingredient!   Aside from being totally delicious,  maple syrup mineralizes the skin and neutralizes free radicals.  The glacial clay detoxes and tightens the skin, while the algae will nourishes it.  But seriously, this one had me at maple syrup.
Tightening Masks
Problem skin?  This intense treatment will pull impurities, tighten pores, and eliminate inflammation.  It contains anti-oxidant rich raw cacao, exotic warming spices that go deep into the skin and it's magical  powder-to-mousse formula makes wearing it a unique experience.
Using 12 hydrating certified organic ingredients, this mask is perfect for after sun tanning, skiing, or any activity that leaves your skin feeling dehydrated and craving moisture.  It protects against free radical damage and regenerates collagen, making it the perfect mask for city dwellers.
I may have saved the best for last! This luxurious formula contains not only microparticles of 24k gold to reduce inflammation, but micronized peat to smooth out and prevent wrinkles, slow  down the process of collagen depletion, and maintain moisture balance. Gold ions stimulate cell metabolism helps calm skin  allergies and infections This mask has been scientifically proven to increase  the  production of elastin in fibroblasts, keeping the skin elastic, tight and toned. With regular use, this mask can  reduce pigmentation, heal problematic skin, alleviate acne, eczema and psoriasis, and even out your skin tone. A real winner!
Image 2: Onyx Youth Magnet Mask 
This site uses affiliate links with brands we trust, and if you make a purchase using a link, we may receive a commission.
Did you enjoy this post? Want to show your gratitude? Please support us on Patreon!