Want to lose weight? Eat well? Or just maintain your health? In any case, you'll love these vegan ketogenic recipes!
By Lora O'Brien
When I used to hear the term keto, I automatically assumed that people following a ketogenic diet were starving themselves of carbs. And honestly, who wants to live a life without fries?!
But after delving a little deeper into just what a keto diet involves, I was surprised by the health benefits that come with following the low carb, high fat diet. Sure, it's not the ideal lifestyle for those who can't part ways with their starchy favourites, but if you're trying to lose weight, boost your health, and live a cruelty-free life, a vegan keto diet may be for you.
According to one study, approximately 250,310 people across the world decided to go vegan in 2019, as it seems more people than ever are recognising the importance of a vegan diet. By the same token, the ketogenic diet was the most researched diet in 2020, making it the most common diet for over half a million people to follow. Put these two beneficial trends together and you have a vegan ketogenic diet!
What is Ketosis?
When the body metabolises fat, it starts to produce ketones — or ketone bodies — which are byproducts that fuel the cells to carry on their normal functions. When your bloodstream has loads of ketones in it, you enter a state of ketosis.
This is basically the process of using fat for energy instead of carbs. It forces your body to break down your storages of fat instead of just storing more, which is what happens when you consume lots of carbohydrates. Your body can only handle so much of a high carb diet, leading it to store the excess carbs as fat. When you need energy, it will dip into your hard earned muscle tissue, as well as a small amount of carbs that you've eaten.
Health Benefits of a Vegan Ketogenic Diet
Even if you're not trying to lose weight, there are plenty of health reasons why you should consider eating vegan ketogenic recipes regularly.
Reducing the chances of developing obesity
Combating diabetes
Improving mental health and concentration
Decreasing the symptoms of brain fog
Lowering the risks of developing heart disease
Fighting multiple types of cancers
Improving your gut flora and gut health
Developing better vision
Stabilising energy levels by regulating blood sugar
Balancing hormones
Improving sleep
Making your skin healthier and clearer
But what does that really mean in terms of food, I hear you ask?
Well, my friends, it means eating tasty vegan ketogenic recipes that are low in carbs, but high in flavour! It also means embracing the benefits of good fats. Think: coconut and olive oils, nuts, avocados and seeds, and saying goodbye to seed oils (like rapeseed, sunflower, etc), tubers, grains and sugar.
Follow these 7 rules and you should be fine:
Plant-based proteins should make up 25% of your diet, excluding soy products
Aim to consume less than 35 grams of carbohydrates per day
Stay away from pasta, grains, corn, cereal, baked goods, etc.
Replace sugary fruits like bananas and mangoes with berries
Avoid legumes such as peas, black beans, and chickpeas
Use supplements to make up for a lack of red meat if you need to. These would include mainly vitamin B12 & iron
Avoid tubers such as potatoes, yams and sweet potatoes
Ready? Let's get started!
Use these vegan ketogenic recipes as a guideline for your daily breakfast, lunch and dinner, and within a few weeks you should notice a big difference in how you feel – and how much you weigh.
30 Great Vegan Keto Recipes To Try
1. Coconut Flour Pancakes
Pancakes are an easy-to-make breakfast option, and luckily there are some vegan ketogenic recipes for them, so you don't need to deprive yourself! Either top them with fresh berries or add a drizzle of almond butter for a more decadent meal. These pancakes are made with coconut flour, which is both high in protein and fibre, making it a low-carb option that is perfect for a vegan keto diet.
Get the recipe here.
2. Keto Overnight "Oats"
Whether you're short of time in the mornings or are looking for something quick and easy to chow down on, overnight oats are always a winner. Make them the night before and store in the fridge, you can just grab and go the following morning. Using hemp hearts instead of oats, this grain-free breakfast bowls are both keto and low-carb.
Get the recipe here.
3. Peanut Butter Chia Pudding
Um, who else thinks that these bad boys look like a scrummy dessert?! While this chia pudding may look incredibly sinful, it's actually a healthy keto breakfast made with chia seeds, unsweetened almond milk and monk fruit syrup. Yum!
Get the recipe here.
4. Super Eggy Vegan Tofu Scramble
A popular non-vegan food for a keto diet are eggs. But this vegan ketogenic recipe will definitely hit the spot just as well! This tofu scramble is super high in protein and even has an authentic egginess to it thanks to the sulphuric black salt. Both hearty and satisfying, tofu is the perfect high protein vegan food. I'd serve this alongside chunks of avocado and grilled tomatoes.
Get the recipe here.
5. Gluten-Free Vegan Cauliflower Hash Browns
Sure, hash browns taste great – but they're not exactly healthy, usually. But these hash browns have a been given a healthy makeover, thanks to the use of cauliflower instead of 'taters. Crisp on the outside, moist on the inside – they're totally irresistible!
Get the recipe here.
6. Vegan Enchilada Bowl
Love vegan Mexican food? Re-inventing popular Mexican dishes in to recipes like this enchilada bowl is a great way to keep them both healthy and keto-friendly. With all the much-loved flavours of enchiladas and with hearty ingredients such as black beans and quinoa, it makes for a perfect weeknight meal.
Get the recipe here.
7. Easy Green Smoky Soup with Roasted Veggies
It's always great to have quick and easy recipes pre-made, right? This soup is not only delicious and filling, but you can also freeze it. Perfect if you're not able to spend ages in the kitchen every day! Skip the croutons and garnish the soup with pumpkin seeds for a delicious crunch.
Get the recipe here.
8. Keto Broccoli Cashew Salad
There's a common misconception around salads that they're boring, bland and typical diet food. Ha! This broccoli and cashew salad is loaded with flavour and texture. Serve it as a side salad or add some tofu or tempeh to make it a main. One of the healthiest vegan ketogenic recipes for sure!
Get the recipe here.
9. Fat Burning Cabbage Soup
Cabbage has so many health benefits! These include improving digestion, aiding weight loss, preventing heart disease and strengthening the immune system. This vegan ketogenic recipe is low-carb, low-calorie and the perfect soup for anyone looking to shed a few stubborn pounds.
Get the recipe here.
10. Broccoli 'Cheese' Soup
I love soup, but it can be a bit boring if you opt for the same old recipe time and time again. This cheesy vegan broccoli soup is such a fab option! It's so rich and creamy, thanks to the cashew nuts and almond milk.
Get the recipe here.
11. Cauliflower Hummus
Are you craving a delicious vegan ketogenic recipe for hummus? This roasted cauliflower version has the perfect blend of roasted cauliflower, tahini, seasonings and garlic. It makes the perfect snack on. Just be sure to swap chips or bread for raw veg for dipping. Or even better, try our keto cracker recipe, below!
Get the recipe here.
12. Raw Almond Hummus
Whether you're intolerant to legumes or just looking for a low-carb recipe, then this raw almond hummus is delicious! Smear it atop some low-carb crackers (recipe below) or use it as a salad dressing. It's a real treat!
Get the recipe here.
13. Keto Flaxseed Crackers
These keto flax crackers are the perfect healthy, low-carb snack. Made with just five ingredients, these rosemary and garlic flavoured nibbles are super tasty broken up on top of soup in place of croutons, or dipped into that hummus recipe, above.
Get the recipe here.
14. Asian 'Chicken' Salad
Looking for vegan ketogenic recipes with an Asian tang? Craving something 'meaty'? Then this vegan chickun salad is the ideal choice. It's crispy, crunchy, and the creamy dressing really brings this dish together!
Get the recipe here.
15. Instant Pot Cauliflower Risotto
Cauliflower is the star of the show in this vegan ketogenic recipe. Once pulsed, cauliflower crumbles down into rice 'grains' so it's a great alternative to the starchy stuff. Loaded with mushrooms, onion and garlic, this meal is loaded with flavour – and the best part is it requires no cooking!  Just pop it into the instant pot and let it do its thang!
Get the recipe here.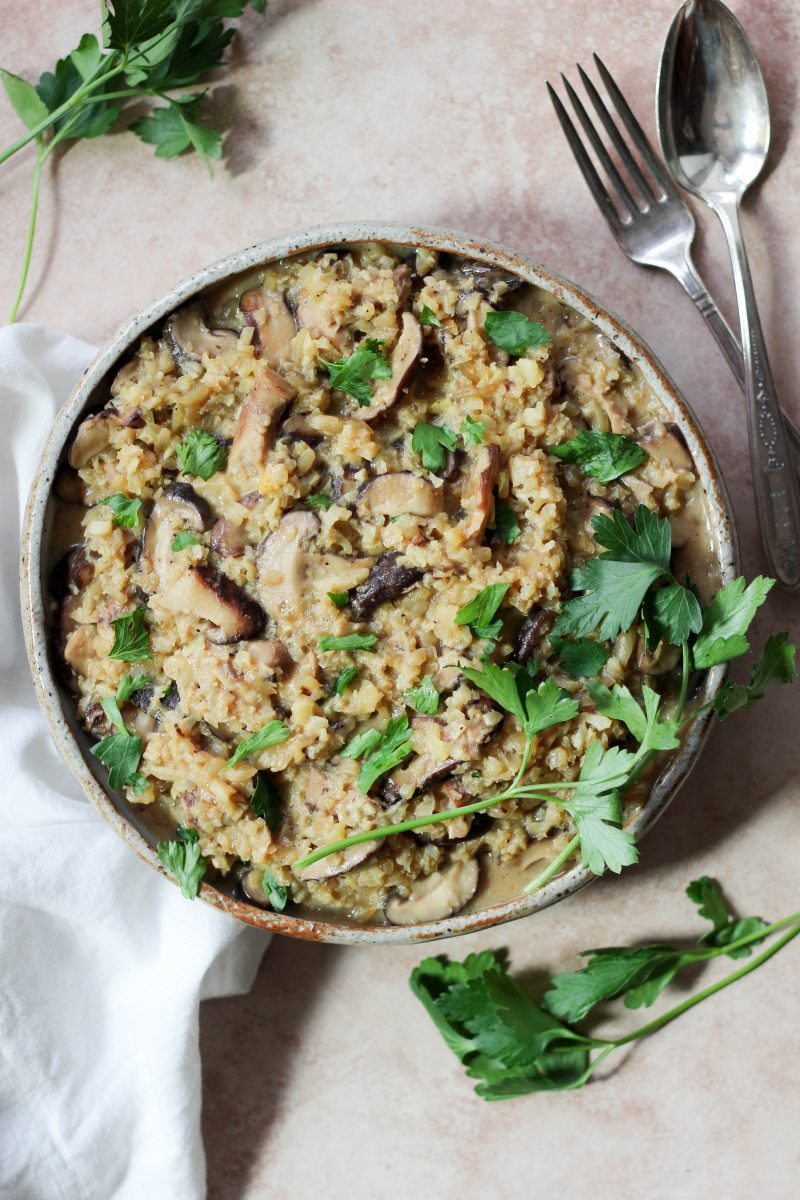 16. Keto Korma Curry
Your weekend takeaway is sorted with this korma curry sauce. It's creamy and flavoursome thanks to the coconut milk, and you can keep it low-carb by adding in fried tofu, red peppers and spinach. Mushrooms, cashews, tempeh and broccoli also work really well. Serve with cauliflower rice or some keto naan for a satisfying 'fakeaway' goodness.
Get the recipe here.
17. Cauliflower Steaks with Lemon Tahini Dressing
Cauliflower is simply revolutionary when it comes to replacing red meat. Once baked, its texture becomes almost identical to steak, and is a helluva lot healthier! Serve this as part of a main and pair it with a simple side salad or even some avocado fries!
Get the recipe here.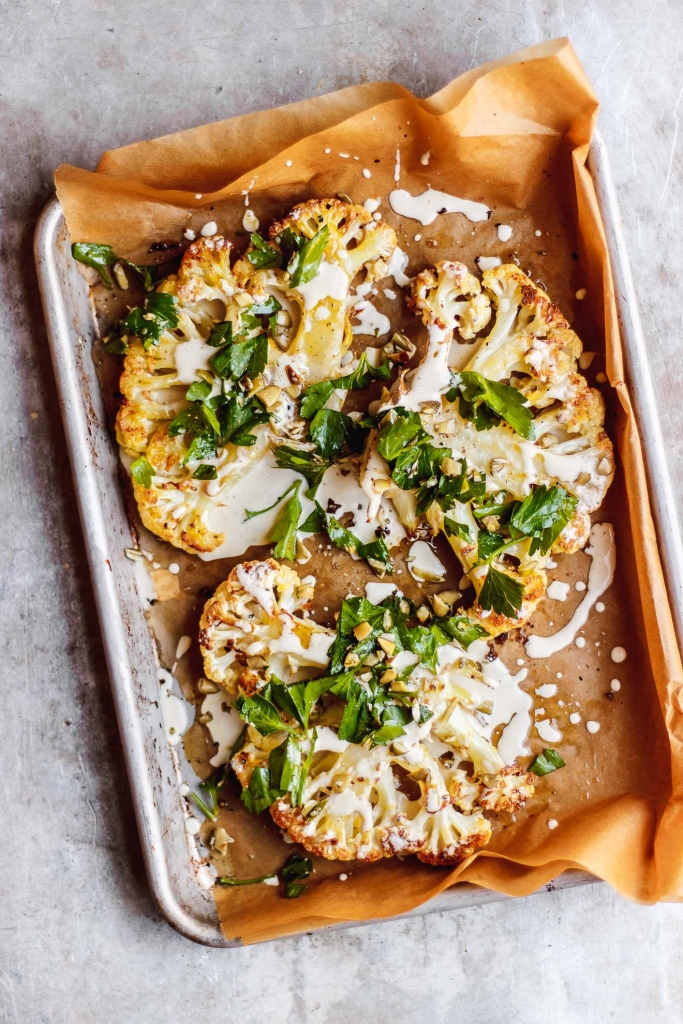 18. Tomato Pesto Zoodles
Vegan ketogenic recipes ditch pasta in favour of vegetable alternatives. Zucchini 'zoodles' make the perfect replacement but you can use whatever low-carb option you fancy. Toss them with tomatoes and pesto for a quick and easy lunch or dinner option.
Get the recipe here.
19. Vegan Keto Carbonara
Yep, you can still enjoy rich, creamy food on a keto diet, and this recipe shows you how. This flavourful carbonara 'pasta' keeps it low-carb by using zucchini noodles instead of pasta, and making the dressing out of hemp seeds and nutritional yeast.
Get the recipe here.
20. Nutty Ramen
Dishes like this ramen show just how wholesome and nourishing a keto diet can be. The shirataki noodles make it filling, while the tofu adds a protein boost. Adding the creamy peanut butter dressing makes it both dreamy and delish!
Get the recipe here.
21. Vegan Keto Pizza
You know when you eat pizza and you end up feeling bloated and sick? Yep? Well, not with this keto pizza recipe. Its base is made from lentils, and it ends up being so thin and crispy! It's definitely a healthier alternative to regular 'za. One of my personal favourite vegan ketogenic recipes for sure! Choose whatever toppings you fancy, but I personally love vegan mozzarella, sun-dried tomatoes and lots of greens like spinach.
Get the recipe here.
22. Keto Avocado Fries
This is another of my fave vegan ketogenic recipes. Who even needs potato fries when you can have avocado fries?! Made with four single ingredients, you bake these babies for fifteen minutes, then dip them in a tangy sauce. The creamy, crunchy result will quite literally change your life, I promise!
Get the recipe here.
23. Harissa Portobello Mushroom Tacos
I'm all about that taco life, but I always end up nursing a food baby after eating them. So occasionally, I like to find a lighter taco recipe, and these portobello mushroom tacos are perfect! They're wrapped with collard greens instead of starchy tortillas. Topped with creamy, zesty guacamole and chunky salsa, every single bite of these is a winner!
Get the recipe here.
24. Vegan Quiche Cups
This is one of my favourite vegan ketogenic recipes, and unlike traditional quiche that's made with heavy pastry, this is a super light alternative. Simply combine all of the ingredients into the blender, blitz it and then spoon into a muffin tin before baking. Enjoy these hot or cold as a snack, or as part of a meal with a salad or some roasted veggies.
Get the recipe here.
25. Low Carb Apple Pie Muffins
These light, fluffy muffins may look indulgent, but they're secretly healthy, low-carb and sugar-free. Using just five ingredients, they're packed with protein and make the perfect guilt-free snack or breakfast on the run.
Get the recipe here.
26. No-Bake Gingerbread Bars
If you're looking for a healthy no-bake gingerbread cookie recipe, this is one for you. Both dairy and sugar-free, this healthy dessert is quick to make and easy to devour!
Get the recipe here.
27. Vegan Granola Bars
If you love the crunchy sweetness of granola, then you'll go mad for these bars! Unlike most pre-made granola bars that are packed with hidden sugars, these ones are super healthy. They require zero baking and are making with creamy peanut butter, flaxseed meal, chia seeds, almonds, coconut dark chocolate chips.
Get the recipe here.
28. Avocado Key Lime Pie
Key lime pie is one of my go-to desserts. I love the rich, creaminess of it and the zesty, refreshing flavours of lime – yum! This recipe is giving the popular dessert a healthy makeover by using coconut, almonds and cashews as a based and avocado as a filling.
Get the recipe here.
29. 3 Ingredient Keto Coconut Ice Cream
Ice cream doesn't need to be laden with sugar. It can be delicious AND healthy! This keto and low carb ice cream has just three ingredients: coconut milk, peanut butter and maple syrup. Naturally sweetened, this smooth and creamy ice cream can be ready in just minutes.
Get the recipe here.
30. Vegan Chocolate Peanut Butter Cookies
Try some vegan chocolate peanut butter cookies with just the right amount of sweetness! They're healthy thanks to their coconut flour base, and are made using only 4 simple pantry ingredients. Vegan ketogenic recipes don't get easier than this!
Get the recipe here.
Latest posts by Lora O'Brien
(see all)