Whether you're on a staycation or are off to the States, here are some of the best places to go luxury glamping in the USA
By Katie Stearns
Travelling isn't as easy as it used to be, and as a result, more people are choosing to explore their own country through a 'staycation'. Which is fine – no matter where you live, there's something beautiful to discover.
The USA in particular is an incredibly diverse nation, with everything from the bustling cities of New York and Los Angeles to small, quaint towns like Branson, MO or Chagrin Falls, Ohio to enjoy.
One of the biggest decisions you'll make on your staycation is where you stay. The place, the location, the view–it's all so important. That's where luxury glamping in the USA comes in.
Glamping, also known as luxury or boutique camping, is nothing like staying in the artificial environment of a hotel. It's the chance to truly reconnect with nature and enjoy your surroundings. It allows you to detach from city life and experience something completely new.
While many prefer to go luxury glamping in the USA in the spring or summer, the autumn can be a particularly lovely time to do this, too. It's not as hot, there are fewer bugs, and in some cases,  you can be surrounded by explosions of colour as the leaves in surrounding forests turn rich hues of yellow, orange and red.
Here are five luxury glamping sites in some of the most naturally beautiful parts of the United States that are truly unique and that will add that little something special to your next getaway.
Where To Go Luxury Glamping In The USA
These incredibly luxurious safari tents are just 10 minutes from the wonders of Yellowstone National Park, and they offer a completely different experience than what you'll get by staying at a hotel or cabin nearby. The luxurious tents create such a unique atmosphere as you get the chance to really feel connected to the area without having to give up a single bit of comfort. The tents come equipped with comfortable beds, a sofa, and in case you're getting chilly, there's a wood-burning stove.
Live like the cowboys do in these beautiful tents! Situated on a cozy ranch near Spokane, Washington, these offer the perfect mix between cozy comforts and outdoor ruggedness. Apart from the beautiful surroundings, travelers also get the chance to lend a helping hand with the animals and see firsthand how the ranch works. The tents themselves have a lovely touch of luxury with the raised wood floors, a queen-sized bed, electricity, and a private deck with a cozy area to sit around and enjoy the surroundings.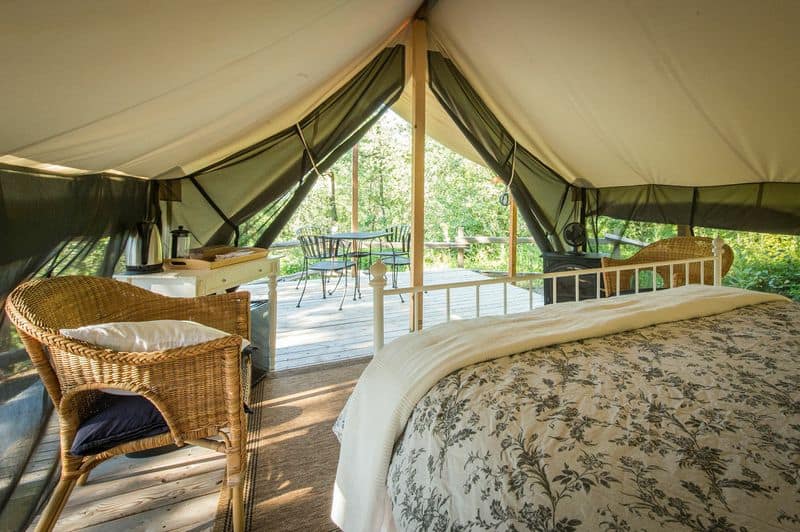 This is a beautiful safari tent just north of San Diego. It's a marvelous vacation destination with its luxurious feel, incredible surroundings, and beautiful views. The tent houses a rustic kitchen and bathroom, complete with a claw-legged bathtub and endless supply of soft towels. Outside, glampers will be able to enjoy the views directly from the hot tub on the private deck.
This tent allows for the perfect escape from the city with its pristine surroundings and elegant touches, and is the perfect place to disconnect for a bit and to let yourself remember what's truly important to you.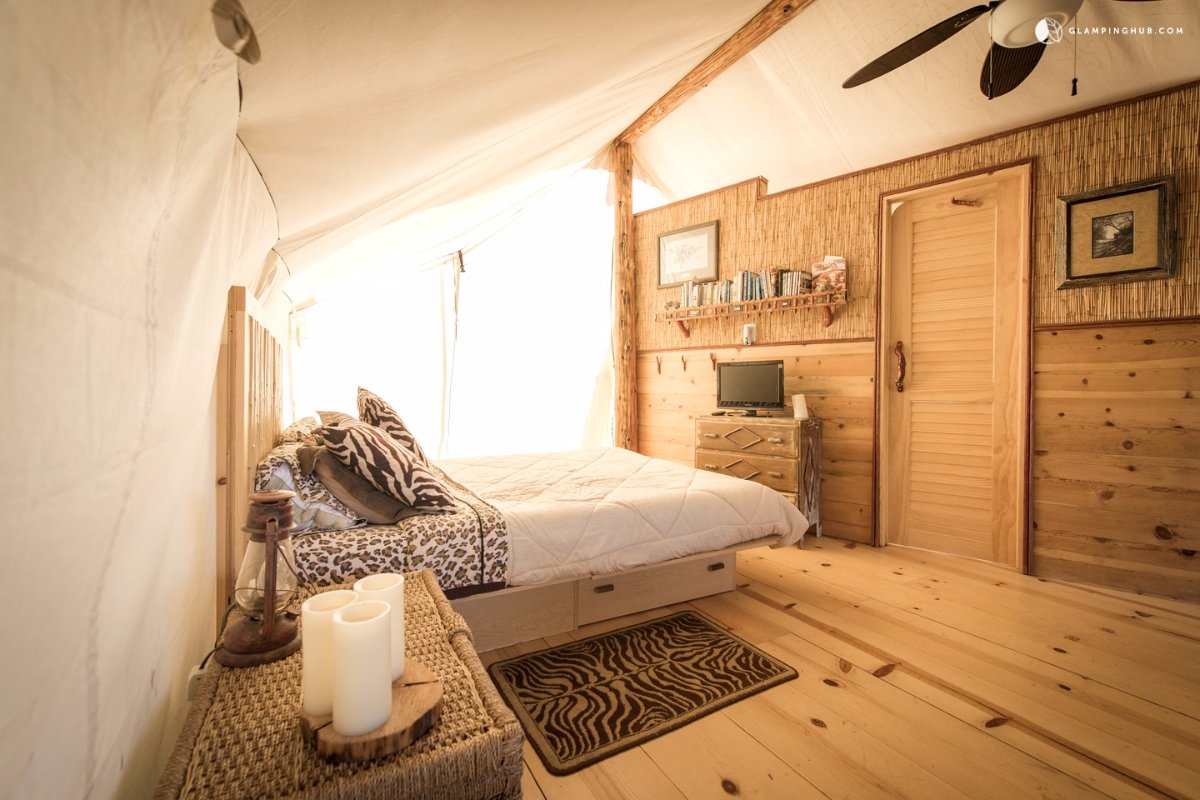 Utah has many stunning places to go luxury glamping in the USA. Get completely off the grid and relax without the distractions of a computer or cell phone! Located near Zion National Park, Utah, these spacious yurts can accommodate up to nine guests with their four double beds and three single beds. Hiking, birdwatching, reading and reconnecting with nature will busy you on your stay at this idyllic spot.
Another much-coveted place to go luxury glamping in the USA is, of course, Yosemite National Park. Here, you'll find an amazing A-Frame cabin is situated on 20 acres of private land, 7,500 ft. above Lake Bass in California's unique High Sierra. The luxury accommodation, be it in a plush tent equipped with double bed and sofa, or an A-framed cabin over two levels, is only a small hike away from the famous Yosemite National Park, which will take your breath away.
The park is a hiker's paradise that will take you through imposing glaciers and crystal-clear lakes, huge granite domes, deep valleys, and groves of sequoia trees. It's home to a unique flora and fauna, such as black bears, and offers an array of outdoor sports activities to fill your day.
Still can't resist Instagramming pics of the stunning nature surrounding you? No worries, there's free wifi throughout the site.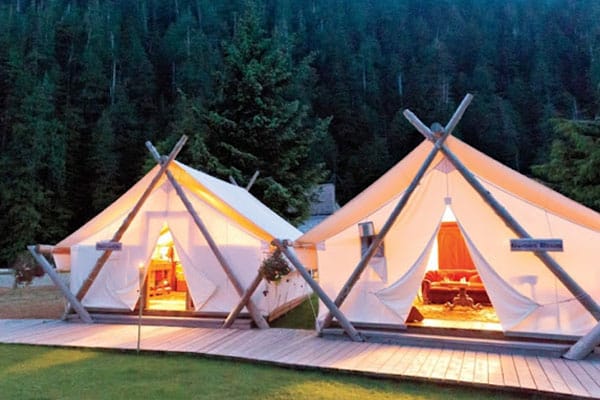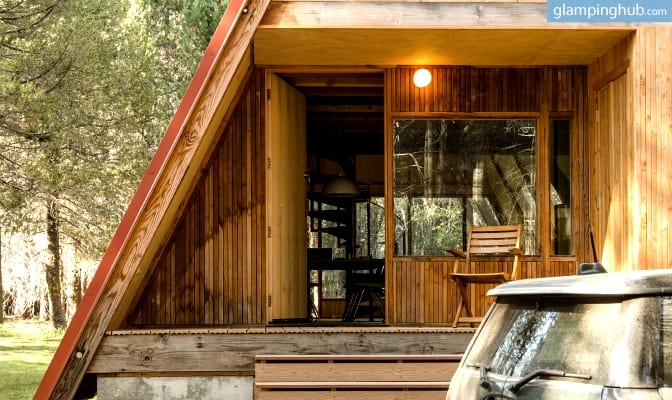 Latest posts by Chere Di Boscio
(see all)