By Lora O'Brien.
Chia seeds may be small but don't judge these beauties on their size–they pack an almighty nutritional punch! They contain vital antioxidants, Omegas 3 and 6, fibre, essential amino acids, and even a decent portion of protein.  But, how can you actually eat them? As they have practically no flavour, they'll take on whichever taste you add to them, and as they absorb 10 times their weight in liquid, they become tapioca like when soaked, but they can also be a bit crunchy when in their dried state.
There's plenty you can do with this newfound superfood. In fact, we've found 30 yummy, healthy and easy chia seed recipes for you to try. Whether you decide to add them to your breakfast porridge, base your dessert around them, or add them to your pancake mix, you'll soon be finding you need chia seeds in your kitchen at all times.
1. Strawberry Rhubarb Chia Seed Drink
Do you struggle to hit your daily intake of water? Why not get fancy with your water? Adding chia seeds adds a fun texture to your drink so it won't feel like you're drinking water, especially since it's also infused with sweet strawberries and tart rhubarb. Refreshing, filling and flavourful AF.
Get the recipe here.
2. Chai Spiced Banana Smoothie
I love smoothies, but they can get a little boring if you don't reinvent them from time to time, and I'm loving this chai spiced banana recipe. The spices work brilliantly with the sweet banana, which is enhanced with a little maple syrup. Also, adding chia seeds to your smoothies will help fill you up faster and for longer, meaning you won't be ravenous half an hour later.
Get the recipe here.
 
3. Chia Oat Banana Pancakes
Going vegan doesn't mean missing out, it means finding alternatives to your favourite recipes. I remember how long it took me to make successful vegan pancakes, and when I first discovered a 'chia egg' it was a lifesaver. It allows you to make fluffy pancakes like these, and who doesn't love a stack of pancakes?!
Get the recipe here.
4. Peanut Butter Banana Chia Oatmeal
Peanut butter and bananas were literally made to go together – the combo is heavenly! The ripened banana slices in this recipe add a natural sweetness, whilst chia seeds pack in a ton of nutrition whilst also helping to make the oats nice and fluffy. Struggling to make your peanut butter runny enough to drizzle over your oatmeal? Add 1/2 teaspoon of melted coconut to 2 tbsp of peanut butter and it'll be the perfect consistency.
Get the recipe here.
5. Pumpkin Spice Chia Seed Pudding
Who said pumpkin was just for fall? I love to make pumpkin infused recipes all year round, and this chia seed pudding is delicious! A gooey chia pudding base that's topped off with maple toasted walnuts and jammy figs? It will feel as though you're having dessert for breakfast – it's that good.
Get the recipe here.
6. Super Seedy Granola Bars 
It's important to always have healthy snacks on hand to stop you from reaching for the junk food, so why not turn your love of granola into some handy snack bars? Packed with 4 different kinds of seeds: hemp, sunflower, flax and chia, these bars are healthy and won't leave you feeling sluggish. Have these bars after a workout, before a journey, or just as an afternoon snack.
Get the recipe here.
7. Lemon & Chia Seed Muffins
Tangy sponge, delicate frosting and a bit of crunch–who wouldn't love these muffins? I love me a muffin, so I was delighted to find this healthified version of traditional poppy seed muffins that use Omega rich chia instead. brb, just going to keep making batches and feeling no guilt when they all disappear . . .
Get the recipe here.
8. Lemon Turmeric Energy Balls
These lemon energy balls are packed full with delicious citrusy flavours, whilst infused with the healing spice that is turmeric, not forgetting the superfood that is chia seeds! Not only do these taste the bomb, they're immune boosting, refined sugar-free and rich in fibers and plant-based proteins. Perfect for snacking on.
Get the recipe here.
9. Raw Hemp & Chia Seed Bars
Upgrade your snacks with these delicious hemp and chia seed bars. They're packed full of nutrients, flavour, and amazing textures. Make these at the beginning of the week to ensure you'll snack healthy throughout the week, and they're perfect to sneak into lunchboxes.
Get the recipe here.
10. 5 Ingredients Spelt & Chia Seeds Banana Bread
I love banana bread, but sometimes it can be packed full of sugar so it really feels more of a sin than a treat. Chia seeds work as the egg in this recipe thanks to their gel-like consistency, and zero sugar has been added. Make sure your bananas are super ripe and spotty before making this bread and they'll naturally sweeten it, but if needed, you can add a little maple syrup, too.
Get the recipe here.
 11. Chia-Chilli Jam 
Forget strawberry jam, life is all about this chilli jam! The chia seeds give this jam its consistency, whilst also hitting you with a boost of omega 3! This recipe can last up to 2 weeks in the fridge, but seriously, it won't stick around that long. Smear it on sandwiches, dip crackers into it or add it to salads – however you choose you enjoy it, prepare for it to become a household staple!
Get the recipe here.
12. Kale Rosemary Super Seed Crackers
These kale and rosemary super seed crackers and not only healthy, they're packed full of nutritious ingredients. They're also gluten free, so are great for anyone with allergies. They taste fab on their own, or you can enjoy them with your favourite dip or spread (like the chilli jam above).
Get the recipe here.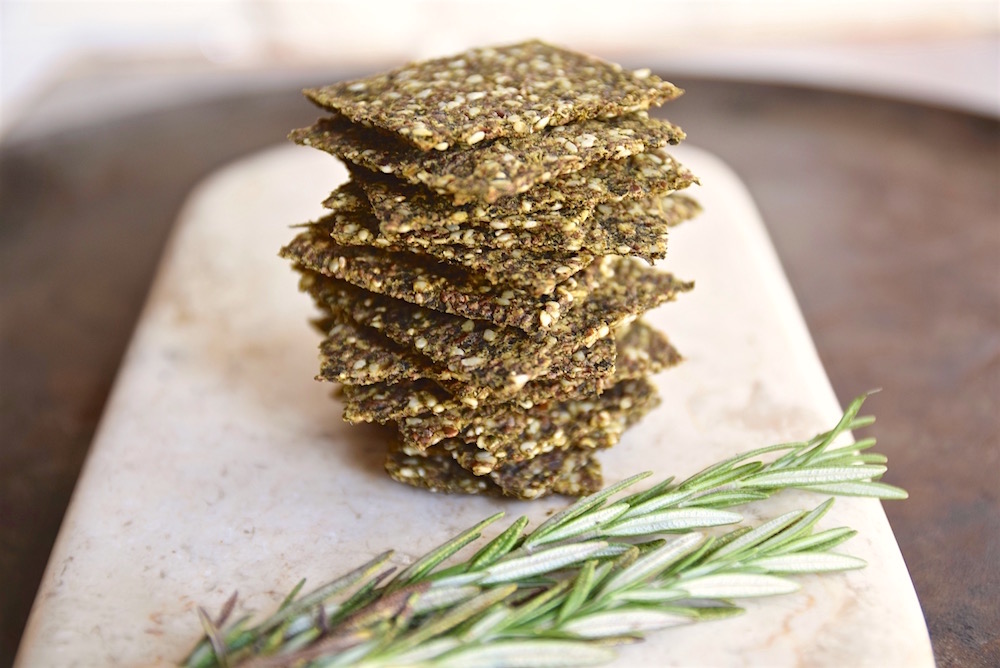 13. Mixed Bean Salad With Tomato Vinaigrette
This is a super easy salad to whip up at a moments notice, and even works well as a side dish. This recipe uses mixed beans, but you could use whatever beans are available or in season when making this. Chia seeds will work to thicken the dressing.
Get the recipe here.

14. Sweet & Spicy Golden Chia Pizza
Why order a bland, boring pizza when you can make your own and it be as vibrant and yummy as this?! This this crust pizza is tipped with a sweet, spicy and slightly sticky sauce and then you can pretty much top it with whatever takes your fancy.
Get the recipe here.
15. Chia & Fennel Green Pizza
Looking for a pizza recipe with a clean and green vibe? This recipe is perfect if you like your pizza on the light side, too. Fennel seeds work brilliantly with the garlic infused pesto sauce, and if you can get hold of artichokes, then marinade them and throw them on top. Game. Changer.
Get the recipe here.
16. Flourless Zucchini Chia Savory Breakfast Muffins
Muffins don't need to be sweet, and these savory zucchini muffins are the perfect recipe if you're not to keen on sweet stuff. They make a great breakfast or snack option, and zucchini gives them their wonderful green hue. They're soft, fluffy and will melt in your mouth.
Get the recipe here.
17. Curried Carrot Chickpea Chia Burgers
Who doesn't love a heart vegan burger? And this recipe is everything that makes a burger a success: crispy on the outside and wonderfully soft in texture on the inside. These patties are made with carrots, chickpeas and chia seeds whilst infused with curry seasoning. They're then topped with a silky smooth and creamy dill-lime cashew cream. Per-fection!
Get the recipe here.
18. Vegan Meatballs
These vegan meatballs are so delicious, no one will even guess that they're not only healthy, but made with just lentils, veggies and a little chilli sauce. Serve these bad boys with pasta, tossed through a salad or even in a wrap.
Get the recipe here.
19. Roasted Garlic & Chia Guacamole
If you've never roasted a garlic before, you have to go do it, like, ASAP! It's a game changer! Once roasted, the garlic becomes thick and creamy, making it the perfect temperature for guac. Just mix in some lime zest and a sprinkle of chia seeds and you've got a killer dip recipe.
Get the recipe here.
20. Sweet Potato Latkes with Spiked Apple Sauce
These sweet potato latkes go super well with a little apple sauce. Thanks to the sweet potato, the latkes are a little sweet and a little savory, and they're decadent when served with a brandy-spiked apple sauce.
Get the recipe here.
21. Blueberry Chia Seed Fruit Roll Ups
It can be hard to eat fruit if you're not someone that likes to, y'know, eat fruit. These fruit roll ups are like a throwback to my childhood when I'd beg my mum to buy these every time we went food shopping. One look at the sugar content and it was a resounding hell no each and every time. Alas, even as an adult, I'm thrilled to have found a health version of those delicious fruity rolls and if you're not a fan of fruit, give these a try. They're more like candy (just super healthy).
Get the recipe here.
22. Chocolate Chia Cookies
Being healthy doesn't mean going without, it just means finding new ways to cook. And these chocolate chia cookies are a brilliant replacement for those packets of biscuits we seem to all have in our cupboards. Try making your own, and we promise you won't want to buy them from shops ever again.
Get the recipe here.
23. Vegan Cherry Cheesecake Bars
Cheesecake is my thing, but I feel nothing but guilt when eating it. Guess what? Not anymore! This vegan cheesecake recipe is pretty healthy! The crust is made from walnuts and dates, and the filling itself is made from a creamy cashew mixture. They're then finished off with sweet, gooey chia jam.
Get the recipe here.
24. Chocolate & Coconut Chia Seed Mousse
Who knew that mousse could taste so decadent, and be so healthy? We're usually plagued with guilt when we have a chocolate mousse but this rich and creamy delight is actually super healthy. Believe us, you're going to want to make this again, and again, and again
Get the recipe here.
25. Jam & Granola Crumble Bars
I love granola in any form, so turned into delicious bars? Yes, please! The base of these bars is sweet biscuits that are bound together with sweet, sticky dates. The middle layer is chia seed berry jam, and they're then topped off with delicious granola. You can keep it simple and use one you already have or if you're feeling super snazzy, why not make your own?
Get the recipe here.
26. Chocolate Orange Chia Pudding
I love the combination of chocolate and orange. It's both indulgent and refreshing at the same time, and this chia pudding can be made on a whim it's that easy. The end result? A rich, creamy chia pudding that is secretly pretty damn healthy!
Get the recipe here.
27. Coffee & Chocolate Chia Seed Pudding
Calling all coffee lovers: this one is for you! I LOVE coffee-based desserts, there's something so rich and decadent about them, which is just how I like my sweet treats. This recipe is super easy to make with minimal ingredients, and flavours like chocolate, coffee and coconut really shine through.
Get the recipe here.
28. Chia & Beet Mousse Parfaits
Not only does the beetroot add a wonderful, vibrant hue to this recipe, it's also great for lowering blood pressure and is a great way to boost your immune system, especially if you're feeling a little run down or tired, as it's packed with iron! Not keen on the earthy taste of beets? Swap out beetroot for beetroot powder for a more mild flavour.
Get the recipe here.
 29. Fudgy Vegan Brownies
These fudgy brownie bites are crispy on the outside, and soft and gooey on the inside – the way every brownie should be in my humble opinion. If you love chocolate, you'll love these; they're rich, they're decadent and they're quick to bake meaning you have just enough time to make yourself a coffee before they're out of the oven and ready to be wolfed down!
Get the recipe here.
30. Chocolate Chia Ice Cream
Love chocolate ice cream? You'll love this chocolate-chia ice cream recipe. It's super chocolatey, whilst being made from lots of natural sweeteners such as medjool dates. Make a batch of this and pop it into your freezer so you have chocolate ice cream on hand whenever the sweet tooth strikes.
Get the recipe here.
Main image source: www.lifehack.org/