By Lora O'Brien
Let's face it – being vegan in France can be a bit of a torture. The menus are usually pretty meaty, and can include horrifying things like frog's legs, foie gras and *gasp* horse meat. Most dishes also have either butter, eggs or cream in them – usually a combination of these – and that includes the most tempting of French foods: pà¢tisserie.
The French excel at this, as any drool-inducing glance in a Parisian bakery window will demonstrate. Often called Viennoiserie, pastries here include  croissants; Vienna bread and its French equivalent, pain viennois; brioche; pain au chocolat; pain au lait; pain aux raisins; chouquettes and chausson aux pommes.
It should be noted that whilst quintessentially French, these treats have Viennese roots, and were introduced to France by August Zang, who opened his Viennese bakery  in 1839. The French later adapted (some may say 'perfected') these recipes to include puff pastry, and of course, they have always excelled at creating their own cake shop delights, including macarons, gateaux, eclairs and fruit tartes.
Here, I've assembled what I think are some of the tastiest vegan French  pà¢tisserie recipes around so you can take a little slice of Paris home with you today – or better yet, so you can surprise your cheri this Valentine's Day with something a bit unexpected.
1.  Vegan Croissants
When you think of croissants, what comes to mind? For me: flakes, hot, crunchy…and butter. So how on earth could you make a croissant vegan? Well, the answer to that is through the magic of  aquafaba – no, not a spell from Harry Potter! It's actually a kind of gel generated by chickpeas, and gives these a slightly nutty edge.
Get the recipe here.
2.  Chocolate Filled Coconut Oil Croissants
Fan of Nutella? Then you'll love these flaky croissants, which sub in coconut oil for butter. Best served hot, when the chocolate is still oozy. Obviously.
Get the recipe here.
3.  Vegan  Pain Au Chocolat
It's the first thing that comes to my mind when I think of French  Pà¢tisserie. I mean, what's tastier than one of these, dipped into your morning almond latte?
Get the recipe here.
2.  Vegan Mini  Eclairs
At the risk you've never before has an eclair, allow me to briefly explain. An  eclair is basically a thin, very light choux pastry and is then filled with cream and topped with icing. Now, recently  eclairs have been getting pretty fancy and are being made with new flavours such as blackcurrant and coffee. But we're throwing it back to the classic chocolate  eclair with vanilla-scented filling because it's a classic for a reason: it's so bloody yummy!
Get the recipe here.
5.  Tarte Au Citron
This recipe is basically just a fancier name for a lemon tart. The outside is comprised of a crusty pastry, filled with a thick and tangy lemon custard. And the meringue? Not an egg in sight! Again, it's made from aquafaba.
Get the recipe here.
6.  Raspberry Mille-Feuille with Lemon Pastry Cream
Millefeuille means 'a thousand leafs' and that's exactly how the pastry here should feel – rather than a dense cookie, these layers should be as flaky as an Alpine ski resort in January.  Sheets of pastry are wedged together between lashings of custard filling and icing make this a delicately difficult thing to eat without making a mess, but it does look so pretty when served as a dessert.
Get the recipe here.
7.  Easy Vegan Baba au Rhum
This dessert  is basically an eggy cake moistened with rum flavoured syrup – but here it gets a healthier, vegan makeover, whilst losing none of the irresistible texture or taste.
Get the recipe here.
8. Charlotte Aux Fraises
This delightful recipe is made from 'cream', strawberries and ladyfingers, which act as a barrier to keep all of that goodness in place. Traditionally, this recipe is topped with strawberries, but you could be a rebel and use any fruit you have on hand.
Get the recipe here.
9.  Peach & Almond  Galette
How divine does this look? The pastry is used to create a flat, round, cake-like base known as a galette and is folded over to hold in all of the juices. It is then topped with succulent, ripened peaches. Of course if peaches aren't in season yet, you could  opt for tinned.
Get the recipe here.
10.  Vegan Tarte Tatin
A  tarte tatin isn't like an American apple pie, this is kind of an upside down apple tart. The pastry is baked over the fruit, which has been caramelized in sugar beforehand to make it sweet, and then it's all baked together. Instead of sugar, the apple slices are bathed in a mixture of olive oil, maple syrup and autumnal spices with just a sneaky hint of brandy.
Get the recipe here.
11.  Vegan Chocolate-Tahini Timbales
I just want to sit and eat the entire batch of these without judgement. These little chocolate treats are made using tahini instead of butter and are baked in timbale molds.  Best served hot out of the oven, with a touch of raspberry jam!
Get the recipe here.
12.  Orange Zest Madeleines
Not only are Proust's favourite snacks aesthetically pleasing, they're super tasty, too. These rich little cakey-cookies are traditionally cooked in little shell-shaped pans, but they can also be made with a small muffin tin. These are flavoured with orange essence but you could also use fresh orange juice plus some orange zest if you have that on hand  instead.
Get the recipe here.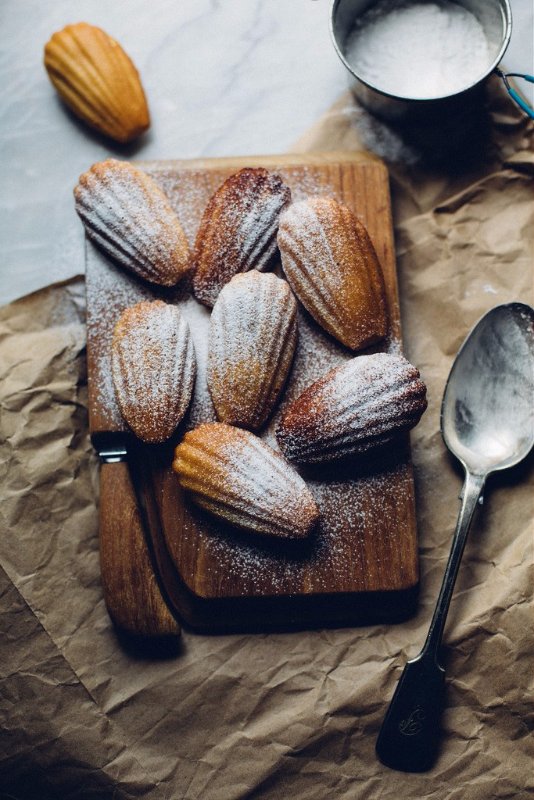 13.  Vegan Lemon Madeleines
I'm a huge fan of anything that is lemon flavoured; I find the taste super refreshing so I welcome it into my baking as well. These go so well with a cup of Earl Grey – or if you want to stay French, the au citron. Perfect for afternoon tea time, right?
Get the recipe here.
14.  Raw Salted Caramel Crème Brulee
Crème brulee isn't exactly patisserie in any way, but it is a French classic dessert! It's ever so satisfying to crack open that crunchy  layer of caramel on top to reveal the rich, creamy custard inside. And these are raw, so there's so baking – but you still get to feel cool and use a blow torch (or oven lighter if you don't have one).
Get the recipe here.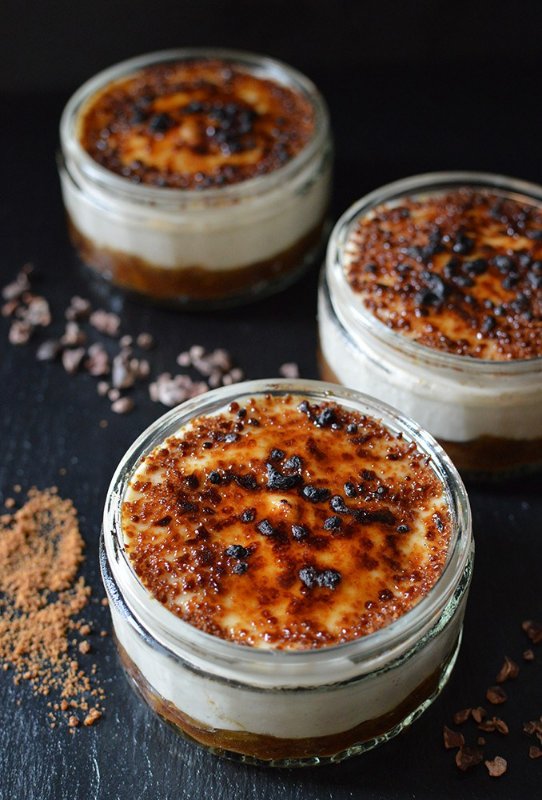 15.  Orange  Blossom Bugnes
Bugnes are pretty much similar to donuts – fried balls of dough lightly sprinkled with icing sugar. This recipe gives them a little bit of a delicately citrusy twist by using orange blossom water.
Get the recipe here.
16.  Caramel & Peanut  Macarons
Salty peanuts and sweet caramel are just a marriage made in heaven, and here they pair up in another heavenly treat: macarons. A crunchy, meringue-textured outside with a powerfully flavourful ganache inside  make these an elegant gift or special dessert.
Get the recipe here.
17.  Vegan Aquafaba Macarons
Who knew chickpea water could create something so pretty? Aquafaba has truly reinvented the macaron by allowing us to re-create a meringue without the eggs whites. These vibrant little treats are filled with an avocado chocolate mousse (or ganache if you're feeling fancy) making them even healthier.
Get the recipe here.
18. Vegan Strawberry Fraisier
When sourcing recipes, I like to find two things: a pretty photo that makes my mouth water and a YouTube video so that I can follow along as someone else makes it first. Voila! This recipe comes with both. If you've never tried a fraisier, it's basically a sponge cake that has been cut in half and filled with a syrup alcohol. The cake is then filled with (vegan) crème patisserie and almond paste before being topped with a strawberry gelatin – but of course, never fear, this version is vegan.
Get the recipe here.
19.  Strawberry & Matcha Fraisier
Traditionally using mainly strawberries, this recipe combines the subtle taste of matcha, along with a sweet tone of vanilla. The end result is a super-fancy cake that  people will insist that you got from a Parisian patisserie!
Get the recipe here.
20.  Vegan  Blueberry Financiers
Not sure what a financier is? It's basically  a small almond cake that is flavoured with hazelnut brown butter and then baked in individual molds. The end result is a light and yet moist dessert with a crisp exterior. Whilst the traditional recipe is laden with dairy and sugar, this is a healthified vegan version that's just as delicious!
Get the recipe here.
21. Raspberry Coconut Financiers
Not a fan of blueberries? Well, neither are the French, in this case. Their financiers are normally flavoured with raspberries, as in this delightful recipe, which uses coconut oil in lieu of butter.
Get the recipe here.
22.  Vegan Brioche
This bready puff is a favourite French breakfast, dipped into a cafe au lait, bien sur! The French don't like them too sweet – personally, I add jam to mine, but that's just little ol' English moi.
Get the recipe here.
23. Chouquettes (Sugar Puffs)
The name of these little pastries actually means 'little cabbages' but they don't taste anything like that vegetable, obviously. These are light, fluffy, moreish little bites of goodness that taste amazing dipped into a creamy hot chocolate. Surprisingly easy to make, too!
Get the recipe here.
24. Raw Fruit Tart
The fruit tart was practically a French invention, and what a great one – a thick crust filled in with creamy custard, topped by fruit. Here, we have the crust – but it's raw; the custard, but it's coconut cream. At least the fruit is still trad!
Get the recipe here.
25. The Perfect French Crepe
Thought I would end this with the ultimate go-to French favourite: the crepe. These won't be found in any pastry shop (maybe because their simplicity puts off those fancy French chefs) but they are a sweet delight that I simply couldn't ignore here. Whether drizzled with syrup or chocolate sauce or filled with banana or Nutella, these are pretty much irresistible. No wonder there's practically a crepe stand on every Parisian corner!
Get the recipe here.
This site uses affiliate links with brands we trust, and if you make a purchase using a link, we may receive a commission.
Did you enjoy this post? Want to show your gratitude? Please support us on Patreon!