By Lora O'Brien
As someone who is 30 weeks into their pregnancy, I know how important it to find clothing that provides comfort, support and above all else, no harmful chemicals when you have a tiny human growing inside you.  Yep, it's true – your clothing can be seriously bad for your health, and when you're pregnant, you want to ensure what you're wearing has no chemical dyes or finishes that could seep in to your bloodstream…and down to your baby!
Additionally, you have those days where you feel like (and possibly look like) a beached whale. So you just want to wear something pretty! After a fairly long search, I've finally found some chic, ethical maternity clothing that will not only protect the health of wee babies-to-be, but will also make their mamas look pretty hot!
Ethical Maternity Clothes For Super Stylish Moms-To-Be
As your belly expands, you may find you're looking for loose clothing to cater to your changing shape, and this jersey dress by Beaumont Organic is perfect. Providing effortless, chic style, the V neck lets you show off your pregnancy cleavage, and the relaxed fit makes it perfect to team with a pair of sandals or layer up with a plain t-shirt.
Boob Design was a brand born way back in 1999 when one woman noted the lack of stylish and functional clothing for nursing women. Every item in Boob Design's collections has to adhere to strict criteria: it must be ethically made from sustainable materials; be functional, and of high quality. And did I mention that the entire collection is certified 100 percent OEKO-Tex, which means that "garments are free from substances known to be harmful to health?"
Inspired by the first pilot to fly across the Atlantic, the appropriately named Amelia jumpsuit is the ultimate piece of clothing for the working woman. It's perfect whether you're pregnant or nursing. Designed for comfort and style, the jumpsuit is made out of a super stretchy recycled cotton blend that will grow with your bump.
Being pregnant doesn't mean you want to cover your body up under a tent dress and hide nine months. So thank goodness Hatch is determined to make garments that allow pregnant women to look and feel sexy.
My pick from the label is this gorgeous, indigo hued slouchy shirt made from a cotton/Tencel blend. I adore the voluminous sleeves and the deep V collar. The length is perfect for pairing with tights or jeans, too.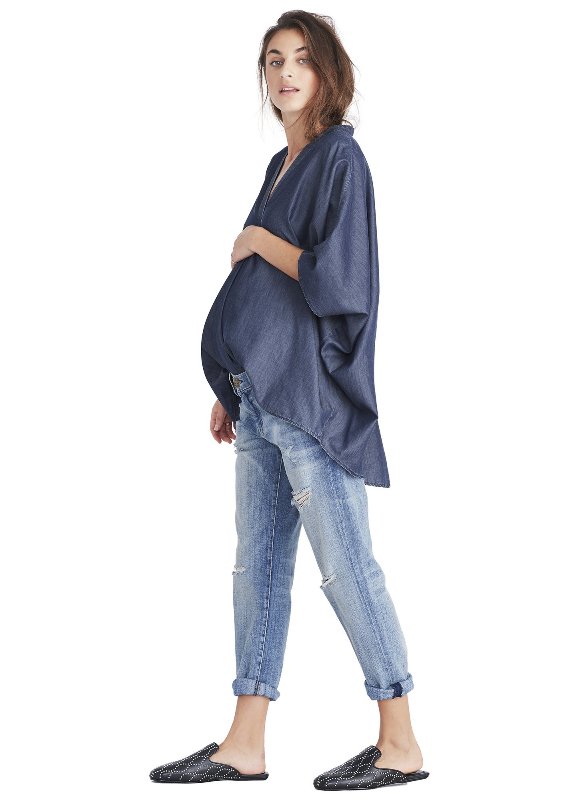 These elasticated, organic cotton pants are so damn comfy that the brand reckons once they're on, they're not coming off…until the baby starts demanding to be born, I assume! But even after that, these are sure to be a wardrobe staple, since they're as comfy as track pants, but far, far more stylish!
Looking for a brand that has the royal seal of approval? Séraphine is a London-based maternity line that is much-loved by Kate Middleton. The label offers chic, sophisticated style of expectant mothers, and sell everything from jeans to dresses. All garments are ethically made from all natural materials, and the brand also gives a portion of profits to mothering charities.
Using end-of-line fabrics with a zero-waste mentality, quality is at the forefront of the design process at Lána as they produce garments that are made to last generations, not months, with absolutely nothing going to landfill.
But the brand doesn't stop there. With the ethos "Good for the wallet, great for the planet" Lána has created a maternity marketplace called Lána Loop where mothers can rent-out their pre-loved maternity wear to other expectant mothers. It's a great way for stylish mothers to share the gorgeous clothing they no longer fit into, and also great for those on a budget.
It's a shocking fact that some of us bloom so much during pregnancy, that even our bathrobes fail to fit! But no worries – this chic, lace trimmed dressing gown is ethically made in London from a soft, light jersey and is cut with a wider front panel to accommodate a growing bump. Perfect to quickly sling on during all those night wakings after birth.
The belt, positioned to go above the bump, is partially sewn in at the back so it doesn't fall out. There's also a handy good-sized pocket discretely sewn into the side seam.
.
If you're having a summer baby, then this breezy dress is a must for those warmer summer days when you're keen to wear something that's both comfy and feminine. The elasticated bust and knotted shoulder straps perfectly accommodate a blossoming baby bump – and ever-expanding boobs!
A white tunic style shirt is a classic in any wardrobe, and People Tree make a wonderful organic cotton one. Lightweight, oversized and easy to wear, the great thing about this shirt is it can be worn to work with slacks or at the beach as a cover-up.
Made from organic, breathable cotton, the style of this dress is simple, whilst remaining incredibly feminine. Frugi is a fab online shop that sells not only maternity wear, but also organic clothing for your baby. A one-stop organic mum-and-baby shop!
If anything you buy for your pregnancy wardrobe should be organic, it's your nursing bra. It's a scary fact that clothing dyes and finishes can leach into your milk ducts and lymph glands, contaminating your breast milk – and your breast tissue! But Kindred Bravely makes 100% organic cotton bras that are not only good for your health, but are easy to use, too.
Sometimes you just want to cover up everything, and this jersey dress does just that! Made from organic cotton jersey, it's a classic style that you can dress up or dress down – and the best part? Mamalicious makes ethical maternity clothing that doesn't cost the earth – this dress is only $35!
This site uses affiliate links with brands we trust, and if you make a purchase using a link, we may receive a commission.
Did you enjoy this post? Want to show your gratitude? Please support us on Patreon!