Grinding your teeth? Losing your cool? These anti stress vegan recipes will restore your chill!
By Lora O'Brien
Confession: stress is my automatic reaction to most situations in life. And I'm hardly ever, if at all, in a relaxed state. That feeling of overwhelming stress – the one where your heart is pounding too fast, you can't seem to think straight or even breathe properly – is an all too familiar emotion for me.
And is this good for my health? Hell no! Is it a good look? Also no. But as the big three-oh approaches me this year (forget twenties, your thirties are your best years, right?) I'm determined to enter my new decade Zen AF. No longer will I over-plan. I will not multitask to the point where I'm frantically rushing around, feeling like a failure if I stop for two seconds.
How do I plan to bring about this change, I hear you ask? Breathing, meditation, and food, my friends! Yep – I'm going to eat myself chill.
The Relation Between Nutrition & Stress
It's been proven that nutrition and stress basically go hand in hand. A person eating anti stress vegan recipes is far less likely to be stressed than someone with a poor diet. Of course, alongside nutrition, breathing exercises like these are a simple yet effective way of controlling the snowball effects of stress. But foods that are rich in certain vitamins and minerals are going to really help lower those stress levels, too.
It's also good to be aware of the foods that can cause stress. Yes, really: tea, coffee and energy drinks seem to be obvious places to start. Why? According to Stress.co.uk, these foods contain neurostimulators like caffeine and theobromine, which are proven to heighten stress. Stress makes you anxious, of course, which in turn can lead to insomnia. Which causes more stress!
Reducing stress is all about finding a balance of the correct vitamins and minerals. So it's highly recommended to avoid all fast foods and takeaways, which usually lack in nutrition, but instead provide hits of sodium, sugar and caffeine.
The good news is that there are SO many tasty, delicious and enjoyable foods out there that are not only good for you, but help reduce stress.
The Best Plant Foods to Eat for Stress
Bananas 
These are natures natural antidepressant, thanks to the amino acid they contain called tryptophan. This makes your body produce serotonin, which in turn helps to boost your mood.
Sweet Potatoes
These are another natural mood-lifter. They're versatile vegetable is packed with naturally stress-lowering benefits and rich in various nutrients that can help to lower depression. Not to mention the fact they're a nutritional powerhouse and high in potassium, magnesium, vitamin B6, amino acids and, like bananas, contain tryptophan. The high magnesium and potassium value in sweet potatoes also help them reduce blood pressure levels, which is a common indicator of stress.
Avocados
Avos have become a popular food in the last few years, and it turns out that they deserve their credit! Avos are loaded with B vitamins, which are great for battling against stress and anxiety as they help to nourish healthy skin, nails, nerves and brain cells.
Oats
Oats are a great food to add to anti stress vegan recipes. They're full of complex carbohydrates that help to boost serotonin production and help lower cholesterol and blood pressure. This helps improve the health of your heart and reduces inflammation within the body.
Leafy greens – especially spinach
Greens are high in magnesium, which has been found to improve sleep quality in older adults. You should also know that research from the University of Otago found eating fruits and vegetables of any sort (except fruit juice and dried fruit) helped young adults calm their nerves. 
Black beans 
These may be your new ally when you feel those stress levels rising! Black beans are high in magnesium, which helps to relax the nervous system while at the same time balancing stress hormones. Add them to loads of anti stress vegan recipes!
Tofu
Tofu is great for the liver, and eating soybeans can help reduce blood pressure. Their high levels of tryptophan, making them a natural sedative. Not a fan of tofu? Try marinating it and then frying it. Game. Changer.
Chia seeds 
These are a well-known superfood, but they're also a great stress reliever and is high in magnesium, potassium, B vitamins, calcium, and even iron and fiber. It's also great to improve heart health, which is always a good thing! Throw chia seeds into oatmeal and smoothie or sprinkle over salads.
Sea vegetables
Sea veggies add saltiness to anti stress vegan recipes. They're also great for putting into salads and buddha bowls. They contain a high level of copper which helps to regulate blood pressure, lowering stress levels. Sea vegetables such as nori, kelp, wakame, dulse and kombu also contain vitamin B2, which helps aid the absorption of other B vitamins that cause stress.
Cacao
This is another potent superfood and one we can add to loads of anti stress vegan dessert recipes. Cacao is rich in tryptophan, which explains why we all feel good when eating chocolate. The serotonin also helps the body to produce dopamine, another feel-good hormone. These both improve mood and lower stress, all while giving you a boost of energy.
Citrus fruits
In one study of people with high blood pressure, blood pressure and levels of cortisol (a stress hormone) returned to normal more quickly when people took vitamin C before a stressful task. Since citrus fruits like oranges, lemons and limes are high in the stuff, why not add a touch of lemon or lime to just about anything?
Seeds and nuts
Research shows that argumentative people who consumed tryptophan become markedly more pleasant, with researchers noting: "Tryptophan significantly decreased quarrelsome behaviours and increased agreeable behaviours and perceptions of agreeableness." Free-range organic eggs are also rich sources of tryptophan. Vegan? No problem! Pumpkin seeds  and nuts are a great source, too.
Food definitely isn't the only sole way to combat negative symptoms, but it's a great place to start. So let's get cooking, shall we?
20 Anti Stress Vegan Recipes To Help You Chill
1. Stress Relieving Green Smoothie
Forget relying on tea, coffee or other energy stimulants. Sip back this green smoothie and it will have you feeling energised, healthy and ready to take on the world! Bananas, leafy greens and turmeric are among the various plant-based foods to naturally reduce stress.
Get the recipe here.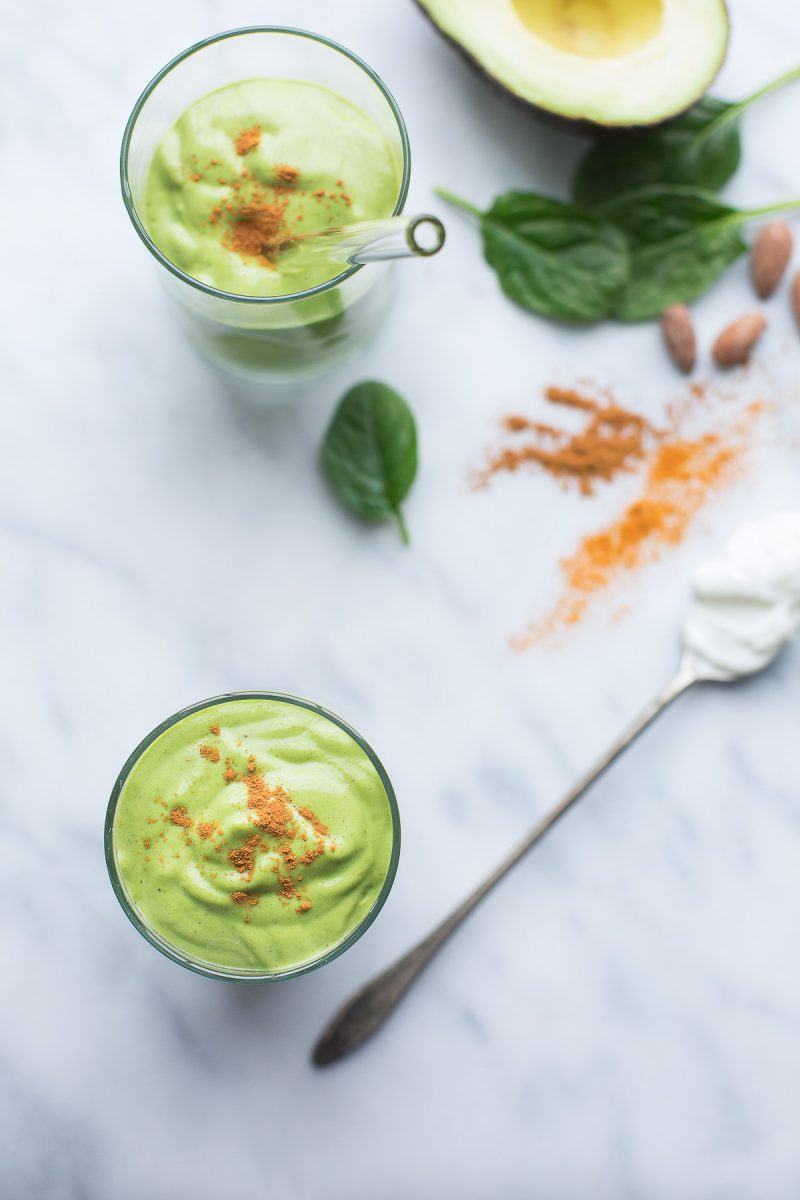 2. Blueberry Coconut Chia Pudding
Chia seeds and berries are wonderful for health, so combine them into a delicious chia pud for breakfast, dessert or as a snack. The chia seeds are super high in magnesium, potassium, B vitamins, calcium, iron and fibre which have all been proven to reduce stress. The magnesium should help you sleep better, too. This is one of those anti stress vegan recipes you can make ahead of time, and keep in the fridge for a few days, too.
Get the recipe here.
3. Purple Power Smoothie Bowl
In case you missed the memo, purple smoothies are the new green! Still loaded with veggie goodness such as kale, this purple smoothie has been given a huge antioxidant hit thanks to the mixed berries that give it this gorgeous hue. Smoothie bowls are a great way to reduce stress because you can literally load them up with anti stress foods! Think nuts, seeds and cacao nibs- yum!
Get the recipe here.
4. Anti-Inflammatory Turmeric Date Balls
This is one of the best anti stress vegan recipes for ensuring you have a snack on hand for when anger and hunger merge into the deadly hangry mood! The curcumin in turmeric has healing properties that are similar to actual pharmaceutical drugs taken for anxiety. These raw turmeric bliss balls are a go-to calming, delicious treat.
Get the recipe here.
5. Super Seedy Granola Bars
Like to spend time with seedy bars? (heh heh) These are as seedy as they get! Perfect for breakfasts or packing into lunch boxes, they're easy to make, too. Vary the recipe according to your tastes and anti-stress needs. Me? I add a dash of extra turmeric.
Get the recipe here.
6. Vegan Maca Nutella
OMG, who didn't live for chocolate spread on toast as a kid? I mean, I'm an adult and I still eat it now, with mucho gusto! Fortify your Nutella on toast cravings with this vegan recipe that includes the Peruvian superfood maca. Maca is an adaptogen, which means that it can reduce the effects of stress, (or help any other problem your body is facing). It's boosted by the addition of banana slices and cacao nibs as toppings. This is another one of those vegan recipes to reduce stress that everyone will love!
Get the recipe here.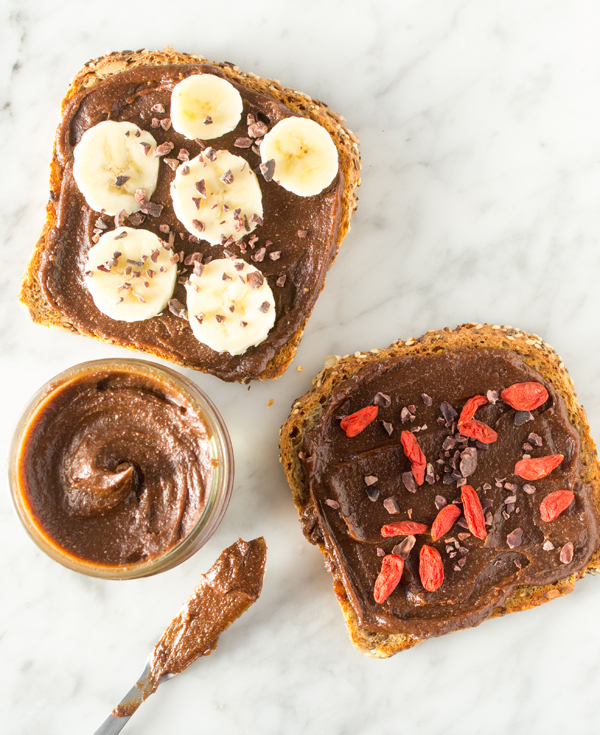 7. Vegan Matcha Pancakes
Matcha contains the powerful amino acid called L-theanine, which gives the potent superfood its ability to help aid relaxation calmness. Incorporating matcha into your diet can have a calming effect in times of stress or anxiety. Not a fan of the taste? Make them into pancakes instead. Forget the sugary syrup, though: top these up with most stress-busting foods like caramelised bananas and a berry compote.
Get the recipe here.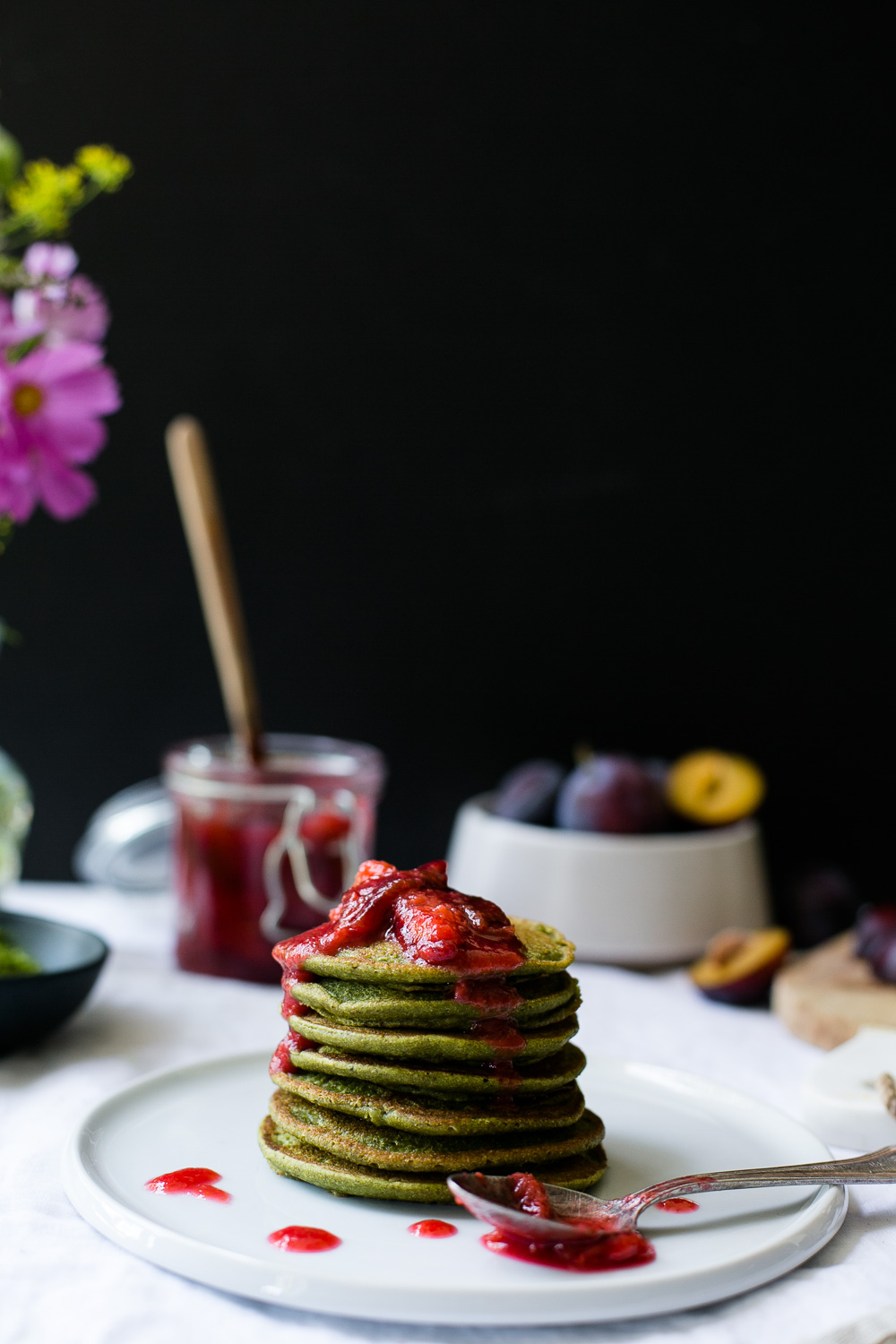 8. Vegan 'Tuna' Salad
This isn't called The Best Vegan Tuna Salad for nothing! Made with chickpeas, vegan mayo, dill, capers and red onion it's creamy and rich without the horrid fishy stench! The added dulse (a kind of seaweed) not only adds a saltiness and 'fishiness',  but it – and all sea vegetables – is great for reducing stress, too.
Get the recipe here.
9. Vegan Spinach Quiche
Packed with more spinach that it looks like, this will infuse your body with the goodness of greens – and mushrooms, too. For an additional dosage of the green stuff, why not enjoy this with a leafy salad?
Get the recipe here.
10. Supergreen Kale & Pistachio Pesto
We all want our skin to have that elusive glow, but we want to enjoy our food, too. Am I right? So this stunningly vibrant pesto is one of the most gorgeous anti stress vegan recipes to enjoy over courgette noodles or gluten-free pasta. These wholesome plant-based foods really will work to heal you from the inside out – and results will ultimately end up on your skin.
Get the recipe here.
11. Grilled Stuffed Avocado
You either love avocado or loathe it, but if you fall into the latter category you should really try grilling it and then stuffing it full of yumminess! This recipe is comfortingly creamy and delicious, and it packs a wallop of stress-busting B vitamins. Try stuffing it with something like chickpeas adds a plant-based boost of protein!
Get the recipe here.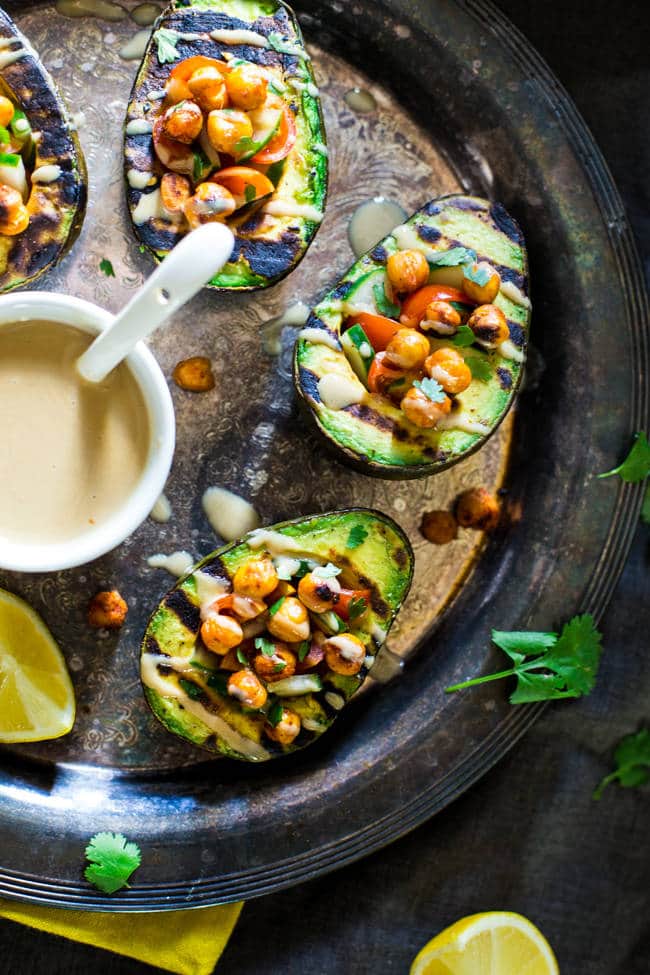 12. Smoky Vegan Black Bean Soup
The abundance of veggies in this soup make it hearty, healthy, and anti-stressy! The broth has so much flavour in each and every spoonful, while the bulk ingredients give it great texture. Top it off with avocado for some healthy fats and garnish with fresh herbs such as detoxing cilantro.
Get the recipe here.
13. Mediterranean Baked Sweet Potatoes
My favourite way to enjoy potatoes? Baked! Especially sweet potatoes. The skin goes lovely and caramelised while the fluffy potato inside is both rich and creamy. Give it a savoury topping with these roasted chickpeas cooked in a garlic-herb sauce and serve with a parsley and tomato salad. Super fresh, delicious and good for reducing those stress levels.
Get the recipe here.
14. Easy Vegan Fried Rice
When stressed, many of us make poor food choices that leave us feeling sluggish and gross. Craving a takeaway? Try making a fakeaway instead! This vegan fried rice is a healthy alternative to the Chinese takeout. Made with just 10 ingredients, it's loaded with vegetables, crispy baked tofu (yum!) and will be a super satisfying switch from fast food.
Get the recipe here.
15. Veggie Lovers Flatbread Pizza
I'm a huge comfort eater and my go-to is thick, greasy, vegan cheezy pizza, always!  But after the initial satisfaction I feel after eating it, I'm then left feeling both sluggish and bloated, which then makes me not only a bit depressed, but stressed about what I've just done to my body. This veggie-loaded flatbread pizza is the perfect way to enjoy the delicious comfort of pizza – it's one of the anti stress vegan recipes that everyone is sure to love!
Get the recipe here.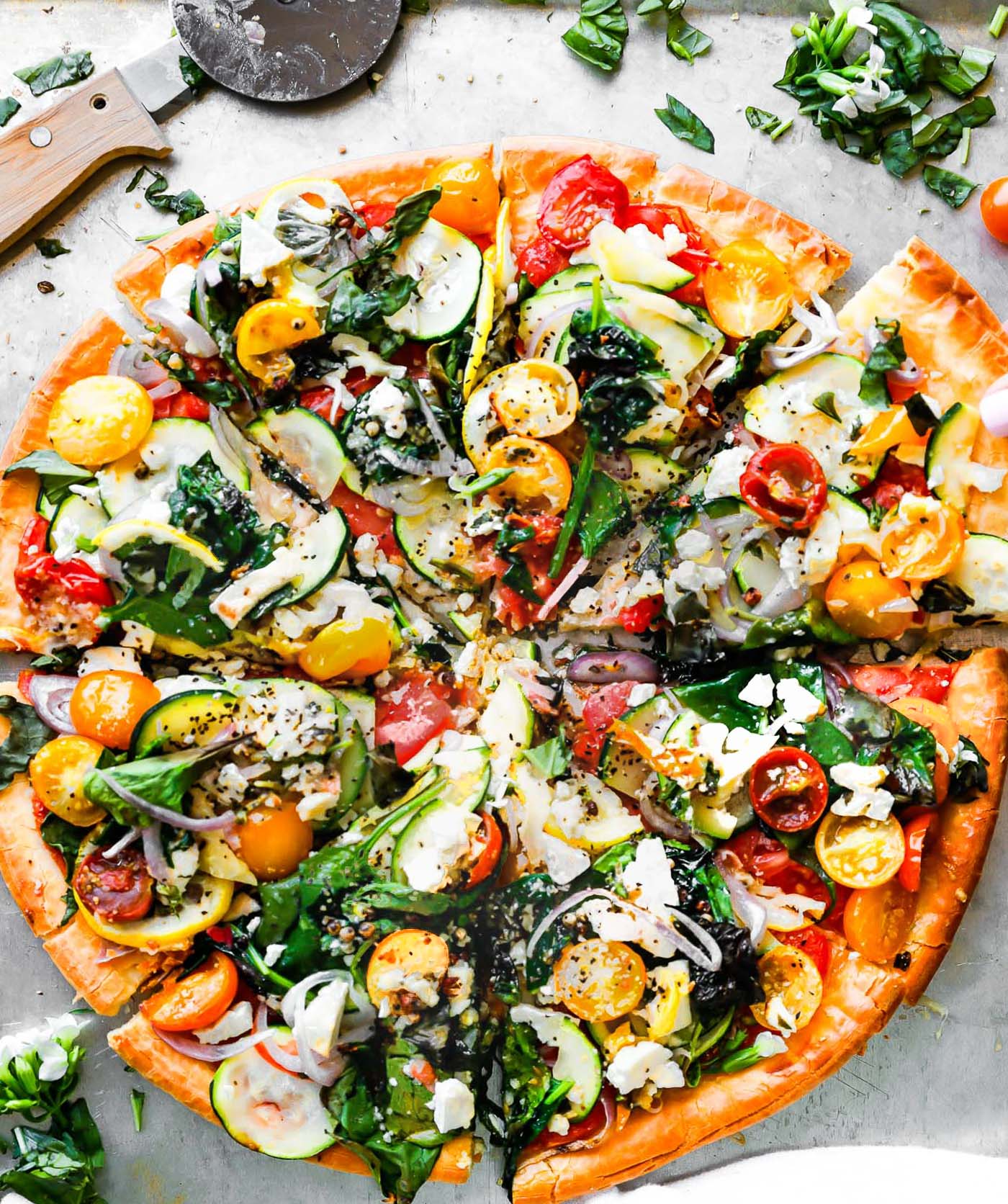 16. Classic Vegan Nut Loaf
Eating nuts doesn't just mean picking from the nut bowl. You can get the goodness of nuts in a hot meal, too, and this vegan nut loaf is the perfect main. It's loaded with nuts and veggies, plenty of flavour and is even more wonderful with some vegan gravy. Sub in sweet potatoes for the mashed ones here for a real stress-busting meal when it's wet and windy outside!
Get the recipe here.
17. Tofu Tacos with Chili Lime Slaw
Forget using mock meat – this taco recipe uses tofu! The Mexican inspired flavours come together to make this mouthwatering recipe. You can take the heat up or down by varying the jalapeños to suit your spice tolerance. These babies go perfectly with another stress busting food: namely, guacamole!
Get the recipe here.
18. Savoury Lemon & Herb Baked Tofu
Citrus fruits are great for lowering stress levels, but many of us only use citrus fruits in sweeter recipes, like smoothies. But guess what? They actually work so well in savoury dishes, too! This tofu recipe marinades the chunks in zesty lemon juice, garlic and herbs and is then baked to crisp, golden perfection. Great in sandwiches, in salads or served with brown rice.
Get the recipe here.
19. Fudgy Sweet Potato Brownies
This is not a drill: dark chocolate is GOOD for us! Well, within reason. Dark chocolate is not only good for our hearts but studies have also shown that as we eat more chocolate, symptoms of depression can decrease. Dark chocolate also lowers blood pressure, which helps to make us calmer. These brownies are made with sweet potato, and they're so gooey and tasty, you'll be surprised that they're actually healthy. One of my fave anti stress vegan recipes for sure!
Get the recipe here.
20. Spelt & Chia Seed Banana Bread
I love banana bread. It's delicately sweet thanks to the fruit, and when it's hot and smeared with a bit of creamy cashew nut butter – it's heaven! So nourishing, but super healthy, too. Serve some stress-relieving turmeric golden milk to wash it down with – yum!
Get the recipe here.
Which are your favourite anti stress vegan recipes? Let us know in the comments, below!
Latest posts by Lora O'Brien
(see all)