Intuitive Vegan Eating is now a thing. Influencer Lucia Bartoli tells us why, how to do it, and shares some of her top recipes
By Chere Di Boscio
Let's face it. Most of us have a weird relationship with food.
Whether it's something we just find repulsive for no reason (I hate celery. Don't ask me why!), the aim of following a special diet or a fear of gaining weight, many of us don't see food neutrally.
Lucia Bartoli knows this well.
The model partner of fashion designer Philip Plein has more than 3 million followers on Instagram. She definitely felt pressure to stay slim and beautiful.
After exploring different diets for most of her adult life, she came across intuitive eating and decided to give it a try. She loved the whole approach of allowing yourself to eat anything without guilt, and the concept of self-forgiveness.
She says: "When I began practicing intuitive eating, I immediately felt a sense of release from all the pressure I used to feel. Giving myself permission to eat everything and accepting myself somehow took away any food cravings I had. My desire to lose weight and my need to chase the image of perfection disappeared."
Wow, right?
Mindful Vegan Eating
In short, by letting go of the notion that she needed to deprive herself of certain foods, Lucia began to enjoy the foods she loved. She stopped thinking about the weight loss implications. What she discovered was that mindful vegan eating transformed her mindset. But it also changed her relationship with food. And those changes ultimately resulted in the body results she wanted.
So delighted was she, Lucia decided to write a book to share what she learned.
In Intuitive Eating, Lucia encourages readers to truly listen to their bodies and free themselves from outdated notions of 'good' and 'bad' foods. No more diets. No more guilt. An end to binging. An end to stressing over food.
Lucia shows you how your taught behaviours have a profound effect on how you eat. They also impact how you feel about your body and food. She teaches you how to reprogram these behaviours to more empowering ones.
Here below, she tells us about her journey towards intuitive vegan eating, and how you can do it, too. She also shares some of her best mindful vegan eating tips and recipes!
Main image: @lucilovesfood
Intuitive Eating With Lucia Bartoli
How would you define 'mindful vegan eating' in a nutshell?
Mindful vegan eating is the key to intuitive eating. When we eat mindfully, we are living in the moment. We are really noticing the food which we're eating. And we are appreciating it. Each bite. It helps us to stay in tune with our bodies and enjoy the food which we eat!
Why do you think so many women have a fraught relationship with food?
I think there's an immense amount of pressure on all women to look a certain way. Social media plays a big role, but the issue has been around for much longer than Instagram. Unfortunately, food is the first place most people turn to lose weight. Too many people don't realize that you can enjoy food without restricting yourself!
What mainly helped you overcome your issues with food?
My main issue with food was the guilt I would feel after indulging in something which I had labeled as 'bad'. I would then feel like I had to restrict myself of that food or eat less in the future to compensate for what I had just eaten. I worried about the potential effect it would have on my weight. This encouraged an ongoing cycle of starving and binging. Something which is extremely common in dieters. Intuitive vegan eating showed me how to forgive myself and break free from this toxic cycle.
Do you ever feel like you might 'relapse'?
The beautiful thing about intuitive vegan eating is that there is no such things as 'relapsing', if you feel you ate too much or you ate something that you would usually feel bad about. You just accept it, forgive yourself and move on. Relapsing is a term often used by dieters who restrict themselves of certain foods.
How did you get into cooking?
When I decided to eat more of a plant-based diet, I found that eating out became a lot less fun. So many places where I would usually go to eat just didn't cater for vegans. Or the plant-based options they would have wouldn't be so exciting.
I wanted to learn how to create plant-based recipes which make me excited to eat this type of food. Using as many fresh fruits and vegetables as possible, keeping the cooking as quick and simple as possible. And most importantly creating food that tastes good. I now look forward to eating!
Why vegan?
I feel that much of the world is going in a more environmentally friendly direction which I'm fully in support of! I'm always cooking plant-based at home for three reasons:
1. Above all, because I love animals.
2. Eating plant-based is better for the environment. And the animals, of course!
3. Plant-based food is often extremely healthy, being full of fresh fruits and vegetables.
What obstacles do you feel you sometimes have to overcome to eat well?
The point of intuitive eating is to befriend the obstacles. Many dieters see food as an obstacle. They think that food is the reason why they are the weight they are.
But intuitive vegan eating says it's not the food which is the obstacle. It's your mindset and the relationship you have with food.
By allowing yourself to eat whatever you want, whenever you want, your mind is at ease. Your relationship with food is healed, and the obstacle no longer exists.
What are some of your go-to meals?
I'm all for quick and simple. That's why I'm so proud of the recipes in my book – how easy they are to make. In the morning I'm usually eating chocolate oats.
For lunch, I love different toast toppings, like roasted peppers or fresh hummus. For dinner, I love a soup or some homemade plant based 'meat' balls. I'm also always making banana bread. It's my (and my boyfriend's) favourite thing to eat!
What's the best advice you'd give women who have difficult relationships with food?
Be more kind to yourself! Know that you're not alone. Unfortunately it's too common these days for women to have a bad relationship with food. The best thing you can do is to make the effort to focus on healing it. And another great way to heal your relationship with food is through intuitive vegan eating!
Mindful Eating Tips
Intuitive Vegan Eating Recipes By Lucia
White Bean Vegan Mac And Cheese
Ingredients
400g white beans
1 large onion
2½ cups plant-based milk
1 cup water
1 cup nutritional yeast
1tsp paprika
Pinch turmeric
Salt and pepper
450g pack macaroni
2 large handfuls spinach
Topping: Vegan cheese, breadcrumbs, chives
STEP 1: Preheat oven to 180 degrees. Chop and sautéonion in frying pan. While onions cook, drain beans. Then add both to a blender and blend until smooth.
STEP 2: Add all the rest of the ingredients to the blender and blend until thoroughly mixed.
STEP 3: Pour pasta into baking tray until its ¾full, then pour the mixture on top so the macaroni is covered. Stir in spinach.
STEP 4: Cover top with your favourite plant-based cheese. Cover the top evenly with bread crumbs.
STEP 5: Cover baking tray with tin foil and place in the oven for 30 minutes. After that, remove tinfoil and then place back inside for a further 10–15 to brown to top slightly
Lucia's Favourite Banana Bread
Ingredients
2 cups spelt flour
1 cup coconut sugar
3 tsp baking powder
1 vanilla pod¼ cup olive oil
¼ cup water
4 mashed bananas
Vegan chocolate chips (optional)
Extra banana for decoration (optional)
Method: Bake for 35 mins at 180 degrees
STEP 1: Preheat oven to 180 degrees. In a mixing bowl combine all the ingredients except the chocolate chips and whisk. Then stir in the chocolate chips if using.
STEP 2: Line a small bread tin with baking paper andpour in the cake mixture. If using the extra banana then peel it and cut it in half longways (as shown on the cake in picture). Lay each piece on top of the cake and place in the oven for 30–35 minutes.
STEP 3: Test the cake is ready by placing a knife directly in the middle and see if it comes out clean. If so, take the cake out of the oven and let it stand in the tin for minimum 20 minutes. Makes a great snack!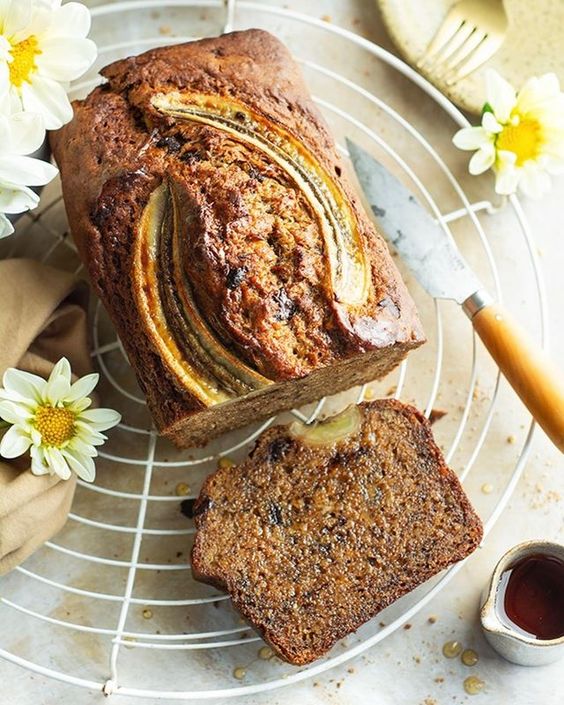 Vegan Enchiladas
Ingredients
Filling:
1 large onion
1 garlic clove
1 400g tin black or kidney beans
1 tin 400g chopped tomatoes
Sprinkle chili flakes
6 small to medium wraps (I used gluten free)
Topping:
Vegan cheese
Avocado cream (see page 123 of the book)
Soy yogurt
Red onions
Chili peppers (optional)
Method
STEP 1: Preheat oven to 180 degrees. Chop up and fry the garlic and onion for 3–5 minutes,then rinse and add the kidney beans. Cook the beans for about 3 minutes and then add the tinned tomatoes, chili flakes, salt and pepper. Bring to boil and then let simmer for 30–40 minutes.
STEP 2: Once the filling tastes ready, place about 3 tbsp of filling inside the wrap and roll it up to close, then place in baking tray. Repeat until tray is full.
STEP 3: Cover the top of the enchiladas with your favourite plant–based cheese. Place in the oven for 15–20 minutes.
STEP 4: Remove tray from oven and top enchiladas with avocado cream, soy yogurt and red onion and chilli, if using
Latest posts by Chere Di Boscio
(see all)