Have you said 'I do?' Then you'll want to check out the hottest ethical engagement ring styles for this year!
By Lora O'Brien
Choosing the perfect engagement ring is no easy task. There are so many brands and designs to choose from, where do you even start? And then, there are also human rights and environmental concerns to be factored in.
While diamonds were once upon a time a girl's best friend, a lot of women today care more about where their diamond came from than how pretty it looks on their finger. As most of us know today, the mining of diamonds has a history of conflict, which is far from romantic. And of course, ripping the earth open to search for stones and precious metals can also be highly damaging to the environment.
Luckily, there are now many companies that provide engagement rings with high ethical standards and transparency. They're making it easier for conscious couples to seal their relationship with a sustainably sourced engagement ring that will suit their ethics and their style.
But speaking of style: there's another obstacle!
An engagement ring is for life. Which means you need to think about wearing something that transcends trends and fashion. Something that's timeless, and that
Whether you're wanting recycled gold or vintage, a conflict-free diamond or something unique altogether, I've found the hottest ethical engagement ring styles for this year! Just check them out, below.
Main image and image below: Brilliant Earth
The Hottest Ethical Engagement Ring Styles For 2021
1. The Pear Shaped Diamond
A pear-shaped diamond ring is one of those ethical engagement ring styles that's a true classic. It's perfect for the girl who doesn't follow trends. It's a universally flattering stone that looks gorgeous, whether it's set on silver or gold.
Where to find it: Brilliant Earth has a stunning selection of pear-shaped engagement rings. But if you want a real showstopper, Lilia Nash's Teal Sapphire and Diamond Halo Engagement Ring is kinda out of this world!
Image: @adadiamonds on Instagram
2. The Gemstone Ring
Once upon a time, a diamond was the popular choice for an engagement ring. But today, pretty much anything goes! Some women choose different gemstones, depending on their meaning. For example, they might choose their birthstone, or a stone that has certain meaning. For example, topaz is said to soothe, heal, and recharge your energy. Plus, topaz and other light blue stones are pretty trendy at the moment!
Where to find it: If you're wanting something unique but not too 'out there,' aquamarine is a gorgeous option. Brilliant Earth will make a bespoke ring from the stone just for you. This is perfect choice if you're looking for ethical engagement ring styles that feature subtle colour. Alternatively, Aurate's Kaleidoscope Quadricolor Ring is both vibrant and understated at the same time, with a simple gold band set with sapphires and precious stones.
Image: Brilliant Earth
3. The Tapered Cathedral Lab Grown Diamond
While there are many options today, we still can't dismiss the traditional diamond setting. And the tapered cathedral is one of the most classic. There's a reason this setting for diamonds has withstood the test of time, and there are many ethical jewelers who can use this setting for the perfect stone: a lab grown diamond.
Lab grown diamonds are guaranteed to be conflict free, and don't destroy the earth the way mined diamonds do. And yet, they're still 100% the same as any other stone found in the ground.
Where to find it: Ethica Diamonds makes bespoke engagement rings with lab grown diamonds. Their Aurora Ring is perfect if you're looking for something unlike anything before. Looking for a ring to perfectly symbolise your love? Their Evangeline Ring (below) has the perfect cathedral setting. Or if you're just wanting a fuss-free diamond, you can't go wrong with their gorgeous Noorah Ring.
4. The Vintage Ring
A vintage ring is always one of the best ethical engagement ring styles.
You could wear a family heirloom, or shop for a pre-owned ring. Or, you could start the trend of passing a ring down with a brand new vintage-inspired room that has the look of a vintage ring with the modern ethics your bridge will love you for.
Where to find it: Clean Origin has a section of vintage-inspired rings to choose from. Their Sienna Ring features an antique-style filigree frame that is set with no less than 28 hand set lab-created diamonds encircling a beautiful centre stone. Vrai offers a modern twist on vintage-inspired, rings, and their Fifth Avenue Ring is like something out of an old Hollywood movie.
Alternatively, Ethica Diamonds has a wide-range of sentimental, vintage-inspired rings we love.
Image: @sarahojewelry on Instagram
5. The Simple Diamond Band
Another one of the most timeless ethical engagement ring styles is a simple band. Since they're so minimalistic in style, they will look beautiful throughout the decades of your marriage. Plus, they go with wedding bands seamlessly! Choose between a delicate band, or one that makes more of a statement, like Brilliant Earth's, in picture 2, below.
Where to find it: Ethical brand Lilia Nash's White Gold Hammered Blue Diamond Wedding Ring is simply stunning for the girl wanting a thin band with a pop of colour. But if you're still wanting some bling on that ring, Aurate's Channel Set Gold Diamond Ring is simply stunning.
Image: @elizapagejewelry on Instagram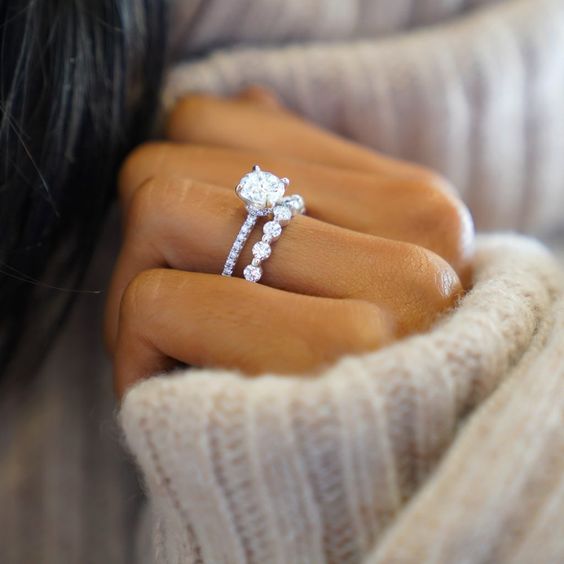 6. The Emerald Cut Ring
The emerald style is a very elegant shaped ring, and can be versatile. The cut of the stone is either a rectangle or a square, but the variations of the band for this ring make it a special one to consider.
Where to find it: Ethical jeweler Taylor & Heart has many emerald cut rings to choose from, but their Dulcet Ring has a stunning diamond band to accompany the ring. If you prefer the diamond on its side, their Purity Ring is a great choice.
Image: @adadiamonds on Instagram
7. The Sea Glass Ring
As a lover of the beach, I saw a sea glass engagement ring once and thought it was easily the most beautiful ring, ever. There is something about the aquamarine tone of the gem and the smoothness of it, as if it has been washed by the sea.
Where to find it: Glasswing has plenty of stunning sea glass engagement rings for mermaid wannabes. If you're looking for a gold band, their Yellow Gold Morwenna Sea Glass Ring features aqua sea glass flanked by two ethical diamonds. Prefer silver? The Lori Engagement Ring is set with storm blue sea glass, flanked between two recycled diamonds.
Image: Pinterest
8. The Floating Diamond
Delicate, light and feminine, the floating diamond ring is perfect for those who love minimalistic ethical engagement ring styles. The floating ring is a simple, yet beautiful, adaptation to the classic diamond ring. Why not consider recycling a diamond you have in an heirloom ring? This is an easy style to achieve, and allows you to feature a treasured family piece with a modern update.
Where to find it: A few we love? Aurate's Floating Diamond Ring is a gorgeous way to show off your diamond. Edge of Ember's Floating Diamond has a thin band and is encased with not one, but three dainty diamonds to make a ring that will sparkle with every movement.
9. The Princess Cut Diamond
For some, the princess cut ring is the most cherished of all the ethical engagement ring styles. I think we've all had a moment where we've loaded up Tiffany's and imagined this cut upon our finger, am I right? It's clean and designed to maximize the sparkle factor. Wear it on a brilliant pavé band, or a thin gold one.
Where to find it: Brilliant Earth offers lots of ethical princess cut rings to choose from. But one that truly stands out is their Demi Diamond Engagement Ring – it's gorgeous! Wanting accents to go with the diamond? The Willow Engagement Ring is set with brilliant emerald gems which only make the diamond pop more. Looking for something classic in design with zero frills? Stefano Navi's Lucia Bezel-Set Ring is ideal.
Image: @panoplybysahski on Instagram
10. The Triple Stone
Call it the Meghan Markle effect. But ever since Meg debuted her cushion-cut diamond flanked by two round diamonds, this classic setting has surged in popularity. Also called a 'trilogy setting', the three stones in such rings has historically represented friendship, love and fidelity. Or, a couple's past, present and future. Another plus: It's easy to put a custom twist on this setting by mixing up the combo of stone shapes and colours.
Where to find it: You can get a bespoke triple stone ring from Brilliant Earth. All you need to do is pick your stones and setting. Alternatively, Ethica diamonds also offers a bespoke service.
Image: Ashleigh Taylor Photography 
11. The Oval Diamond
An oval-shaped diamond always looks modern, and is the perfect shape for showing off a perfect stone. It's beautiful whether showcased on its own, or surrounded by other stones. When cut precisely, these reflect light in incredible ways!
Where to find it: If you're looking for an oval ring that won't be seen from space, Brilliant Earth's Luna Engagement Ring is beautiful and modern with a sleek band. Looking for more of a showstopper? Taylor & Heart's Celestial Ring will have everyone wowed with its sparkly pavé band. Are you the kind of girl who doesn't love diamonds all that much? Mejuri's Oval Cut Diamond has a peach morganite stone that's romantically stylish.
Image: @jeandousset Instagram
12. The Diamond Encrusted Shoulder Setting
The shoulder of a diamond engagement ring marks the point between the setting and band of the ring. You can have parallel shoulders, tapering, channel, split, twisted or pavé (diamond encrusted) shoulders, for example.
Where to find it: Ethica Diamonds (pictured below) makes a gorgeous diamond-encrusted shoulder setting ring that just shouts 'bling' – in the best possible way! But this is a pretty common and trendy setting these days, so you'll find it at most jewelers.
13. The Understated Minimalist Ring
Not all women like to wear 'blingy' rings. For them, it can be difficult to imagine wearing a huge rock for the rest of their lives. The solution? Delicate ethical engagement ring styles are perfect for the girl who likes her jewelry 'barely there'. Think: minimalism all the way!
Where to find it: Aurate's Midi Stackable Twist Diamond is a total steal and the perfect ring for the girl who doesn't like fuss or expensive stones. Know a girl that isn't fussed about diamonds? Melissa Joy Manning's Tiny Pearl Ring is perfect.
Image: @oleander_la on Instagram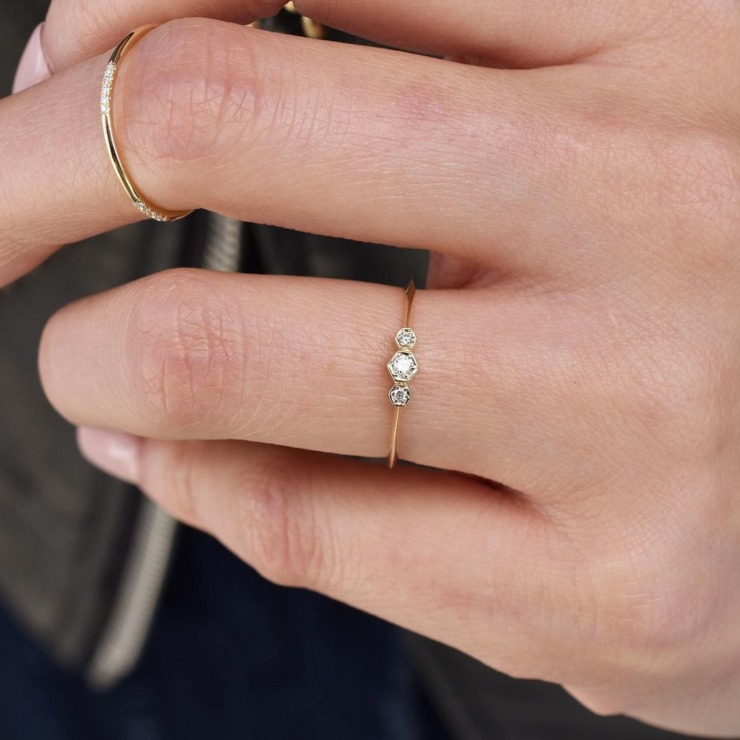 14. The Stack of Rings
If a woman no longer wants one ring, but a stack of them instead, who are we to tell her no? In fact, stacking rings have become a trendy way to announce your engagement. And the best part if that you can get a matching wedding band to really complete the set.
Where to find it: Aurate's Floating Stack are magical together and is perfect if love delicate stacks. Bit of a Boho babe? Sarah O Jewellery has lots of ring styles that can be put together to make a stunning stack. The Seven Diamond Starburst Tracer Band pairs well with the Bennett Marquise East West Solitaire Ring and the Thin V Stack Ring.
Image: @sarahojewelry Instagram
15. The Unique Design
For some women, when it comes to the ideal engagement ring, they want it to be as unique as possible. They're looking for a ring you don't see often, but one that they'll cherish for the years to come. you can choose from all kinds of stones and settings with loads of ethical jewelers, such as Brilliant Earth, Ethica and more. Let your creativity run wild!
Where to find it: Sustainable jewelry brand Audrey Claude's Champagne Crescent Ring is a lovely option if you're seeking a ring unique in both shape and color, as it uses rare champagne diamonds on the crescent band.
Image: @theartofjewels on Instagram
What's your favourite of these ethical engagement ring styles? Let us know in the comments below!
Latest posts by Lora O'Brien
(see all)