It's a mani classic you need to have in your makeup bag! Here are our top non toxic red nail polishes
By Sophia Hussain
Red Alert! Chic, non toxic red nail polishes are a timeless romantic classic. A red nail suits any occasion. Whether you are taking a leisurely stroll "a deux" or attending a chic soiree, scarlet nails are sexy and glamorous.
Of course, 'red' can mean many things, from the brightest crimson to the deepest bordeaux. No matter what the shade, red is universally flattering on nails and makes every type of nail length look brilliant too.
But know this: in the world of makeup (and even food!), red dyes and pigments are often derived from toxic ingredients. And of course, nail polish has traditionally been full of nasty chemicals, including formaldehyde, dibutyl phthalate, and toluene. These can cause allergic reactions, breathing difficulties, and over time, even cancer.
For that reason, it's essential to use a 5-free or higher polish. These are non toxic red nail polishes that are safe for even pregnant women to use.
Simply apply two coats of your favourite red shade, and finish off with one layer of clear top coat to ensure a fortified chip-free finish. A good polish should last for up to 10 days.  To remove the lacquer, use an acetone-free (preferably soy-based) remover. Remember: red hues tend to take more product to remove due to the higher pigment intensity.
Here below, I've found some of the most fabulous non toxic red nail polishes that ensure your red nails are always as 'green', as can be!
Image below: @Midoshh on Instagram
10 Non Toxic Red Nail Polishes
Available in a wide spectrum of shades and finishes, Swiss skincare and cosmetics brand Mavala was one of the first ever brands to go 3-free (and they're now 5-free plus).
We love their nail varnishes not only because they're fast-drying, but also because they deliver a smooth, even coverage and a chip-resistant long-lasting finish. I'm partial to their Red Vinyl shade, which reminds me of the cheerful counter tiles you might see in a 1950's diner.
But there's more! These little pots of colour were designed to reduce waste, and to avoid a common nail varnish problem: dry-out. So you could say they're eco-friendly, too, since you're likely to use every last drop!
Kure Bazaar is a relative newcomer to the 5-free polish scene, but it's already produced a rainbow of red hues. We particularly love Rouge Flore, a bright red hue in a cream finish high-gloss formula. But their Cherie, a cherry-red hue, is also at the top of our list of non toxic red nail polishes!
Kure Bazaar makes an all natural-origin formula. A full 85% of each polish is comprised of wood pulp, wheat, cotton, potatoes and corn based materials. Of course, all Kure Bazaar colours are free from formaldehyde, toluene, dibutyl phthalate and camphor, too.
Whoa! Check out this deep blood-red hue (621) by Inglot. It dries to a high-gloss finish, making the polish stick onto your nails longer, with fewer chips and less peeling. This innovative water-permeable formula contains Polymer KS_02 which allows water and oxygen to pass through to the nails. Just note that this is true when one coat – no more – is applied.
Offering a wide selection of colours and finishes, Inglot is a 5-free brand that's also halal friendly.
Nailberry's luxury breathable nail polishes allow air and moisture to pass through the varnish, resulting in healthier nails. The brand is also 5-free, vegan friendly, and because of its permeability, it's halal, too.
I love their chic, minimalist bottles, and the huge range of colours and finishes they offer. It's really hard to decide which one to buy! But as for reds…my choice? Their deep crimson hue called Grateful. It's almost a spicy red shade, and it reminds me a bit of fall leaves.
Check it out: this brand is actually 9-free! Woohoo! Despite their angelic reputation, they have a wonderful shade called Red Devil that's bound to get hearts racing. This is a classic, fire-engine red that simply screams 'sexy.' Perfect for date night, or Valentine's Day!
Feeling a bit creative? I love the two tone idea, below, and it works perfectly with this shade and a nude pink. Why not give it a try?
This shade may be called 'Creep' – but it's anything but creepy, if you ask me! Smith & Cult is a 7-free brand containing no toulene, formaldehyde, dibutyl phthalate, camphor, formaldehyde resin or other serious toxins. 'Creep' is a berry red hue that evokes fresh raspberries and a fresh smoothies.
And those bottles? Sheer glamour!
What could be cuter than a Love Bug for Valentine's Day? This is the perfect firey red hue, requiring only one coat to create a high-gloss cream finish. This healthy water-permeable and peelable formula is free from harsh chemicals such as  formaldehyde, toluene, dibutyl phthalate, camphor or alcohol, and is never tested on animals. Oh, and it's halal friendly as well!
Tuesday in Love shares the love for Valentine's Day even more: for each bottle sold, the brand  donates a portion of the proceeds to Plan Canada's Because I am a Girl Campaign, which helps support the over 4 million girls living in poverty in the developing world.
This popular American salon brand with Russian roots has created 'Lisa', a classic garnet red hue that really shines! Anyone else thinking of ruby jewellery?
I love how Michael, an advanced chemist and co-owner of the brand with his wife, Zoya, responded to his wife's demands. She was lamenting the fact that there were no fast drying topcoats, so Michael created one! He also made what he claims to be the world's longest wearing, toxin free natural nail polish, just for her! Now, that's pretty romantic, right?
Ace your manicure wearing PRITI NYC's vegan-friendly Red Head Cactus. We love this brand's darker, more sensual burgundy-hued reds – more wine than candy!
Priti NYC is vegan-friendly, 5-free brand containing no toulene, formaldehyde dibutyl phthalate, camphor, and formaldehyde resin. They carry a whole range of reds, ranging from this jewel-like ruby tone below, to brighter, lighter hues, as in their In Bloom shade.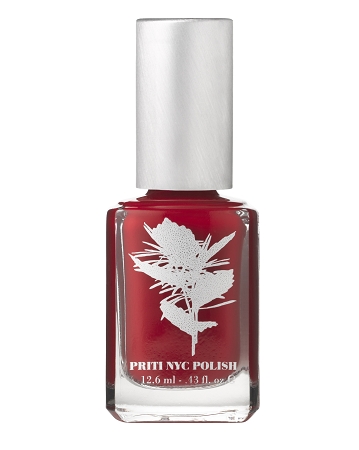 Did you know that despite not being a clean beauty brand, Givenchy was one of the first ever beauty brands to go 5-free? That's why we've included their non toxic red nail polishes here.
If you've ever used their non toxic red nail polish, you'll know that it glides on like a dream and stays put without chipping for days and days. I'm loving this 'Granat Initie' shade. It's a trés sophistiqué berry red with a hint of darkness. And with zero parabens, formaldehyde, toluene, camphor, cellophane, heavy metals and other toxins, too.
Latest posts by Sophia Hussain
(see all)