By Sophia Hussain
Red Alert! Chic red nails are a timeless romantic classic that suit any occasion, whether you are taking a leisurely stroll "a deux" or attending a chic soiree. With an array of hues – from the brightest crimson to the deepest bordeaux, red is universally flattering on nails and makes every type of nail length look brilliant too.
Simply apply two coats of your favourite red shade, and finish off with one layer of clear top coat to ensure a fortified chip-free finish lasting for at least 10 days.  To remove the lacquer, use an acetone-free (preferably soy-based) remover and remember: red hues tend to take more product to due to the higher pigment intensity.
Our fabulous selection of our Top 10 Red Nail Polishes for Valentine's Day consists exclusively of 5-free ad beyond lacquer picks, of course – making sure your red nails are 'green', too.
10 Non Toxic Red Nail Polishes For Valentine's Day
Did you know that despite not being a clean beauty brand, Givenchy was one of the first ever beauty brands to go 5-free? If you've ever used their nail polish, you'll know that it glides on like a dream and stays put without chipping for days and days. I'm loving this Pourpre Edgy shade. Trés sophistiqué! And with zero parabens, formaldehyde, toluene, camphor, cellophane, heavy metals and other toxins, too.
What could be cuter than a Love Bug for Valentine's Day? This is the perfect firey red hue, requiring only one coat to create a high-gloss cream finish. This healthy water-permeable and peelable formula is free from harsh chemicals such as  formaldehyde, toluene, dibutyl phthalate, camphor or alcohol,  and is never tested on animals.
Tuesday in Love shares the love for Valentine's Day even more: for each bottle sold, the brand  donates a portion of the proceeds to Plan Canada's Because I am a Girl Campaign, which helps support the over 4 million girls living in poverty in the developing world.
Kure Bazaar is a relative newcomer to the 5-free polish scene, but it's already produced a rainbow of red hues. We particularly love Rouge Flore,  a bright red hue in a cream finish high-gloss formula.  A natural-origin formula where 85% is comprised of wood pulp, wheat, cotton, potatoes and corn.  Kure Bazaar is free from formaldehyde,  toluene, dibutyl phthalate, and camphor.
Whoa! Check out this deep blood-red hue (621) by Inglot. It dries to a high-gloss finish, making the polish stick onto your nails longer, with fewer chips and less peeling. This innovative water-permeable formula contains Polymer KS_02 which allows water and oxygen to pass through to the nails (when one coat – no more – is applied).  Inglot is a 5-free brand, without any harmful formaldehyde, toluene, dibutyl phthalate, or camphor.
This provocatively named polish comes in a very bright, nearly red orange – the sexiest of the naughty berry shades. Nailberry's luxury breathable nail polishes allow air and moisture to pass through the varnish, resulting in healthier nails. The brand is also 5-free and vegan friendly.
Check it out: this brand is actually 9-free! Woohoo! Despite their angelic reputation, they have a wonderful shade called Red Devil that's bound to get hearts racing this V-Day!
This shade may be called 'Creep' – but it's anything but creepy, if you ask me! Smith & Cult is a 7-free brand containing no toulene, formaldehyde, dibutyl phthalate, camphor, formaldehyde resin or other serious toxins. And those bottles? Sheer glamour!
This popular American salon brand with Russian roots created Norra, a classic folly red hue that really shines! Anyone else thinking of candy apples? BTW, Zoya is never tested on animals, this 4-free brand contains no toluene, formaldehyde, dibutyl phthalate, and camphor.
Ace your manicure wearing PRITI NYC's vegan-friendly Red Head Cactus. We love this brand's darker, more sensual burgundy-hued reds, more wine than candy! Priti NYC is vegan-friendly, 5-free brand containing no toulene, formaldehyde dibutyl phthalate, camphor, and formaldehyde resin. They carry a whole range of reds, ranging from this jewel-like ruby tone to brighter, lighter hues, like their In Bloom.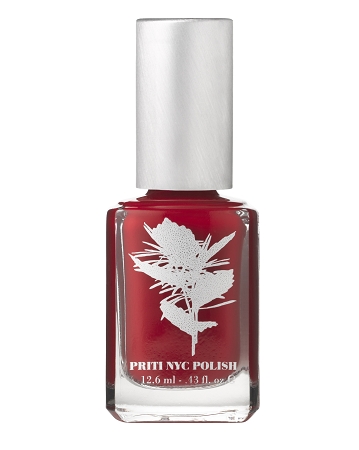 Take a chance with this vegan and 5 free brand's Chance Taken shade–a classic fire engine red hue. The entire Eluxe staff has tried Void Beauty polishes of one shade or another, and we can all vouch that it lasts and lasts (the lighter shades especially can go on for two weeks or more without chipping), and the brand constantly updates its shades to keep up with current trends. What else would you expect from a nail company based in chic LA?
Latest posts by Sophia Hussain
(see all)
This site uses affiliate links with brands we trust, and if you make a purchase using a link, we may receive a commission.
Did you enjoy this post? Want to show your gratitude? Please support us on Patreon!