By Mariam Hassan
Wearing makeup every day can be a bit suffocating for your pores. Sometimes, your skin just needs a break; it needs to breathe. That's when BB creams come to the rescue! In case you're unsure about what a BB cream is, it's basically…everything. The 'BB'  stands for lots of stuff, from 'blemish balm' and 'blemish base' to 'beauty balm'.  In short, a BB cream is a one-stop,  all-in-one facial cosmetic product that can replace your serum, moisturizer, primer, foundation and sunblock. It should keep your skin hydrated, safe from the sun, and should add a little coverage with the perfect tint.  It's practically a makeup miracle!
You are definitely better off using a BB cream than a bunch of beauty products. According to the Environmental Working Group (EWG), a  consumer using a typical BB cream would be exposed to an average of 40 ingredients, while a consumer using three separate products — foundation, concealer and moisturizing sunscreen — would be exposed to a whopping  70 ingredients. And of course, if you're using organic BB creams, you'll be using even fewer – and much healthier – ingredients.
And ingredients do count. Just take any of your conventional foundations, and check the ingredients on EWG's Skin Deep Database – you may be horrified at what you discover.  The typical BB  product the EWG analysed contained up to five hazardous ingredients, including oxybenzone (a typical sunscreen) and retinyl palmitate (the cultivation of which is helping destroy rainforests).
Another potentially harmful ingredient  may be hidden in the form of  "fragrance," a "lump sum" term the mainstream cosmetics industry often uses instead of  disclosing the actual specific chemicals in the product that make up that scent. But here are just few examples of ingredients that may lurk behind the term "fragrance":
Phthalates, potent hormone disruptors linked to birth defects in baby boys
Octoxynols and nonoxynols, which break down into persistent hormone disruptors
Citral, eugenol, coumarin and geraniol, which are natural or synthetically derived chemicals that are associated with allergies and contact dermatitis and that have been banned or restricted in the European Union
Nasty, right?
Because there are so many chemicals lurking in our makeup,  we think it's really important to use only all natural products, and that includes organic BB creams. You can rest assured that these products, which I've tried and tested myself, are not only non-toxic, but are actually good for your skin.
This is a true multitasking miracle that hydrates, primes, illuminates, and perfects leaving a sheer bare skin finish. It gives some sheer tinted coverage thanks to its specialized mineral pigments, which immediately adjust to your skin's natural shade, which means one color works for many different complexions. Of course, the sheer application can be built up to ensure you get just  the right amount of coverage. As an added bonus, this  BB Cream is packed with some  high performance anti-aging botanical ingredients that revive the skin, bringing a natural glow. Your skin's left looking naturally dewy, youthful and radiant without looking like you've plastered on the make-up.
Coverage: light SPF: None Cost: mid range
Apart from being vegan, gluten free and natural, the great thing about this BB cream is that it works for all skin types (although it comes in three shades only). With its lightly hydrating, plant based formula, it naturally improves your complexion, resulting with skin that looks super healthy! Its reflective pigments provide  a luminous yet airbrush-like finish. If you like a glowing, luminous look then this is the one for you; if not, you can always set this with a loose powder.
It's texture is heavy due to it being extremely moisturising, but it does sink in after a while. It provides a light to medium coverage which is the norm for BB creams.
Coverage: light to medium SPF: 15 Cost: mid range
This brand will have even those who have doubts about the benefits of natural makeup convinced. It provides medium coverage, even though I'd say the texture is slightly thicker than other BB creams, but I found its mousse-like texture quite pleasant.
To help boost your skin's health, it's filled with argan oil and natural minerals, which made my skin feel moist and hydrated throughout the day. The only 'con' there is for me is that it's quite matte (even though it has the word "illuminating" in the name) and I do like a glowy/illuminated look – but that's nothing a highlighter can't fix!
Coverage: medium SPF: none Cost: mid range
This is an office favourite! It provides some great coverage with a semi-matte finish, but its botanicals-filled formula leaves the skin hydrated and dewy. Maybe this is mainly down to the  Aloe Vera, which forms the foundation here and promotes long-lasting hydration along with White Tea and Rosemary Extracts, which also fight free radicals. Another key ingredient includes Sodium Hyaluronate to keep the skin moisturised as well as boosting skin microcirculation underneath the surface. End result: smooth and all-around fuller appearance.
One of the best aspects of Ilia is that it also offers a wide range of shades, catering to quite a few different skin tones,  and also acts as a decent sunblock, truly making this at least three products (moisturiser, sunblock and foundation) in one.
Coverage: thorough SPF: 20 Cost: higher end but worth it!
Since the main purpose of using a BB cream is to nourish and moisturise the skin whilst adding a touch of coverage, most BB brands don't offer a variety of shades –  they need to adapt to different skin tones. For example,  the Ren's BB cream comes in one – just one! – shade, but works on a selection of light to medium skin tones, thanks to its innovative colour adaptive, photo-rejuvenation technology, which both tones and gives off an anti-ageing effect. It works as a corrector, evening out the skin tone and also offers  UV and anti-oxidant protection, resulting in gorgeous, radiant skin. The texture is very creamy and quite thick, but  it's absorbed quickly, letting  all those ingredients begin to work their magic.
Coverage: light SPF: 15 Cost: mid range
Ok, I admit – I haven't actually tried this one yet as it's fairly new on the market. But if it's anything like Inika's other makeup products, it's bound to be good! Apparently, this certified organic BB cream contains the highest percentage of Certified Organic ingredients (80%) in any BB cream on the market. What are those ingredients, you ask?  Pomegranate, Avocado and Jojoba Oils are all there to moisturise and hydrate skin while  Prickly Pear Oil tightens pores and has essential fatty acids to help keep the collagen layer of your skin moist and healthy. And did I mention it comes in six shades, from Porcelain to Tan? Sounds good to me!
Coverage: light SPF: no Cost: upper end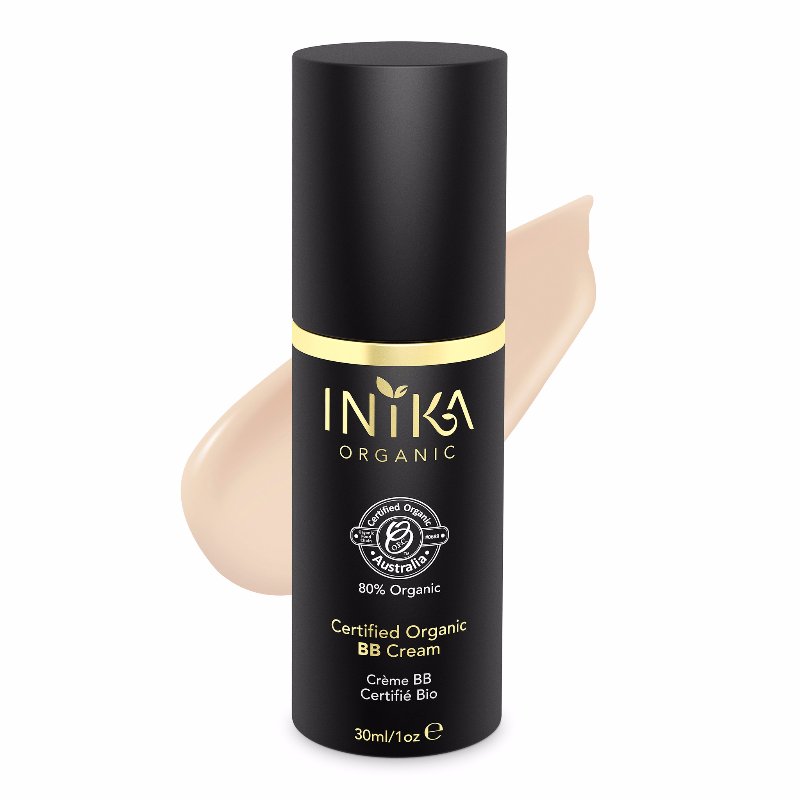 Our editor swears by this product, big time, thanks to its thorough coverage and highly natural colours for those of 'celtic' or medium complexions – it comes in three shades, light, warm neutral and medium, which is a sandy beige. This hydrates beautifully, and also has a mineral sunblock providing SPF 31 protection, making it the ideal day cream. There's also vegetable glycerin here, which fills in wrinkles and prevents that cakey look that some foundations can give.
Coverage: thorough SPF: 31 Cost: higher end, and worth it!
This creamy tinted moisturiser comes in one beige shade that adapts to most medium skin complexions well – but not all, of course. It's very gentle and calms red, irritated skins well – even those suffering eczema, rosacea and acne – and also hides the redness to some extent, but this is quite a sheer BB cream. It contains botanicals like quince seed and rose petal extracts, and like all Dr.Hauschka's products, this one is not tested on animals, is comprised of only natural ingredients, and is infused with vital extracts of organic and biodynamically grown plants. That being said, it does include beeswax, so it's not 100% vegan friendly. But for any non-vegan who just wants some hydrating protection with a slight tint, this cream is perfect.
Coverage: light SPF: no Cost: mid range
This tinting fluid comes in only two shades: moonflower, which I tried, for light complexions, and sunflower for darker skins. Which is fine, because the coverage is quite light. This is basically a cream that uses extracts of St. John's wort, camomile, calendula, plantain and algae – all harvested in the Baltic region – to protect skin and give it bit of a glow. You'll never have a makeup-y look with this, and if you need more coverage, you can use a concealer to ensure blemishes are well covered up. It's suitable for all skin types, from acne prone and sensitive to mature and dry.
Coverage: light SPF: none Cost: pretty low!
PHB's moisturising Botanical BB Cream truly blurs the line between makeup and skin care. Made with organic ingredients that nourish and protect skin,  it seriously helps to even out your skin tone with a flawless finish. PHB's natural and mineral ingredients are vegan friendly and are guaranteed to never clog your pores or look caked on. A mineral based  SPF 15 protects your skin from the signs of ageing that appear  from sun exposure and free radical damage. Made with skin enhancing botanical extracts of Rosehip, Aloe Vera and Grape Seed oil, it's perfect for all skin types, including sensitive and acne prone skins.
Coverage: thorough SPF: 15 Cost: mid range
This site uses affiliate links with brands we trust, and if you make a purchase using a link, we may receive a commission.
Did you enjoy this post? Want to show your gratitude? Please support us on Patreon!