These are some of the best organic face creams for winter. Perfect for battling redness, flakiness and roughness!
By Chiara Spagnoli Gabardi
Ever wonder why winter makes our skin chapped, cracked, itchy, and irritated? One reason is that the cold weather removes natural humidity from our bodies by causing our sebaceous glands to produce less oil. Furthermore, our tendency to take longer, hotter showers and stay in heated environments creates changes that undermine our skin's well-being.
Our face is mostly exposed to this sort of stress, and many of us slather on all sorts of concoctions to protect it. But it's really important to use organic face creams for winter, as opposed to your typical drugstore brand. And there are lots of reasons for that.
Why You Need An Organic Face Cream
Here's a scary fact: nearly 20% of personal-care products contain at least one chemical linked to cancer. And yet, the FDA hasn't regulated beauty ingredients since 1938. The results of this negligence are potentially deadly. For example, a 2004 study found parabens (which have been related to cancer) in 18 out of 20 samples of human breast tissue. In fact, parabens are still in almost 100% of drugstore skincare products and cosmetics.
As the creams, lotions, serums, and so on are absorbed through the skin, they then travel to your bloodstream and get inside your body. Studies have shown that the toxic ingredients of skincare products have been found in biopsy samples from breast tumours, ovarian cancer and more!
In terms of aesthetics, using the best organic face creams for winter provides an advantage over their chemical competitors in that they're gentler on your skin.
Environmental Damage
But it's not just our bodies that are harmed by non – organic face creams and other cosmetics. The chemical components of many self-care products accumulate in our ecosystems, harming our environment. Most of the damage is done when we wash our face or body, and these chemicals are washed down our sinks. In turn, they're then streamed to our lakes, rivers, and the water systems.
Of course, the manufacturing process of creating nasty chemical personal care products can be harmful to the environment, too. Just take petroleum based oils, for example – these are byproducts of the oil industry. Most palm oil used in cosmetics is the result of razing rainforests to grow palm plants, and non-organic rapeseed or cottonseed oil is almost always the result of GMO farming, which uses tons more pesticide than organic farming.
But never fear! Here, we've found 15 of the best organic creams for winter that will not only help to protect and moisturise your skin, but also to save the planet, too.
The Best Organic Face Creams For Winter
If you've got sensitive skin, you probably already know that calendula is a lifesaver! This little plant is gentle enough to use on babies, and boasts powerful anti-inflammatory qualities. This is one of the best organic face creams for winter for soothing dry, sensitive skin throughout the colder season. In addition to calendula, this also contains borage seed oil to help soften your skin.
Price:$68
Best for: Seriously sensitive skins
Vegan? Yes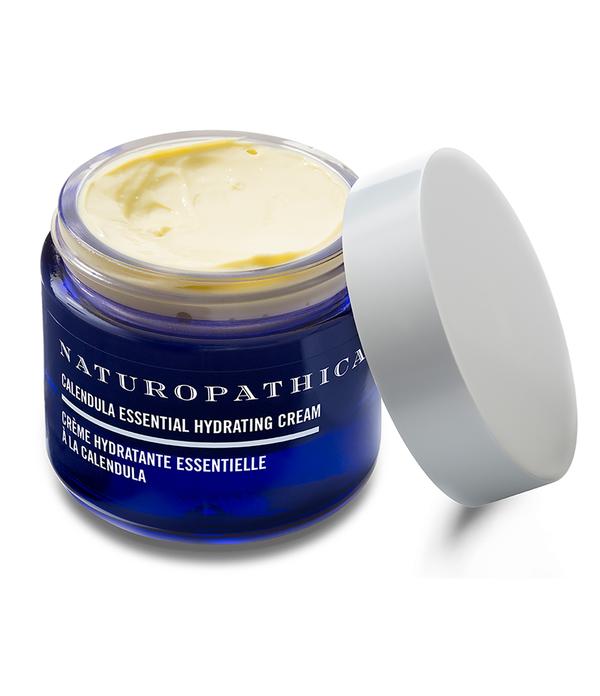 Yep, this is absolutely one of the most expensive organic skin creams around. But is it worth it?  It could well be! Modern ingredients like Ceramides combine with more traditional Evening Primrose and Rose Water to deliver hydration and softening. But those components don't justify the price. The diamond powder does! A
Apparently, this precious dust helps to give your skin a 'blurred look', reducing the intensity of imperfections for an airbrushed finish. Perfect for big events or for taking photos!
Price: $400
Best for: Seriously luxury. Immediately better looking skin. Dry, mature skin
Vegan? Yes
I personally love this product, because unlike most organic face creams, it contains no water. That's important, for two reasons. One, water dilutes the concentrations of the active ingredients of a product. And two, it often calls for preservatives to be used.
Instead, Josh Rosebrook's Vital Balm Cream is based on Aloe Vera Leaf Juice, and is also packed with loads of other good-enough-to-eat ingredients that hydrate and nourish the skin. These include Mango Seed Butter, Avocado Oil, Jojoba Seed Oil, Shea Butter, Dandelion, Sage, and dozens more. The result is a beautifully scented, deeply moisturising cream that's ideal for normal to dry complexions.
Price: $45
Best for: Seriously dehydrated skin
Vegan? No
We all know by now the benefits of Hemp Stem Cells. They're powerful antioxidants that help defend against free radicals and fight premature aging due to oxidative damage, pollution, and UV sun exposure. And Hemp Seed Oil also has nourishing proteins, nutrients, and minerals, and is rich in vitamins E, C, B1, B2, B3, B6, as well as Omega 3 and Omega 6 fatty acids.
And that's exactly why Andalou Natural included hemp-based ingredients in their CannaCell Happy Day Cream. The antibacterial, anti-inflammatory, and moisture retention properties of Hemp help strengthen skin's barrier function and protect from dehydration and environmental stressors, too.
Price: $15
Best for: All skin types
Vegan? Yes
Olive Oil is the most ancient of beauty treatments! Ancient Greeks used it to moisturise their skin and hair, and it doesn't surprise that Homer called olive oil "liquid gold."
DHC has channelled this ancient tradition in its Olive Virgin Oil Essential Cream. Just as in ancient times, the virgin olive oil in this cream provides elasticity and nourishment to the skin, There are also other botanically derived ingredients, including Beeswax, Squalane (derived from olives), and Hydrogenated Rice Bran Oil, to brighten your complexion.
Price: $39
Best for: Midweight moisturising
Vegan? No
Juice Beauty's Stem Cellular Anti-Wrinkle Moisturizer is characterised by a rich blend of fruit stem cells and Vitamin C. The botanical ingredients of the cream were formulated to protect your skin from free radicals, dry heat, and pollution. Resveratrol-rich grapes reduce the appearance of fine lines and wrinkles. and provide a fruity scent, too.
This is one of the brand's best sellers, and is definitely one of the best organic face creams for winter! Reviews say it's gentle on even the most sensitive skins, never causes breakouts, and leaves you with a radiant glow.
Price: $70
Best for: All skin types, even sensitive
Vegan? Yes
This is the only organic moisturizer you really need! Because it's so much more than just that.
One Love Organics' Skin Savior Waterless Beauty Balm is a serious multitasker! It's a cleanser that removes dirt and makeup without stripping the skin of its essential moisture. It's a face cream, hand cream, and body cream. It even turns mineral powder into a glowing foundation treatment!
It boasts an antioxidant-rich blend of organic Coconut Oil, Mango Butter, Jojoba and Chia, and is imbued with a delicious, all natural citrus and vanilla scent.
Price: $49
Best for: Everything and everyone. This is great for fighting dry skin on the body, lips and face.
Vegan? Yes
This is a rich, velvety cream that contains loads of organic botanicals to lift, plump, and give volume to your skin's surface. Hyaluronic and essential fatty acids are luxurious, scientifically proven ingredients that leave your skin hydrated without feeling heavy.
Use the small spoon provided to scoop the cream out hygienically, then activate the ingredients by massaging it in your hands until the product transforms into a white velvet cream. Apply it to your face and neck morning and night for best effects.
Price: $210
Best for: Those seeking a truly rich and luxurious organic face cream.
Vegan? Yes
Did you know your skin has a biome that's just as important as your gut's? In other words, good bacteria live on your skin, protecting it. When you apply creams loaded with preservatives, these kill off those good bacteria. The result? Red, irritated skin!
Aurelia Probiotic Skincare's night moisturiser is one of the best organic face creams for winter, because it's charged with Omega-rich antioxidant botanicals as well as probiotics and peptides that have been proven to protect your skin's biome. They also help to regenerate cell metabolism and counteract UV damage. The cream also smells dreamy, thanks to a beautifully relaxing blend of Neroli, Lavender, Rose and Mandarin oils. What more do you need?
Price: $35 Best for: Very dry or damaged skin Vegan? Yes
This may well be one of the most unusual organic face creams we've seen! Hydrating and nourishing, Grown Alchemist's Tinted Hydra-Repair Day Cream imparts a radiant glow thanks to the tint it contains. Bizarrely, it only comes in one colour, but it's almost magically flattering for all skin tones!
In short, it's the perfect organic face cream for days when you want to lightly cover up imperfections. You won't need foundation with this! Camellia and Rosehip Seed Oil enhance the absorption of its active ingredients, while MayBlossom and Geranium Extract decongest and reduce the visibility of pores.
Price: $30
Best for: When you need to moisturise, AND hide a bit of redness or large pores during the day
Vegan? Yes
Since you need extra hydration in winter, Decléor proposes a 2 in 1 product. Their Organic Harmonie Calm Soothing Cream & Mask acts both as a natural moisturiser – and as a hydrating face mask!
It was especially formulated for red, irritated skin, and is easily absorbed. This is the ideal product to use before bedtime. If you want it to work as a mask, just pile it on thicker before you hit the sack, and allow its  skin-soothing formula to act through the night.
Price: $70
Best for: Sensitive skin – and for being 2 products in 1!
Vegan? No
This is one of the best organic face creams for winter, thanks to the incredible properties of Rosehip Oil and other Aussie based ingredients, such as Kakadu Plum and the Indigenous super fruit Quandong, which is rich in essential fatty acids.
Sukin is renowned for using natural ingredients that are Non-GMO, cruelty-free and vegan. They're also known for using recycled and recyclable packaging.
Price: $16.99
Best for: Mature, distressed skin; using before bedtime
Vegan? Yes
Feeling stressed out? You may have noticed this impacts skin in a huge way! Whether your complexion is not quite as bright as usual or you're experiencing breakouts, skin often needs a little helping hand. And sure, a spa trip would be great, but we also need help on a daily basis.
This luxury face cream by _faace is made with powerhouse ingredients that are proven to help skin and stop stress from impacting your skin in just 2 hours! The soothing combination will improve skin tone and texture, strengthen the skin barrier,  hydrate skin and help to reduce breakouts, dark spots and redness.
As if that wasn't already a magical concoction, this cream has a gorgeous natural fragrance thanks to the relaxing scents of jasmine, ylang ylang, geranium and patchouli which calms and relaxes the body. Overall, skin will be smoother, brighter and less turbulent – so pretty much like you've visited the spa, right?
Price: Around $41
Best for: Stressed out skin that is in need of some help
Vegan? Yes
Latest posts by Chiara Spagnoli Gabardi
(see all)