Whether they're dry from the sun or the cold, your lips will soak up these vegan lip balm brands!
By Lora O'Brien
We all know the pain and horror that comes from having sore, dry and cracked lips. They're itchy, painful and downright unsightly. Most of us just slap on some lip balm, but guess what? Mainstream brands are usually packed with salicylic acid – an ingredient that feels good at first, but ultimately dries your lips out. It's kind of like the bar putting bowls of peanuts out – the idea is to get you all dried out so you buy more drinks. Or lip balm, in this case. But you get the drift.
What you put onto your lips should be a conscious decision. Vegans won't like using the beeswax that's in many products, and I for one am allergic to some of the harsh ingredients in popular lip balms. I have to use natural products, otherwise I'm nursing lips 3x their natural size – and not in a sexy way, I can assure you.
Here are some simple steps we can all take to maintain healthy lips, all year round, below.
How To Care For Your Lips In Winter
1.  Use a lip scrub
To keep lips fresh and healthy, it's vital that you scrub away dead skin cells just like you would your face and body. Once a week make your own DIY lip scrub using a natural exfoliant such as sugar mixed with something nourishing like almond or coconut oil. Gently rub across the lips to slough off dead skin, whilst moisturising them. Alternatively, brush them with a toothbrush before cleaning your teeth, when your brush is still dry.
2.  Hydration is key!
We all know we should drink more water, not only does it makes us feel good and help our bodies to run efficiently, it's also good for the health of our skin! And if you're hydrated, your lips will be too – as you've probably noticed when you're super thirsty.
3. Opt for a natural ingredients
Don't just buy a lip balm on a whim when your lips are sore and you're looking for quick relief. What you choose to place on your lips will either improve or hinder their healing. So opt for a natural lip balm that uses nourishing oils such as coconut oil, shea butter, and avocado oil to help seal in moisture. ALWAYS avoid anything with salicylic acid; this purposely dries out the lips and eats through skin layers, resulting in product reapplication and a toxic cycle.
You'll also want to make sure that your lip balm is paraben free. Parabens have been known to interfere with hormone function, which can result in  an increased risk of breast cancer, and can also reduce the sperm production in men.
4. Ditch artificial fragrances & flavours
I know it can be tempting to reach for a lip balm with a flavour that evokes childhood memories (Coca-Cola lip balm was a firm favourite of mine when I was younger!) But those artificially flavoured lip balms are full of hidden chemicals. Cosmetic manufacturers can withhold the ingredients list when it comes to fragrances and flavours to 'protect their trade secrets' – hmm…super sketchy! The fragrances used can often contain high levels of phthalates, which disrupt hormones and can reduce female fertility. Natural lip balms will be scented from natural fruit extracts, no chemicals needed!
5. Block it out
Don't forget – lips have no way of protecting themselves from the sun, and can dry out and burn easily from not only rays of sunshine, but also the wind. A natural SPF is essential if you plan on being outside in sunny climes a lot.
The Best Natural and Vegan Lip Balm Brands
You know when your lips are really dry and feel nasty? This soothing organic lip balm will help! It's made from organic sunflower and coconut oils to moisturise and soften, plus reparative vitamin E. But the best part? Those refreshing peppermint and eucalyptus oils!
Price: $7
Best for: One of the best vegan lip balm brands for refreshing your pout with tingly mint, for sure!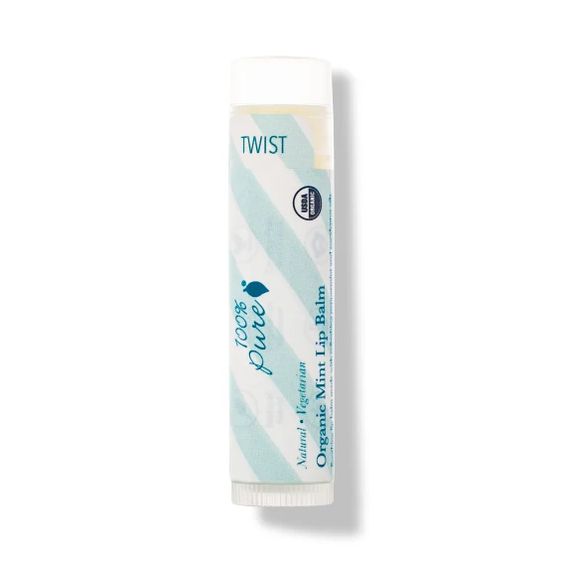 Looking for a minimalist packaged balm that comes highly recommended? Well, this lip butter by Summer Fridays has got the celeb seal of approval, after the likes of Kim Kardashian and Jessica Alba have previously praised it across social media.
Brimming with ultra-hydrating seed butter and botanical extracts which work to naturally moisturise and condition your lips, the vegan formula fends off dryness and the soreness of weather-induced cracks. The creamy texture is like a protective mask for your pout, leaving lips soft and shining. It even enhances your pout by making lips look plump!
Price: Around $20
Best for: I'd say this is one of the best vegan lip balm brands for a touch of luxe on your lips – with or without colour
EvolveTogether helps to infuse your lips with rich vitamin E from soothing coconut oil, softening jojoba seed oil, and moisturising shea butter. Their Hydrating Lip Balm was designed to keep even the driest and flakiest lips happy and healthy—without any sticky or greasy residue.
Each balm is 100% natural and vegan and made with plant based ingredients. But that's not all: this is a larger sized balm, which means there's plenty enough to use on your cuticles, cheeks and even flyaway hair. We also love that this isn't housed in plastic! Instead, the luxe biodegradable paper container minimises waste.
Price: $22
Best for: This is one of the best vegan lip balm brands for men and women both!
I have been a fan of Hurraw balms for some time now, so I was really excited to see their new squeezable balm. One balm is the equivalent to seven sticks of lip balm, and a tiny dot is all you need so it will last you for some time!
Bee free, shea free, soy-free and palm free, this balm is made from unique cold-pressed oils and exquisitely pure scents, this balm melts into the skin and absorbs quickly.
The balm is also suitable for use on face and hands to soothe dry areas, so great to have in your handbag during winter!
Price: Around $7
Best for: For sure one of the best vegan balm brands for your elbows, lips, heels…you name it!
Why blend in when you can stand out? That is exactly what can be said for vegan brand BIOSSANCE. From their vegan and cruelty-free status to the ethically and sustainably sourced squalane in every product, this is one brand that is setting out to change the beauty industry and your skin – for the better!
Biossance squalane rose vegan lip balm is a best seller, for good reason. Its thirst-quenching cocktail of squalane and soothing rose extracts will kiss the life back into any chapped lips. It leaves them with a chic shine. As well as locking in moisture for hours on end, Biossance squalane rose vegan lip balm is loaded with ceramides, plumping hyaluronic acid and wakame algae extracts which join forces to diminish lines and maximise lip volume for a plush, silky finish.
Price: $16
Best for: I'd say this is one of the best vegan lip balm brands for deep treating perpetually cracked lips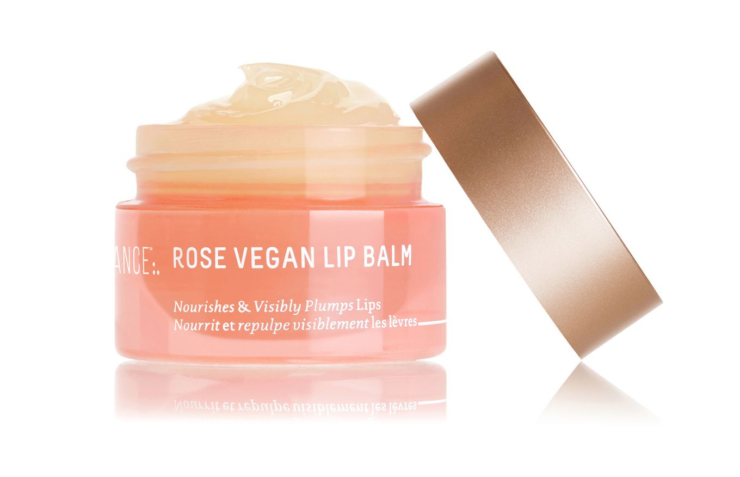 One of the hottest new clean beauty ingredients? CBD oil! And Hello's CBD Vegan Lip Balm has it in spades. CBD oil has many benefits, including pain relief (perfect for chapped lips!). It's also full of vitamins such as vitamin A, C, and E. Vitamin A stimulates the cells responsible for producing the tissue that keeps skin firm and healthy; vitamin C stimulates collagen production and reduces signs of aging; and vitamin E blocks free radicals from the body, which slows down the aging process.
In addition, it boasts tons of coconut, olive, and hemp oil to keep your lips hydrated, and all natural strawberry flavours to keep your tongue happy, too. Hello contains no beeswax, petroleum, parabens, silicones or phthalates, and their vegan lip balms are dermatologist-tested, too.
Price: $10
Best for: This is the best vegan lip balm for reaping the benefits of CBD oil, of course!
I love makeup as much as the next person, but sometimes I find it incredibly drying, and I've had my fair share of terrible lipsticks! I love this multitasking Ere Perez Colour Pot as it allows me to add some colour to my lips while also providing them with the nourishment they need to stay soft and hydrated.
Featuring many healthy ingredients such as carrots, the pot is full of antioxidants and is the perfect size to pop into your pocket so you can lift your look anytime, anywhere. It can also be used as a blusher, which is perfect if you're on the go and don't want to lug your whole make-up bag with you.
The colour below is 'healthy' but Ere Perez has created five other colours to choose from so there really is one to suit all.
Price: $22
Best for: Definitely one of the best vegan lip balm brands for adding a touch of natural colour to your pout, whilst deeply hydrating your lips
If you're looking for a pout perfecter that is as lit as its name suggests, this balm by Milk Makeup lives up to the hype. Formulated with plant-derived oils, it is loaded with nourishment: shea, cocoa and mango butters add moisturising properties which sink into the skin after application, while antioxidant-rich olive and jojoba oils work to protect against free radicals and environmental aggressors.
If the green dragon shade alarms you, don't worry. You won't have lips the shade of hulk! The green tinge will glide on 100% clear, leaving lips subtly hydrated. But if you're looking for a pop of colour, Milk Makeup does the lip balm with gentle pigment, lending your pout a subtle wash of colour.
All Milk Makeup products are vegan and proudly paraben, sulphate and silicone-free.
Price: $20
Best for: This is one of the best vegan lip balm brands for protecting your lips from daily free radical attacks
More a mask for your lips than a balm, really, this pot of goodness by Evolve is perfect for those prone to flaky lips. A  nourishing and regenerating blend of organic plant oils and butters combine to create a really hydrating, nourishing, vegan-friendly treatment.
And did I mention how yummy the choco-orange flavour is? It's down to pure organic  essential oils.
Price: $20
Best for: The beautiful jar, which you can reuse for other cosmetics and stuff
It may say 'skin balm' on the package, but in fact, you can use this on any part of your body!
Harnessing the powers of antioxidant-rich Echinacea, Australian Tea Tree and Totara (a native New Zealand yew tree) this balm from Antipodes is one of those holy grail products we should all own. Instead of waiting for your lips to get chapped and irritated, pop this saviour balm on at the first sign of trouble and the fast-absorbing balm will work miracles.
The balm can be used to repair cracked and dry skin, relieve sunburn and soothe freshly shaven skin, too. It will also offer comfort to sore muscles and soften hard, rough feet. So, you can pretty much say this multi-purpose product is like carrying around a magic wand at all times!
Price: $15
Best for: Everything from chapped lips and cracked heels to sore muscles and dry hands
Latest posts by Lora O'Brien
(see all)