It's important to choose the best ayahuasca retreats for your health and safety. We've been to a few around the world – here are some of the best!
Twenty years ago, ayahuasca (sometimes also called yage) was barely known by Westerners – but this powerful plant medicine had been revered by those peoples living in the Amazon for millennia. They knew this brew could do so much: heal the body to help people have spiritual revelations regarding their purpose on earth, know the true nature of the universe, and learn how they could fulfill their true potential. In short, it can provide a powerful spiritual awakening, and those who take it even report they visit  higher spiritual  dimensions  and make contact with various spiritual or extra-dimensional beings who can act as guides or healers.
But this is no 'recreational drug'. Serious vomiting or diarrhea can follow ayahuasca ingestion; such purging is considered by many  shamans  to be the release of negative energy and emotions built up over the course of one's life.
The ingestion of ayahuasca can also cause significant, but temporary, emotional and psychological distress. Excessive use can lead to  serotonin syndrome, and there have even been  deaths after people drank ayahuasca with  unscreened heart conditions, interaction with other drugs, caffeine, or nicotine.
For that reason, it's essential to choose an ayahuasca retreat that's professionally run by knowledgeable shamans and other practitioners. Word of mouth is the best way to go – and that's why we're now publishing this list of the best ayahuasca retreats around the world. Our staff or people we know have been to all of these, and we can solidly say that we know these retreats will deliver a safe, and potentially life changing, experience.
The Best Ayahuasca Retreats Around the World
This is definitely one of the best ayahuasca retreats in the world – and one of the very safest.
After a client passed away (due to mixing ayahuasca with street drugs and medications), this retreat has become super cautious. A doctor, psychologist, translator, nurse, and shaman are all on hand to ensure you are safe and sound both physically and mentally at all times. Uniquely, the retreat offers blessings and cleansings by both a Q'ero paquo (a kind of Andean shaman) and a Shipibo ayahuascero (an Amazonian shaman) to ensure all energies are clean and safe before and after ceremonies.
Rooms here are humble, and often shared three to a room, but this is an excellent place to visit for plant medicine first timers, or those interested in Peruvian indigenous cultures. One visitor who enjoyed his stay here includes the Dalai Lama! So hey, if it's good enough for him…
Kelly Slater, Michelle Rodriguez and Graham Hancock are but a few celebrities who have visited this Costa Rican resort. Talks by leading alternative health experts and mystics are often a highlight here, as is the excellent vegan cuisine.
Spiritual healing, intellectual stimulation, physical wellness, and luxuriating in nature all take place in lush, large, highly private surroundings punctuated by a cooling, soothing swimming pool. The gracious staff are always on hand to ensure your experience is nothing short of wonderful.
It's not uncommon for motivational talks and seminars to take place here, given by high profile people in the world of spirituality, including Dr Joseph Mercola, Foster and Kimberly Gamble, Panache Desai, and many others. Want more details about what goes on here? Check out our in depth review here.
Authentic Ecuadorian Shamans help guide your unforgettable experience through consciousness. Over the course of 12 days, they will lead you through your experiences with Ayahuasca and San Pedro, and unlike other countries, in Ecuador, shamans have to be certified and authorized to practice their trade.
Expect all the mod cons in this Andean retreat, including not only wifi and hot showers, but there are even hot tubs and a sauna to help you focus on your inner journey. Choose between shared dorm rooms, or Casa Tranquila, the house with private bedrooms but shared common areas. After just a few hours here, you'll soon understand why this aya retreat is top ranked on all review sites.
Apart from Ayahuasca, Pulse works with plant medicines such as Nunu, and Kambo, using the traditional practices of the indigenous cultures of the Peruvian Amazon.
The Shipibo shamans on staff here obviously have great respect for the plants and the knowledge and healing that comes with them. You'll feel like you're part of their community as you merge with nature at the   2.2 million hectare Pacaya Samiria National Reserve surrounding the retreat. Fresh, clean, delicious meals that promote your Ayahuasca experience, and you'll learn to integrate healthy habits into your routine with our yoga classes and extensive selection of gym equipment, too.
It's strongly believed here that the health of physical body sets the foundation for the health of the energetic body – a fact that is often ignored at ayahuasca retreats. Relax your mind and spirit with sound baths, meditations, pranayama breathwork, and chanting circles, or simply enjoy the tranquil views of the Ucayali River, surrounded by lush biodiversity and the mesmerizing sounds of the jungle.
The excellence of this retreat is the attention to detail in every aspect, the magical setting of the jungle (Atlantic rainforest) together with the astonishing beaches of the Atlantic ocean, the bungalow accommodations with breathtaking views, delicious vegan and vegetarian food, hospitality, focus on safety, personal attention, comfort with modern amenities, and organic ayahuasca grown on the land.
The highlight of this retreat is the workshops created by the co-founder, Silvia Polivoy, a licensed psychologist who has been working with modified states of consciousness and ayahuasca for over 25 years. She has integrated all her background with shamanic techniques to effectively guide those who feel attracted to this combination of eastern and western methods.
The moment you enter the gates of the Spirit Vine center you feel a sense of protection and lightness wash over you, and the serene sounds of the jungle instantly transport you to a relaxed state of mind. The most commonly reported benefits of this retreat are participants discovering the causes of their blockages which are not temporal. The participants learn to journey safely to the source which is the spiritual realm to transform their blockages and reconnect with their power. These techniques can be used not just during the ayahuasca ceremonies, they can also be applied in everyday life to overcome obstacles.
There are yoga classes on the day of the ceremony to help participants feel a deeper connection with themselves which is also very helpful in preparation for the ceremony. There is also ample free time to relax, process the experiences, the option to get a massage, and visit the nearby beaches.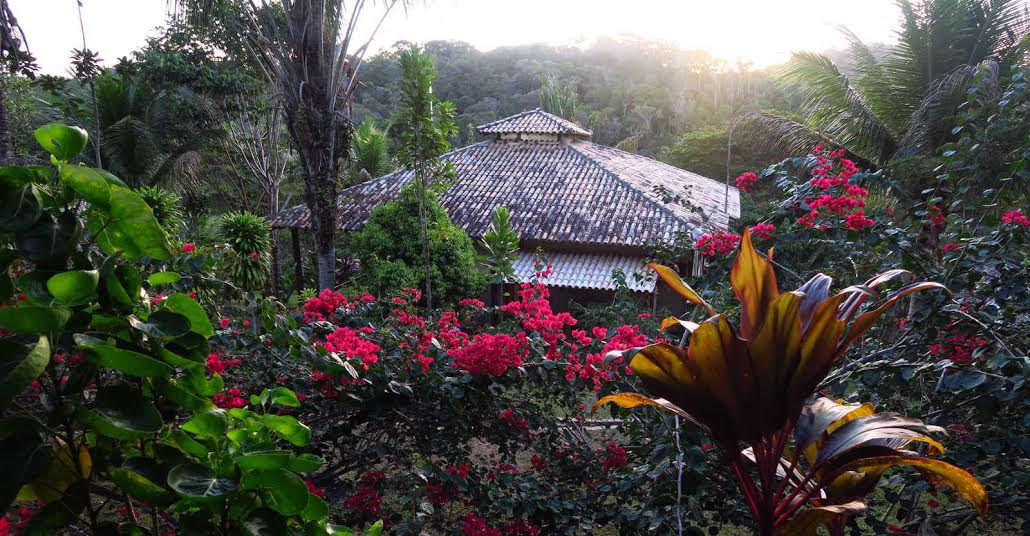 In Spain, ayahuasca isn't exactly legal. But…it isn't exactly illegal, either. For this reason, it's fine to run plant medicine retreats there, and no one does it better than Avalon Love.
While most aya retreats are set in rather, erm…'rustic' places in developing countries, Avalon Love brings luxury to the mix. Think: centuries old European architecture mixed with modern decor, all set inside hectares of old forest. Although the retreat has a distinctively European flare, the experienced shamans that are on site to lead the ayahuasca ceremonies have been trained in a purely South American tradition. 
Besides ayahuasca, you'll find other additional natural medicines and methodologies on offer to help all those who visit this beautiful space. For example, there's Kambo, a frog poison that detoxes the body; Temazcals, which are basically sweat lodges, amazing therapeutic massages, energy Labs designed to unblock your energetic system; and very impressive breathwork sessions combining a shamanic and Wim Hof based approach. Of course, all of these activities are designed to work together to allow you to go deeper into the energies of your body, mind and spirt.
The majestic building used to be a converted flour making factory, and it has been fully restored to the highest of standards. What makes the place even more special is the surrounding nature, which includes two natural lakes and a river. It all serves to bring even deeper connections to you and Mother Earth.  
Latest posts by Chere Di Boscio
(see all)
This site uses affiliate links with brands we trust, and if you make a purchase using a link, we may receive a commission.
Did you enjoy this post? Want to show your gratitude? Please support us on Patreon!