France isn't well known for its sustainable fashion brands. But EKYOG is about to change that!
By Diane Small
With numerous nuclear power plants; myriad menus listing foie gras and frog legs, and fur clad fashionistas puffing away on cigarettes, France is clearly behind in the eco-friendliness field. And yes, that goes for everything from fur to fashion. There is at least one happy  exception to this rule, however: the fashion brand EKYOG.
From the sourcing of its raw materials to its production process, EKYOG tries to make the planet a better place, and it certainly does so with panache.
Each EKYOG collection presents at least a few classics that French women love. These include button down shirts, roll neck sweaters and white T-shirts made from organic cotton and other environmental friendly materials. Basically, everything you'd need to create a chic capsule wardrobe! There are also stylishly cut coats and trousers, all of which can be worn season after season.
French flare is always present in all EKYOG pieces, from the ladylike lengths to the finesse of the fabrics.
EKYOG And Their Multi-Use Garments
But EKYOG has yet another unique feature: is its multi-use "Metamorphose" collection, as shown in our final image. This consists of a multi-use garment that can be worn as a cardigan, then transformed into a dress, or for colder days, made into a scarf. One item that replaces three pieces? Pure eco-genius.
But there's even more eco-credit to give this brand. Thanks to its philanthropic project EKYOG Terre, money is going back to the location of production to support communities. Especially impressive is the initiative taken in India, where EKYOG helped local farmers produce organic cotton. A whopping 11,000 farmers have participated so far!
The company provides the tools and materials the farmers need, and pays a decent salary to the families of the workers. Importantly, the brand also signs a  long term contract with farmers, ensuring EKYOG's supply of organic cotton, and income stability for the farmers.
To further spread information about sustainable fashion, materials used in the collection and projects to help communities in the countries of production, EKYOG publishes a blog  called Il est temps (it is time). Unfortunately, this is only in French, but we hope that as the brand expands, so does its language use.
Indeed, sadly, you can only shop EKYOG in person in France. There are several boutiques dotted throughout the chicest arrondissements, including St Germain and the Marais, as well as in the gorgeous Galeries Lafayette.
Not planning to be in France anytime soon? Pas soussi! You can shop online here. But really….wouldn't your rather be in Paris?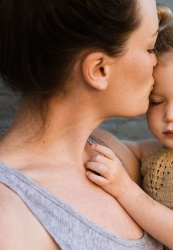 Latest posts by Diane Small
(see all)