These vegan appetizer recipes are perfect for parties, as snacks, or as starters before a meal
By Lora O'Brien
No memorable party is ever complete without some tasty vegan appetizers (or, as we say here in the UK, vegan starters).
Yep, you guessed it: my favourite part of any social gathering is spotting the platters of little bites of food going around, and making a beeline to try them before they're all gobbled up. But I've also been to WAY too many parties that have failed to cater to a vegan diet at all. Often, the 'best case' scenario is a bunch of limp celery batons and hummus. Yum, thanks! C'mon, people. We vegans like to party, too!
With the first half of 2020 being so utterly rubbish, I think it's fair to say we all have a lot of gatherings to catch up on. So whether you're throwing one or attending one, let's make sure there's some tasty vegan food served up, shall we?
The great thing about vegan appetizers is that they also double as starters. You can serve these up as mentioned above, on trays at parties. Or, you can serve them to your guests before the main course at a dinner party. And of course, they're also perfect for just snacking on at home!
From exciting vegan cheese platters to mini vegan burgers canapes, I can almost guarantee that no one will miss the meat (or dairy and eggs) in any of these super yummy vegan appetizer recipes!
30 Tasty Vegan Appetizer Recipes
1. The Ultimate Hummus Plate
I love hummus! I wouldn't want to live in a world where hummus doesn't exist. That being said, it's not usually what I'd call fancy. But what is fancy is turning the faithful dip into a gorgeous serving platter. You can pretty much throw whatever you like with it, but be sure to choose plenty of textures to keep it fun. I love creamy avocado, tangy onions and crisp crackers, for example.
Get the recipe here.
2. Sundried Tomato and Basil Pinwheels
Looking for an easy retro recipe to try? These flavoursome sundried tomato and basil pinwheels come together in just 15 minutes, calling for 8 single ingredients. And what's not to love? The tomatoes pair with fresh basil, fresh garlic and vegan parmesan cheese to create a serious punch to a vegan cream cheese base. Dreamy and delicious!
Get the recipe here.
3. Macadamia Cheese + Vegan Crudités
Making and serving charcuterie boards is so fun and creative! They're essentially just a bunch of different foods arranged on a platter or board and served up to your guests. You can get really innovative with making it and use whichever foods you fancy, but this vegan macadamia cheese is a fab option!
Get the recipe here.
4. Garlic Stuffed Olives in a Blanket
Vegan sausage rolls are great, but they always remind me of kid's parties. Looking for something and adults will love? I adore these garlic stuffed olives in a blanket. They're SO flavorful, addictive and super easy to make – and serve!
Get the recipe here.
5. Vegan Empanadas
These yummy vegan empanadas are stuffed with zesty black beans and wrapped in a flaky puff pastry. Originating from South America, each bite is loaded with an explosion of flavour. Serve with a tangy salsa dipping sauce and these are the perfect appetizer to wow your guests.
Get the recipe here.
6. Herbed Stuffed Mushrooms
These easy, cheesy herb stuffed mushrooms are gluten, dairy-free and vegan-friendly. Packed with fresh parsley, mint and sundried tomatoes, these little morsel bites are savoury with a little natural sweetness from the Umami flavour.
Get the recipe here.
7. Super Savoury Veggie, Hemp & Millet Nuggets
Hemp nuggets may not be the first thought to spring to mind when thinking of appetizers, but they should be! Especially these delicious and addictive savoury veggie, hemp and millet nuggets. Crisp and crunchy, they go so well paired with a creamy maple-mustard dipping sauce.
Get the recipe here.
8. Grilled Maple Mustard Brussels Sprouts
If you despise Brussels sprouts, you honestly need to revamp the way you cook them. Shredding them and grilling them or throwing them into the oven to crisp up is a revolutionary way to change their flavour and you will become hooked! These mouthwatering grilled maple mustard Brussels sprouts will become your new favourite of all the vegan appetizer recipes here, I promise!
Get the recipe here.
9. Vegan Dragon Rolls
Sure, like most, I love sushi. But vegan sushi can be a little boring when it's only stuffed with veggies! So this eggplant dragon roll is an exciting – and beautiful – dish to serve up! Filled with tasty cajun spiced cream cheese, crunchy veggies and creamy avocado, the miso-marinated eggplant on the outside takes this sushi to the next level!
Get the recipe here.
10. Vegan Spring Rolls
Not sure how best to serve spring rolls to guests? Serve them on a platter alongside others nibbles. These fresh spring rolls are a tasty combination of fresh vegetables, herbs, rice paper and a flavoursome peanut sauce for sipping. Naturally vegan and gluten-free, these babies are a fabulously light appetizer. Perfect for summer!
Get the recipe here.
11. BBQ Cauliflower Hot Wings
I am HOOKED on cauliflower wings! If you haven't tried them yet, you need to do so ASAP! Once baked, they mimic the same texture as chicken wings – minus the dead flesh and cruelty! The cauliflower pieces are coated in a thick batter and then tossed in a delicious homemade BBQ sauce. They're then baked until beautifully browned and slightly crispy. They come with a tangy, tasty dipping sauce, too!
Get the recipe here.
12. Vegan Mini Pizzas
Make a small army of mini pizzas to serve to guests and I guarantee they will be a huge hit! Perfect for all ages, and easy to grab and eat, these mini pizzas are delicious and indulgent, but super healthy, too! Topped with a tangy tomato sauce, fragrant pesto and peppery rocket, these will leave you feeling good afterwards.
Get the recipe here.
13. Vegan Tender Teriyaki Meatballs
Soft and tender, these vegan meatballs are glazed with a sweet and salty teriyaki sauce will be a real hit with guests. As with other messy dishes, serve these with a cocktail stick and a napkin so they're mess-free!
Get the recipe here.
14. Crispy Garlic Breaded Mushrooms
If you like breaded mushrooms, then you'll love this recipe! Chickpea flour and plant based milk make the batter, while panko breadcrumbs give the mushrooms a wonderfully golden and crispy breaded exterior. Crunchy on the outside, juicy and tender on the inside, they're superb served with a simple lemon and vegan mayo dip.
Get the recipe here.
15. Sweet Chili Tofu Wonton Cups with Olives
These crunchy wonton cups are made from dumpling skins that are baked into crunchy, chip-like cups. They're then filled with a carrot and cabbage salad, as well as sweet chilli tofu and chopped California black ripe olives.
Get the recipe here.
16. Indian-Spiced Potato Stuffed Bread Rolls
Planning to serve some bread? These potato stuffed bread rolls are quick and easy to make and SO tasty! Crispy on the outside, they're soft and spicy on the inside. The bread paired with the spicy potato filling makes a mouthwatering combination. These are seriously addictive!
Get the recipe here.
17. Avocado Egg Rolls w/Cilantro Ranch
These avocado egg rolls with a dairy-free cilantro ranch dipping sauce are the perfect party vegan appetizer recipe. They're perfectly crispy, super simple to make and addictively tasty! Plus, there's a cooking video to follow which is great if you're making these for the first time. Serve them hot and crispy from the oven. Yum!
Get the recipe here.
18. Vegan Coconut Crusted Shiitake Mushrooms
These vegan coconut-crusted shiitake mushrooms are vegan perfection. Baked not fried, they're crispy, crunchy and golden. A little sweet, a little salty and super satisfying. Serve them alongside some spicy vegan mayo but don't expect them to last long!
Get the recipe here.
19. Spinach Artichoke Wontons
Made using homemade wonton wrappers, these crispy spinach artichoke wontons are the perfect appetizer. They're filled with a creamy, cheesy spinach artichoke dip. This easy recipe also includes step-by-step pictures to help you wrap them up prettily.
Get the recipe here.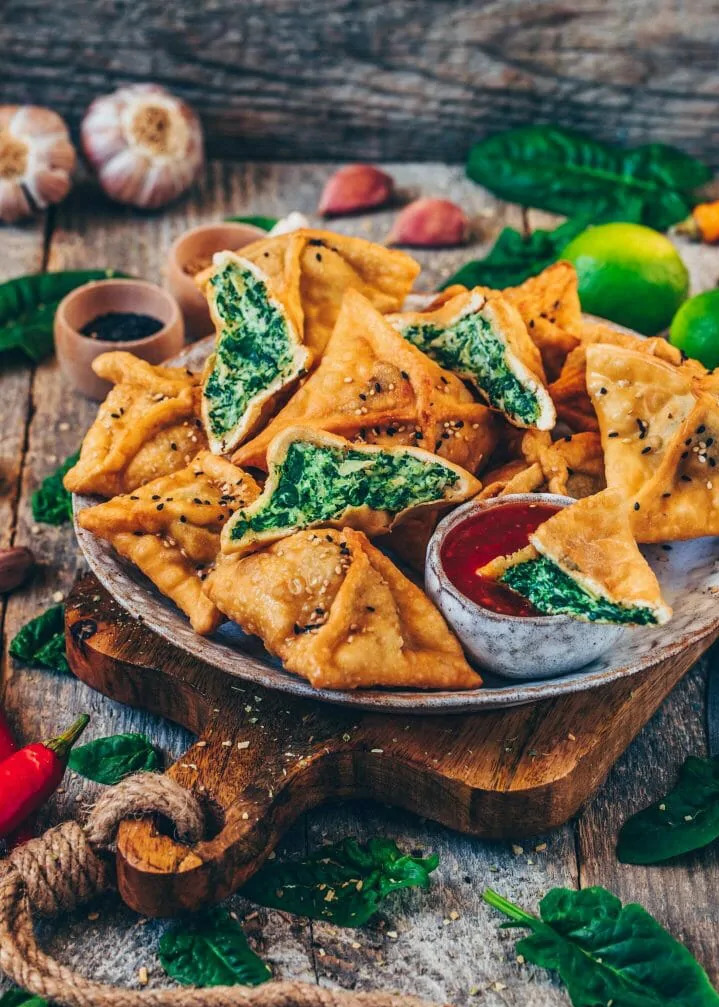 20. Vegan Bruschetta & Arugula Flatbread
Sometimes, it's the simple dishes that hold the most flavour. This delicious and easy homemade flatbread pizza uses fresh bruschetta, peppery arugula, vegan cheese and a sweet balsamic glaze. The flavours all come together to make one of the easiest vegan appetizer recipes to make. Yep, you can throw together perfectly, no matter what level your cooking skills are at!
Get the recipe here.
21. Vegan Baked Samosas
Fancy serving up something with a little spice? Samosas are one of the best vegan appetizer recipes to make, then. 100% vegan, these delicious dumplings are stuffed with spiced potatoes, peas and crunchy peanuts. No frying is required as these little babies are baked until they're flaky, golden and crispy!
Get the recipe here.
22. Vegan Potstickers with Sesame Chilli Dipping Sauce
These vegan potsticker dumplings are not only super easy to assemble, but they're easy to customise so you can play around with what you put inside of them, or you could serve with a trio of dipping sauces. These doughy pillows look beautiful on a platter and will really impress your guests.
Get the recipe here.
23. Vegan Potato Skins with Smoky Chickpeas
I never waste potato skins! They're full of nutrition, and are tasty as heck! I often eat them as a side dish to meals. So, these potato skins topped with smoky chickpea, vegan sour cream and fresh herbs are a brilliant appetizer option. Easy to grab, the soft chickpeas are wonderful paired with the crisp potato skins.
Get the recipe here.
24. Butternut Tots with Spicy Maple Mustard
Butternut squash gives these tots a velvety sweetness that is so tasty, especially mixed with the smoked paprika, curry powder, cinnamon and hot chilli powder seasonings. The tots are then lightly seasoned and pan-fried until they're nice and golden.
Get the recipe here.
25. Broccoli Balls with Marinara Sauce
Look, I eat broccoli because it's good for me, but that doesn't mean I like it all that much. So, an appetizer made from broccoli sounds dull, right? Wrong! The broccoli is roasted to dry out the excess moisture and then mixed with spices, almond meal, breadcrumbs and a chia egg. They're then rolled into balls and baked until crispy and yummy! Add a little vegan cheese to the balls before baking and they're a game changer.
Get the recipe here.
26. Crispy Baked Mac and Cheese Balls
There is never a wrong time to eat mac and cheese, and this recipe proves just that! In need of an appetizer for a get-together or a party? Mac and cheese to the rescue! Crispy on the outside, oozing cheesiness on the inside, these baked mac and cheese balls are filled with whole food ingredients and hidden, healthy vegetables. Delish!
Get the recipe here.
27. Miso Glazed Eggplant Scallops
Looking to serve an appetizer that is boujee AF? Why not serve up some 'scallops' – vegan, of course! The recipe uses Japanese eggplant as the 'scallop' base. Its meaty, inexpensive and has a sponge-like texture which soaks up the delicious miso marinade. Finished with lime juice and fresh garlic, these scallops are one of the most sophisticated of all the vegan appetizer recipes!
Get the recipe here.
28. Perfectly Crisp Vegan Fried Ravioli
I love ravioli and usually enjoy it slathered in a creamy sauce, topped with vegan cheese. But this recipe uses an air fryer to cook the ravioli into crispy, single servings and honestly, I'm wondering why I never thought to make and serve this as a vegan appetizer before now! Seasoned with basil, oregano, nutritional yeast and garlic with a marinara sauce on the side for dipping, these ravioli squares are super moreish!
Get the recipe here.
29. Veggie Pakoras
Another one of the best vegan appetizer ideas comes from India! Pakoras are crispy, fragrant, and very more-ish! These are made from chickpea flour and veggies of your choice (usually potato and spinach) and come with a fresh cilantro sauce.
Get the recipe here.
30. Baked Avocado Fries
Looking for ways to serve avocado that goes further than cutting it open and serving it up? Turn the creamy fruit into these delicious baked fries! With just 7 ingredients, these fries are crunchy on the outside and soft on the inside. Serve with a dipping sauce and these will be a huge hit!
Get the recipe here.
Latest posts by Lora O'Brien
(see all)