Given that so many children's stories involve cruelty to animals, isn't it time for a new era of vegan books for kids that inspire compassion?
By Diane Small
Kids are really blank slates, and we basically teach them what's right and wrong, normal and weird, good and bad. And some of what is instilled by our society is, for some of us, bizarre. For example? Why is animal cruelty taught to our children constantly? Think about it. In  songs like 'Old MacDonald Had A Farm', 'Red Riding Hood' and 'Three Blind Mice,' we're teaching kids it's ok to mutilate or kill animals or use them for their milk and meat.
In terms of activities, parents often take their kids to SeaWorld, zoos, or circuses, where animal abuse and exploitation is called 'entertainment'. And after those events, it's not unusual to go out and participate in a bit more animal cruelty, by eating a hamburger or ice cream.
It's time to break the cycle of animal abuse, and introduce a whole new era of vegan books for kids that inspire compassion, not cruelty!
With the help of our friends at Vegan News Now, we've put together 15 of the best vegan children's books for you and your little ones to read together. Some, such as Charlotte's Web, just teach compassion for animals, while others, such as Steve the Vegan, help normalise vegan lifestyles for children.
Each of these vegan books for kids is linked to Amazon for purchase, and there are Kindle and audiobook versions available for many. If you know of any books that should have made the list let us know!.
15+ Vegan Books For Kids That Inspire Compassion
Of call the vegan books for kids, this just had to be number one on the list, because it totally changed my life as a child, and put me on a path to veganism at a young age. The E.B. White classic includes illustrations by Garth Williams, the acclaimed illustrator of E. B. White's Stuart Little and Laura Ingalls Wilder's Little House series, among many other children's classics.
Born as the runt of his litter, tiny little Wilbur just wants a friend. Farmer Zuckerman's daughter, Fern, saves his life initially, but it seems Wilbur will be destined for the slaughterhouse unless a miracle occurs – fast. Then, one day, words appear in a spider's web: Some Pig. Humble. Radiant. These mysterious occurrences save his life….but deplete the life of his new friend, Charlotte.
This is a tender, beautiful novel of friendship, love, life, and death that will make a serious impact on anyone who reads it.
When Steve and Derek adopted a mini pig named Esther, they had no idea that she would turn out to be not-so-mini after all. When her new family sees just how big and wonderful Esther really was, they fall in love–and their lives changed forever.
So goes the story of Esther the Wonder Pig. She's a bit of a princess, whose growing girth forces her family to move from a small apartment to a big farm, where Esther and her animal friends can fit into happily (and get into a little less mischief). And the ending gets even happier: eventually, the farm becomes the Happily Esther After animal sanctuary, a home for rescued animals of all kinds.
Told in rhyme, this is one of the most inspiring vegan books for kids. It's a book that features short text and fun cartoon illustrations that focus on the story of the incredible Jane Goodall. Jane is not only the world's most famous conservationist and leading chimpanzee expert, but she was also one of the first ever women to work with primates. Goodall's ability to communicate with chimps and her deep understanding of their societies and dedication to their conservation will be highly inspiring to both girls and boys.
Wild animals should stay wild and free. That's the main message behind this beautiful book about a boy called Rudy who wants to fly so badly, he steals a young Red Tail Hawk from its nest. He desperately wants to be the fledgeling hawk's 'brother' so they can learn to fly together. By the end of the summer, he finally realizes that the wild bird is desperately unhappy living in a cage with a string tied around its leg. The hawk, like the boy, just desperately wants to fly. That's all he's ever wanted.
I won't give away the ending, but I will say that this book isn't just for kids – adults will love it too.
The main message of this book is that animals are 'friends, not food'! This much loved tale tells the story of Steven, who, along with his schoolmates goes on a field trip to a local farm sanctuary, where his friends learn he's a vegan. Many of the farm animals then help Steven teach his friends why animals are his friends, not his food. This is a great book for empowering kids to deal with the harassment they may get for not wanting to eat meat or drink milk, and provides them with great suggestions for dealing with such situations.
Sometimes, vegan kids may be perceived as a bit odd at school. But books like That's Why We Don't Eat Animals gives them the ammunition they may need to explain to others why they don't eat animals. Through lively text and colourful illustrations, the book is the perfect introduction to plant based living for young readers aged six to ten. Kids are introduced to both domesticated and wild animals, including turkeys, cows, and dolphins, which are shown in two different states: their natural one, where they're seen bonding, nuzzling, cuddling, and grooming one another—and in terrible conditions such as factory farms.
This is one of the most educational vegan books for kids, explaining the negative effects meat eating has on the environment, and offering suggestions about how kids can pursue plant based lifestyles, such as by celebrating Thanksgiving with a turkey-free vegan feast, or buying clothes made from plants, not animals.
Yep, this is another one of the vegan books for kids written by Ruby Roth (above), but it's so great, we couldn't leave it off the list!
I love how the title of this book plays with the title of the comic book/movie 'V for Vendetta'. And frankly, the book is also quite political, as it introduces the basics of animal rights, animal protection and the environment. There's also information on how to eat a healthy vegan diet through memorable rhymes and adorable illustrations. Kids will also learn all about the major vegan 'food groups': grains, beans, seeds, nuts, vegetables, and fruits.  Sure to bring about laughter and learning, V Is for Vegan will boost the confidence of vegan kids about to enter school and help adults explain their ethical worldview in a way that young children will understand.
The best way to get kids involved with veganism is, of course, to get them to cook the foods they love! Cooking is a life skill that will benefit children as they grow older, and these recipes are easy enough for kids from 10 years and up to make (some may require a bit of adult help, though). Here, you'll find 27 crowd-pleasing dishes including veggie curry, rice pudding, hash browns, pancakes, cinnamon swirls and much more. Definitely one of the best vegan books for kids with an appetite for learning to cook!
Gene Baur, founder of Farm Sanctuary, wrote the forward to this book, which aims to get children thinking differently about animals and what they eat. Author Stephanie Dreyer makes clear connections between animals and ourselves, such as by pointing out that chickens, like us, love a good game of football, and will even use apples to play it! This beautiful book is a great educational resource for parents and teachers to introduce children to animal sentience.
I love this book! It's all about girl power: how one brave little girl stands up for the animal friends of her land and helps rescue them from being turned into food. The book is set in 'Vegitopia' – a place where eating animals is just seen as cruel and bizarre. Through fun, modern illustration and easy to read text, it promotes messages of kindness, compassion, and taking action, and emphasises that magical things can happen when you harness veggie power!
The only thing better than a superhero? A supervegan, of course! This is the story of Elizabeth, who wants to be a superhero when she grows up. But…does she have what it takes? Through cute illustrations and playful rhymes, this book takes us through Elizabeth's journey of self-doubt before concluding that by eating plants and making compassionate choices, Elizabeth is brave, caring, and smart. She's been a superhero all along! Woohoo!
This is one of the most empowering vegan books for kids, and allows parents and teachers to explain how special it is for people to be vegan. It's a definite confidence booster!
Valen the Vegan Dinosaur presents a parody of the Dr Seuss classic, Green Eggs and Ham. While the Dr Seuss book was essentially trying to encourage kids to try new things, No Green Eggs or Ham sees Pam-I-Am trying to convince Valen to eat green eggs or ham – but of course, Valen stays true to his beliefs while explaining his dietary choices to Pam-I-Am . This book is a great way to introduce compassionate living to children of all ages through claymation-style illustrations and fun, Seuss-like rhymes.
Forget about Peppa! This is a real pig with sass!
Sprig is put into a truck…but has a bad feeling. With one bold leap, he sets out on a huge adventure that will lead him to his new best friend – a kind girl called Rory – and a new home. When I say 'this is a real pig', I mean it: the story was inspired by true events, and illustrates the intelligence of pigs to kids. In fact, there's a bonus section at the end of the book entitled "More About Pigs," where curious readers will learn that pigs are smart enough to play video games, can run really fast, love sleeping in cozy pig piles, and much more.
This vibrantly illustrated book tells the story of Ruth Ann, who's pretty sure she knows just about everything about dinosaurs. But she gets the shock of a lifetime when she meets Linus, a towering, toothy T. rex who much prefers chomping on vegetables to preying on his herbivorous peers. Ruth Ann just doesn't know what to make of this. Is there something seriously wrong with this T. rex? Or could it be that maybe she doesn't know it all, after all? In my opinion, this is one of the most visually stunning vegan books for kids. Make sure you search for the naughty velociraptor duo hidden throughout the book!
This is one of the best vegan books for kids to read to toddlers – especially if they're still breast feeding! Kids are introduced to the concept of how various animals nurse their young. It's all done through simple, repetitive language and beautiful illustrations, and the book clearly shows the unmistakable bond that all mothers have with their babies, whilst teaching compassion for all living beings.  It's a warm, wonderful book that helps parents teach young children that an animal's milk is for her baby – and no one else.
As the title suggests, The Roots Of Our Food takes an inquisitive child on a journey to discover the origins of their meal. The kid encounters a farmer who explains how seeds grow into fruits, veggies, and more. Farmer Joe also teaches young readers about green practices such as shopping at farmer's markets, buying locally, and the importance of families cooking whole foods together.
Although The Roots Of Our Food does not mention the word 'vegan', it has deliberately excluded farm animals, meat, and animal-derived foods. Instead, it's one of the best vegan books for kids to celebrate plant-based eating. The book covers everything from planting seeds and harvesting crops to transportation, shopping for produce and preparing meals at home.
Main image: Linus, the Vegetarian T. Rex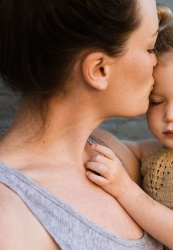 Latest posts by Diane Small
(see all)