By Diane Small
A bewitching beauty plucked from catalogue obscurity by none other than Tom Ford for the Gucci catwalk in 2000, Ethiopian model Liya Kebede is passionate about motherhood.
She has graced the cover of American  Vogue  three times and had an issue of French  Vogue  dedicated to her in 2002, but it was a visit home to Addis Ababa in 2005 that saw her career take a new turn. Having given birth to two children in her adopted city of New York, she was appalled when she witnessed the chronic problems of maternal health in her native land, where a woman dies in childbirth every minute.
Kebede has since traveled to Ethiopia to support maternal health projects on multiple occasions, and she  set up the Liya Kebede Foundation to reduce maternal, newborn and child mortality not only in Ethiopia, but around the world. The foundation's success led to her recognition by the World Economic Forum as a Young Global Leader. Today, she also  writes for  The Huffington  Post  about maternal and child health.  
But her philanthropic efforts go further than helping reduce infant and maternal mortality: Kebede  is also part of the Champions for an HIV Free Generation, an organisation of African leaders led by former Botswana President  Festus Mogae  which advocates for  increased HIV prevention and treatment efforts in Africa.

As if that weren't enough, the tireless model and actress also started a sustainable fashion label, Lemlem (meaning 'to flourish' in Amharic) in 2008. The brand features handwoven cloth embroidered by the women of Ethiopia, allowing them work opportunities, and importantly, financial independence. Sold on Net-a-Porter, Barney's, J Crew and coming soon to Matches in the UK, Kebede sees the brand as being a positive contribution to helping bring about change in her home country.
The model has doubtless helped to save the lives of many thousands of mothers and their infants around the world, as well as those stricken with HIV and provided steady work to those in need. But she's modest about her achievements. "It's just wonderful to be able to help people," she says.
Related articles across the web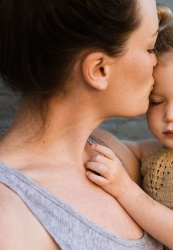 Latest posts by Diane Small
(see all)
This site uses affiliate links with brands we trust, and if you make a purchase using a link, we may receive a commission.
Did you enjoy this post? Want to show your gratitude? Please support us on Patreon!