By Diane Small
'Today we stand at the 11th Hour – facing a tipping point of environmental crises unprecedented in human history.   Not since the age of the dinosaurs have so many species of plants and animals become extinct in such a short period of time. We must now make an effort to protect the rich biodiversity that could allow nature to eventually recover. The good news is there are solutions to these massive problems. Efforts like tonight will start addressing them."
So said Leonardo DiCaprio at a gala auction evening in Saint Tropez last week, where he raised over $25 million to help protect the Earth.
The actor put his own Harley-Davidson motorcycle signed by himself, Martin Scorsese and Robert De Niro for auction, and there were many other high-end goodies to be grabbed, such as a sculpture by Damien Hirst called Golden Myth, which sold for $6 million itself.  Another lucky bidder spent $2.4million for a walk-on role in Leonardo's next movie. All money raised will go directly to the Leonardo DiCaprio Foundation, which is dedicated to assisting global causes related to the environment.
The event took place at the Domain Bertraud Belieu vineyard, and  was attended by A listers including Bono and Robin Thicke–who both provided entertainment– as well as Jared Leto and Marion Cotillard. But it was clearly Carla Delevingne and Selena Gomez  who stole the spotlight for most of the evening, dancing with Jared Leto and each other for most of the night.
The 'it' girls  pulled out at all the stops for their red carpet looks: Cara made the dubious choice of wearing a cropped fur jacket to the eco-friendly event, paired with white eyelet shorts and black peep-toe booties.  Later on, she changed into a sleek white double-breasted suit, only to change back into the fur chubby later that evening for a photo with Selena and Jared Leto. Selena began the night in a rather ill-fitting jersey and sequin dress, and changed into a strapless tulle number, accessorised with a chic veil. Meanwhile, Leo's girlfriend, German model Toni Garb, opted for a lace Elie Saab gown in a flattering shade of green.
On a more serious note, it's well known that DiCaprio is one of Hollywood's–if not the world's–biggest supporters of environmental causes. He has donated $3 million of his own earnings towards saving the tiger; lives in an eco friendly apartment, refuses to fly by private jet, bikes around NYC and drives an electric car in LA, and constantly raises and donates millions of dollars to wildlife and nature causes.
For example, his Foundation has also just donated $1 million to the  Elephant Crisis Fund, a joint initiative created by  Wildlife Conservation Network  and  Save the Elephants, which  will be used to save elephants from the current ivory poaching crisis by funding on-the-ground projects that stop poaching, trafficking, and help to end demand for ivory.
"Elephant poaching is a brutal crisis, with more than 30,000 elephants killed last year alone," laments Leo. "The decimation of these animals is something we have the power to stop, and the Elephant Crisis Fund is a crucial part of the solution."

Elephants and tigers aside, it's clear that Leo's goal is to help humanity survive on the earth for generations to come. To help Leonardo save our planet and all the creatures on it, donate to the Leonardo DiCaprio foundation here.
All images: Vogue Italia Main image: Modelina.com
Related articles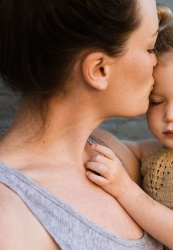 Latest posts by Diane Small
(see all)
This site uses affiliate links with brands we trust, and if you make a purchase using a link, we may receive a commission.
Did you enjoy this post? Want to show your gratitude? Please support us on Patreon!