This lady knows her stuff! Check out our interview with Olivia Newton-John on clean living, and more
By Chere Di Boscio
What was your first ever memory of Olivia Newton-John? It seems we all have one!
Mine was typical: watching her play Sandy, the square girl-next-door (who of course goes 'bad' in the end) in the movie Grease. For others, it may have been hearing her song 'Physical', or maybe seeing her in the film Xanadu.
She may be one of the most famous people on the planet. But there's still a lot the average person doesn't know about Olivia Newton-John. For example, her grandfather was the Nobel Prize winning physicist (and father of quantum physics) Max Born. And her father worked for MI5, the British spy agency.
Far from just a pretty face and sweet voice, Newton-John herself has been quite political herself, as a long-time activist for environmental and animal rights issues. She even cancelled a tour of Japan in 1978 to protest the slaughter of dolphins caught in fishing nets.
But something most people do know about her is that she was diagnosed with breast cancer. Since then –  around 25 years ago – her life changed dramatically.
A New Opportunity
After her diagnosis, Olivia became a strong advocate for natural health and wellness. She co-launched the Gaia Retreat & Spa in Australia, and donated millions to charities including the Y-ME National Breast Cancer Organization. Even her music reflected her dedication to holistic health! Her Grace and Gratitude album formed part of a Body – Heart – Spirit Wellness Collection which also featured a Liv-Kit (which helps women do home breast-check exams) and breast-health dietary supplements with every purchase.
In 2008, she raised funds to help build the Olivia Newton-John Cancer and Wellness Centre in Melbourne, Australia, and she led a three-week charity walk along the Great Wall of China, accompanied by various celebrities and cancer survivors. 
Unfortunately, her cancer returned in 2017. But she's fighting it with radiotherapy, hormonal and alternative treatments such as medical cannabis, which she strongly believes in. She seems fully confident she will once again recover from the illness, and she's been super active: recently, she wrote a book about her life called Don't Stop Believin', and she's also launched a clean skincare line called Retreatment Botanics.
Here, we interviewed Olivia Newton-John on clean living, anti-ageing, her Inca marriage, and more.
A lot of people are interested to hear the thoughts of Olivia Newton-John on clean living and beauty. What inspired the launch of Retreatment Botanics?
The products were inspired by our beautiful multi-award-winning Gaia Retreat & Spa in the Byron Bay hinterland. I wanted guests to be able to recreate the healing beauty rituals of Gaia in their own home. Our all-natural, luxurious skincare line is designed to evoke the feeling of our magical spa retreat at home! I'm so excited about it! 
What are some of your favourite products in the new range?
Kakadu Brightening Serum, Restore Serum, Eye Cream, Instant Glow Masque… I love them all!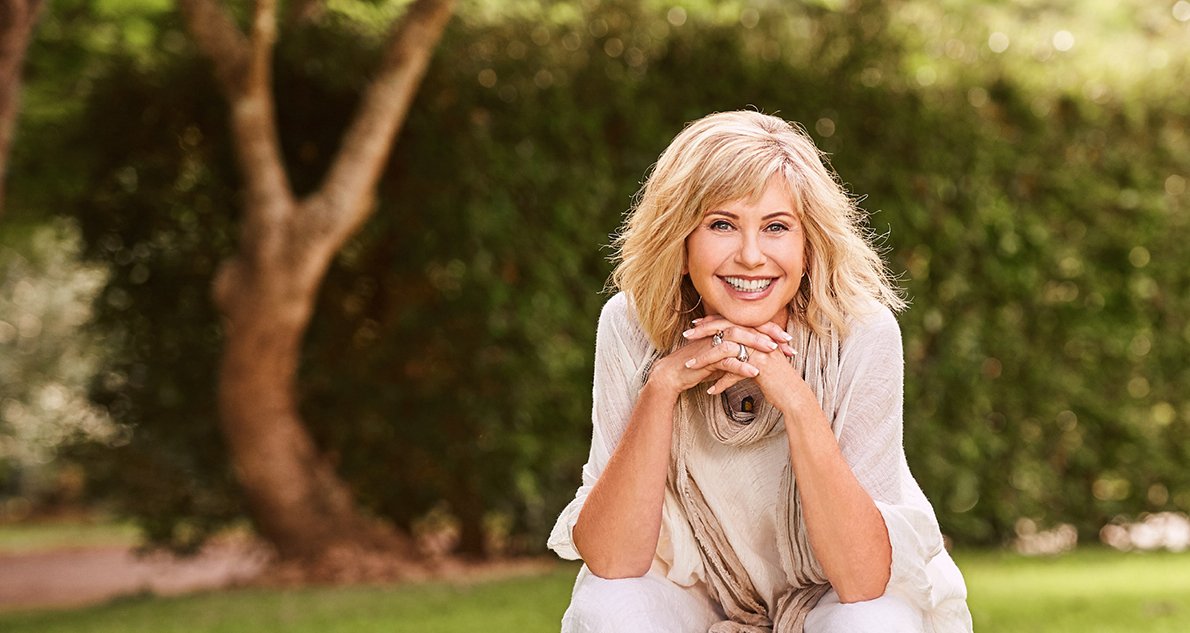 Did having breast cancer many years ago change how you perceive beauty products in any way?
I am definitely more mindful about what I put in my body and on my skin. I realise how many harmful chemicals are in our everyday environment and this inspires me to seek out products made from pure and organic ingredients.
Our skin is our largest organ, and I want to make sure I'm always feeding it with pure goodness…vitamins, antioxidants and essential fatty acids. That's why I love our new skincare products, as they are formulated with clean ingredients yet feel so amazing, smell divine and they work!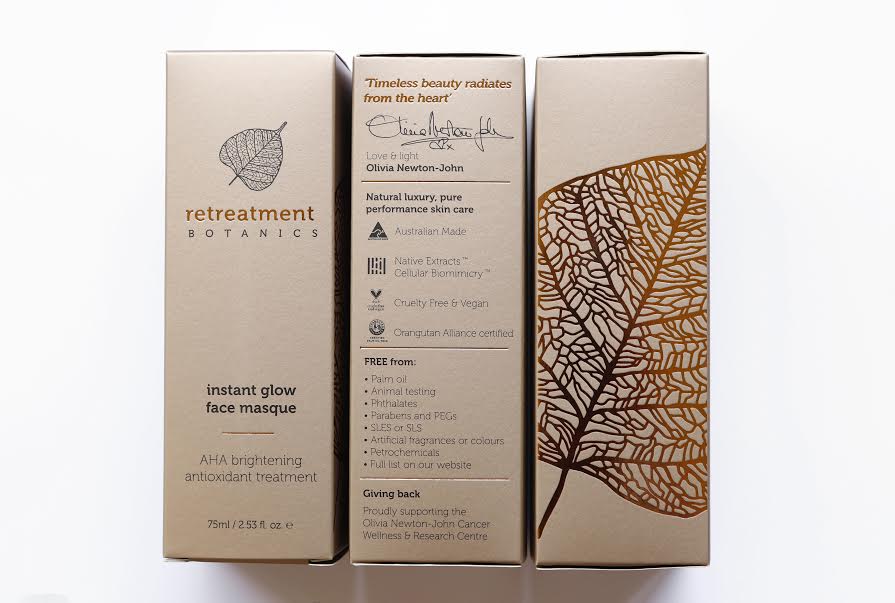 Many beauty brands are now cruelty free, but why was it important to you to certify Retreatment Botanics with the Orangutan Alliance? 
We made the important choice to go palm oil free, something I feel very passionate about due to the rapid loss of the Orangutan rainforests. This isn't easy to do as palm oil is in so many skincare ingredients. After years of research and working with natural scientists, we are so excited to have created a product that is palm oil free, luxurious and super effective! 
Certifying with the Orangutan Alliance gives us the confidence to know all our ingredients have been rigorously checked, not to mention the important support the Orangutan Alliance provides for reforestation projects and Orangutan rescue.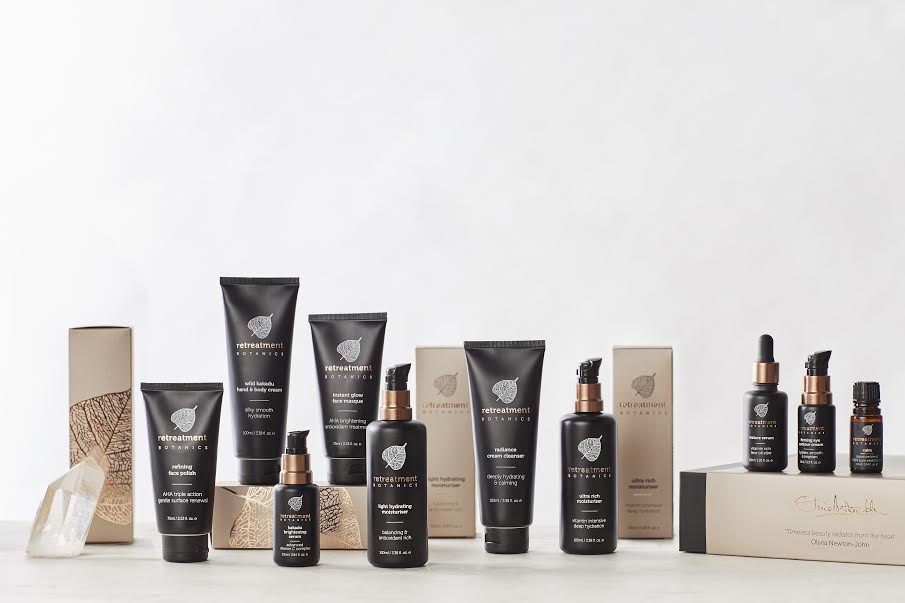 What have you learned about beauty and wellness since you launched the Gaia Retreat & Spa?
One of the most important things that I've learned about beauty and wellness since opening Gaia in 2005 is the importance of purity and natural healing. I find the best results come from an integrative approach. At Gaia, we embrace beauty holistically. Fresh, organic produce brimming with life force does wonders for the skin!
Mindful movement keeps our bodies youthful and supple. Meditation and healing therapies cleanse our mind and body from unwanted stress (truly age defying!). We then infuse the skin with potent antioxidants during our glorious Gaia Retreatment facials. Nurturing ourselves allows our healthiest, most beautiful self to shine through.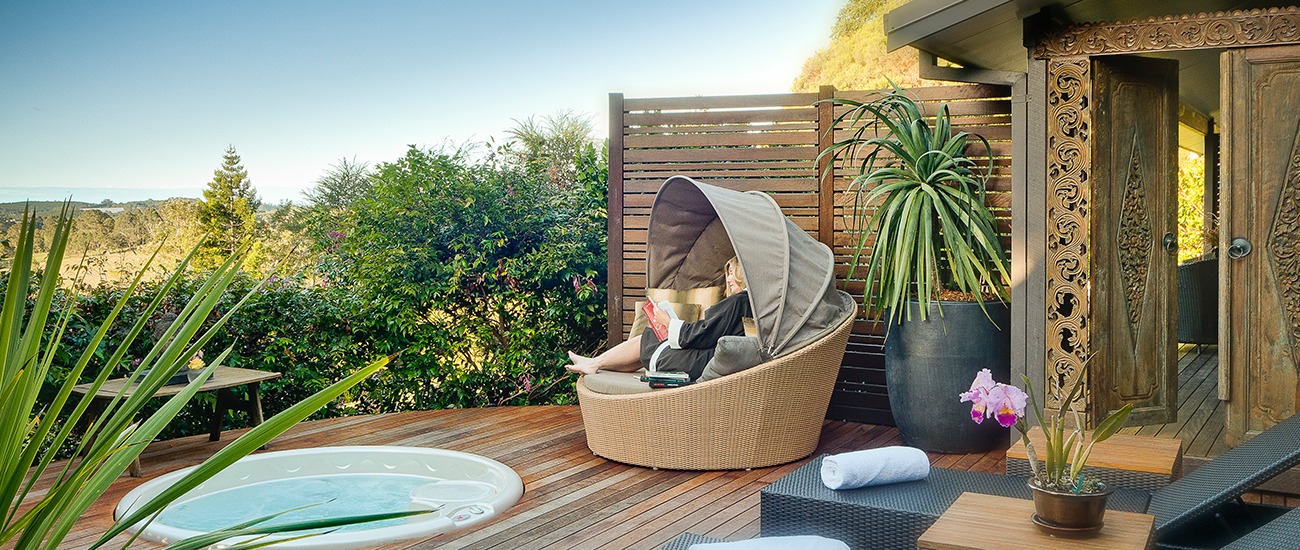 In recent years, it seems you're more vocal about spirituality. Can you talk a bit about how you started your spiritual journey, and how this relates to your approach to beauty and health?
'Spiritual' is a word that means different things to many people. I am open to many belief systems and as I learn and explore them, I find that at their core most of them have the same message. Love and forgiveness. So simple. So pure. 
Over the years and my health challenges, I have learned the gift of gratitude and have recognised the gift of everyday and the beauty of simple things. A deep love of nature and gratitude for life has created a solid appreciation for all things pure and natural. Influences like Louise Hay and Deepak Chopra opened my mind and my heart many years ago, and have helped me to thrive. 
This spiritual journey deeply connects to how I perceive beauty and health – I seek out solutions that honor Gaia, our mother earth, and all her living creatures. I choose natural wherever possible with the understanding that everyone is individual and finding what works uniquely for you is important.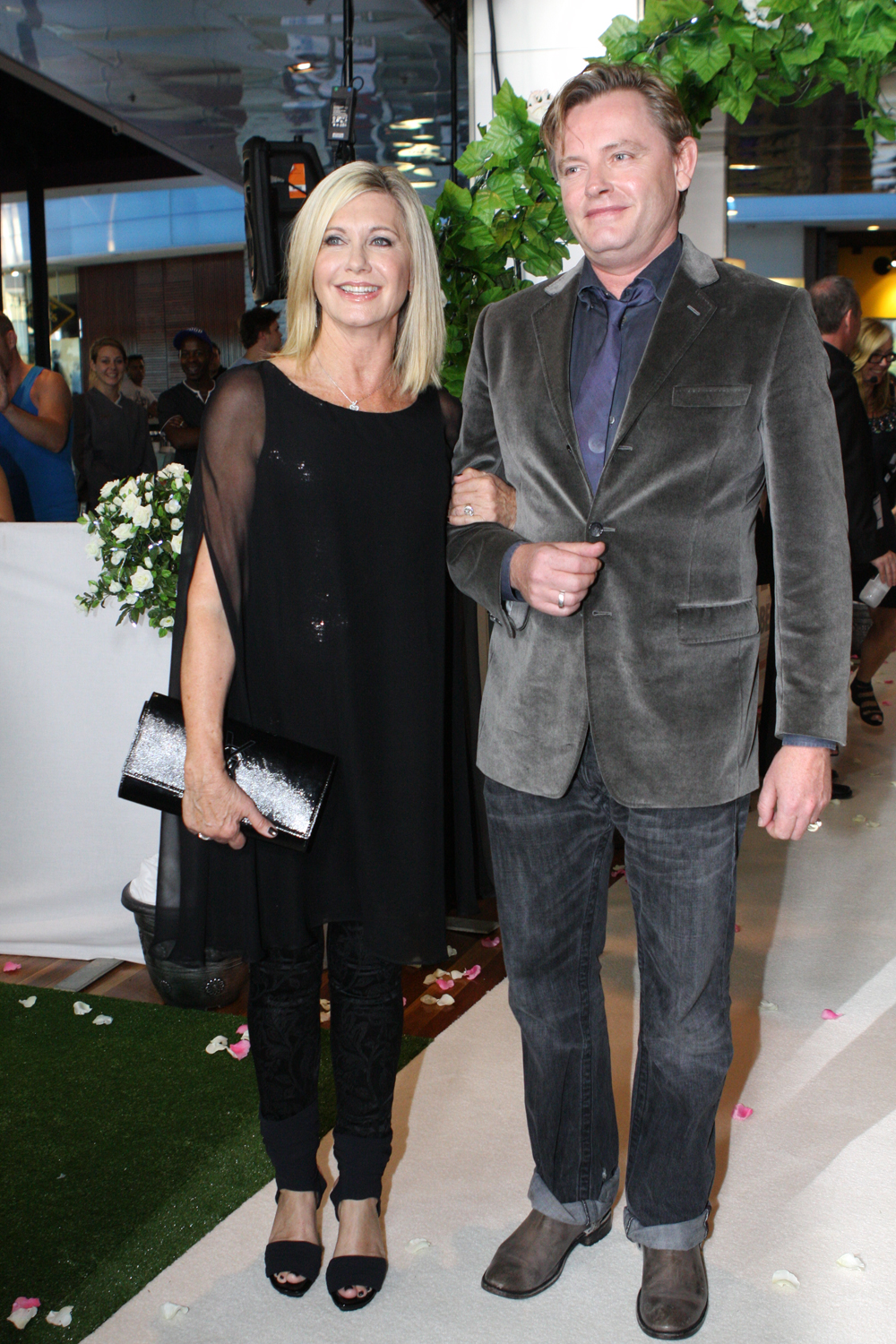 I'm sure you get asked this a lot, but what's the secret to looking so amazing at 70?
Firstly, I would like to thank my mother for the good genes! I also choose to see the positive in life and cultivate things that bring me joy and laughter. Family, friends, animals and spending time in nature. Staying young at heart – that's my secret to timeless beauty! 
Retreatment Botanics supports the Olivia Newton-John Cancer Wellness & Research Centre. What kind of research and treatment is being done there?  
The ONJ Centre provides comprehensive, world leading research, education and treatment for people and families with cancer. We also provide wellness programs to support them in body, mind and spirit. I'm so very proud of our incredibly talented team.
Finally, on a personal note: I understand you got married in an Incan ceremony in Cusco. I've moved from London to the Sacred Valley in Peru, and just wondered why you chose to get married in such a ceremony in Peru?
My husband (who is known as Amazon John because of his 30 years of working with medicinal plants in the Amazon) and I fell in love in Peru. The plant medicine there changed our lives. It was the natural place to marry – on the mountaintop where we recognised our love for each other!
For more information from Olivia Newton-John on clean living, or Retreatment Botanics by Olivia Newton-John, please click here.
Image credits: 1,2,3. Gaia Retreat & Spa 4,5 Retreatment Botanics 6 Gaia Retreat & Spa
Latest posts by Chere Di Boscio
(see all)