By Arwa Lodhi
From Iggy Pop's silver leather trousers to Kurt Cobain's shredded jeans, denim and leather are materials normally associated with rock 'n' roll wardrobes. But lately, some designers have come to realise that upcycling these two tough, durable fabrics can add a bit of Rock Glamour to the home, too.
Rebecca-Jane, for example, started out as a brand that created bags from discarded leather clothing and even car interiors, but they've recently expanded to include patchwork poufs that incorporate leathers of varied textures, colours and patinas. They will also take bespoke orders–choose your colour and leathers, or offer up your old clothing to upcycle into unique pieces for your home.
Perfect as chairs, footrests or even side tables, her recycled leather furniture is sold here, but if you'd rather learn how to make your own furnishing coverings, she also offers sewing classes to help make that happen!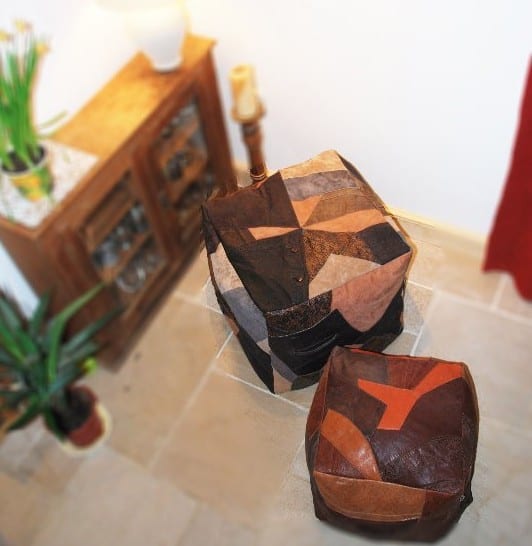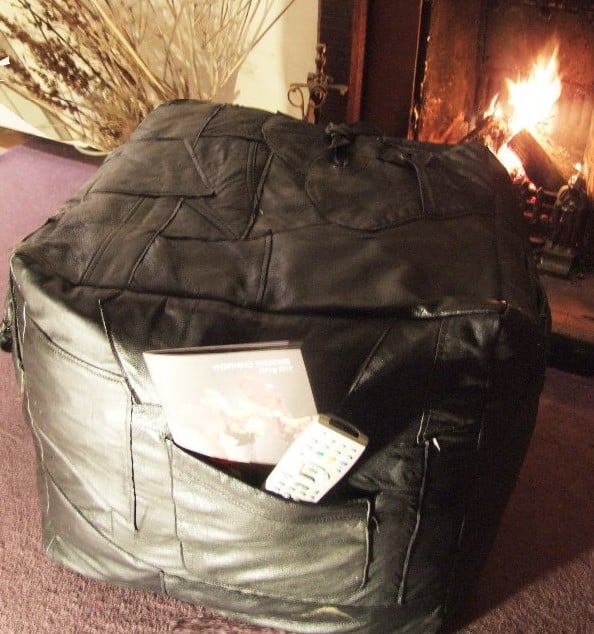 Another artisan who transforms discarded jeans and jackets into furniture is Elizabeth Knowles, but this time, upcycled denim is the fabric of choice.
Knowles is a popular Etsy seller, well known for her work giving new life to old jeans, and her work first caught my attention when I saw it displayed in the window of the trendy Primrose Hill home design shop, Living in Space. Unlike Rebecca-Jane, Knowles doesn't use the fabrics she finds for fashion; instead, her talent is mainly in upholstery, as can be seen through these uniquely casual furnishings, below.
Not surprisingly, eco-denim brand Nudie jeans had a similar recycling idea, and why not? They offer a program allowing their customers to donate old jeans to their upcycling project, in exchange for discount vouchers in the Nudie shop. Rather than upholstering furniture with discarded jeans, the denim brand prefers to shred them into long strips and turn them into rugs, using the same thread to weft them as they do with their fashion line. The result is stylish throw mats and rugs which, just like jeans themselves, look good just about anywhere.
For more information, please click here.
In short, we love these projects, not only because they're innovative and beautiful, but because they're a wonderful representation of how clothing waste can be put to good use!
Latest posts by Chere Di Boscio
(see all)
This site uses affiliate links with brands we trust, and if you make a purchase using a link, we may receive a commission.
Did you enjoy this post? Want to show your gratitude? Please support us on Patreon!