By Chere Di Boscio
For the first time ever, the expert workshops at Chopard have used Fairmined gold to produce the L.U.C Tourbillon QF Fairmined. The main parts of the watch (case-back, case and bezel) are entirely made of what is known as  'Fairmined' gold–a certification that  guarantees the gold was extracted in a responsible manner and that the miners themselves received fair payment for their work.
Enclosed in an elegant 43 mm-diameter 'Fairmined' rose gold case, the timepiece features alternating satin-brushed and polished surfaces. The sapphire crystal case-back provides an opportunity to admire the L.U.C 02.13-L1 movement, driving a tourbillon and a power-reserve indicator. The latter is located at 12 o'clock and displays the movement's remaining autonomy, amounting to a maximum of 216 hours, meaning nine days. This 25-piece limited series is water-resistant to 50 metres.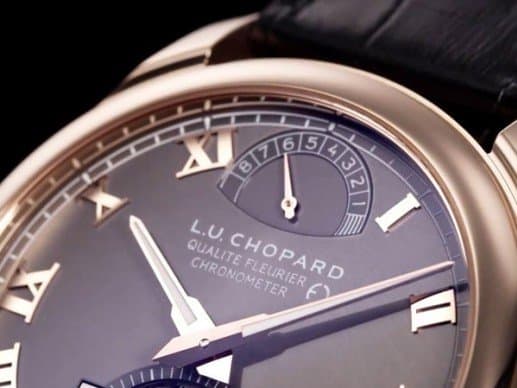 Chopard has sourced the gold from the Coodmilla cooperative, located in the Nariño region of Colombia. A spokesman for the company stated: "We have also committed to purchase a substantial part of the cooperative's output and will continue to do so once the 'Fairmined' standards have been met."
But this is not the only source of Fairmined gold the Swiss luxury firm will be using: "Moreover, we have set ourselves the target of buying a significant percentage of our gold form other 'Fairmined' gold stocks and are also taking an interest in other cooperatives in South America, with a view to supporting them in achieving 'Fairmined' certification," says their spokesman.
The creation of the Chopard Fairmined gold watch  is part of what the jeweller calls "The Journey"–a project of sustainable change that will span several years, and which is designed to set new social and environmental standards for both jewellery and watchmaking.
The company launched the initiative in 2013 at the Cannes Film Festival with the help and encouragement of eco-warrior Livia Firth, and indeed will bring further evidence of its dedication to sustainability at the next awards cycle this year in the famed French town, when it will present the first ever Palm d'Or to be made solely from Fairmined gold.
Eluxe will be there to see who wins the first ever Fairmined film award this year. Watch this space!
Latest posts by Chere Di Boscio
(see all)