Timeless, chic and personal. Who wouldn't love to get one of these ethical jewelry gifts?
Like perfume, jewelry can be a tough gift to give. But like perfume, everyone wants it – if it suits their tastes!
So, how are you supposed to know what your recipient would want to wear? It's especially important to get jewelry gifts right, since they're not the cheapest of presents.
My personal tips for giving successful ethical jewelry gifts are below.
1. Observe, observe, observe
When you next see your friend or family member, note what they're wearing in terms of jewelry. Is it big and bold? Tiny and delicate? Do they prefer gold or silver? If you're not able to see them in person, check out their Instagram and Facebook accounts. What are they wearing in their pics?
2. Ask for help
You can sneak in questions to those who are close to the recipient to find out what they'd like. If you're going to a jeweler to make a purchase in person, you can also describe your friend and their style to the expert behind the counter, who will be sure to come up with some solid suggestions.
3. Avoid allergies
A surprising number of people are sensitive to certain metals, especially zinc, nickel and brass, so it's important to choose jewelry that's free of these. Sterling silver and gold are usually great choices.
4. Don't get too 'marmite'
Marmite is that weirdish food product that people seem to either passionately love or absolutely hate. Don't take a chance with something too extreme! Avoid overly bright, big or bold pieces in favour of more subtle jewelry.
5. Make it meaningful
Not only is jewelry pretty, it also makes a statement and has sentimental qualities. For that reason, pieces infused with meaning are usually the most welcome: think – lockets with small pictures, rings using stones from unworn family heirlooms, or monogrammed bracelets and watches.
6. Avoid rings, unless…
Rings can be tricky to buy for others for one reason: they are sized, and unless you know the actual size of your recipient, it may be a good idea to stick to the kinds of rings that can be worn on knuckles, just in case the item doesn't slip down further to the base of the finger.
7. Get a receipt
Ultimately, it's important to ensure whatever you buy can be returned, just in case! Keep in mind that earrings for pierced ears often can not go back to the store for hygiene reasons. Make sure you subtly include the receipt for any jewelry gift in the box – just in case!
Ethical Jewelry Gifts For All Types Of People
1. Chalcedony Earrings
Considered a nurturing stone, Chalcedony absorbs negative energy and dissipates it before it can be passed on. It promotes brotherhood and goodwill, opening the mind to new ideas, instilling feelings of benevolence and generosity.
Chalcedony was considered a sacred stone by the Native American Indians, using it to promote stability during their ceremonial activities. It is still in use today for meditations, and as a pathway for receiving successful thought transmissions
Given these qualities, these gold chalcedony earrings by Melissa Joy Manning would be perfect for public speakers and all those who speak for a living. Lawyers and politicians might benefit from touching this stone to the tip of their tongue while listening to their opponents to enhance their counter arguments, for example.
Actors or singers might rub it against their lips and throat, and wearing this crystal is said to help overcome stage fright and the fear of public speaking.
As they were handcrafted from recycled 14-karat gold, these earrings are kind to the planet, and their size and style are fit for formal and casual occasions, providing an elegant flair to whomever wears them.
Price $245
Best for: The person in your life who does a bit of public speaking.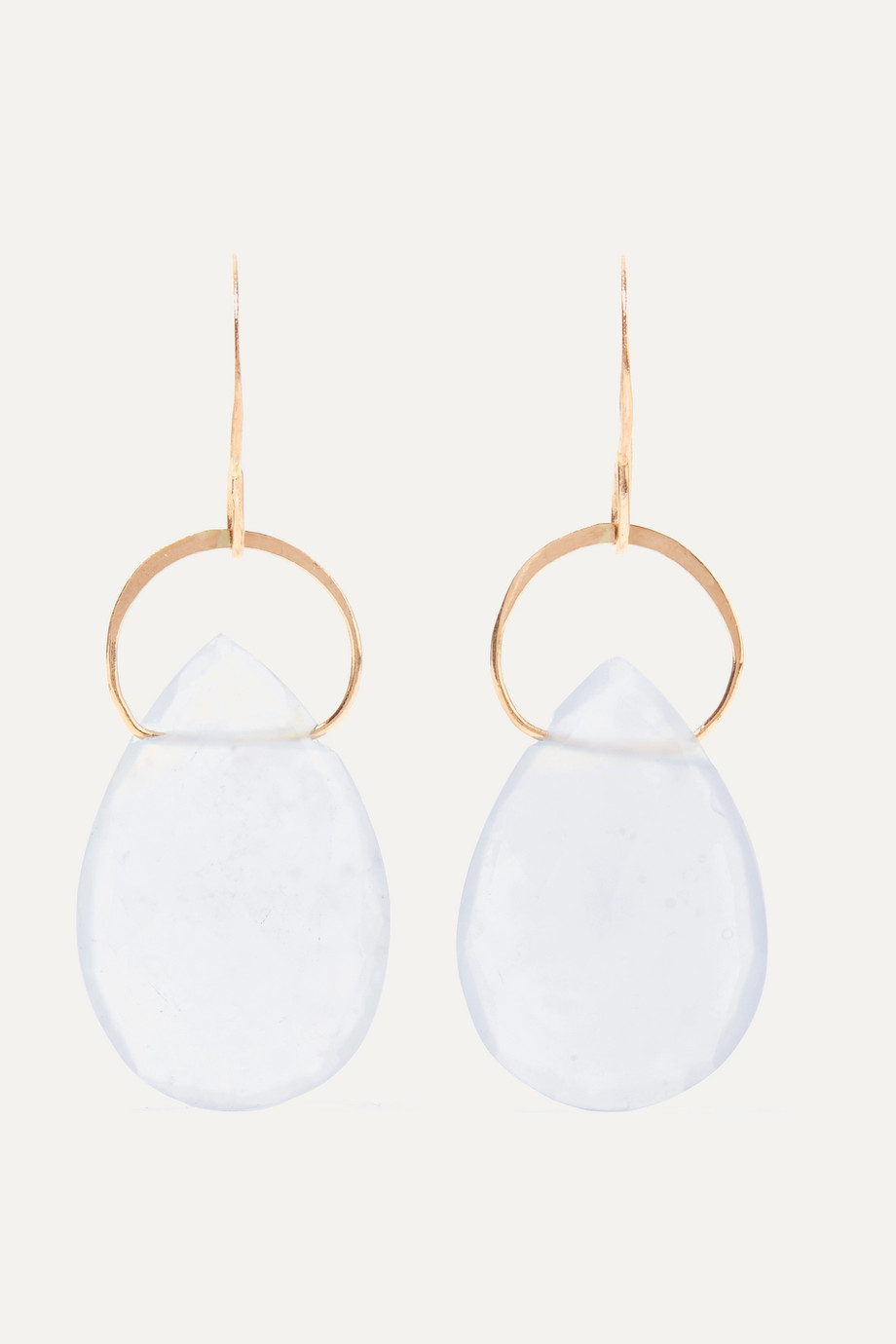 Is someone in your life in need of courage? Alighieri's jewelry is inspired by the iconic Italian poem Divine Comedy – and this necklace references a particular verse where Dante is confronted by a lion in the forest. Although in the story the forest represents sin, and the lion pride, for many people, the lion represents courage.
Threaded onto a 16-inch chain, this gold-plated piece has been handcrafted in London from an antique Venetian coin, restored with wax and designed to be worn as a reminder to be courageous. It's a bit of Italian history on a chain!
Price: $260
Best for: Reminding someone to be a bit more bold; history buffs; anyone with Italian heritage
Nowhere is as Boho Chic as the beach, and that's exactly the inspiration for Bibi Marini's jewelry. Each piece is handcrafted using traditional techniques from Bogotá, Columbia – her native city. For example, this 'Mitu' bracelet is cast from gold-plated brass and strung with layers of ceramic and polished beads, which were especially designed to resemble bamboo stalks. We especially love the ornate metalwork by the clasp.
Price $150
Best for: The Bohemian, rich hippy in your life
The romanticism of heart-shaped lockets never goes out of style, since they're designed to hold photos that are deeply meaningful to the wearer. This locally made gold necklace by Catbird makes the ideal gift for someone you truly love. Fill it up with tiny photos of yourself or other dear ones and they will wear it close to their heart (literally), surely cherishing it for years to come.
Price $285
Best for: The nearest and dearest to your heart.
Timelessly chic and elegant, these simple disc earrings can be worn at work, at parties or even on the beach. They're made from 100% recycled 14 karat gold and are subtly textured using traditional metalsmithing techniques. These are a wonderful classic for the no-nonsense woman.
Price $410
Best for: Professional, elegant women of all ages
6.
Alphabet Soup Enamel Bracelets
Wondering who designs those rainbow-bright bracelets you've spotted all over Instagram? Meet Roxanne Assoulin, the maker of these 'Alphabet Soup' bracelets!
These fun pieces are on an elasticated base, and of course, they're very personal: you can select the letters of your choice to for spell a significant word, your name, or that of a fashion-obsessed friend, who is guaranteed to love it as gift.
Price: $85
Best for: Gifting something personalised to a person with a fun, informal sense of style
Why kill animals to make something as simple as a watch strap, when other materials do the job just as well? For example, this phenomenal Supermarine Automatic stainless steel watch uses hypoallergenic rubber for its band. Prestige brand Bremont's timepieces always boast robust performance and bold style, whether you are wearing it in a metropolitan environment or under the sea.
The automatic movement inside is highly rated for accuracy and is housed in anti-magnetic and anti-shock cages to provide excellent durability.
Price $4,495
Best for: The vegan man in your life
Back in the day, people would tie a string around their finger to remember things, and that's exactly the inspiration behind these 'Mignon Memory' rings – but they can also serve as a reminder of a special time in life. These dainty pieces are handmade from 14-karat gold, using responsible practices to reduce unnecessary excess waste.
These pretty rings are designed to be worn below your first knuckle and can be easily stacked up with other styles.
Price $50
Best for: Reminding someone of something. These are also pieces that are subtle enough to please everyone!
In crystal healing, turquoise is associated with personal protection, which is why it was often used in the protective shields of ancient warriors heading into battle. For this reason, the stunning hue of turquoise has often been discovered in the ceremonial masks and battle gear of the Aztecs, a tribe that revered this decorative stone for its ability to provide personal protection against negative forces.
This delicate necklace, which was hand-cast from recycled 14-karat gold and strung with a 'Sleeping Beauty' turquoise, is thus the perfect gift for anyone who needs a bit of protection. But also – just look at the vibrant hue of that beautiful stone!
Price $500
Best for: Those who may need a wee boost in their luck
The sustainable brand Catbird, never ceases to surprise with its ethical beauty. The Kitten Mitten gold bracelet by Catbird has given its personal twist to the iconic 'Kitten Mitten' bracelet without any stones for a more streamlined look. It's designed to wrap around your finger, drape down and wrap prettily around the wrist.
Price $190
Best for: Hippy chicks with a unique sense of style
Latest posts by Chiara Spagnoli Gabardi
(see all)