These vegan afternoon tea ideas are truly great reasons to celebrate!
By Lora O'Brien
Think afternoon tea is for old ladies? Think again!
British surveys show that afternoon tea is trending again. Especially for members of Gen Z (those aged 18 to 24). In fact, around 28% of the whole UK population goes out for high tea at least once a month. But for Gen Z? It's a whopping 56%! 
Londoners particularly love the ritual, with 52% going out for tea monthly, but 25% prefer to serve afternoon tea at home or at a friend's.
If you're in that latter camp, we've got the perfect article for you: vegan afternoon tea ideas for serving at home!
What's afternoon tea, anyway?
Afternoon tea became the bridge between meals for those who had their evening meal at around 8pm. So, afternoon tea became a 'mini meal' in itself. It usually included light sandwiches (especially cucumber), scones and perhaps salmon and other savouries.
This was different from 'high tea', which was the evening meal for the working classes. In other words, dinner. English high tea usually involved a mug of tea, bread, vegetables, cheese, and sometimes, meat, pies, potatoes and crackers.
So while afternoon tea was largely a social event before dinner for the upper classes, high tea was a basic meal in the eighteenth and nineteenth centuries. In fact, traditional high tea still exists for some parts of the North and Scotland.
Bringing authentic high tea to your home
If you're wanting to host your own afternoon tea at home, below are some tips for how to perfect the ambience:
1. Use tablecloths! Dressing your table is a chic way to turn any old table into one fitting for a high tea. If you want to be extra fancy, use some cloth napkins, too!
2. Bring out the tea set. If you have one sitting in a closet collecting dust, now is the time to show it off. Don't have one? You can almost always find one in your local thrift store. No matching sets? Mismatched vintage teacups and saucers are super cool!
3. Look for cake stands. These are a lovely way to present your array of snacks. Again, hunt through your local thrift stores or borrow them from a friend for the occasion.
4. Mix it up! Be sure to include both sweet and savoury recipes. High tea is about cakes and tea, sure. But it's also about finger sandwiches and other bite-sized snacks.
5. Celebrate! It may be called high tea, but don't be afraid to pop the champers to make it a real celebration!
What to serve?
You're almost ready to bring high tea to your home, but what to serve? Below, we have lots of delicious vegan recipes that would be perfect for any tea, but the basics are:
Finger sandwiches, which are usually cut into rectangles without the crusts
Scones are an absolute must, in my opinion! Serve with mini jams and pots of vegan cream
Bite-sized food, from small cakes to tartlets and mini quiches. It's all about the tininess.
Refreshments! Obviously tea. But feel free to serve fizzy water, cocktails or bubbles.
The most common sandwiches in traditional afternoon tea are:
Cucumber
Egg mayonnaise with cress
Smoked salmon with cream cheese
But of course, for vegan high tea, only variations on those will do!
What's the best tea to serve?
Choose whatever you fancy for vegan afternoon tea. Herbal teas, green tea, chai, you name it. But these are some of the most common brews for afternoon tea:
English Breakfast Tea
This is the most popular one to serve at high tea.
Assam
A strong full-bodied tea from India, which has a distinctive, 'malty' flavour.
Darjeeling
An aromatic and astringent tea from India, with a hint of almonds and wildflowers. Perfect for vegan afternoon tea!
Earl Grey
A blend of black teas scented with oil of bergamot named after Charles, 2nd Earl Grey, who was Prime Minister from 1830 to 1834.
Lapsang Souchong
A Chinese tea fired over smoking pine needles, which produces a striking smoky odour and flavour.
So, what goes with those teas, in terms of snacks? Read on to find out!
VEGAN HIGH TEA IDEAS
1. Vegan Swedish Sandwich Cake
Okay, I know I said bite-sized food, but hear me out: how good would this cake look as a centrepiece? Known as a smörgåstårta in Sweden, it looks like a cake but is actually a sandwich! Slice it up and serve to guests.
Get the recipe here.
2. Vegan Scones
I couldn't do a vegan high tea roundup without this British classic! Every afternoon tea I've attended has has this classic, and it always goes down such a treat! Serve alongside mini pots of jam and vegan clotted cream to make it even more perfect.
Get the recipe here.
3. Vegan Cheese Scones
In my opinion, afternoon tea has to have a scone, but if you're not too keen on the jam and cream variety, why not try these cheese scones? They're light and buttery with a tang of mustard and dairy-free cheese. Perfect served alongside some vegan butter!
Get the recipe here.
4. 3-Ingredient Drunken Strawberries
Looking to serve fruit but want to make it fancy? Drunken strawberries are a super popular treat. They're soaked in wine and rolled in cane sugar. Serve in little shot glasses or pop a cocktail stick on them so they're easily served.
Get the recipe here.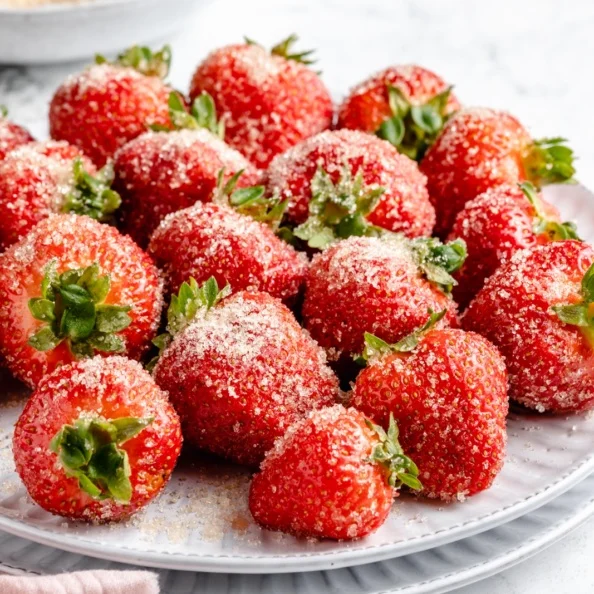 5. Vegan Tea Sandwiches
Sandwiches are a must at any high tea, and we've got a selection of delicious recipes. Why not make all of them so there's an assortment? One thing is for sure, whether it's curry egg salad, chickpea tuna, carrot lox and herbed cream cheese, there will be zero smell!
Get the recipe here.
6. Mashed Avocado Finger Sandwiches
Sandwiches are a vegan afternoon tea must, and they can be as simple or as fancy as you like. I love these herby mashed avocado finger sandwiches. The added sprouts makes them super fresh tasting, and you could even add some vegan cream cheese.
Get the recipe here.
7. California Avocado Afternoon Tea
Who doesn't love avocado? Well, bring some avo love to your afternoon tea with these delicious recipes. Featuring avocado finger sandwiches, whipped avocado crackers and Caprese stuffed avocados, they will look fabulous on your tiered cake stand.
Get the recipe here.
8. Vegan Quiche Muffins with Sun-Dried Tomatoes
These tasty muffins are just loaded with sun-dried tomatoes, mushrooms and garlicky spinach. But of course, you can pretty much add your own veggies and herbs. The ideal savoury snack for a vegan afternoon tea.
Get the recipe here.
9. Onion Balsamic Zucchini Tartlets
Simple yet flavoursome, these tartlets will be a popular addition to your vegan afternoon tea. Simply throw onions, a splash of balsamic vinegar, spices and herbs with some zucchini and then bake until golden.
Get the recipe here.
10. Vegan Cheese Ball Bites
These vegan cheese ball bites are ideal for vegan afternoon tea. They're also mess free, thanks to the little pretzel stick. Comforting, cheesy, savoury and loaded with flavour. Serve alone or alongside some crackers or veggie crudites. These are great for serving at dinner parties, too!
Get the recipe here.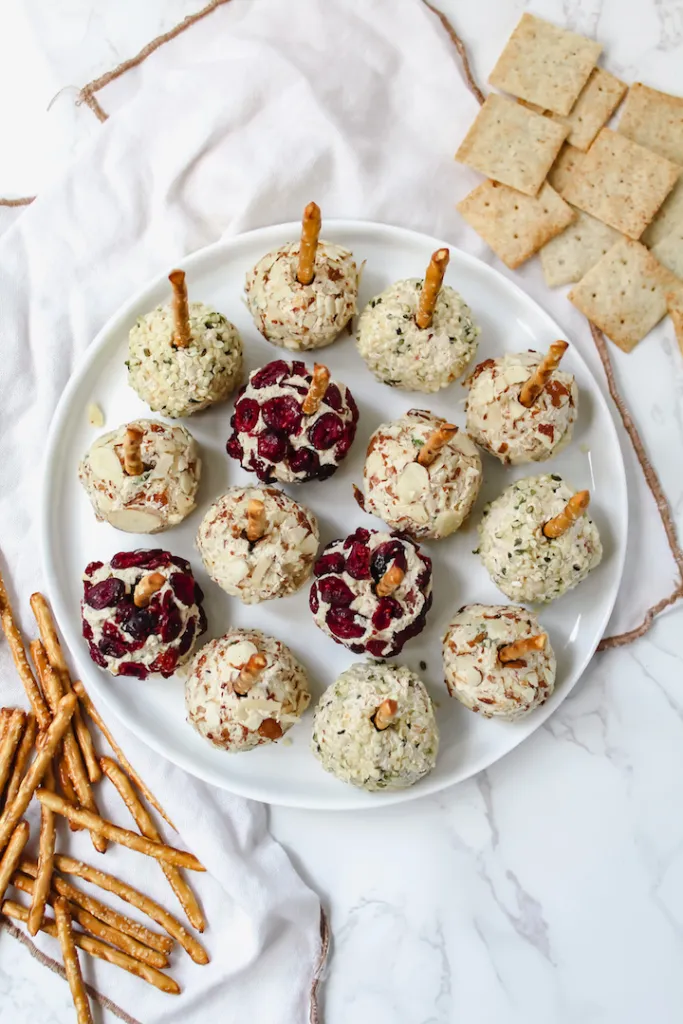 17. Mini Victoria Sponge Cakes
Serving whole cakes? Nope! These delicious and dinky mini victoria sponge cakes will really wow your guests. Filled with strawberry jam and whipped vanilla buttercream, you'll never want to make a whole cake ever again.
Get the recipe here.
18. Vegan Mini Eclairs
These mini eclairs are light, delicate and super cute! Topped with chocolate and filled with a creamy vegan custard, they're the perfect addition to any vegan afternoon tea or other fancy occasion.
Get the recipe here.
19. Mini Chocolate Loaf Cakes
How adorable are these mini chocolate loaf cakes? Perfectly sized, these are easy to serve at your vegan afternoon tea, and are guaranteed to be a real crowd-pleasing treat.
Get the recipe here.
20. Healthy Cake Pops
These healthy cake pops are super easy to make and require zero baking. They use a moist vanilla crumb made with almond flour and dairy-free yoghurt. They're also free of refined sugar. And they're such a pretty addition to your vegan afternoon tea!
Get the recipe here.
21. Mini Vanilla & Chocolate Cupcakes
The key to serving cake with vegan high tea is to serve bite-size portions otherwise everyone just feels super full and sluggish – which isn't ideal. The answer? Mini cakes! And these chocolatey cupcakes with frosting are perfectly sized.
Get the recipe here.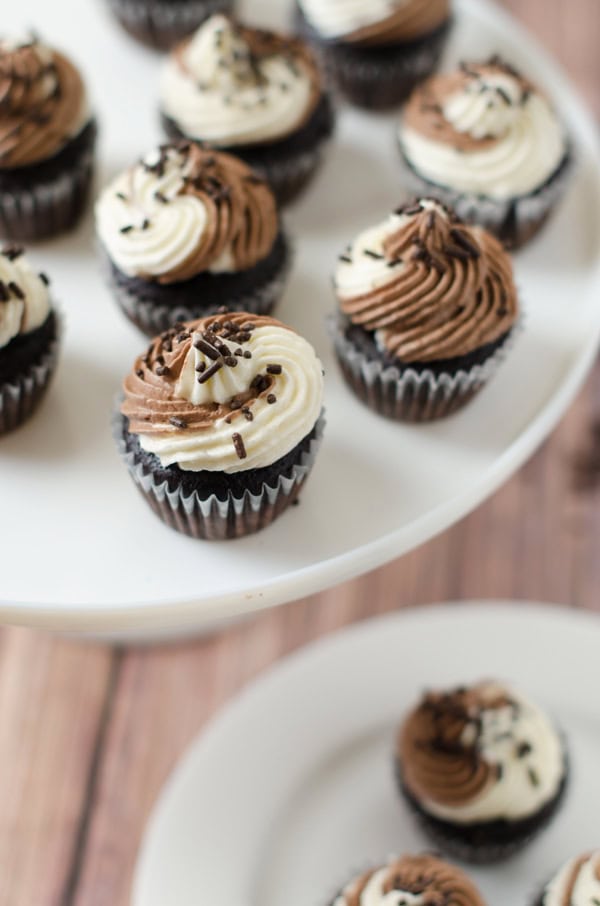 22. Vegan Carrot Cake Cupcakes
I mean, can you ever really have too many cupcake recipes? I think not! But how cute are these vegan carrot cake cupcakes? They're soft, moist and fluffy with a dairy-free cream cheese topping. Perfect for kids and adults alike at any vegan afternoon tea.
Get the recipe here.
23. No-Bake Vegan Cheesecake Jars
These easy no-bake vegan cheesecake jars will look fabulous at any vegan high tea. Made with a buttery cookie crust and a creamy dairy-free cheesecake filling, top them off with perfectly sweetened berry compote for a fancy but simple individual vegan dessert!
Get the recipe here.
24. Vegan Chocolate Macarons
Is it even vegan high tea if there isn't vegan macarons? In my opinion, absolutely not! I love me a macaron, and these chocolate ones are filled with a dark chocolate ganache that is heavenly! They're rich, dairy-free, gluten-free and absolutely melt in the mouth delicious.
Get the recipe here.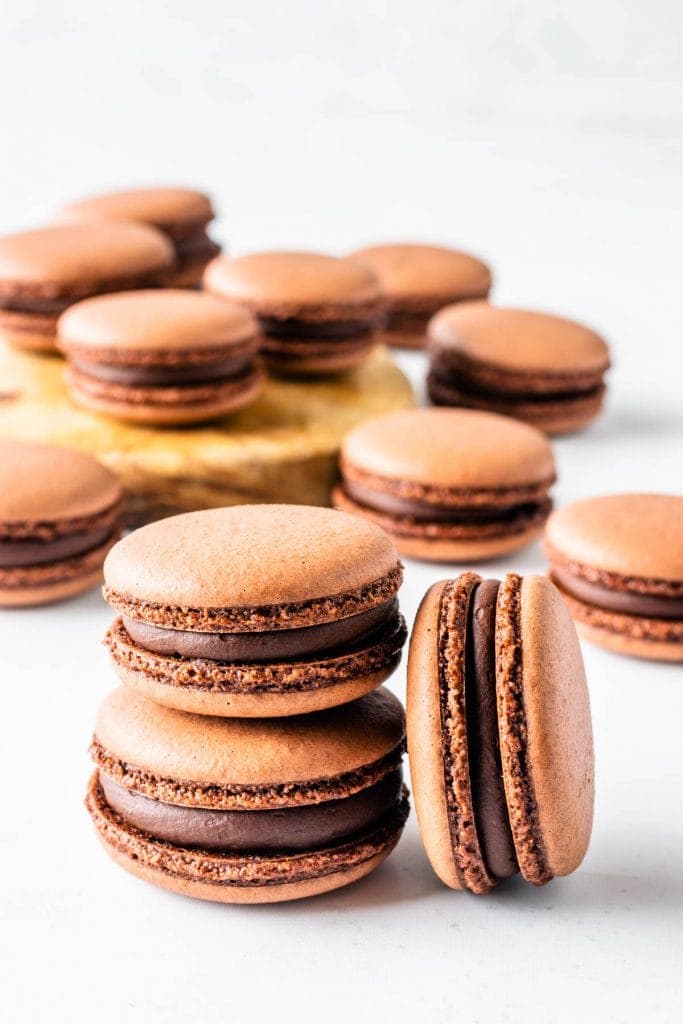 25. Vegan Viennese Whirls
Viennese whirls are one of the prettiest vegan high tea cookies to serve. I've personally made these biscuits, and I can testify: they truly just melt in the mouth! The jammy, creamy centre perfectly mimics scones.
Get the recipe here.
Latest posts by Lora O'Brien
(see all)