Feel your specs dominate your face? Try these makeup tips for girls who wear glasses!
By Diane Small
Nerd chic is definitely still a thing. And that may be why we 'optically challenged' are choosing to wear glasses over contacts more often. In fact, I know some people who even choose to wear glasses even though they don't need them!
The issue is, how can you make your eyes pop behind your lenses?
The answer is: it really depends on your glasses. Overall, you should know that your specs, no matter what their style, will always draw attention up to your eyes and cheekbones. Makeup can either emphasise the effect of the glasses, or contrast it, depending on the look you prefer. The biggest makeup mistake you make if you wear glasses? It's probably wearing no makeup at all!
We asked the specialists at GlassesUSA.com for some tips to keep your makeup on fleek if you're sporting specs.
7 Makeup Tips For Girls Who Wear Glasses
1. Open Up With Mascara
Another of our makeup tips for girls who wear glasses is focused on a core beauty product: mascara! This cosmetic not only helps draw attention to your eyes, but also, as anyone who chooses to wear glasses knows, it's entirely possible for your makeup to rub off on not only the frames, but the lenses, too.
I'd recommend using a waterproof mascara. It's less likely to come off long lashes and blur your vision, but the thing is, it's hard to find an all natural one! Instead, just ensure your mascara is dry before you sport your specs. Oh, and to ensure your foundation doesn't stick to your frames, use a good finishing powder, too.
You can also go nuts with the mascara! Two or three coats will work. You can even wear fake lashes (yes, they're still trending). Just be sure they're not too long, or they'll bash against your lenses!
Formulated to meet Wander's strict standards of both modern beauty and sustainability, this clean mascara is a lengthening and long-lasting game-changer. No wonder it's one of the brand's best sellers!
Designed with a sleek rubberized wand that has spread-out bristles to prevent clumps, it glides on easily for a natural eye makeup look and stays perfectly in place throughout the day.
2. Highlight Your Eyes With Eyeshadow
When it comes to eyeshadow, more neutral or lighter colours work better with glasses, as darker shades with only make dark undertones around the eyes look worse. A nice highlighter on your brow bone plus a shimmery accent in the middle of the lid will brighten and open your eyes.
Dab this shimmery highlighter on your brow bone and in the centre of your lid to make your eyes pop! RMS is a long-lasting, clean makeup brand created by a MUA who knows exactly what all women want – whether they wear glasses or not.
3. Lighter Frames? Darker Makeup!
Another of our best makeup tips for girls who wear glasses is this: lighter frames mean darker eye makeup.
If you prefer rocking frameless glasses, you can work with sultrier tones because no natural shadow from the frames will fall onto your eyes. Always choose specs that won't harm the Earth.
For example, Eco-Glasses is paving the way for luxury eyewear designers and accessory manufacturers within the industry. As a sustainable alternative to harmful high-street brands, Eco-Glasses aims to reduce their plastic footprint, rather than adding to the problem. This luxury brand uses 95% recycled plastic for their frames. Yay! 
If you choose a lighter colour for your frames, try a darker eye shadow in the crease of your lid to make your eyes really stand out.
We love not only the bold shades this company produces, but also their luxurious compacts! Every shade is mineral based, vegan, gluten free, and lasts for ages.
4. Cover Up!
Many girls who wear glasses nix the concealer, thinking the frames of their glasses will cover undereye circles. But guess what? They can often actually make them look worse. That's because most glasses (especially with darker frames) cast shadows under the eye.
To stop this from making you look tired, try an undereye concealer in a shade lighter than you'd normally wear.
Le Camouflage Stylo takes a dual action approach to revitalising and brightening your complexion. This ultra hydrating formula features light-reflecting pigments, peptides and a botanical-based active that helps mask darkening around the eyes. We love the handy click pen, which has a soft brush tip to create an undetectable look.
5. Learn Your Lines
Got heavy or coloured frames? One of our best makeup tips for girls who wear glasses is to use an eyeliner that's one or two shades lighter.
Ensure you draw a line whose thickness corresponds to the thickness of your frame. In other words, the heavier the frame, the heavier the liner can be.
Define your eyes with this precision-designed tip that provides the flexibility to let you design your favorite look, be it a thin or thick line.
6. Boss the brows
Did you know? When you wear glasses, your brows are one of the first things people notice! So keep them groomed and on fleek. Pluck stray hairs regularly, and keep your brows tidy with a brow brush and gel.
Your eyebrows can also play a big role in making your eyes look bigger. The next time you're doing your makeup, why not try giving your eyebrows a more uplifted look? A bit of highlighter just under your brow bone will pull the whole look together.
Define your brows and keep them in place – with zero flaking or fading. This gel is formulated with certified organic ingredients and plant-derived phyto-pigments, too.
7. Match the lippy
Got coloured frames? One of our top makeup tips for girls who wear glasses is to pay attention to that hue! In short, make sure your lippy doesn't clash with your frames colour. Blue and red frames favour red hues, whilst brown and metallics favour pinkier shades. Black frames are best, as anything goes!
We love this creamy, wine-hued product that doubles up as both a lip stain and a blusher. It blends matte for a natural looking finish, and the colour can be built up and layered for evenings.
Do you have any of your own Makeup Tips For Girls Who Wear Glasses? Please leave them in the comments section, below!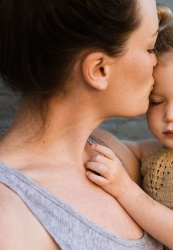 Latest posts by Diane Small
(see all)