Want pretty eyes every day? Here are the natural eye makeup brands you need to know!
By Stacey Siebritz
We all want pretty eyes every day, and we will do pretty much anything to get them. Some of us use contact lenses to change the colour of our eyes, while others get their brows microbladed. But one of the easiest ways to make your eyes beautiful is, of course, simply through makeup.
And using organic, natural beauty products is perhaps never more important than when it comes to your eyes. They're not just the windows to your soul; around the eye area is where your skin is at its thinnest, which makes it all the more crucial that you use only the best quality ingredients in your beauty looks.
Using harsh, chemical ingredients can lead to irritation and inflammation, which can in turn lead to premature ageing. Personally, I find that some products even cause my eyes to tear up!
The issue is, some people complain they can't find a decent mascara or rich eyeshadow shades that are natural. And I admit, it's not easy. But I've tried and tested quite a few products in my time, and here are my  picks of some of the best natural makeup brands for pretty eyes, every day of the week.
The Best Natural Eye Makeup Brands
Primers
Ok, so primer isn't really eye makeup, but let's remember that flawless makeup starts with the perfect base. The right primer will blur imperfections, smooth fine lines and plump up the skin, giving you a fresh canvas to work with, and ensuring that your makeup stays put all day.
This is the Swiss Army Knife of primers! This marvellous multitasker is a moisturiser, primer and even has an SPF of 15. It is made with cruelty-free, organic ingredients and natural mineral pigments. Apply it with your fingertips to perk up your complexion. Learn how to apply primer and more, below.
Under Eye Concealers
No matter how well you apply your eye make up, the effect will be ruined if you're suffering from dark circles. Cover them up by picking a creamy formula, drawing a triangle under your eyes and pointing down towards your chin, then blending gently with your ring finger.
I love this lightweight, all natural concealer that contains skin-soothing ingredients such as coconut oil and rosemary. It will hydrate and heal the skin while covering up blemishes and dark circles, and is available in eight shades, from palest porcelain to a rich, dark tan.
No matter what skin tone you have, you'll find an Au Naturale undereye concealer that's perfect for you! This vegan-friendly stick is packed with pure pigments that will hide dark circles, and organic oils to hydrate the delicate under-eye area.
Tweezers
Eyebrows are having a moment right now. They need to be lush, full – and perfectly groomed. That starts with removing any stray hairs from under the arch. And to do that, you'll need some great tweezers.
The perfect slant and a tight grip make these a popular favourite with beauticians. Really easy to use, no matter how hard you find eyebrow grooming!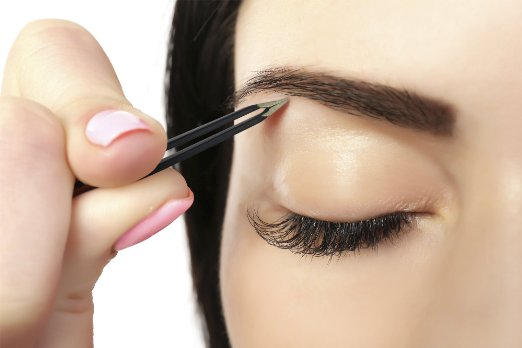 Eyebrow Fillers
You only need to look at the likes of Lily Collins or Keira Knightley to know that bold brows can work wonders, framing your face and eyes, and emphasising your natural bone structure.  Use the best eyebrow pencil to define your brows and fill in any gaps: use short, feathery strokes and blend through with a brow brush.
What's not to love about Ere Perez? This pencil contains no harsh chemicals, and the coconut oil and vitamin E in the formula will nourish brows in need of some TLC. Plus, it comes with a little brush, too!
Get naturally beautiful brows with Burt's Bees Brow Pencils! Made with Jojoba Oil and Shea Butter, this unique formula is 99.9% natural, long-lasting and gentle enough for the delicate eye area. Oh, and their natural cedar wood pencils are responsibly sourced, which is great!
Eye Shadows
If you have big eyes, make them stand out even more with a bit of shadow! Soft, neutral shades are perfect for daytime, whilst more electric hues and deeper charcoal greys are great for night time.
Choose a shadow that best compliments your eye colour: copper, coral and bronze are gorgeous for blue or green eyes; gold, purple and navy make brown or grey eyes pop.
Here's another tip: to save money and time, opt for a multi-hued palette. There was a time when getting a good quality, varied eye shadow palette meant subjecting yourself to harsh chemicals and artificial ingredients. Thankfully, those days are way behind us, with plenty of brands now offering cruelty-free, natural ingredients that help instead of harm.
For everyday looks, try a light wash of colour in taupes, browns or greys for daytime wear, then build up the shadow for the evening.
These soft pastel shades are perfect for fairer skinned beauties. Tip: the pinkish shades here can do double duty as blush or highlighter.
Love the look of a dark eye, but find black a bit too over the top? This deep mahogany shade by Kjaer Weis (seen in the image of the model above) suits brunettes of all skin tones perfectly.
Eyeliners
Some argue that a bit of smudged pencil is the best way to pull off a daytime eyeliner look. But personally, I believe that no eye makeup arsenal would be complete without liquid eyeliner, for day and night (how else could we create a sultry cat-eye flick)? I just thicken the line and extend the cat flick in the evening for more drama – just look at the pic below to see what a big difference that can make!
As you've probably guessed, 100% Pure is one of my favourite natural eye makeup brands! Their liquid liner is another option which will stay put all day smudge-free.  I love the super fine brush on this; it makes the liner really easy to control.
Prefer an eyeliner that comes in stick form? Dr Hauschka has a creamy, strongly pigmented formula that is long lasting and waterproof but gentle on sensitive eyes. Still prefer a liquid? Oh, they do those, too!
Eyelash Curlers
Curling the lashes is a crucial step to get the most out of your mascara. Choose eyebrow curlers with padding to protect the lashes from breakages and a wide base to make sure that it catches even the shortest lashes.
These are a classic for a reason! They leave no lash uncurled. On time-poor days, you can even skip mascara after using these – and I promise they won't rip your lashes out or damage them in any way.
Mascara
Choosing the right natural mascara is crucial, especially for those with sensitive eyes (or contact lens wearers), who have reacted badly to harsher formulas in the past. Apply as close to the root as possible and build up coverage gradually for the most natural results.
There's a reason Beautyistas have 100% Pure on their must-have lists again and again. This clump-free formula uses fruit pigments instead of harsh chemical dyes (hence the lovely smell) and glides on easily with its tapered brush. Try the Black Tea for the darkest, most intense shade.
Another one of the best natural eye makeup brands is W3LL People. The ergonomic design of their high tech rubber brush delivers the perfect amount of product to every lash, and the formula is cruelty-free, paraben-free and uses pure mineral pigments.
Serums
Thicken your brows and lashes with an effective, natural or organic serum.
There's no point in trying to work your brows and lashes if they're weak and shedding. But it's easy to strengthen them with this natural topical formula! It can be applied directly to the eyelashes and eyebrows every day to enhance their length and thickness.
Note: There are lots of reasons for eyelash and brow shedding. Determining the cause is important, and factors can vary, from natural aging to some skin and autoimmune conditions. If you're experiencing extreme shedding, go to your doctor. But if you just want to boost the thickness of your lashes and brows, you're going to love this serum!
Highlighters
The final step: brighten up! Shine a bit of light on your brow bone – put a bit of highlighter just under the outer third, below your eyebrow. Try a dab on the inner corner of your eye, just on the edge of your nose – this will make your eyes look brighter and bigger. Blend well.
Now go out there and shine!
Ok yeah. It's sold as a lipstick, but this silvery shimmer works as a highlighter just about anywhere: eyes, brows and lips. Me? I put a dash of this under the arch of my brow, and a touch on the inner corner of my eye for a wide-eyed look!
Photo credits for pics 4, 6 and 20
Photographer: Lynn Theisen
Makeup artist: Joanna Bacas
Model: Sarra @ Pearl Management
Retouch: Stefanie Schneeberger
All other images by the brands mentioned