By Arwa Lodhi
Gift giving can be tricky, and getting in wrong can be embarrassing for both parties. No wonder many find gift-giving to be a mildly stressful holiday chore. The whole act of gift-giving a fascinating way to learn more about human nature. What are we trying to say with the presents we give? Why do certain occasions call for a gift while others don't? What message do we interpret from the ones we receive? And how can we give a gift that's truly appreciated? Unfortunately, it seems that all the best gift-giving intentions in the world do not necessarily lead to good gifts. So how to get it right?
First of all, and most obviously, give what you think the recipient would like to receive – something that smells nice, feels good, or is useful. Secondly, don't go too crazy on the fanciness. Giving a skin cream is one thing; giving a gift certificate for a five star salon that's on the other side of town and only has availability Monday mornings until 1o.30 becomes a chore. Finally, don't be afraid to repeat gift themes: if you've got a circle of five friends to buy for, it's fine to get them all luxurious scarves, movie tickets, or beauty products.
Here, we've tried to make your Christmas shopping that little bit easier by suggesting some such indulgent organic beauty gift sets that anyone -including you- would be happy to receive.
Who doesn't love rose scented skincare? Radiance-boosting damask roses and plump organic rosehips are hand-picked to help your skin glow. Contains 1 x bath oil, 1 x body butter, 1 x beauty balm, 1 x muslin cloth. Designed to be loved and reused for years to come, this British made gift box is hand-crafted using carbon balanced paper, helping to protect endangered tropical forests, and is printed with vegetable-based inks.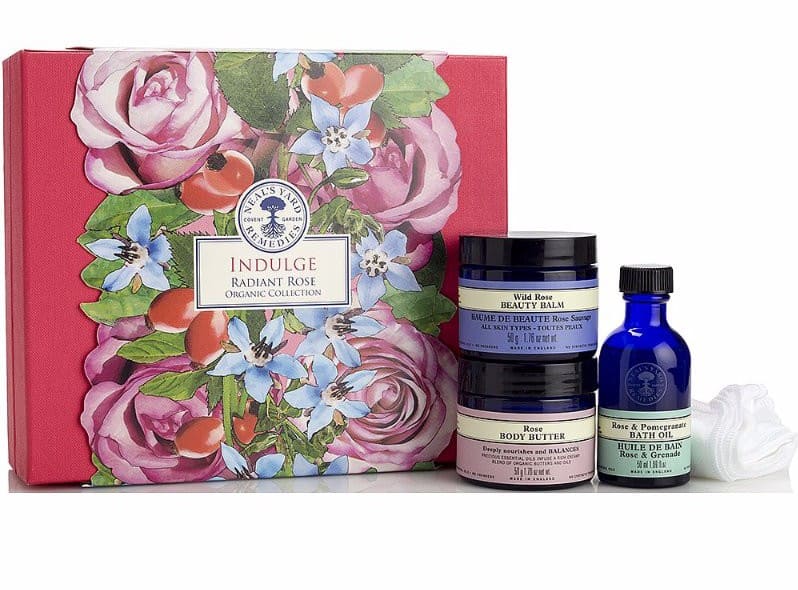 Give the gift of relaxation with this Harmony Kit by Dr Hauschka. Contains one 10 ml Lavender Sandalwood Calming Body Wash, a 10 ml Moor Lavender Calming Bath Essence, one 10 ml Rose Nurturing Bath Essence, a 10 ml Rose Nurturing Body Oil, 10 ml Rose Nurturing Body Cream and 10 ml Lavender Sandalwood Calming Body Cream. With the multi-faceted, enveloping fragrance of roses pampering the senses, the velvety-warm hint of sandalwood and the harmonising properties of lavender, this kit makes bath time something to truly look forward to.
Well groomed brows are always in style! Bellapierre Eye & Brow Complete Kit was put together to replace conventional eyebrow fillers and to shape the eyebrow with the exclusive Bellapierre tweezers provided. This simple 3 step system allows anyone to shape and fill brows, and add some liquid eyeliner, too. The colours are all made with 100% Mineral Powders, which work together with angled brushes and a clear mascara create the ultimate brow grooming.
Give the gift of beauty! This makeup selection was designed to give a healthy, flawless complexion. Skin will look and feel gorgeous all day long with these vegan, lightweight skin perfecting essentials that any woman would be happy to receive. Comes in six skin tones that range from the fairest to the richest deeper shades to cater to women of all ethnicities around the world. Contains 2 mineral powder foundations, a concealer, finishing powder, radiance boosting powder, vegan flat top makeup brush, cosmetics bag and makeup tips advice card.
Seriously sophisticated, this botanically-based, scientifically-developed skincare brand uses only the best ingredients. This useful travel kit is ideal for him to leave when he's over at your place, or for when he's jetting off somewhere. It contains beautifully bottled Fabulous Face Cleanser, Moroccan Neroli Post-Shave Lotion and a Geranium Leaf Body Cleanser, all packed into a fabulous little gift case.
Perfect for the traveller in your life! It's packed with everyday skincare favourites, all packaged in cabin approved 30ml travel size versions and presented in a transparent reusable bag. Products were specially selected for practical daily skincare needs and include a Full Size Rose Day Cream 30ml along with travel sizes of the brand's  Cleansing Cream, Facial Toner and Hydrating Hand Cream. The products in this kit are more suitable to those who have normal, dry and sensitive skin types.
This limited edition gift set is bound to sell out fast! It contains Trilogy's award-winning, full-sized Rosehip Oil Antioxidant+ as well as deluxe minis of Vital Moisturising Cream and RosapeneTM Night Cream, which repairs and protects for optimum skin health and a beautiful glow. This certified natural skincare kit is the perfect gift for someone you love, and comes packaged in a beautiful, bespoke, reusable box. In fact, this gift doesn't even need wrapping – just tie on a gift card.
This wee kit contains gorgeous mini versions of everything you'll need to wash your face thoroughly, including one muslin cloth. One cleanser, toner, serum and face mask are all housed in a reusable organic cotton bag. Perfect as a travel gift, these organic products use the power of frankincense, geranium and mandarin oils and rice extracts to soothe and protect the skin.
This is a seriously luxurious selection of REN's multi-award winning rose range, and includes a Moroccan Rose Otto Body Wash, Moroccan Rose Otto Sugar Body Polish and Moroccan Rose Otto Ultra-Moisture Body Oil. Each product is lightly scented with 100% natural rose oil and comes in a beautifully decorated gift box, meaning no need for extra gift wrapping.
This lavish selection of all-natural sea-based skincare solutions leaves skin deliciously perfumed and feeling velvety soft from top-to-toe. It's a beautiful gift bag which consists of five products arranged in an a Sheer Organza pouch: Green Angel seaweed body cream, Sunrise Body Smoother scrub, Irish seaweed soap, Seaweed Hand Cream, and Seaweed Foot Cream. A great gift for anyone with Irish heritage.
This lavish selection of all-natural sea-based skincare solutions leaves skin deliciously perfumed and feeling velvety soft from top-to-toe. It's a beautiful gift bag which consists of five products arranged in an a Sheer Organza pouch: Green Angel seaweed body cream, Sunrise Body Smoother scrub, Irish seaweed soap, Seaweed Hand Cream, and Seaweed Foot Cream. A great gift for anyone with Irish heritage.
This varied kit contains the entire Celtic Complexion collection in convenient sized jars and bottles, suitable for air travel. There's enough product here for approximately 2-3 weeks of continuous use. Housed in an organza pouch, you'll find Celtic Complexion Creme, Tinted Moisturizer with SPF (which we love!), Youth Infusion 7 High Potency Serum, Vida de Fleur Liquid Moisturizing Serum and Calming Serum, Gentle Crème Exfoliant and finally, a Coconut Creme Cleanser.
This is the perfect gift to accompany an airline ticket to somewhere exotic! Body Oil, Cleansing Oil and Body Polish kit combines the power of vitamin C and enzymes to soften and retexturize the complexion. Nourishing ingredients like sunflower seed oil, organic sugar crystals and aloe vera nourish, exfoliate and soothe skin while green tea extract neutralizes free radicals.
Little Ondine non-toxic nail polish is composed of natural resin, organic colourants and water. Using the best minerals from around the world, these sparkly nail varnish colours are perfect for the holidays. The polish peels right off without the chemical removers which can damage and dehydrate nails. The best part about this gift set? It's even suitable for little girls!
The perfect kit for anyone with a sensitivity issue. It contains three of REN's best-selling Evercalm™ range together with a soothing V-Cense™ night cream, formulated with a range of actives that calm, strengthen and help to 'train' sensitive skin to be less reactive. Evercalm Gentle Cleansing Milk 50ml, Evercalm Global Protection Day Cream 50ml, Evercalm Anti-Redness Serum 10ml, V-Cense Revitalising Night Cream 15ml
One for the boys! This kit contains just what every guy needs: one organic Face and Body Lotion enhanced with Vitamin E, a Rich Hair and Body Wash, Tropical Shaving Cream and a 100% cotton face cloth. It's the ideal bath, shower and shaving kit for men, and each product is infused with a rich, natural sandalwood scent.
And of course we need one for babies! Or more like…for moms. This handy Weleda Mini Calendula Baby starter kit is perfect as an introduction gift to the Weleda Baby range. Fits perfectly in a change bag or hand luggage for holidays. Each pack contains a Shampoo and Body Wash, Face Cream, Calendula Oil, Nappy Change Cream, Baby Lotion and a muslin cloth, all packed into a recyclable EVA toiletry bag.
What's Dior doing on a gift list featuring natural beauty products, you may ask? While the brand is normally a very low ranker in terms of sustainability, their nail polishes are, luckily 3-5 free, depending on the colour. For those not in the know, 3-4-5 free nail polish refers to the omission of the 3-5 worst ingredients in nail varnishes. These stunning shades by Dior aren't as toxic as most nail brands, and the selection of shades is ideal for the holiday season.