These warming vegan drinks for winter are the perfect treat to offer up to guests on a cold day
By Lora O'Brien
It's officially that time of the year: wine gets hot and spicy, whiskey gets toddied, and coffee chains replace their trademark cups with red ones adorned with kitschy Christmas motifs. Ordering an extra dry soya latte isn't enough; now we crave the addition of eggnog or gingerbread syrup!
But you may want to re-think that: you'd be astounded by the amount of sugar they pump into those Christmas drinks. Sure, they look cute in their snowman cups, sprinkled with edible glitter, but there's nothing festive about a sugar high followed by a nasty slump hours later. A typical medium eggnog latte packs a whopping 24 teaspoons of sugar and well over 500 calories! No wonder most of us start gaining weight in winter…!
Luckily, we've found the perfect way for you to enjoy festive drinks without the unhealthy additions of sugar and sickeningly sweet syrups. Make these  delish vegan drinks for winter at home and take them with you on your commute (ok, maybe not the alcoholic ones!) or re-create them when you've got friends over. Most of these can be served hot or cold. And of course, if you don't drink alcohol, our boozy recipes are just as yummy as 'virgin' versions too!
(PS: Why not try one of these holiday manicures to make sure your hands look pretty holding a drink?)
Hot Vegan Drinks To Try This Winter
1. Pumpkin Spiced Latte
Instagram finds itself hashtagged with thousands of the Starbucks Christmas favourite every year. And this may be one of the most popular vegan drinks for winter in the world! So I thought I'd bring a little of that American flavour to you. And if you want this drink to be a little more festive, may I suggest going a bit rogue and adding an ounce of dark rum?
Get the recipe here.
2. Healthy Hot Chocolate
Hot chocolate is one of the best vegan drinks for winter, right? I mean, who doesn't look forward to a rich and creamy mug every now and then? And there are lots of variations on how to make it. This recipe is actually three-in-one: you'll find a way to make this classic drink perfectly suited to your taste buds!
Get the recipe here.
3. Rose Cardamom Almond Moon Milk
Another moon milk recipe because honestly, not only are they insanely pretty to look at, they are SO versatile to make. This rose cardamom milk is perfect if you're mind is in overdrive. Even if you just fancy a drink that will allow you to chill, this is the one for you!
Get the recipe here.
4. Hibiscus Rose Latte
Here's something as aesthetically pleasing as it is delicious! This warming rose latte, made with hibiscus tea, rose and almond milk. makes a super creamy beverage that is way healthier than your shop-bought latte.
Get the recipe here.
5. Red Velvet Tea Latte
Now you can have your cake . . . and drink it, too! Ever wondered what red velvet cake would taste like as tea? Okay, well me neither, but I 100% wish I had sooner! This naturally colourful red velvet tea latte is creamy and warming with a mild, fruity chocolate flavour – delish!

Get the recipe here.
6. Coconut Matcha Hot Chocolate
If you're a fan of matcha, then this will be one of your fave vegan drink recipes. The rich drink has just 3 ingredients, and can be whipped together easily. Not sure about the tea and chocolate combo? They pair together incredibly well, and are both antioxidant-rich ingredients. So, drink up this magical recipe, and enjoy every tasty sip!
Get the recipe here.
7. Maple, Cinnamon & Chamomile Tea Latte
This is a real game changer for those that aren't necessarily keen on the flavours of chamomile. The flowery flavours of chamomile blend with the creamy cashew milk and vanilla, whilst the cinnamon gives it a real wintery kick. It would be perfect with a cookie – or three!
Get the recipe here.
8. Vegan Eggnog Recipe  
This vegan-ised eggnog recipe is another of my favourite vegan drinks for winter. It's a great replacement for those overly sugary ready made options. Which are obviously not vegan, either. This is SO quick and easy to make, and the additional shot of rum in this recipe makes this a wonderful drink to serve at a Christmas gathering.
Get the recipe here.
9. Hot Lemonade
This recipe proves just how the power of healthy food combined with additional tasty spices can create something so packed with flavour. We're thinking oversized blankets, a good book and a massive Mason jar full of this. Perfect on the coldest of days, and it will help you battle colds and flu, too!
Get the recipe here.
10. Cinnamon Latte
This recipe doesn't really qualify as one of our vegan drinks for winter, since it calls for milk. But it can oh so quickly be made vegan friendly by the addition of soya or almond milk (which tastes better anyway). Whilst it's nice to go out and treat yourself to a coffee shop beverage, sometimes it's just as nice to stay indoors in your winter socks and enjoy a drink you can just as easily make yourself.
Get the recipe here.
11. Boozy Pumpkin White Hot Chocolate  
What part of this doesn't just sound incredibly amazing? Prepare to have your taste buds rewarded for making this. And with the naughty addition of bourbon, the spicy edge from the pumpkin and spices, this makes the perfect little Christmas drink.
Get the recipe here.
12. Vegan Baileys Irish Cream
If since going vegan you never thought you'd be able to enjoy a glass of Baileys ever again, we're here to tell you otherwise, sister. Angela Liddon of Oh She Glows has come up trumps (as she always does) to bring us this vegan-friendly version. You can also add a shot of coffee for a unique twist. (oh, and guess what? I just discovered Baileys now makes a vegan version, which you can get here!)
Image: tasteofhome.com
Get the recipe here.
13. Cranberry & Rosemary Christmas Sangria  
Sure, we usually only associate a pitcher of sangria with swimming pools and glorious tans. But this twist is really festive and delightful. And our favourite part? Most of the ingredients are most likely items we already have in our kitchen. Surely that's the perfect excuse to go whip up a glass of this right now, no?
Get the recipe here.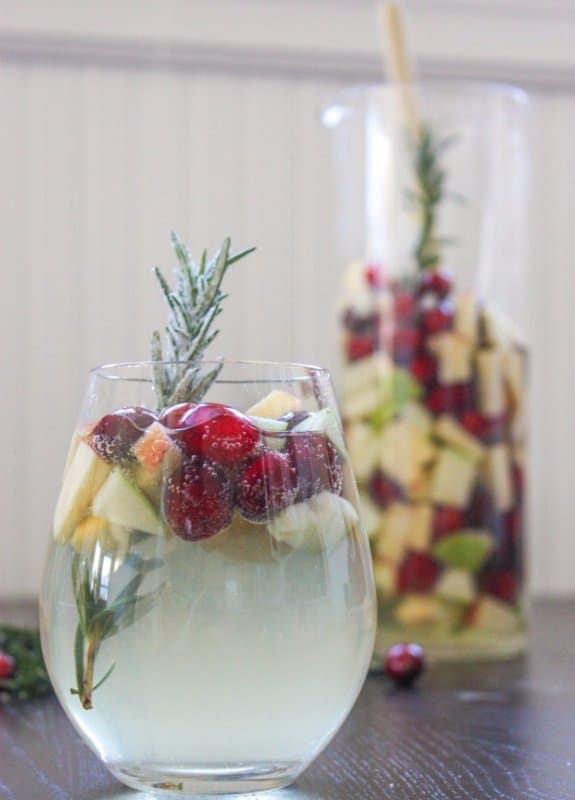 14. The Drunk Uncle Christmas Cocktail  
This is definitely one of the best-named vegan drinks for winter! It was created by Lauren and John of Hot for Food blog. Secondly, we just love how quaint and tasty it looks. Alongside the mulled apple cider, cinnamon and not forgetting the gin, we're picturing cosy fireplaces, loved ones and a tray of these to simply wow everyone.
Get the recipe here.
15. Cranberry & Ginger Cocktail  
This is one of the easiest vegan drinks for winter to make. It's sooo easy to throw together, making it the perfect go-to drink for those last minute guests that pop round over the Christmas season. The fresh cranberries add a festive touch, too!
Get the recipe here.
16. Pomegranate Christmas Punch
This is one of the booziest vegan drinks for winter! But if you can't indulge over the holidays, when can you? This festive drink blends rum with pomegranate juice and hibiscus tea and pulls them together to create something very tasty indeed! Of course, you can make this without the alcoholic ingredients, too. Just add a  few drops of natural rum flavouring if you like, or a touch more lemon.
Get the recipe here.
17. Heartwarming Mulled Red Wine
The process of making mulled wine is very similar to mulled cider, but the key difference comes down to the wine that you choose. For a traditional wassail bowl, aim for a dry red wine and a full-bodied brandy. This is a perfect punch for Thanksgiving, Halloween, or any number of winter holidays.
Get the recipe here.
18. Maple Old Fashioned
Retro drinks are making a comeback, and the Old Fashioned is a favourite – especially for fans of brandy! It's easy to make, sweet, and will warm you up from the inside out. Here, maple and cinnamon merge with the smoky taste of whiskey or bourbon to create one of the best vegan drinks for winter.
Get the recipe here.
19. Irish Mule
This is just a spin on the classic Moscow Mule cocktail (ginger beer + vodka + lime), that has whiskey in it instead of vodka. You can use any whisky you like, and I love how the spice of the ginger beer marries the coolness of the rosemary.
Get the recipe here.
20. Vegan Hot Toddy
Cold? Thirsty? Feeling down? A hot toddy is one of the most quintessential vegan drinks for winter! This traditional bourbon-based drink has long been used to not only help lift spirits, but even as a cure for the common cold. Seriously! It's a winter classic that truly is so, so warming.
Latest posts by Lora O'Brien
(see all)