The perfect vegan BLT recipe is easy to make if you just follow these simple instructions…
By Lora O'Brien
Ah, the BLT. It's probably the King of All Sandwiches, and for good reason. It's a bit sweet, a bit salty. A bit soft, a bit crunchy. In short, it's got plenty of flavour and texture, thanks to the contrasting salty bacon and sweet mayo; crispy toast and soft tomato.
But…what if you're vegan?
Bacon seems to be one of the most popular of meats again, due to its contrasting flavours. It's both sweet and salty, and the crispness seems to be a big factor in its popularity, too.
Luckily, there are plenty of ways to imitate all of these qualities through plant based bacon recipes. Some use fried mushrooms; others use eggplant. Still others, such as the recipe for vegan bacon by Crowded Kitchen, use tofu. In any case, you're absolutely able to make a 'bacon' that will have people raving!
Of course, you can use that bacon to make a classic BLT, but with a vegan twist.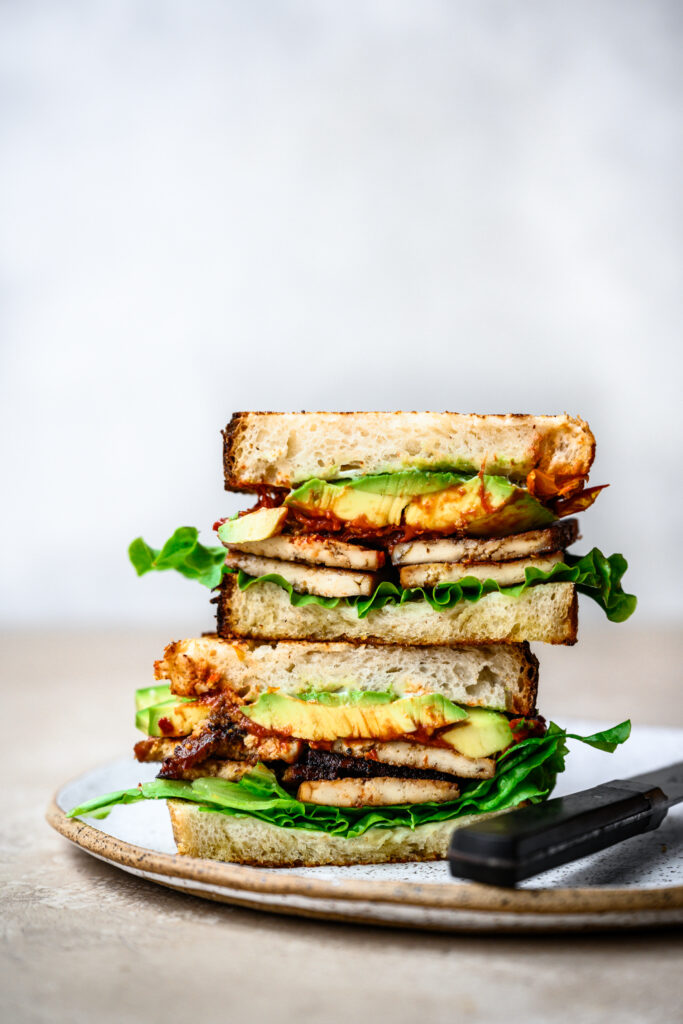 Carbs Are Life
You may think that a sandwich isn't something that needs a recipe. And if you're a master sandwich maker, well, maybe not. But the truth is, you can always learn something about creating the best ever sandwich. I mean, if it were that easy to do, do you think places like Subway or Pret a Manger would be thriving?
I turned to Crowded Kitchen for their best Vegan BLT recipe, and I was pretty damn pleased with the result. Their sandwich is filling, flavourful, and makes for the perfect picnic food this season. The key is making the tofu bacon yourself. It may be the most 'complicated' part (though it's not all that hard), but you can use it in various ways after it's ready.
For example, use it:
The possibilities are almost endless!
Want to learn how to make the perfect Vegan BLT? Read on. It's super easy!
How To Make The Perfect Vegan BLT
The Perfect Vegan BLT
INGREDIENTS
1 cup cherry tomatoes
1 tbsp olive oil
1/2 tsp salt
1 tsp balsamic vinegar (optional)
2 slices sandwich bread of choice
2 tbsp vegan mayo or butter
4–6 slices tofu bacon
Lettuce
1/2 of an avocado
To make the tofu bacon, you will need
14 oz extra firm tofu
1/3 cup low sodium soy sauce (or tamari)
3 tbsp maple syrup
3 tbsp high heat oil (vegetable, peanut or safflower)
4 tsp liquid smoke
1 tbsp apple cider vinegar
1 tsp onion powder
1/2 tsp black pepper
1/2 tsp salt
INSTRUCTIONS
Make tofu bacon first by following these steps
Drain tofu and pat dry. Wrap in a clean towel or paper towel and set something heavy on top, like a cast iron skillet or a few cookbooks. Press for at least 30 minutes, or up to 2 hours if you have time.
Preheat oven to 375˚F and line a sheet pan with parchment paper.
Using a very sharp knife, slice a block of tofu in half lengthwise. Then, turn each block on its side and slice into thin planks.
In a small bowl, whisk together soy sauce, maple syrup, oil, liquid smoke, apple cider vinegar, onion powder, salt and pepper.
Brush each side of the tofu generously with the marinade, and bake for 18 minutes, brushing on more marinade every 5-7 minutes.
After 18 minutes, carefully use tongs to flip each piece of tofu bacon over. Brush on more marinade, then bake for another 18 minutes, applying more marinade every 5-7 minutes.
After 18 minutes, flip once more and brush with any remaining marinade. Cook for additional 5 minutes, or until the bacon is crispy and browned. It might not look totally finished, but once it cools, it starts to harden up and get chewy/crispy. Don't over-bake, otherwise it will start to burn.
Bacon ready? Let's do the sandwich!
Heat a skillet over medium. Add olive oil and tomatoes. Sauté for 5-8 minutes, until tomatoes start to burst and soften. Add salt and balsamic and continue cooking for 15 minutes, stirring frequently, until they dry out and form a jam-like consistency. Remove from heat.
Toast bread and spread on vegan mayo or butter.
Top with lettuce, tofu bacon, tomatoes and avocado. Enjoy!
Did you make this vegan BLT recipe? We'd love to know how it turned out!
Latest posts by Lora O'Brien
(see all)