We fell in love with Chloe Mendel and Billy Corgan's ethical wedding!
By Chere Di Boscio
We've long championed the amazing Chloe Mendel. The designer behind Maison Atia vegan furs had us at 'faux chubby'. But when she expanded her offerings into fake fur homewear, we were absolutely hooked.
Since its inception, Maison Atia has been eco-friendly, and is now aiming to be zero-waste. The co-founders personally visited and vetted their European partner suppliers, and found American craftsmen who shared their commitment to social responsibility.
But that's not all! Every Maison Atia coat sold provides a homeless puppy or kitten transportation to the no-kill shelter PAWS CHICAGO.
Thanks to their deep ethics and gorgeous creations, Maison Atia has become a huge success.
And now the vegan designer behind the brand has even more to celebrate. Namely, her wedding to Smashing Pumpkin's founder, Billy Corgan.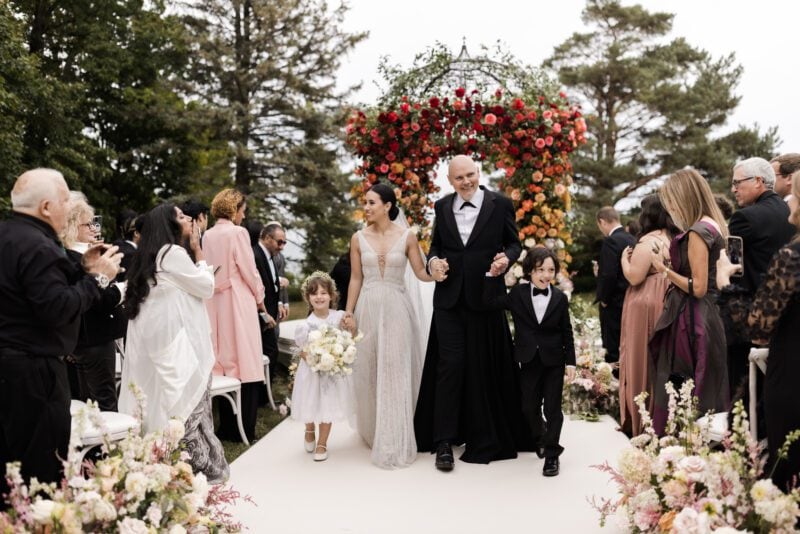 A surprise engagement
The love affair between Billy Corgan and Chloe Mendel was sparked over a decade ago. The pair first met through a mutual friend. Eleven years of coupledom and two children later, Billy finally proposed on Chloe's 30th birthday, at their home in Highland Park, Illinois.
"It was a stunning and unforgettable September evening in 2022," Chloe stated. "To celebrate my birthday, we threw open the doors of our home and welcomed our entire family who all flew in for a beautiful dinner in our garden." When Billy presented Chloe with her birthday gift, she was surprised to find an engagement ring.
"It was only when I looked up into his eyes, brimming with emotion, that the realisation struck me. He uttered the words, 'Is it a yes?' Confusion swirled briefly, and I glanced at my family, whose tears fell in a domino effect. It was then that everything fell into place. I turned back to Billy, and asked, 'Is this a proposal?'… and he said 'Yes!'"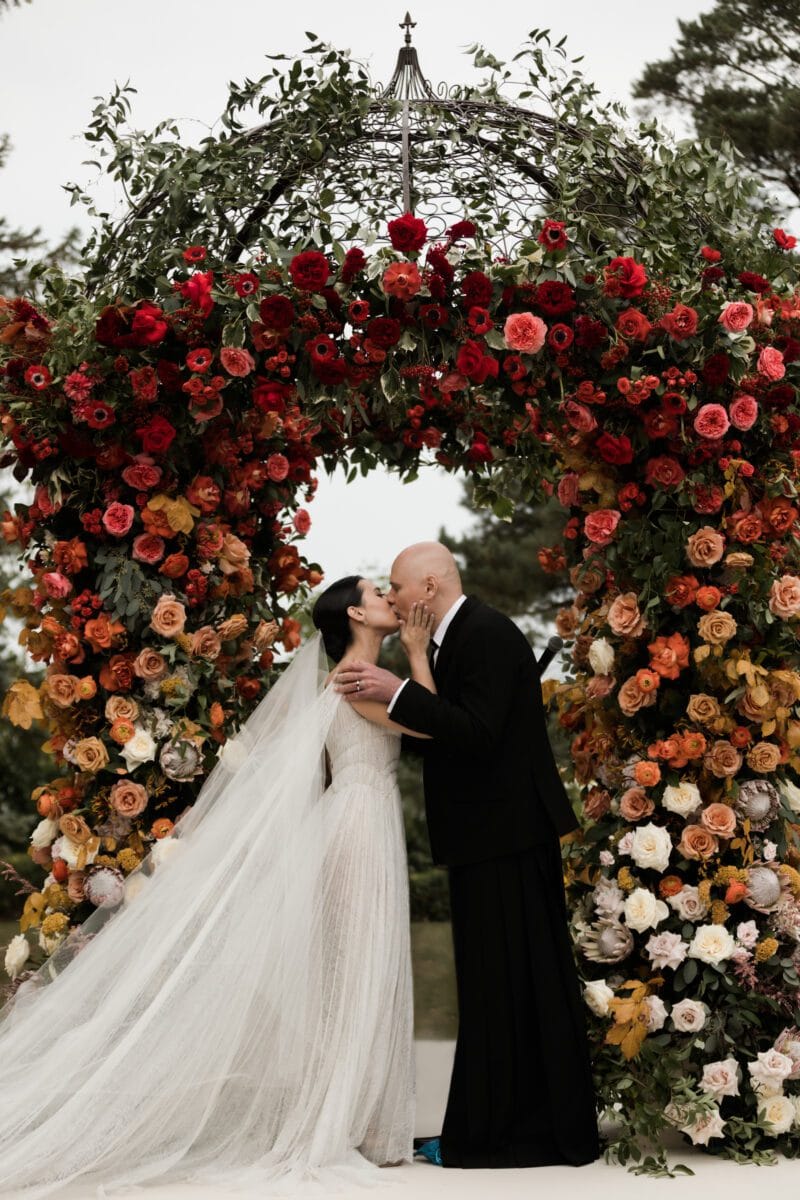 Shared values
Just over a year later, the couple celebrated yet another happy day in their beautiful gardens. But this time, it was to exchange wedding vows.
"It is the very place where we had celebrated my 30th, and where our two precious children had taken their first breaths—yes, we had home births!" Chloe says. That doesn't surprise us at all, given her predilection for all things healthy and natural.
The couple's home is also a testament to nature, being located beside a lake and lush with roses, a food garden, and prairie grasses.
Chloe Mendel wanted to lavish her wedding guests with the picks of the autumn harvest. "Our wedding embraced local ingredients and seasonality, beginning with guests strolling through meandering paths amidst native Midwestern prairie grasses, our floral arrangements, and savouring dishes sourced from small farms, culminating in a delightful evening in our organic vegetable garden," she told us.
She also wanted to ensure all the companies involved in making the wedding come to live were ethical. "September in Illinois is truly one of the finest times, and RPM Events and Petal and Moon Pastry, who share our values, embraced this too which is why they were our catering choices for this celebration," she says.
A family affair
Chloe Mendel's wedding was very much an intimate, family affair. The bride's dress was designed by her father Gilles Mendes, the creative genius behind the House of Gilles. "My father is the designer Gilles Mendel," Chloe explains. "So it was a no-brainer for Billy and I to collaborate with him on all of our wedding looks. He has a new couture brand named House of Gilles, so we both wore couture looks. It was a true fairytale experience!"
Chloe and Billy read vows they'd written themselves, then exchanged rings they had designed in collaboration with a friend of the couple, ethical jeweller Graziela Kaufman. And the rings were as unique as the couple. Chloe's featured a baguette diamond flanked by emeralds, and Billy's boasted a blood red ruby centre stone. At the end of the service, Billy broke a glass in honour of Chloe's Jewish heritage.
The couple's children, Augustus Juppiter and Philomena Clementine, stood as witnesses."The ceremony was beautiful, regal, simple but tasteful," Chloe says.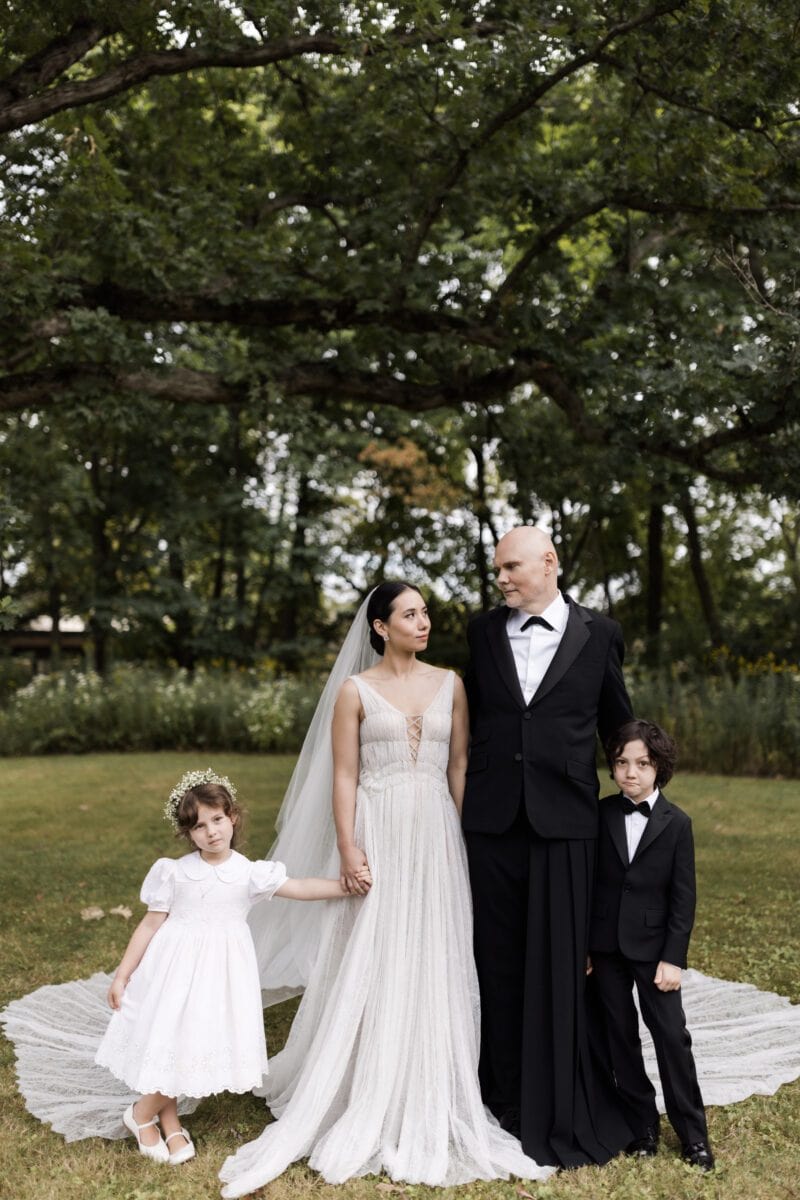 Stellar entertainment
While the bride and groom were swept away for photo shoots, their guests were treated to harp music and hors d'oeuvres before finding their seats in the English rose garden. To get there, they had to find their way through a pumpkin patch – fitting, given the name of Billy's band!
Chloe's father, brothers, friends, and drummer Jimmy Chamberlin of the Smashing Pumpkins then gave moving speeches. The newlyweds cut into their yuzu and blackberry cake, crafted by Petal and Moon Bakery, made from locally-sourced ingredients.
After the dinner plates had been whisked away, guests enjoyed some truly stellar entertainment. Frank Catalano and Garson played a set. They were later joined by Jimmy Chamberlin. But the true highlight of the evening was when the groom sang his band's popular tune, "Tonight, Tonight." He then crooned George Gershwin's "Summertime,"to the delight of all.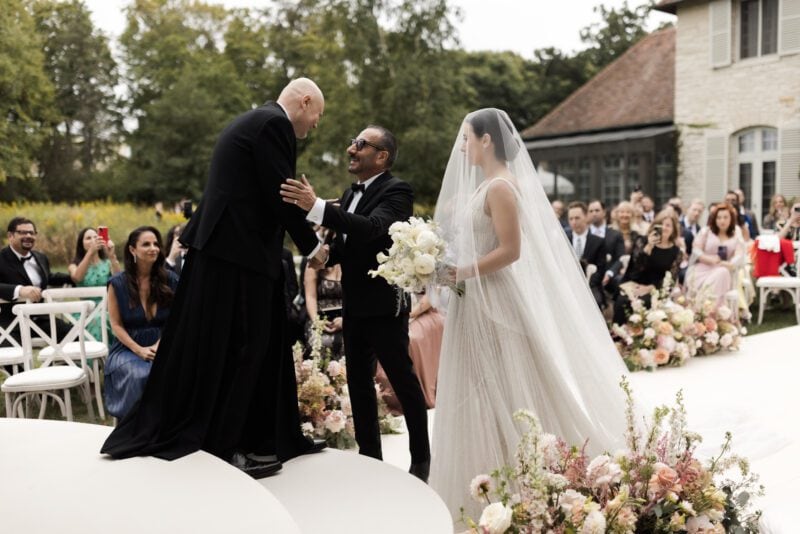 Latest posts by Chere Di Boscio
(see all)