We've always been enamoured by the sustainable fashion by Flock By Nature. But after meeting the founder, that love just grew more! Here's why
By Diane Small
"We love luxury but we care about our social and natural environment and don't believe that one should be at the expense of the other".  So says Annie Colley, creator of some seriously cozy sustainable fashion by  Flock By Nature, a brand that's committed to sustainable luxury fashion by using 100% natural merino wool fibres derived from mulesing-free herds. FBN also ensures ethical production lines, and returns a portion of all profits to charity.
Like many sustainable businesses I've written about, Flock was created by a pregnant woman. It sounds weird, but it seems women who are creating another life inside themselves become hyper aware of how vulnerable we are to environmental chemicals and toxins. Annie says: "During (my pregnancy), awareness of my wellbeing was really high and I came to truly value quality clothing made of natural fibres. Merino wool, in particular became a favourite due to its superior ability to regulate body temperature and super-soft feel."
She spent hours searching for the perfect sweater to wear over her growing belly, but found nothing with the style and elegance she wanted, so she created her own range. After her maternity leave, she went back to her job, but quickly realised her passion for sustainable fashion was growing stronger.
Here, we interviewed Annie about her newest collection at Flock by Nature, why wool rules, and how wool can be cruelty free.
Sustainable Fashion By Flock By Nature
You've just released The Eloise Collection. Tell us a bit about why you love it
This first range showcases the drape and luxury of merino wool. It captures elegance and luxury but with the honesty and simplicity of natural fibres. The clothes are designed with a sense of wellbeing and 'slowing' down in mind; those precious moments of serenity when you are truly content to just 'be'. They are a reward for the everyday hustle.
Why do you love Merino wool so much?
There are so many reasons! The drape and handful that is achievable with quality Merino is incredible. It is possible to create a textile that feels as luxurious as cashmere, yet has a higher level of elasticity and durability that comes with sheep's wool. This durability is very important to me, I want our clothes to become a treasured wardrobe staple for years and years, which is why we also offer The Flock by Nature Promise of free repairs on any minor damage that may befall any Flock garment.
Merino wool also gives a very high 'comfort' factor. Its renowned for its 'breathability' and it regulates itself to your own individual body temperature so keeping you cool in summer and warm in winter. The fibres are extremely fine (one-third to one-tenth of the thickness of human hair) and are gentle next to the skin, unlike many other wool breeds, which can feel itchy.
Finally, being a totally natural fibre, its renewable and if returned to soil, will decompose quickly and return nutrients back.
How did your experience in the corporate world impact your new fashion venture?
I gained a huge amount of experience in my corporate life including project management, working with suppliers, how to manage a 'brand' etc,  all of which has served me very well in launching Flock by Nature. I am also able to bring with me a high level of resilience! Ultimately however, I wanted to create something where short term profit isn't the over-riding ambition; where you can work towards the best possible outcome over time rather than the best possible outcome in a short amount of time.
How do you ensure the sheep used for the wool in your garments are treated in a cruelty-free manner?
All our merino at Flock by Nature is certified as mulesing-free. Mulesing is a controversial practice carried out on sheep to prevent a condition called flystrike. Skin is stripped from the sheep's buttocks to stop flies laying eggs in the folds of skin. It is a painful process and is not always a guarantee of prevention. All our yarn is sourced from remote locations where disease pressure is so low that there is no risk or locations where humane methods of disease prevention are in place.
This is an area which I am passionate about developing further as we grow. In the long term, I hope to work with individual farms so I can literally follow my yarn from flock to Flock.
How natural are the dyes you use?
All the yarn we use is certified to Oeko-Tex Standard 100, which ensures no harmful chemicals have been used at any stage of the textile production process.
And finally, how does your brand give back, socially?
Being able to give back is one of the most motivating aspects of running my own business. 10% of our profits on each sale go to our Flock Fund which in our first year will support 3 charities, all of which are very personal to me.  Lendwithcare.org  is a microfinance organisation which enables you to lend finance to small businesses and so help some of the worlds poorest people work their way out of poverty with dignity.
We will also support  Unseenuk.org  who tackle modern day slavery and support survivors.
Finally, treesforcities.org. as we love trees and believe everyone should have access to them!
For more information on Flock by Nature, please click here.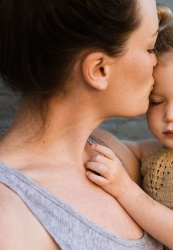 Latest posts by Diane Small
(see all)