By Lora O'Brien
Easter is a time of renewal, rebirth and revival. Sunny days are around the corner, the buds are on the trees, and the daffodils are nodding their lovely yellow heads. No matter what your religious leanings, the Easter holiday is the perfect  opportunity to get see family and friends and enjoy some really good food. And let's face it – that includes  some delicious chocolate.  But forget all of that commercialized, sugary packaged stuff on the shelves of supermarkets – this season you can make your own!
Chocolate based yumminess is just one part of the 21 Healthy Easter Recipes I've dug up for you. There are also vegan friendly hot cross buns, carrot cakes, and of course, the all important Easter lunch. Let's get hopping!
1. Vegan Creme Egg
OHMIGOD is how I feel about finding this creme egg recipe. Those delightful little ovals were the highlight  of my every Easter. Back when the Cadbury eggs would only be available around springtime, I would spend my Easter feasting upon them like there would never be a return. But then they changed the recipe and they started to lose their appeal for me (way too sweet now!), and also, they're not healthy at all! So I was thrilled to find this vegan creme egg recipe. So now I can spend my Easter chowing down on these. And, y'know, all year round!
Get the recipe here.
2. Chocolate Egg Baskets
These are not only gorgeous, but are super easy to make, too. I would highly recommend using Loving Earth or Raw Halo vegan chocolate, or if you like, the darkest darned chocolate you can find, for the anti-oxidant boost. Fill them in with number 4, Raw Mini Eggs, below, and watch faces light up as you serve these!
Get the recipe here.
3. Peanut Butter Eggs
If you're someone that likes a little bit of a peanut butter twist to their chocolate, these gems are definitely for you. They're a vegan take on the popular Reese's peanut butter cups, but in little eggs instead. You're going to need to have a cute little egg mold on hand, or a mold in any sweet little shape, actually. But apart from that, these are super easy to make!
Get the recipe here.
4. Raw Mini Eggs
Remember those little speckled eggs you'd enjoy at Easter? Admittedly, tastier than a real egg, but not healthy if you take into account all of that sugar and milk. So, why not make your own? Especially when it's this easy. They're raw, too, which means no baking. So even the most undomesticated of us can enjoy making a plate of these.
Get the recipe here.
5. Berry Good Eggs
First and foremost, these are adorable! They're like something that just fell out of Willy Wonka's workshop. Back in the days of school, over Easter we would melt chocolate, add in puffed rice or cornflakes, combine it together and scoop it out into a cake case and the end result looked like  little bird nests. This is basically a healthier and fresh take on that popular recipe.  This one includes melted vegan marshmallows and freeze dried raspberries. Need I say more? To get vegan marshmallows, just click here.
Get the recipe here.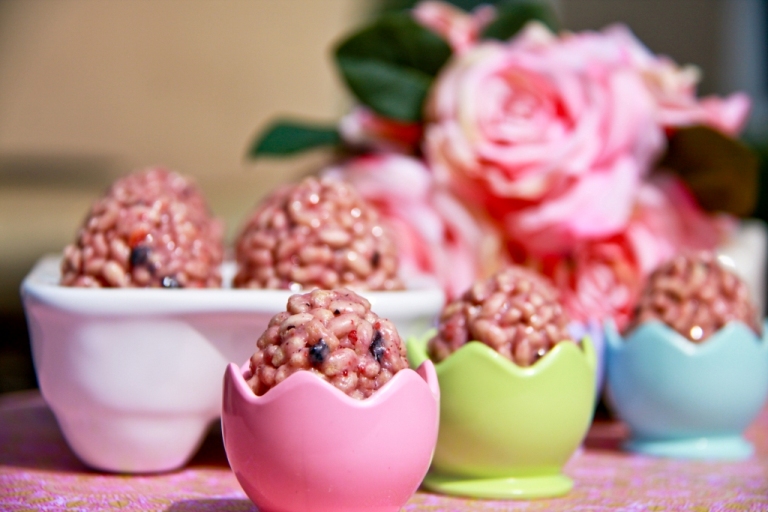 6. Chocolate Avocado Easter Egg
Before adapting to a plant based lifestyle, if anyone would have mentioned avocado and chocolate in the same sentence I would have thought they were going barmy. But having tried various recipes now from smoothies, to chocolate mousse  that include both avocado and cacao, I'm a sure convert. So why wouldn't an avocado be the perfect Easter egg? The ripened avocado is sliced and layered with smooth, rich and decadent chocolate and creamy almond butter. It's finished with a dusting of cacao powder and a drizzle of melted chocolate down the side just because it looks fancy and pretty, and voila!
Get the recipe here.
7. Coconut Cookie Easter Chicks
I predict these are going to be a healthy winner this Easter. How adorable are they, seriously?! Whether you choose to get creative in the kitchen with little ones or want to make some up for an Easter morning surprise, they're going to squeal with delight at these coconut chicks.
Get the recipe here.
8. Carrot Cake Oatmeal Biscuits
Because why should Santa get cookies and not the Easter bunny?! These are the perfect cookies to make with your little ones this Easter. And of course they had to be  carrot cake, as we all know bunnies like carrots! Simple to make and finished off with a drizzling of coconut and maple syrup icing – delicious!
Get the recipe here.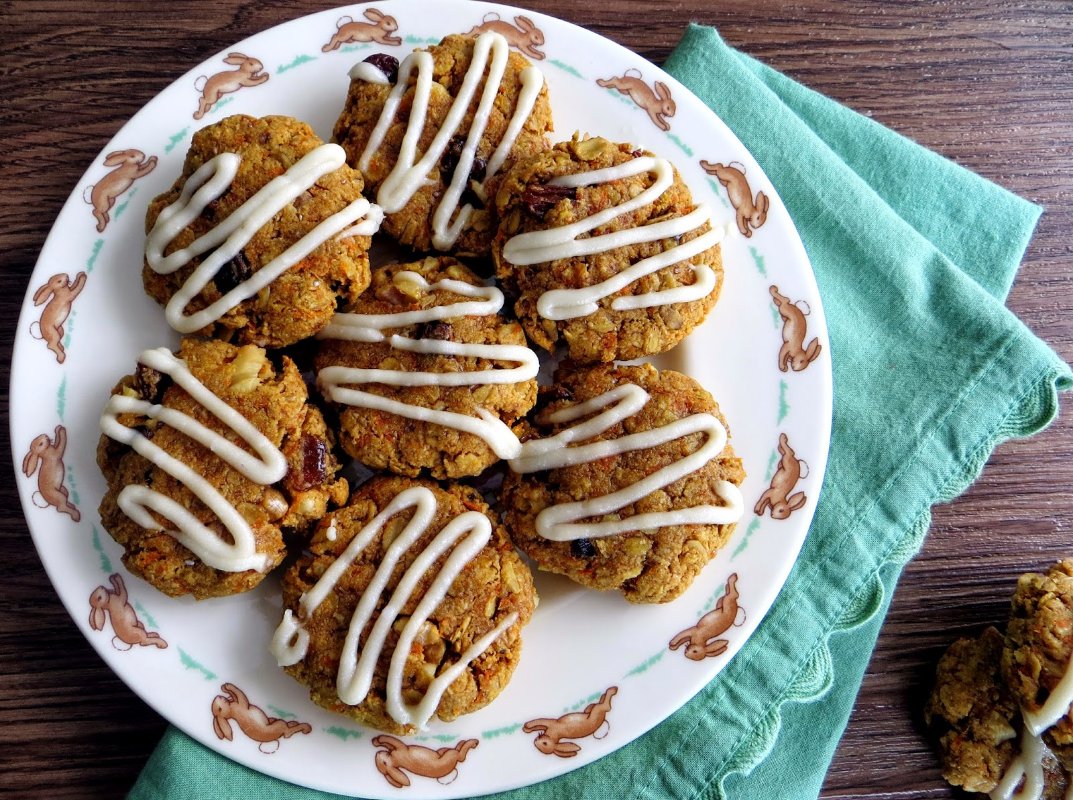 9. Carrot Cake With 'Cream Cheese' Icing
If Easter evokes images of bunnies and carrots, well, carrot cake isn't that far off, right? And this fluffy vegan version comes coated in a sweet and sticky 'cream cheese' icing made from….Macadamia nuts!
Get the recipe here.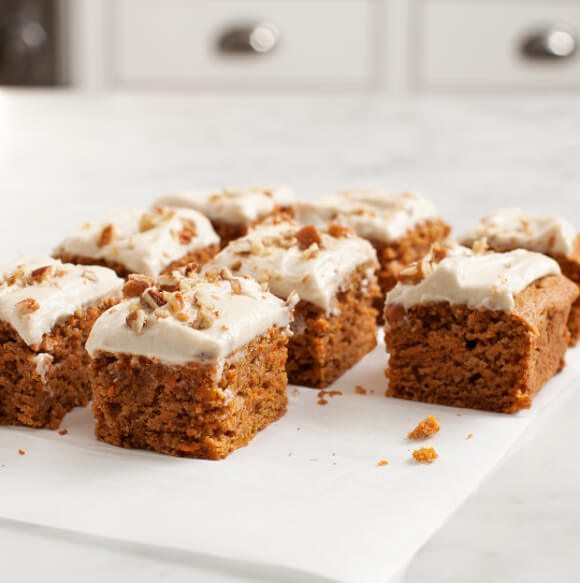 10. Raw Easter Cookies
The great thing about making raw foods is that they're pretty easy to make, and most of the time the ingredients are ones we already have in our cupboards (or pantry if you're fancy). And with three flavours, strawberry mint, berry vanilla and carrot cake, there's a cookie for all us to enjoy.
Get the recipe here.
11. Banana Split Hot Cross Buns
This traditional recipe has had a little bit of an uplift with the addition of…bananas! They add a nice, sweet, gooey edge and are perfect for when eggs aren't being used in a recipe. These would taste delicious toasted and with a little hazelnut spread.
Get the recipe here.
12. Hot Cross Buns with Lemon & Cashew Cream
Think warm buns with a gorgeous cream and a little zing of lemon, perfect. I love using lemon in my baking, it just seems to be the right thing to do. So I was pretty happy to find this healthy vegan recipe.
Get the recipe here.
13.  Chocolate Cinnamon Tea Bread
This bread looks great and I think this is a fantastic recipe to re-produce over Easter. There's something about cinnamon in baking that I just adore. This bread will not only taste festive but  will go down a treat with a pot of tea and even a little coating of peanut butter.
Get the recipe here
14. Jasmine Vanilla Macarons
Macarons just ooze sophistication! Especially when they're flavoured with the exotic taste of vanilla, mixed with floral jasmine. These make the perfect little treat to craft up this Easter. Whether you choose to make a box for family and friends that will visit, or to just serve up as a dessert after dinner, these are going to surprise everyone with how super fancy they look.
Get the recipe here.
15.  Vegan Breakfast Muffins
Because it's a weird but true fact that not everyone on this planet loves the taste of a hot cross bun, I've included this banana bread muffin. They're the perfect Easter breakfast that you and your family or friends can enjoy over Easter.  I suggest enjoying them with a pot of tea and some peanut butter on the side for topping these muffins.
Get the recipe here.
Easter Lunch
For many of us, Easter is about spending time with our loved ones and enjoying some good food like many other holidays.  But if you're vegan you may be struck with that familiar feeling of what the heck am I going to serve?! Whether  you're catering to vegans or non-vegans, I've found two main recipes and some delicious sides that your family can enjoy. Being vegan doesn't have to be restrictive. You can still enjoy the trimmings of a roast dinner, the crispy potatoes and even vegan sage stuffing! It's all about crafting that 'main' dish (usually ham – ew!) and I think you'll love these.
16. Devilish Potatoes
Remember that popular deviled egg recipe from the 60s? Basically, just eggs that have been stuffed with their own yolk. Well,  if you're vegan, these devilish potatoes are great alternative. The best part is that they still have that creamy texture thanks to the chickpea filling.
Get the recipe here.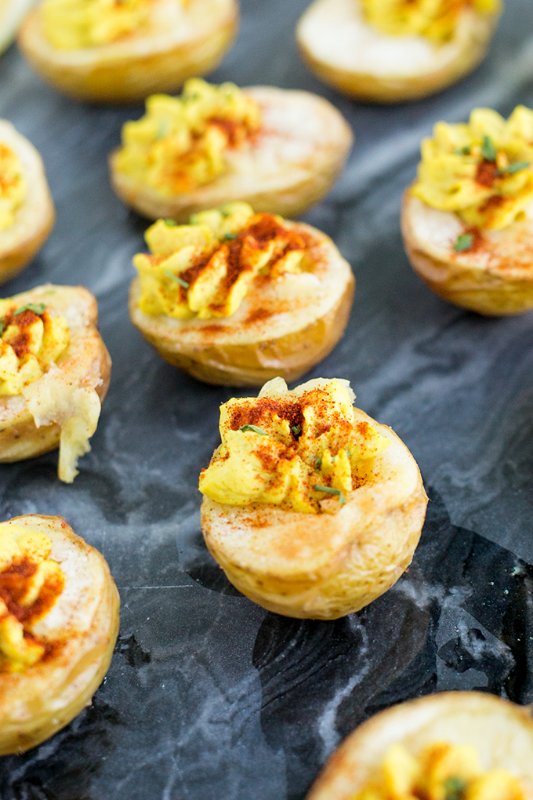 17. Sun-Dried Tomato, Mushroom, Spinach & Tofu Quiche
Why not serve up this delicious looking quiche this Easter? Not only will it look great placed on the table, but it's jam packed with goodness and flavour. Whether you enjoy a savory type of lunch with freshly made veggie slaw, or a spring kale salad  or you  serve this up with roasted potatoes in true Sunday dinner style, I predict everyone is going to enjoy having a slice.
Get the recipe here.
18. Harissa & Maple Roasted Carrots
Let's face it, carrots don't always have the best reputation. Some of us are scarred from when our grandmothers would serve up mushy, overcooked carrots that turned to utter mush when bitten. Well, it's time to put your faith back into carrots by serving up this delicious recipe for Easter lunch. Not only do they look the part  – aren't rainbow carrots, like, the coolest? – but these are coated with a mixture of harissa paste and maple syrup, giving them a sweet and spicy vibe.
Get the recipe here.
19. Mushroom  Roast
If you're vegan, it may seem like you're always trying to find that winning dish you can serve up right at the center of the table, and this mushroom roast is just the thing for your Easter feast this year. Serve it with mashed potatoes and some salad and you have a healthy and hearty meal.
Get the recipe here.
20. Springtime Soup
Soup is a pretty  quick and easy recipe to create but can be surprisingly filling. And this pea and asparagus based recipe proves that soup doesn't have to be bland and watery – this is super creamy and vibrant. Serve it up with some delicious chunks of homemade bread.
Get the recipe here.
21. Speckled Egg Easter Mimosas
What's Easter without a spring themed cocktail to celebrate? These mimosas are perfect for the season, with their gorgeou pink hue. The blackberries give the drink its candy pink colour, and I love the fresh flower garnish, too!
Get the recipe here.
This site uses affiliate links with brands we trust, and if you make a purchase using a link, we may receive a commission.
Did you enjoy this post? Want to show your gratitude? Please support us on Patreon!