Svilu is a minimalist ethical fashion brand we've fallen for. Read on to see why
By Diane Small
Who needs fashion trends? Not the founders of sustainable fashion label Svilu! Britt Cosgrove and Marina Polo prefer clothing that's modern, but fully able to withstand the ebbs and flows of trends. They want to "do fashion better" by creating garments that are going to be in your closet longer, and out of landfill altogether, if possible.
But don't get it twisted: both Cosgrove and Polo know about fashion. A lot about it, in fact. They've both worked or large fashion houses including Prada and Vera Wang, for example, but that experience not only helped them refine their own style, but also made them realise how wasteful and destructive mainstream fashion can be.
They set out to create a sustainable, ethical and minimalistic brand that could be worn to suit their lifestyles in New York City; clothing that would allow them to be comfortable at work, whilst still looking chic when going out after work.
The duo aimed to use fabrics that are as eco-friendly as possible, such as silk, polyester made out of post-consumer plastic bottles, and   dead stock fabrics. Their textiles are OEKO-TEX and GOTS certified, which means that they meet the highest sustainability and ethical standards. Any prints are created  with a digital fabric printer that wastes very little fabric, ink, water and electricity, and all items are made in their warehouses in New York, where the designers oversee the entire production process  themselves.
They also have a lot of say in their fashion shoots, of course, and their latest one, showcasing their FW16 Collection, was inspired by Eero Saarinen's 1961 gorgeously minimalistic Bell Labs Building, a two million-square-foot modernist masterpiece in the New Jersey suburbs that has lain dormant for nearly a decade. Polo and Cosgrove stumbled upon the building last summer and were taken by the vast storied space.
Bell Labs represents Svilu's mission perfectly, with its unique marriage of technology, nature and art – this was a space designed to stimulate collaboration, experimentation, and creativity. Nobel Prize-winning scientists once roamed the halls that today are lightly covered in dust. Simultaneously modern and familiar, functional and beautiful, Saarinen's laboratory continues to inspire and develop new concepts.
And in keeping with that theme, it seems rather unsurprising now that the name, Svilu comes from the Italian word  sviluppo, meaning  'development'. Svilu is undoubtedly a great development for both the world of fashion, and in the realm of sustainability.
To shop, click here.
Svilu – Minimalist Fashion Meets Architecture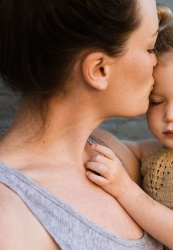 Latest posts by Diane Small
(see all)