By Chere Di Boscio
They sound super fancy and they look lovely. But what's the point of having gold skincare products? Are they just an ostentatious luxury item, or do they bring any real benefits to your beauty routine?
You may be surprised to know that they do indeed – and this has been well known since ancient times. Here's just a little bit about what they can do for you:
1. Helps erase fine lines and wrinkles 
Gold particles in creams, serums, oils and soaps help to heal micro-damage to the skin and strengthens it, especially mature complexions.  Gold can accelerate blood circulation and the metabolic rate of the skin, which helps to prevent premature ageing.
2. Reduces redness and treats acne
Since it's so anti-inflammatory, gold reduces acne, skin allergies and redness in the complexion (which is basically a sign of inflammation).
3. Brightens and evens out skin tone
Gold re-textures skin and illuminates to reveal radiant, healthy and a youthful looking complexion. Gold also inhibits the production of melanin, which is the main cause of dark spots and uneven skin tone.
4. Increases skin elasticity
Sagging and sallow skin is the result of less collagen. Gold can help restore this lost elasticity.
5. Treats UV damage
Perhaps surprisingly, since gold reduces the production of melanin, it can help mitigate the damage done by the sun – for example, sun spots.
6. Brings back your glow
Gold helps improve blood circulation, which means it can help to hydrate and maintain the skin's moisture level when small particles of gold get absorbed into the skin. The end result? A bit of a glow, making your skin look healthier, fresher and more radiant.
But gold isn't just beneficial when used topically: the ancient Egyptians ate it to help purify the body, mind and spirit. They believed the metal could activate the spirit and awaken energy inside the body, as well as slow down the process of aging and contribute to a person's health overall.
In fact, gold water and gold pills continued to be popular, well into early European history. Medieval alchemists used powdered gold to make suspensions, which was then used to relieve sore limbs – this was the earliest record of gold being used as treatment for arthritis. Today, even modern surgeons use gold implants to help relieve elbow and knee joint inflammation, and many people take colloidal gold drops, claiming these boost immunity, improve mood, and even help ease depression.
Intrigued? Here are a few ways you can test the benefits of gold skincare products for yourself.
Sassou Gold Lather Bar
Sassou's best selling, all-natural cleansing bar contains lots of pure gold to pamper your skin every time you wash. Coconut oil pulls out skin-blocking impurities, whilst honey hydrates and kills bacteria – in fact, the combination of honey and gold in this bar makes it the perfect choice for those with blemish-prone skin.
Price: Around $65 Best for: Oily to normal skin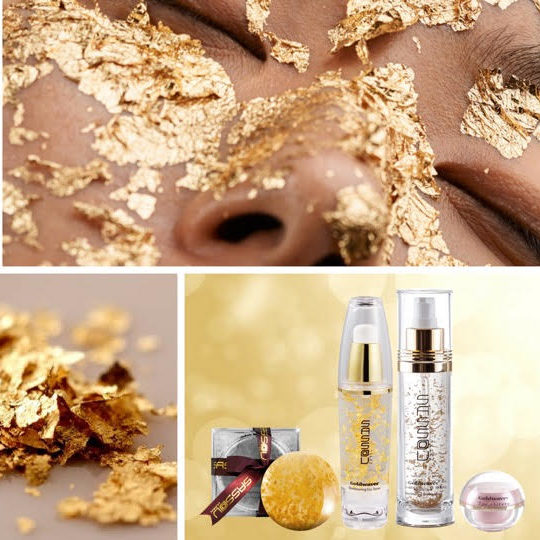 When applied regularly around the delicate eye area, this nourishing, anti-ageing, gold eye cream reduces the appearance of wrinkles, brightens the skin tone and helps to undo sun damage, such as sun spots and fine lines, that are often seen around the eye contours.
Price: Around $190 Best for: Mature or sun damaged skin
This vitamin-rich oil is formulated with 24-karat gold particles to really make your skin glow! Grapeseed Oil and Omega fatty acids hydrated, and act as nourishers against environmental stressors, whilst the gold reduces redness and inflammation. When used over time, the 100% organic formula improves elasticity in your skin, slows the decline of collagen, stimulates cell renewal, and reduces the appearance of fine lines and wrinkles.
Price: Around $239 Best for: Those seeing the first signs of collagen loss and wrinkles
Oh my, this smells divine! An exquisite blend of Indian rose, Mogra and 24k gold, this rich, creamy, hydrating formula has long been a favourite here at Eluxe. Mogra stimulates cell renewal and promotes collagen production, the rose hydrates and plumps, whilst the gold helps smooth the appearance of fine lines and gives the skin a more radiant, youthful glow.
Price: Around $95 Best for: Those in Australia; it's only available online there
If you're serious about toning and tightening your skin, you'll love this kit by NuFace! Their Gold Mini Express Skin Toning Collection quickly produces a covetable glow and incredibly smooth skin, thanks to the use of microcurrent technology adorned with 18K Rose Gold-dipped spheres and a 24K Gold Gel Primer.
Price: Around $199 Best for: Those who are seriously committed to better skin. Also makes a great gift!
Too many late nights? Jet lagged? This eye recovery mask will sort you out! It's packed with powerful botanicals that fight wrinkles, puffiness and dark circles. Rich in seaweed, rose water and of course, gold, this is a serum that's soothing and easy to use – in just 20 minutes, it reveals smoother and revitalised skin around the eye area.
Price: Around $195 for 8 masks Best for: Those in a hurry, frequent travellers and light sleepers.
Latest posts by Chere Di Boscio
(see all)
This site uses affiliate links with brands we trust, and if you make a purchase using a link, we may receive a commission.
Did you enjoy this post? Want to show your gratitude? Please support us on Patreon!