Even vegans love hearty, 'meaty' dishes. And you get them through homemade vegan meat dishes! Here's some of the best recipes
By Lora O'Brien
Giving up meat can seem like a daunting process. It's filling, and it's a typical main for most meals. Plus, many carnivores have been programmed to believe that we need meat to survive and that by giving it up, we will somehow be sick and malnourished.
But why would we still eat dead animals if we could eat a cruelty-free alternative that looks and can even taste the same? I've had some sausages and burgers that literally tasted no different to meat, and I've cooked vegan dishes for non-vegans who had no clue what they were eating wasn't actual meat.
Most vegans grew up eating meat and many of our beloved family traditions are centred around these. It's cool to be kind, and finding vegan meats that taste like the real thing is easier now than ever.
The list below features vegan meat recipes, from chicken and pork to bacon and sausages. It just goes to highlight how far veganism has come.
There's quite literally nothing you can't make vegan, and these recipes allow you to recreate nostalgic recipes without the suffering of animals.
Recipes For Homemade Vegan Meat Dishes
1. Vegan Chicken Nuggets
C'mon, chicken nuggets? They're legendary! Or at least, these vegan ones are! Made from tofu, they're tossed in a flavoursome BBQ sauce. That crunchy, spicy exterior is basically food porn!
Get the recipe here.
2. Chewy Blackened Tofu Steaks
Impress your guests with some 'steak'. Yep, you read that right – steak! But instead of slapping down a corpse on their plate, impress them with this vegan version. Made with extra-firm tofu, these bad boys have been marinated in a mixture of sauces and spices and then grilled to perfection for a wholesome vegan and gluten-free meal.
Get the recipe here.
3. Vegan Buffalo Cauliflower Wings
I think one of the first things I tried to veganise was chicken wings, and cauliflower became my go-to. Even if you absolutely hate the vegetable, give these a try. Once baked, they literally mimic the texture of chicken, minus the cruelty. And slathered in sauce and served with a dip is my favourite way to enjoy them.
Get the recipe here.
4. Lentil & Carrot Vegan Hotdogs
Even before going vegan, hot dogs always made me feel a little nauseous. God only knows what truly goes into them, and I'd rather not know! But one hot dog I can get on board with is these carrot ones. They're fast, easy and full of goodness.
Get the recipe here.
5. Vegan Cheeseburgers
Are you even vegan if you don't make the perfect vegan cheeseburger? And 2021 is such a great time to be alive, because there are literally so many vegan alternatives. Like this lentil patty. It's served in a bun and stacked with crunchy onions, fresh lettuce and creamy vegan mayo. Not forgetting the vegan cheese . . . yum!
Get the recipe here.
6. High Protein Vegan Ground Beef
I like trying mock-meats as much as the next vegan, but I much prefer to make mine from scratch. If you've never made your own ground beef then you need to know the secret ingredient: walnuts! Yep, once ground down and mixed with spices and then baked, it's a healthy alternative that you can use in so many recipes. This is a vegan recipe staple, that's for sure!
Get the recipe here.
7. Vegan Greek-Style Roast "Lamb"
This vegan makeover of the Greek kleftiko is heavenly if you're looking for a cruelty-free alternative to lamb. There's loads of pleasure to be found in this iconic Greek dish. Make it for a Sunday roast or shred it and make your own kebabs.
Get the recipe here.
8. Vegan Sausages
Sausages are another meaty recipe you'll want to have secured in your repertoire of meaty vegan dishes. And these vegan sausages are the perfect addition to a heap of meals and are perfect for BBQ season. Soft and loaded with flavour on the inside while the outside has a slight crisp to it, these Italian sausages are delish!
Get the recipe here.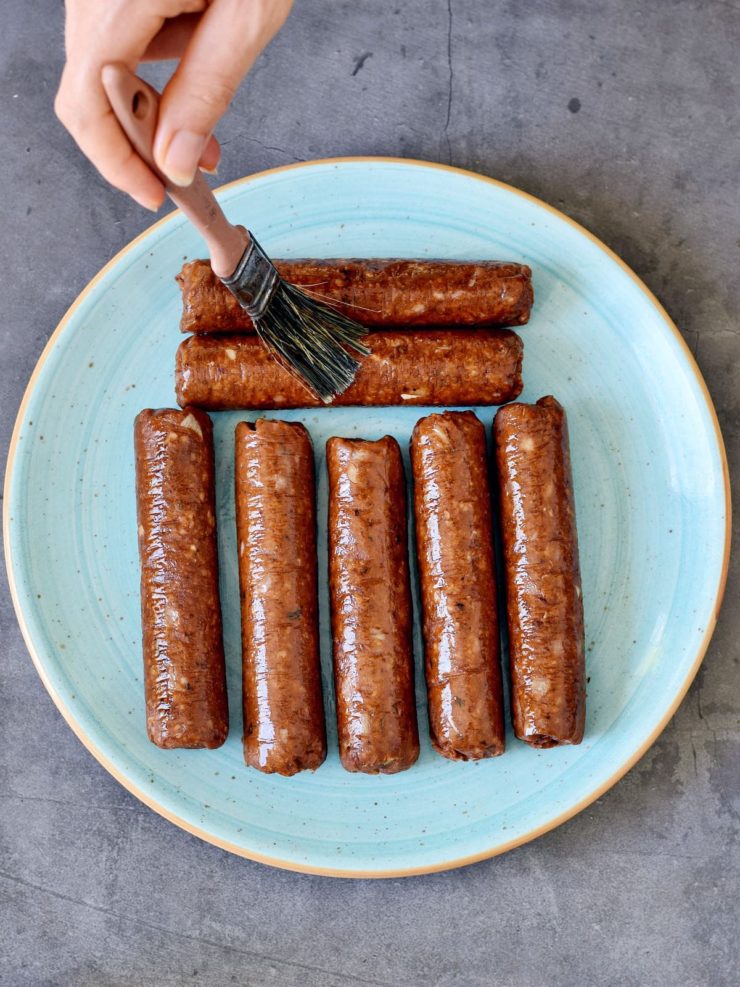 9. Vegan BLT
I genuinely mourned a BLT when I first went vegan. Yep, it was my staple sandwich and I felt a little sad letting go. Until I realised being vegan just means getting creative and making super tasty meat-free dishes including a BLT! Duh! This BLT is crunchy, salty, and oh-so-satisfying!
Get the recipe here.
10. Vegan Hamburgers
Sometimes, you just need a faithful vegan hamburger recipe, and this one is perfect! The vegan burger is incredibly meaty and better quality than many of the mock-meat you'd find in supermarkets. These patties are made with a few ingredients and can be served as a hamburger steak or stuffed between two hamburger buns!
Get the recipe here.
11. Vegan 'Franks' And Beans
Did you even have a childhood if your parents didn't at least once feed you franks and beans? Or if like me, you're from the UK, it's pretty similar to weiners and beans. It's fast, super easy and cheap to make! And honestly, it's full of nostalgia and I'm off to make this right now!
Get the recipe here.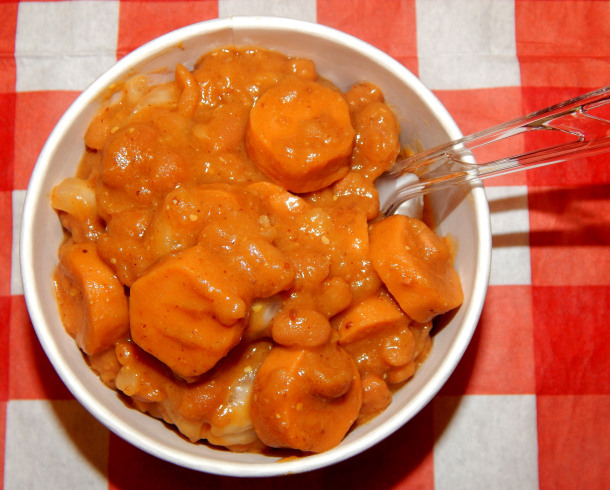 12. Vegan Paté
Made from veggies and nuts, this vegan paté is meaty and buttery and the perfect accompaniment to a slice of freshly baked bread. It can also be spread in a sandwich or used as a dip with some crackers.
Get the recipe here.
13. Vegan Fried Chicken
Forget Kentucky Fried Chicken! We're all aboard the Vegan Fried Chicken train! And would you ever believe the recipe below is meat-free? It looks crazily realistic and tastes it, too. Fried on the outside, the inside is moist with a meat-like texture. This is one for even non-vegans to marvel over!
Get the recipe here.
14. Vegan Fry Up
You're not from the UK if you've never soaked up your hangover from the night before with a dirty fry up the following morning. And being vegan just means even more yumminess! Think vegan sausages, tofu scramble, carrot bacon, beans and hash browns. #YES!
Get the recipe here.
15. Vegan Pepperoni
This vegan pepperoni may look like one of the hardest homemade vegan meat dishes to whip up. But honestly, it's so easy to make. It requires just 10-ingredients and is made with tofu and a blend of delicious spices. This is perfect for topping on pizza, stuffing in calzones or just doing whatever the heck you like with it!
Get the recipe here.
16. Vegan Meatballs
Vegan meatballs is one of those homemade vegan meat dishes you should always have on hand. They are made with TVP and seitan and are super meaty! Easy to make, they're also freezer-friendly, meaning you can make these in bulk. Loaded with Italian flavours, these won't fall apart but they will melt in your mouth with every bite!
Get the recipe here.
17. Vegan Seitan Roast
Another vegan steak recipe to really make you think – wow! This homemade vegan meat is juicy, marinated and has a perfectly meaty chew – but it's entirely plant-based. It's a protein-rich meal for vegans, and if you want to impress meat-eaters, serve them this with a salad and spud to really blow their mind!
Get the recipe here.
18. Vegan Shepherd's Pie
Shepherd's pie is a real comfort food here in the UK. Even vegan versions. In fact, it's one of the most popular homemade vegan meat dishes, hands down!  I've actually made this vegan version by Gaz Oakley and it's so rich! You'd never think coffee would appear on the recipe list, but I promise you, it works!
Get the recipe here.
19. Vegan Brisket
When it comes to homemade vegan meat dishes, this brisket should win some kind of award. It's smoky, succulent and above all else, meaty! It will honestly fool any non-vegan. The mix of seitan and jackfruit give the vegan brisket different textures. The perfect main to serve up to guests.
Get the recipe here.
20. Vegan Rice Paper Bacon
Have you been hunting for a healthier alternative to traditional bacon? You can make vegan bacon from lots of ingredients, such as eggplant and even carrots. Coconut is a great alternative, too. But this recipe uses rice paper, and it creates the perfect crispy, chewy, sweet, salty, smoky bacon.
Get the recipe here.
21. Maple Glazed Vegan Ham
Whether it's Christmas or Easter, you can always save a piggy by eating this vegan ham! This clove-stuffed, maple-glazed, vegan seitan roast is one of the best homemade vegan meat dishes to serve up at any holiday celebration. Served alongside charred pineapple and orange slices, each slice of salty, sweet, smoky and tangy.
Get the recipe here.
22. The Best Vegan Chick'n
Mock meats are convenient but they're super expensive! It's cheaper and, in my opinion, tastier to make your own at home. This incredibly vegan chicken has a meaty texture so realistic, you will never believe it's vegan! Plus it's high in protein – win, win!
Get the recipe here.
23. Vegan Deli Sliced Turkey Breast
Deli slices are super handy to keep in your fridge to make a quick sandwich when the snack attacks come out of nowhere. And these homemade deli slices will truly elevate your sandwich to a whole other level! Packed with flavour, they're easy to make and super cheap. In fact, most homemade vegan meat dishes are cheaper, compared to store-bought brands.
Get the recipe here.
24. Vegan Chinese Style Seitan Ribz
Wait – who else is drooling? Because I sure am! These Chinese style vegan ribs are incredible and the perfect dish to throw together to make a fakeaway. First, they're baked and then grilled to perfection. Slathered in a Chinese style BBQ rib sauce, they're sticky, messy and 100% worth it.
Get the recipe here.
25. BBQ Pulled Jackfruit Pork
When we're given jackfruit, you best believe we're turning that into some vegan BBQ pulled jackfruit! Similar to pulled pork in texture, this meat-free alternative is healthier and delicious. You'll never dread BBQ season again with this homemade vegan meat recipe in your back pocket!
Get the recipe here.
26. Vegan Chorizo
This vegan chorizo has the rich flavour of smoked paprika and garlic and is perfect for slicing and then using in all your favourite recipes. Whether you top it on pizza or throw it into your pasta dishes, it's the perfect way to add some heat to all your favourite meals!
Get the recipe here.
27. Vegan Corned Beef
Corned beef is another popular 'meat' in the UK. It's a salt-cured brisket that usually has sugar and spices added to it. This vegan version keeps a lot of the traditional methods and flavours minus the meat. Another of those homemade vegan meat dishes that highlights how you haven't got to surrender your ethics in favour of tradition.
Get the recipe here.
28. Vegan 'Turkey'
C'mon, no one wants to sit around a table and stare at the carcass of a dead turkey – am I right or am I right? This vegan version is so freakin' badass, it even has skin! (It's made from bean curd, might I add). The meaty part is made from a mix of seitan and tofu.
Get the recipe here.
29. Smoky Seitan Kebabs With Peanut Sauce
Kebab is a general term for many types of Middle Eastern grilled meats. One of the most popular types is the shish kebab: small pieces of meat that are skewered and grilled. This smoky recipe uses homemade seitan and is topped with a peanut sauce, then served with fresh lime and herbs.
Get the recipe here.
30. Best Vegan Drumsticks
It's hard to believe these drumsticks are vegan, right? This is one of the tastiest homemade vegan meat dishes, for sure. Perfect for serving up with fries, of course.
Get the recipe here.
Latest posts by Lora O'Brien
(see all)