This article may use affiliate links. Eluxe Magazine only links to products we trust.
By Sophia Hussain
What's even better than makeup? How about  a luxury temporary tattoo with a bijoux twist!  These haute skin creations were inspired by henna art and inked tattoos, but these temporary tattoos are more like instant accessories – and of course, require no long hours with a henna artist, pain or serious commitment.
The current trend for metallic, jewel-like temporary tattoos debuted in 2010 in Japan, becoming a hit on and off the catwalks in Europe and the Middle East before trending in North America, courtesy of superstar Beyonce who was photographed wearing her body art on holiday.
Comprised of either non-toxic inks, or 24K gold and pure silver flakes fused into designs, these bling beauties  last from five to 10 days and can be easily removed with olive oil–that being said, you may prefer to avoid applying body crèmes, oils or perfumes over these precious metals as they will lose their longevity.
Here are  five brilliant non-toxic Eluxe picks of the best luxury temporary tattoos, which make the perfect accessory for your upcoming beach holiday, Christmas party or a super glam evening  soiree!
Bring a touch of French style to the latest jewellery/makeup trend with this Paris based brand. As you'd expect with anything from the nation that brought us classic chic, these are subtle, tiny tattoos that add a bit of wit to any outfit. The price is right too–they start at around 5 Euros per sheet!
Go bold with gold!   Create your own body jewellery layering various 24K gold and sterling silver motifs to create your signature designs.  Highlight your favourite features – create a statement necklace effect, or mimic sexy printed stockings to extend those mile-long legs.
Add an Arabesque influence showcasing these 24K "pure gold skin jewels".   We declare our love with guest designs by Lebanese jewellery mastermind Nadine Kanso, especially her double hobb butterfly duo (hobb is Arabic for love). Then, indulge in a haute manicure decorating 24K Nail Jewels applied over any 5-free nail lacquer hue.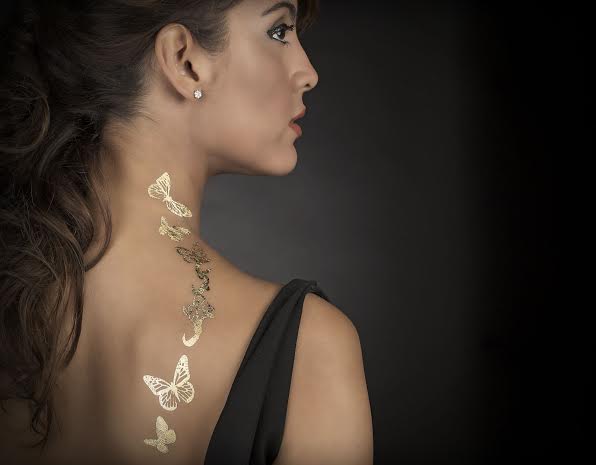 Accessorize your paper falsies with temporary skin tattoos inspired by 18th century classic design.   Tattoo Me is an enchanting collection designed to add visual interest to your feminine beauty.   Adorn your skin with Jewelled Fox delicate chains, Pastel Palette florals, or go Baroque with a Lace Me Up bracelet.
Create your own haute couture fantasy with this Fashion Week favourite.   These ornate lace or fabric appliques adhere to the skin, in unique intricate designs with many adorned with sparkling Swarovski crystal elements.   Or if you prefer something simple, select a pretty butterfly or a romantic "love" script.
Outshine your beach bronzed body with these metallic tattoos designed to compliment any swimwear.   Wear fun motifs including a leaf vine, or imprint a body chain that never gets tangled!
Related articles across the web