We just discovered something very rare: vegan, non toxic hair straightener products! Thought we'd tell you all about them…
By Diane Small
Japanese, Brazilian and Keratin hair treatments all promise smoother and straighter hair. But guess what? They contain nasty chemicals that can not only hurt your health, but can even cause cancer.
Formaldehyde, the stuff used to preserve dead bodies, is released when they key chemicals in hair smoothing treatments, namely methylene glucol, formalin, methanal and methanediol, are heated or mixed with water. And since salon treatments don't require FDA approval, this killer cocktail is actually legally allowed on your hair.
In fact, it's very much a buyer beware market. Salon lovers are at risk of chronic diseases, including cancer, from toxins found in commonly used skincare, makeup and hair care products. And hair straightening chemicals are among them.
Uterine Cancer & Hair Botox
A recent study of 33,497 U.S. women between the ages of 35 and 74 was looking for risk factors for breast cancer and other illnesses. The women took part in the Sister Study — a separate research initiative led by the NIH's National Institute of Environmental Health Sciences (NIEHS).
After a follow-up period of 10.9 years, 378 cases of uterine cancer were diagnosed. Those who had used hair straightening products in the previous 12 months had a higher rate of uterine cancer than those who had never used such products. More frequent use was associated with a greater risk.
Women who used hair straightening products frequently — i.e. more than four times in the previous year — were more than twice as likely to develop uterine cancer as those who didn't use hair straightening products. And many of those women have started a lawsuit over their health issues, too.
If ever there was proof there's a need for non toxic hair Botox, this is it!
Black Women May Be Most At Risk
While uterine cancer accounts for just 3% of new cancer cases, it's the number one cancer of the female reproductive system. Incidence rates have been on the rise in recent years, particularly for aggressive subtypes of the disease and among Black women, according to a 2019 study led by Megan Clarke, Ph.D., with the National Cancer Institute's Division of Cancer Epidemiology and Genetics.
The use of hair straightening products could be one precipitating factor. The featured study found that among participants who had ever used hair straighteners, 59.9% were Black. While the study didn't find racial differences in the association between straightener use and uterine cancer incidence, it's possible that risks are higher for Black women due to more frequent, and younger, use.
According to study author Che-Jung Chang, Ph.D., "Because Black women use hair straightening or relaxer products more frequently and tend to initiate use at earlier ages than other races and ethnicities, these findings may be even more relevant for them."
Past Research Linked Straighteners To Breast Cancer
Past research suggests hair straightening products may play a role in hormone-sensitive health problems. Exposure to such products has been associated with:
Lower sex steroid hormone levels
Elevated risk of uterine leiomyomata (fibroids)
Starting periods earlier
Higher breast and ovarian cancers
In a prior study based on 46,709 women in the Sister Study, NIEHS researchers found that women who used hair straighteners at least every five to eight weeks were about 30% more likely to develop breast cancer. They also found that, among Black women, using permanent hair dyes every five to eight weeks or more led to a 60% increased risk of breast cancer.
Additionally, in a study published in the International Journal of Cancer, use of hair straighteners and perms during adolescence was associated with a higher risk of premenopausal breast cancer. Again, due to higher prevalence of use, it's possible that Black women may be disproportionately affected.
What Happens At A Hair Straightening Treatment?
Experiencing a keratin smoothing treatment is like adding a top coat to the hair shaft. Frizzy strands happen when the hair cuticle (outer layer) lifts from things like rough towel drying and heat damage. A hair straightening treatment smooths down and seals the cuticle to help prevent breakage, tame frizz and add shine. Keratin also helps to reduce the look of split ends by temporarily bonding hair back together.
The length of a 'hair Botox' or keratin treatment depends on hair type and the formula used. A salon visit could last from two to four hours —or even more if you have very thick hair.
Here's what to expect:
Hair is washed and blow-dried straight.
A straightening solution is applied and left for processing. Processing will take longer depending on how straight you want your hair.
A flat iron is used to seal the solution into the hair.
After this, the excess solution is rinsed away.
A neutralizing solution might be used at this stage, depending on the formula.
The hair is blow-dried again.
Flat ironing might be necessary again for very curly hair.
These steps are followed for regular and non toxic hair straightener treatments alike, if you do them in a salon.
The Science Behind Hair Straighteners
Ever wonder how hair straighteners work?
Think of straight hair as a ladder and curly hair as a spiral staircase. The steps on both are the hair's bonds. If you break those bonds, you can rebuild the spiral staircase as ladder. And curly hair becomes straight.
Traditional straighteners saturate the hair with a cocktail of chemicals before it's dried and flat-ironed. This process releases formaldehyde, which locks the hair into a straighter position until your natural texture then gradually returns over two to five months.
No surprises to learn that formaldehyde is also used by clothing manufacturers to keep textiles 'wrinkle free' Even wearing clothes with formaldehyde can make you sick. Imagine what it can do when it's on your hair!
Some natural products use non-toxic ingredients to break your hair's 'stairway' of bonds. And of course, none of these turn into the deadly 'F' word!
Finding A Non Toxic Hair Straightener Is Hard
That being said, as you can imagine, finding a non-toxic, non-carcinogenic hair Botox isn't easy.
Some salons will tell you they're just using 'peptides' or 'keratin' or 'silk proteins' to smooth your hair. Sure, great! But these ingredients can all be present AS WELL as the nasty stuff above-mentioned. Plus, they're not at all vegan friendly, in any case.
But there's good news, at last! Non toxic, vegan hair straighteners DO exist!
We've scoured the internet and questioned salon owners and beauty experts to discover them. Here are some of the best.
The Best Vegan, Non Toxic Hair Straighteners
AT HOME TREATMENTS
The Mayraki Hydrolyzed Keratin Instant Smoother System is our favourite non toxic hair straightener. It was meticulously formulated to be a safer natural alternative to salon-grade keratin treatments.
Free from formaldehyde and other harmful chemicals, the treatment is made exclusively from premium organic vegan ingredients. The System has proven itself to be safe for all hair types, including colour-treated hair. It's also fine for those with sensitive scalps, and during pregnancy.
Mayraki's unique formula is just as effective at combating frizz and unruliness as your typical toxic hair straighteners. But this one leaves your hair silky, soft and shiny – without the carcinogens!
Their natural hydrolyzed keratin dives right into each hair follicle and injects the porous areas with keratin, an essential hair protein. After just one treatment, hair appears smoother and healthier. Natural hydrolyzed keratin bonds to hair, creating a protective layer around each strand to effectively diminish frizz, seal the cuticle and protect hair against external damage. The more often you use it, the straighter your hair will get.
Best for: Taming hair that tends to frizz
Price: $68
You don't need to go to the salon for a costly non toxic hair straightener treatment if you want straighter hair. Over time, certain shampoos can help your hair look straighter and smoother, too!
For example? Try incorporating Vegamour's GRO Revitalizing Shampoo and Conditioner into your routine. It's made with Karmatin™, a microencapsulated b-silk™ protein. This is basically just a vegan alternative to animal keratin.
Karmatin™ bonds to your hair, filling in the small cracks and spaces in your hair strands, to give you smoother hair immediately, and even more so over time.
Because of the bond it creates, Karmatin™ remains attached to your hair even after rinsing out the shampoo and conditioner.
Best for: Reducing frizz, thickening hair
Price: $76
OXO Organic is the latest non toxic hair straightener to come around to select salons. But you can also buy the products online if you know how to use them. OXO Organic uses an alternative smoothing technique that is permanent and not aggressive. 
'Alternative' is the key word here and here's why:
You can wash and style your hair right after application – which isn't supposed to be done with most hair straightening products. 

OXO Organic is perfectly safe, even for pregnant or breastfeeding mothers, unlike most other hair straightening products

It won't weigh down your hair with coating because it naturally restores the hair and doesn't need the faux silicone coat to make your hair look shiny.

It's is suitable for all hair types: dry, thick, thin, straight, curly, oily – it doesn't matter.  It can be used for both men and women who want smoother, straighter and healthier hair.
We think the product sounds promising, but there are some caveats. As with 5 or 7-free nail polishes, it's not fully chemical free, for example. And despite the name, it's actually NOT really 'organic'. But what it does provide is a much safer, effective straightening treatment for your hair, AND it's 100% vegan friendly, since the keratin in this product is a lab-synthesised synthetic, not an animal by-product.
Best for: Those who want seriously straight hair that lasts for months
Price: From $149
SALON TREATMENTS
One of the major benefits of this non toxic hair straightener treatment is that it is completely customizable. Not only can each person get a different formula, but if you have multiple textures to your mane, you can get the right treatment for each section.
This non-toxic treatment takes 2-3 hours in the salon, and lasts anywhere from 4-6 months depending on how resistant the hair type is. The best part is that it is very easy to maintain. The aftercare is simply to avoid shampoos that have sulfates or keratin in them.
Best for: Long-lasting hair smoothing, done professionally
Price: From $169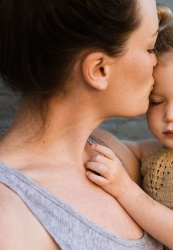 Latest posts by Diane Small
(see all)