By Chiara Spagnoli Gabardi
Hollywood legend Marlon Brando was extremely fond of three things: women, food and Polynesia. In fact, back in the swinging sixties the 'On The Waterfront' actor invested about $200,000  to acquire the island that belonged to the royal family of Tahiti, putting himself on the verge of bankruptcy. But his dream was to live on that island with his beloved wife Tarita and create a self-sufficient community on the Polynesian island of Tetiaroa, which would be a centre for scientific, ecologically focused research on aquaculture, agriculture, as well as a place for eco tourism.
His dream became a reality, and today the public is welcome to visit the majestic dwelling once inhabited by the man who was arguably Hollywood's greatest actor.
The Brando Resort boasts 35 villas of varying sizes that overlook the beach and are visited by turtles and exotic birds. Every one of them is equipped with a renewable energy system based on solar panels and coconut oil. All interiors were made with locally sourced materials, and all cleaning products are, of course, eco friendly.
As you'd expect, the food all comes either from fishing or the modern orchard on the island, therefore everything is incredibly organic and cultivated on the spot. Typical meals include fresh fruit salads made from breadfruit, bananas, mangos and papaya, local vegetables like avocados, baby lettuce and cucumbers, and fish that just came out of the ocean.
But this cuisine isn't simply a matter of throwing some salad ingredients together: flavours are expertly mixed by award-winning chef Guy Martin, of the two starred Michelin restaurant Le Grand Vefour in Paris. Martin's dishes are featured in both dining venues here, and rather indulgently, they can be enjoyed via in-room dining, too.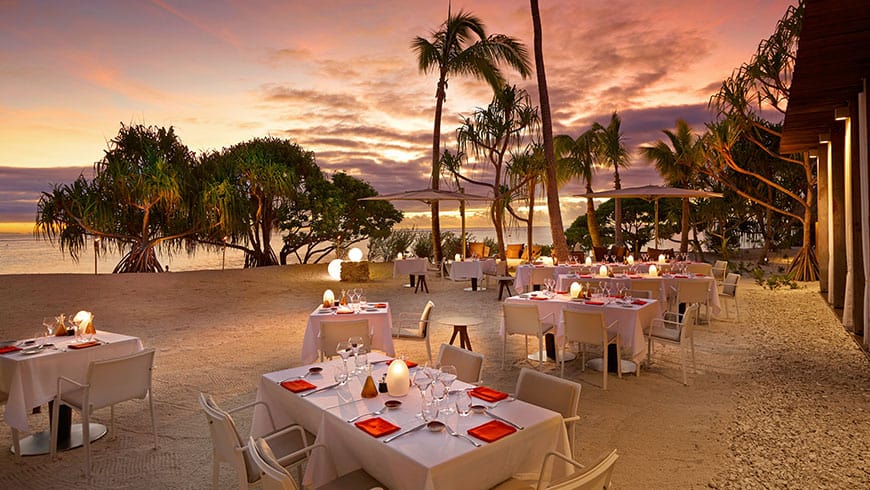 To keep you entertained, there is  a bar with a breathtaking view on the lagoon, another one overlooking the sea, an adorable bio-orchard to walk through, a library packed with magazines and books you can select from, a boutique where you can shop for exclusive luxury goods, including locally sourced pearls, art,Tahitian vanilla beans and honey from Tetiaroa's own honey bees.
In addition to staying fit in the gym or going for a bike ride on the clearly marked, shaded trails, there are plenty of watersports to engage in, ranging from aquagym to kayaking, diving and snorkelling. There's a whole new, beautiful world under the sea here: the reef surrounding Tetiaroa and the large and spectacular coral beds in the inner and outer lagoons provide the perfect place for marine life to flourish.
At least 167 fish species have been observed around the atoll, from colorful parrotfish and spotted eagle rays to blacktip sharks and bonefish.  Whales often pause at Tetiaroa   during their annual migrations, and dolphins frequently play off the reef, delighting guests.
The resort is listed with the National Geographic Unique Lodges of the World, and if you book your trip with them, you can also spend the day with researchers,  having lunch or dinner with them, whilst learning about their environmental studies and going on guided tours of local flora and fauna.
If your goal is to completely scrap the activities and relax, you'll be pleased to discover  the Varua Polynesian Spa which truly is a natural haven of serenity, nestled on the shores of a soothing pond in the heart of Motu Onetahi, the spot where the Tahitian royal family retreated to relax and indulge in beauty rituals.Within this setting you can enjoy the finest holistic treatments inspired by ancient Polynesian traditions coupled with modern techniques.
The spa includes private massage and treatment villas around the pond, steam baths, a tea and relaxation lounge overlooking the pond, a yoga shelter and a special spa suite for couples high up in the palm trees.
For those with the desire–and the cash–to be alone with unspoilt, well-protected nature, pampered by the most professional service staff in the world, all watched over by the spirit of a greatly talented, generously minded icon, there's only one place to be.
For more info please click here.  
Latest posts by Chiara Spagnoli Gabardi
(see all)