By Jody McCutcheon
Frank McKinney may be the very embodiment of Eluxe Magazine's prime focus, which of course is the concept of sustainable luxury. Mr McKinney seems to live up to the adjective chain his publicist insists be used to describe him in this article, which is "real estate artist, five-time bestselling author, and philanthro-capitalist."
According to his website, he designs and builds homes for the world's wealthiest people and also for the world's poorest (see his Haitian Caring House Project). Rest assured, this story concerns one of his most extravagant creations. The uber-luxurious yet green-certified Acqua Liana, a $23 million oceanfront estate, is America's largest green-certified home and the crown jewel of Mr McKinney's twenty-five-year career as a self-proclaimed real-estate "artist."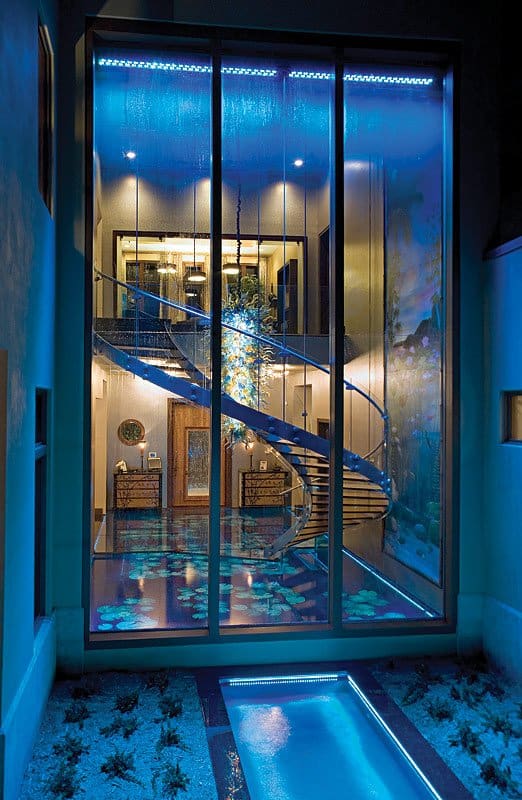 Located in Manalapan, Florida, Acqua Liana comprises 1.6 acres of LEED-certified luxury. The mansion has a triple "green" rating, in fact, from the US Green Building Council, the Florida Green Building Coalition and Energy Star for Homes. The massive private dwelling was designed and built according to eight key principles of human and environmental health: location, innovative design, sustainable site development, water savings, energy efficiency, superior indoor air quality, environmentally preferable materials and ease of use/homeowner education. But it was also built with sheer opulence in mind.
The Tahitian and Fijian word for "water flower," Acqua Liana's moniker captures the estate's "calming and soothing inclusion of many forms of liquid serenity," including glass-encased water floors, water walls, waterfalls, water gardens, pools (yes, plural!) and reflecting ponds. There's probably champagne, too–lots of it. Luxury features of the 15,000 square-foot, seven-bedroom, eleven-bathroom home include a courtyard pool and floating sun terrace, an outdoor cocktail lounge, a two-bedroom guest house, one hundred and fifty feet of white sand beach, and a Hollywood-style home cinema. Indeed, Acqua Liana is its own gated community.
The estate boasts many green features, some of them eye popping, others bar setting. About $120,000 worth of solar panels generates enough electricity to power two average-sized homes. Eco-friendly lighting and ultra-efficient appliances translate into reductions of electrical consumption by nearly sixty percent, such that Acqua Liana is actually energy neutral on certain days.
Further efficiencies in air-conditioning and air-purification create an indoor air quality that's twice as clean as that of a hospital operating room. A system collecting water runoff from the roof is used to fill the water garden. Enough reusable water is collected to fill an average-sized swimming pool every twenty days. There's even an automated biofeedback system that monitors the owner's resource consumption in real time.
But wait, there's more. Acqua Liana's construction utilised enough reclaimed and renewable wood to save over ten acres of rain forest, and furthermore recycled over 340,000 pounds of trash and debris, more than seventy-five percent of which was diverted from landfills. Energy-efficient and repurposed–you can't get much greener than that, except maybe for the estate's driveway, made from golf-course grass.
Both McKinney and Acqua Liana have been featured on HGTV and the Travel Channel (among other television spots), as well as in many print publications, including Blue Planet Green Living, International Business Times and London Daily Mail. In 2009, Acqua Liana was deservedly dubbed Unique Homes' "Greenest Mansion In America." Little wonder, with its impressive marriage of sustainability and grandeur.
Whether modestly priced or valued at $23 million, a green home is priceless. Frank McKinney knows that we all just want to go home, and literally spares no expense to get us there.
Check out Acqua Liana's unbelievable extravagance here: http://www.frank-mckinney.com/acqua_liana.aspx