Ready for the trip of a lifetime? These eco hotels in Dominica can offer that!
By Arwa Lodhi
Most of us live in cities today, and so our holidays involve trying to escape the increasingly ubiquitous concrete jungles of the world for greener destinations.
Which can be an issue. Generally, the more of us who choose beach and rain forest holidays, the more destruction we wreak on those places. As a result,  sustainability in the travel industry has progressed from a truly niche consideration to an industry-wide, and some cases, governmental, priority.
No longer is allowing hotel guests to reuse their bed linen sufficient for the green traveller: we want to see governments take action to protect the natural beauty of eco-tourism destinations.
And that's exactly what's happening in Dominica.  
An Eco Friendly Island
Perhaps best known as one of the Caribbean's most luxurious travel destinations, the idyllic island nation of Dominica (which is NOT the same as the Dominican Republic) is also making a name for itself as the region's most sustainable country.
Why so? Well, 28% of its electricity production comes from hydropower and wind. In fact, Dominica is the CARICOM member state which gets the largest proportion of its energy from renewable sources.
Dominica has traditionally produced most of their renewable energy from hydropower. Three of Dominica's hydroelectric plants are still used today, producing around 27% of the island's electricity. However, as the island's population has grown and its tourist industry flourished, demand for electricity has risen. As a result, fossil fuels have needed to be imported from elsewhere.
Greener Energy
Dominica is now looking to expand its wind, solar and geothermal resources. Since the island is lying in a volcanic region with the second largest hot lake in the world, Dominica has all of the resources to become a leader in geothermal energy production. Estimates suggest that the island could generate 500 megawatts (MW) of geothermal power. That's 20 times the island's current installed capacity of 25 MW.
Dominica also has access to another renewable energy resources in the form of solar and wind power. The country's climate has the potential to produce 5.6 kwh of solar power per square metre a day. It also boasts 30 MW of wind power potential, some of which is already under development.
The country is currently working with the World Bank to help  fund geothermal energy projects. It is also using funds generated from tourism to invest in sustainable energy projects.
Authentic and unspoilt, Dominica is using  its maze of enchanted rainforests and tropical wildlife to leverage itself as one of the region's ecotourism hotspots.  There are an increasing number of fabulous eco hotels in the region, too.
Here's our pick of three of the best and most beautiful Eco hotels in Dominica.
3 Wonderful Eco Hotels In Dominica
The first of our eco hotels in Dominica is the Rosalie Bay Resort. Tucked into the foothills of the Morne Trois Pitons, this popular off-grid resort provides access to both the Rosalie River and the Atlantic Ocean. You'll find sumptuous local organic cuisine, a nature-inspired spa, and chic bathroom amenities.
Outdoors, there's a beautiful black sand beach where turtles safely nest and more. This is the perfect destination to reconnect not only with nature, but yourself. There are several meditation spots dotted over the resort's lush 22 acres. You can also opt for a personalised wellness program, including hiking, Hatha yoga, guided meditation and stretching sessions, as well as enjoying relaxing, nature-inspired treatments at the hotel's spa.
Set in mountainside woodland bordered by a gushing river, this beautiful property is the perfect place for bird  watchers. Here, you will find over 20 species perching in the mango, banana and palm trees, many of which are rare. Fireflies, geckoes and hummingbirds abound on the property, but luckily, unlike other eco-destinations like Costa Rica or Bali, Dominica has no dangerous snakes or spiders!
The hotel feels like it's a world away from civilisation, but actually, it's just a 10 minute drive to the bars, restaurants and markets of Portsmouth, and a 5 minute drive to the beach, which boasts some of the best snorkelling opportunities on the island.
Guests stay in private  cottages with sea-views, all fitted out with non-toxic mattresses, furniture made of locally sourced, sustainable wood, and of course the entire resort is off the grid, relying on solar and wind energy. If you want to enjoy a holiday free from contact with the outside world, wifi is optional, but of course, if you can't live without it, that's not a problem.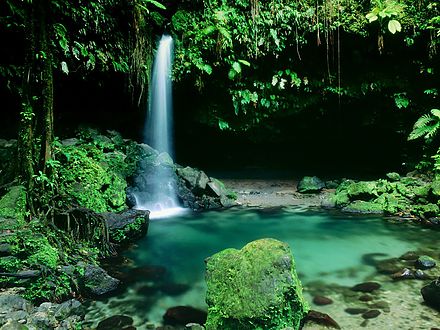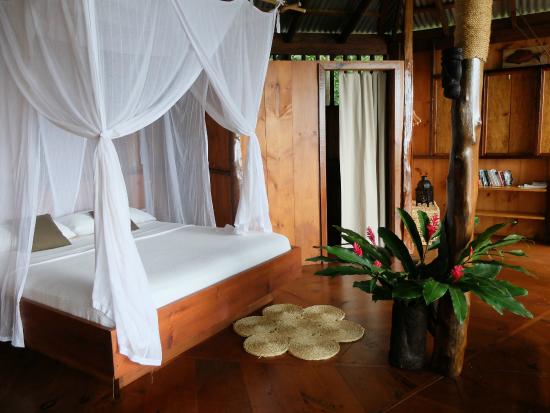 Perhaps I've saved the best of all the eco hotels in Dominica for last! This eco resort isn't only set in a stunning location overlooking the sea, but it offers a lot to do, too. Think: cooking classes, kayaking, snorkelling, swimming, yoga, organic dining and hiking. But there's also plenty to see, from the wild orchid 'garden' on the clifftop nearby to the enchanting sea cave, full of exotic fish.
The charming resort is located on the northwest coast. It's a 10-minute drive to the quaint town of Portsmouth and about an hour's drive to the capital Roseau. The beautiful expanse of Prince Rupert Bay – one of the longest, usually deserted, white-sand beaches on the island – is less than a 10-minute kayak ride away.
This resort keeps the environment in mind with its water saving scheme and sustainable, local materials selection. However, it's not quite as green as some other options, as it's not off the grid and provides quite a lot of energy-consuming services, such as cable TV, iPod docks, DVD players and electronic safes.