These vegan Hong Kong street food recipes will change your perceptions of Chinese food!
By Lora O'Brien
With my Chinese stepmom as a guide, I was excited to spend two weeks exploring Hong Kong. I was  pretty sure I knew what types of food to expect – but it turns out I was  a little naive. For example, I was struck by how Westernized the 'Chinese' food we all know and love is! Stir fried rice and lots of sweet and sour dishes are not typical in Hong Kong restaurants. In fact, there's pretty much a dearth of rice! I saw way more noodles.
What I also learned is that people in Hong Kong take food very seriously. Not just its execution, but the social event around eating it. Many times we'd go out for dinner, and groups of people would join us. In contrast to the quick dinners I've grown used to, these meals would last for hours and everyone would share both conversation and food. It was fun, beautiful and refreshing.
In Hong Kong, it felt like a new culinary delight popped up every day. When we weren't picking out restaurants, we were passing by street vendors, little food concessions stands, or market stalls bursting with olfactory and visual wonders.
Sophisticated & Cosmopolitan Food
Hong Kong's streets are just buzzing with passion for food and Chinese culinary history! But since this place was fortunate enough to have avoided Mao's revolution, it's sophisticated and cosmopolitan in many ways. Especially in the kitchens! You can see the evidence of many foreign influences in vegan Hong Kong street food. For example? There's Japanese udon noodles; Portuguese custard tarts and American ice creams that have all become ubiquitous in this fascinating region.
The only thing that repulsed me a bit (ok, maybe a lot) was the omnipresence of meat. And when I say 'meat', I mean, dead animals of all kinds in various forms: pigs, rabbits, frogs, ducks, cows, you name it. Horrifying!
Luckily, there are vegan versions of just about anything you can find in the market stalls of this amazing city. Here, I've come up with some of the tastiest vegan Hong Kong street food classics I could find. Enjoy!
20 Vegan Hong Kong Street Food Recipes
1. Chinese Turnip Cakes (Lo Bak Go)
Often served up for Chinese New Year, these turnip cakes remind me a bit of hash browns – but with an Asian twist, of course! I found the recipe on YouTube, which I was thrilled about. Attempting foreign cuisines is daunting enough, but when we have a video to follow, it's way easier!
Get the recipe here.
2. Vegan Zongzi
Zongzi is another traditional Chinese food made from sticky rice. It's combined with a variation of foods and then wrapped in either bamboo or flat leaves. You could say these are kinda like Asian tamales! This recipe features chickpeas and mushrooms in the stuffing, but you can improvise with whatever's on hand.
Get the recipe here.
3. Vegan Soup Dumplings (Xiaolongbao)
Xiaolongbao is a type of steamed bun that is presented in a bamboo steaming baskets, similar to dim sum in both appearance and texture. They're traditionally used in a soup. Why not whip up a bowl of vegan broth or miso and add these? Featuring mushrooms, tofu and loads of flavour, this is one of the best vegan Hong Kong street food recipes ever!
Get the recipe here.  
4. Fried Chive Dumplings
Gao choi gao is a pan fried dumpling that traditionally contains diced shrimp and chives, but you can find some vegan versions. These are hot, greasy, sticky balls that may taint your breath all day but won't be enough to stop you going back for more!
Get the recipe here.
5. Udon Noodle Stir-Fry
This is a take on the Japanese udon noodle that is a relatively new, but highly popular, street food in Hong Kong. The fact that you can customize your bag of noodles reminds me of the sandwich making process at Subway: first, select your noodle, and then choose from rows of ingredients and condiments to throw into the bag. This is then mixed together with some sauces and oil and then served in a clear bag with some chopsticks so you can enjoy your noodles on the go! But even if you're not strolling the streets of Hong Kong, you can bring a little of that magic into your cooking – sans the nasty plastic bag – with this udon noodle stir-fry. And clocking in at 15 minutes, this is one of the quickest vegan Hong Kong street food recipes to make.
Get the recipe here.
6. Cheung Fun Recipe
These bad boys are vegan Hong Kong street food at its most delicious! Cheung fun is a rice noodle roll and is a variety of dim sum. The rice noodles are rolled  out very thin, and then are filled with ingredients – usually shrimp, pork or beef. But you can also get these without a filling, and this is how you'll likely find them on the streets. They're traditionally referred to as chee cheong fun. They're then served with a dish of soy sauce for dipping and sprinkled with sesame seeds. With the recipe below, create the noodles, then stuff these with scallions, spinach and sesame seeds.
Get the recipe here.
7. Grilled Pineapple & Tofu Skewers
Skewers of grilled stuff are everywhere on the streets of Hong Kong. You can pass vendor after vendor selling some form of food on a stick. Usually, it's pretty much meat based and there's a lot of awful offal, octopus and sausages. Aiiiee! With so few vegan options on offer, these came as a godsend.  There's something about warm, crunchy grilled pineapple contrasted by smooth tofu that just works!
Get the recipe here.
8. Dim Sum with Spinach & Mung Beans
Dim sum was one of my favourite foods to rediscover in Hong Kong. In case you're not familiar, dim sum is little parcels that are filled with meat or fish. They come in a little steamed wicker box  and are hot and juicy when you bite into them. Note: to make this recipe vegan, skip brushing the noodles with egg white!
Get the recipe here.  
9. Vegan Takoyaki
Whilst this is traditionally a Japanese food, it's (strangely?) a popular food over in Hong Kong. Takoyaki are little balls of battered food. Octopus is a popular filling, alongside pickled ginger and green onion. These balls are then brushed with a sauce very similar to Worcestershire sauce, and then they're grilled until they're an even, golden brown. These are then topped with mayonnaise, traditionally Kewpie brand (Kewpie products are used a lot in Hong Kong!)  If you don't rave about vegan mayo, then why not switch it up with some sriracha?
Get the recipe here.
10. Vegan Char Siu Bao
A baozi – or more simply known as a bao – is a type of steamed bun that's full of delicious fillings. Pork is always a popular filling for these, but rest assured this recipe is 100% vegan! It stuffs the soft, fluffy bun with a filling made from tofu and onion.
Get the recipe here.
11. 1,2,3,4 Tofu
Tofu is pretty popular, and suits vegan Hong Kong street food recipes perfectly! This recipe is a bit sweet and a bit sour, but don't confuse it with that neon-orange 'sweet 'n' sour tofu' junk you find in Westernised Chinese restaurants!
Get the recipe here.  
12. Cantonese Soy Sauce Pan Fried Noodles
Forget rice! Noodles are super popular bases for vegan Hong Kong street recipes. And no wonder: they're super easy to eat from a conical container. They're often served up as a combination of both soft and crispy noodles, which is just heavenly. A lot of the noodle dishes do include some form of meat, like whether chicken or pork, but this recipe allows you to enjoy Cantonese style noodles, vegan style.
Get the recipe here.  
13. Mushroom & Cilantro Dumplings
This is one of my favourite vegan Hong Kong street food recipes! Sauteed mushrooms give the filling of these tasty bites of goodness a hearty texture, while the cilantro and bell peppers add a fresh crunch. You can enjoy these fried or steamed, but the spicy dipping sauce is a must!
Get the recipe here.
14. Vegan Fried Rice
Although my illusion that Chinese people enjoyed a lot of rice was shattered when I found no rice at the table after several days of being in Hong Kong, you could still order it. And when I did order a bowl of special fried rice – boy was it delicious! I love special fried rice because you can throw heaps of healthy stuff into it and it tastes amazing. Think scallions, carrots, peas, peppers . . . whatever tickles your fancy.
Get the recipe here.  
15. Roasted Herbed Chestnuts
How could I not include roasted chestnuts in a Hong Kong vegan street food article? During the colder months, the delicious, charcoal  smell will drive you insane until you buy some. And who doesn't love roasted chestnuts warming their hands up on a freezing day? You can also enjoy this popular street snack as part of your evening meal. These chestnuts have been roasted with rosemary and sage with some olive oil. Simple!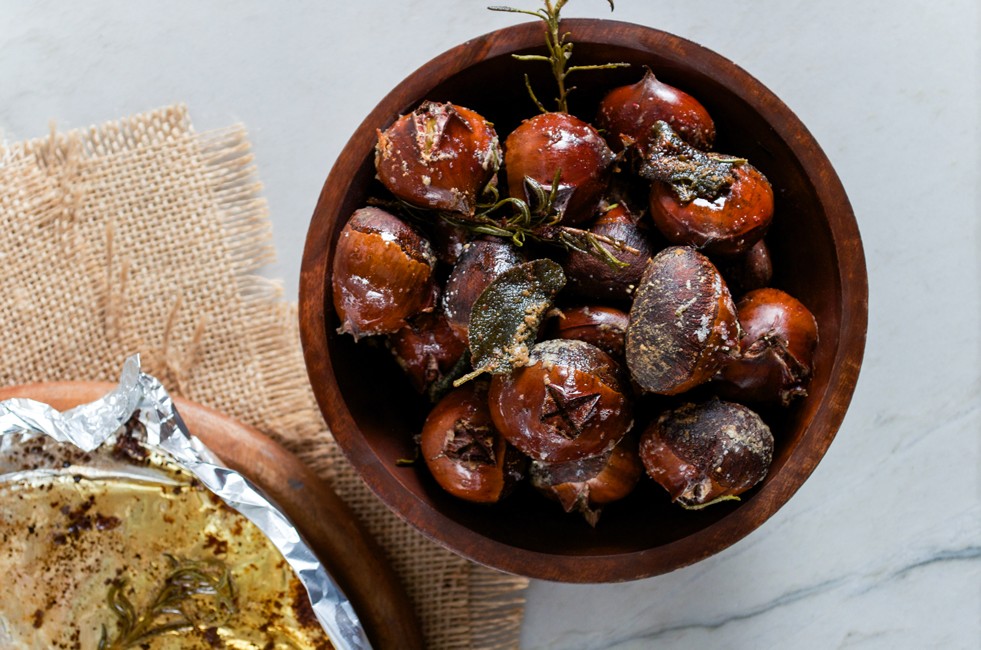 16. Peanut Butter Mochi
The Cantonese version of the famous Japanese mochi ball is called Lor Mai Chi. Both are very similar. They're filled with classic flavours such as red bean paste, or peanut butter and coconut. Mochi is made from a glutinous rice, and as you bite into the gummy, almost silk-like texture, there's a soft filling. This recipe is most traditional with its creamy peanut centre.
Get the recipe here.  
17. Chinese Crullers (Youtiao)
Youtiao is also referred to as 'Chinese oil stick' – a pretty frank description for a Chinese cruller! Served typically at breakfast, it's pretty much a deep fried breadstick they emerges both golden and fluffy. Crullers are mostly dipped into sweet soy milk, and it absorbs the liquid, it gives it an added sweet taste.
Get the recipe here.  
18. Tofu Pudding (Dou Hua) w/Ginger Syrup
High five to naturally vegan Chinese cuisine! This is a dessert made from very soft tofu and is often referred to as soybean pudding. The silkiness of the tofu makes this dish both refreshing and delicious. You can find it sold by little vendors at breakfast and many people enjoy them with crullers. Ginger syrup is a popular topping to drizzle over this dessert, and it  gives this dish a brilliant yet delicate spiciness against the smooth pudding.
Get the recipe here.
19. Eggless Waffle
Waffles and egg puffs are a popular vegan Hong Kong street food. Whereas the egg waffle looks like a hollow egg (hence its name) and it's crispy on the outside and soft and chewy on the inside, the waffle has more texture. They're thin and are usually spread with butter, peanut butter, condensed milk and sugar. On top of the hot waffle these all melt and combine to soak through into a thoroughly delicious blob.
Get the recipe here.  
20.Vegan Custard Tarts
Not a traditional Chinese recipe in  the slightest. But if you're lucky enough to roam the streets of Hong Kong then you'll be aware of the cakes that tease you in both shop windows and on little vendors. Many times we stopped off for a cake or two to take back to the apartment to enjoy later on. This version is, of course, vegan.
Get the recipe here.
21. Vegan Vanilla Ice Cream
I know your first thought is probably: vanilla ice cream – but we can get that anywhere! And it's true, vanilla ice cream can be found pretty much worldwide. But if you've been to Hong Kong you'll be aware of the little ice cream trucks that seem like the holy grail when you're hot, sweaty and in need of something cool and tasty. And this vegan version is pretty much as delicious as anything you'll find in one of those trucks.
Get the recipe here.
Latest posts by Lora O'Brien
(see all)