Sure, he acts, and he models. But did you know Jason Momoa designs eco friendly accessories, too?
By Chere Di Boscio
Jason Momoa has always been into outdoor sports. Even before he was cast as Game of Throne's Khal Drogo, he was hanging out in surf shops and acting on Baywatch, Hawaii. I mean, you can tell by looking at him that this isn't a guy who spends every night on a couch, watching TV, right?
So it was no surprise to discover that the actor is really into rock and mountain climbing. So much so that he jumped at the chance to collaborate with rock climbing/outdoor wear brand So iLL.
The founder of the label, Daniel Chancellor, met Momoa through a mutual friend. The actor had been a long time fan of the So iLL brand, and inspired by their ethos, he collaborated on a signature line of outdoor products that included lifestyle approach shoes, climbing shoes, waterproof outdoor bags, and more.
He dedicated the range to 'those who roam,' intending to unleash the free spirit that lives inside all of us. "By definition, roamers are said to be aimless, but we prefer the term, unhindered, led by a spirit of freedom." So goes the slogan for the So iLL x On the Roam collaboration by Jason Momoa. And guess what? It's all vegan and eco-friendly!
The First Jason Momoa Designs
The first products the GoT heartthrob came up with were bags and shoes – all with sustainability and ease of travel in mind.
The shoes featured a lightweight, canvas-like camo print upper material made with 20% recycled plastic, water resistant coating, neoprene sleeve for comfort, a 30% Bloom resin insole (an alternative to synthetic and petrochemical EVA foams), and outsole containing Eco Pure, a compound which helps rubber biodegrade faster when reacting with microbes in landfills.
The vegan bags – officially called Eco Camo – featured a lightweight canvas-like material made with recycled plastic. There are several bag styles in the line, from buckets to duffels. Momoa modelled most of the range himself, and there's even a crash pad available for climbers, too.
We love the design of these vegan bags because they're not pristine. You know how it is when you're travelling a lot, and if you have a light coloured bag, there's always the threat that it will get dirty after being thrown into trunks, onto airport carousels, and laid on the ground? Well, if that happens to these bags, you'll barely notice the dirt and scuffs – they'll just blend into the pattern!
Purple Sneakers
Momoa's most recent offering for So iLL is perhaps his most unusual – and most eco-friendly. It's a limited line of Unity Purple and Yaya Lavender unisex roamer shoes that boast an organic cotton upper, Bloomfoam algae insoles with a top layer of cork, and biodegradable outsoles.
In case you didn't know, Bloomfoam technology removes harmful algal blooms to reduce water pollution, create sustainable materials, generate clean water, and maintain healthy ecosystems. And the outsoles are biodegradable because they contain Eco Pure Powder, a material that helps cut down on decomposition time in a landfill.
So – why the flowery hues, you may be asking? Well, it turns out Momoa believes that shades of purple represent mysticism and bringing out our spiritual side. He has also added a personal touch to the design of the shoes by adding a triangular pattern that reflects the Hawaiian tattoo on his arm.
To minimise waste, the shoes are available on a preorder basis. Although they're not great for running or heavy workouts in the gym, they're eco-friendly and vegan as heck. And how often to you get to say that Aquaman designed your sneakers?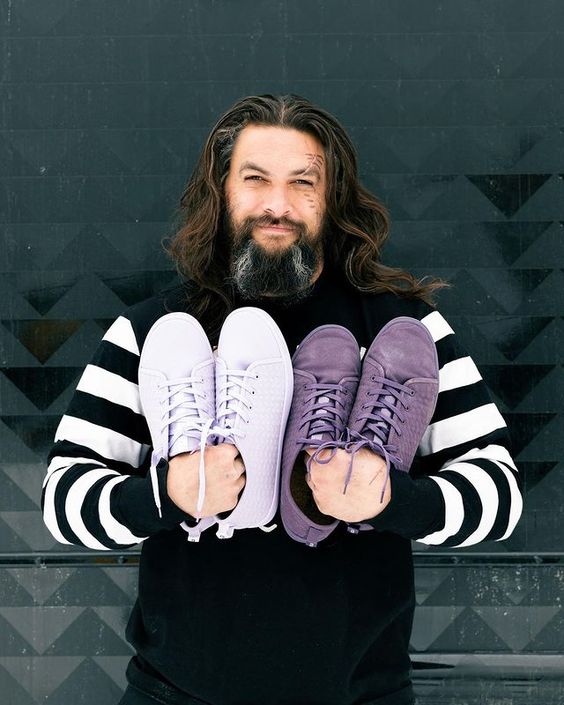 So, Is Jason Momoa Vegan, Then?
Although he's created a few ranges of vegan bags and shoes, sadly, the actor is not vegan. But that being said, he is passionate about the environment, and he does stuff to try to make the planet a better place.
For example, besides using recycled plastic bottles to create his accessories lines, Momoa is also behind Manalau, a water company that uses recyclable aluminum cans instead of plastic bottles. And get this: to promote his mission of ridding the world of single-use plastics, Momoa shaved his manly beard in a 2019 YouTube video that has had millions and millions of views.
"We've gotta get rid of these plastic water bottles," Momoa said. "Aquaman is trying to do the best he can; for my kids, for your kids, for the world."
Thanks, Aquaman!
For more information on Jason Momoa designs, please click here.
Latest posts by Chere Di Boscio
(see all)