Why buy accessories from polluting companies when there are so many sustainable fine jewelry brands?
If you love accessories and have high ethical standards, you may have a heck of a time finding stunning jewels that don't hurt the earth and its people. Due to nasty mining practices and dirty politics, it's pretty clear that even 'certified' diamonds can NOT be a girl's best friend.
Moreover, gold mining is one of the most polluting of the extractive industries' activities. And some coloured gems, like emeralds and rubies, are just as bad as 'blood diamonds' since they're often traded by corrupt regimes or drug traffickers for arms.
Sure, there's a lot of creative and ethical costume jewelry out there, but what to do if it's haute joaillerie that you're after?
Luckily, we've found 10 amazingly sustainable fine jewelry brands perfect for luxury lovers with a conscience. All of these also make great investment pieces that can be passed down through the generations.
Sustainable Fine Jewelry Brands With Fine Ethics
Since launching one of the sweetest sustainable fine jewelry brands, Rony Vardi and Leigh Plessner's Catbird label has established a cult following, with fans including celebrities like Emma Watson and Michelle Williams. Their handmade earrings, bracelets, necklaces and rings are made by artisans in their Brooklyn studio, where they design and craft every piece of jewelry with sustainably sourced materials.
And there's more: Catbird supports the living wage and its local community by contributing 1% of its annual sales to nearby charitable initiatives.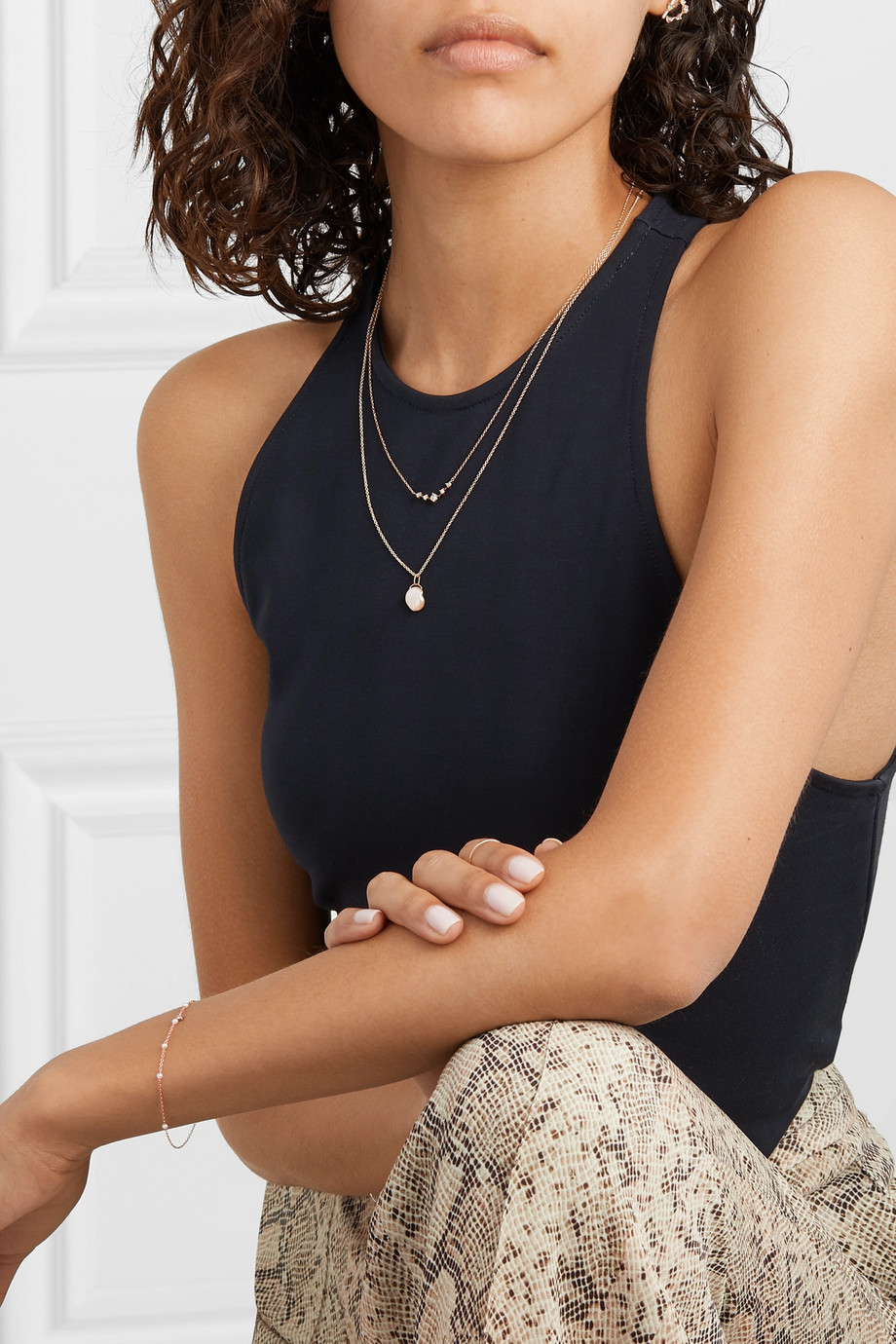 2.
Melissa Joy Manning
Melissa Joy Manning's design process starts with laying out an assortment of raw-cut, stones in her studio and seeing what combinations speak to her. She then hand-casts molds to make the piece her muse dictates.
Her materials include recycled silver and 14-karat gold, as well as sustainably sourced gemstones and crystals, and her style could best be described as 'understated Bohemian.'
Arabel Lebrusan honours European history in her creations, since the expert hands of Spanish craftsmen forge her signature  filigree patterns, some of which date back to the ancient Greeks. Using specialist hand engraving tools and with years of experience behind them, her artisans forge engagement rings, necklaces, bracelets and bangles using Fairtrade and Fairmined ecological gold, as well as Fair Trade, ethical gemstones.
The beauty of her creations is fit for royalty – no wonder Queen Letizia was spotted wearing one of her jewels!
Of all the sustainable fine jewelry brands, this is probably the one that cares most about people. Pippa Small hires fairly waged artisans in Rajasthan, India, to make her pieces. She is committed to not only providing long-term job opportunities to locals by working with artisan collectives across India, Afghanistan, Myanmar and Bolivia, but is also concerned with preserving traditional craft techniques.
Her jewelry is full of symbolism, and often draws inspiration from ancient Asian symbols, Buddhist iconography, and the beauty of South East Asia.
Seattle based brand Aide-Mémoire Jewelry have recently launched their Sculpted Collection, which fuses together reclaimed gold jewellery with lab-grown diamonds. Also called 'synthetic diamonds', these have a much smaller social and environmental footprint than mined diamonds.
Their sculpted pieces include everything from dainty pendants to statement rings, and the brand fits nicely in the space between lavishly expensive jewelry and mass-produced costume accessories. Each item is made by hand and caters to those looking for ethically and environmentally sustainable jewellery that will last for years to come.
Ethical jewellery designer Bliss Lau believes strongly that jewellery should be a physical experience, inspired by sensuality and structure. Bliss elegantly juxtaposes dichotomous relationships – bold and delicate, bound and free, organic and linear – and embraces the interplay between them to create both fluid and kinetic forms.
Throughout the evolution of her career, she's collaborated with several other talents, such as SeeMe, the jewellery brand. The resulting partnership produced gorgeous body chains, below, that completely transform everyday outfits into hyper chic fashion statements.
Founders love pretty, shiny things, but hate environmental destruction and human exploitation, so they created a fine jewellery label called Lark & Berry that they knew would always be ethical – because they create the stones they use themselves – in a lab.
Their cultured diamonds have the exact same chemical structure of a mined diamond, and are created in the same way the earth creates the stones, through heat and pressure. Not even most trained experts can tell the difference – but you can rest assured lab-created diamonds are 100% conflict free.
This Los Angeles based sustainable fine jewelry brand does something few others do. Namely, they embrace nature's imperfections by using the cultured pearls that are cast aside by most fine jewelry brands. Instead of disregarding these tiny nuggets, they hand make delicate pendants and bracelets out of them, showcasing their unique look and individual beauty on ethically sourced gold.
Washed Ashore believe that objects carry energy – especially stones and crystals. For that reason, the origins of their raw materials and how their jewelers are treated and paid are of utmost importance to the integrity of the brand.
Her gemstones may be opaque, but Wwake's Designer Wing Yau's design process is totally transparent! She believes it's vital to know all the hands the brand's components pass through before she finally assembles them into her ethical fine jewelry line.
For this reason, she only uses Fairmined gold, and works closely with the mines the stones are sourced from and artisans that shape and cut each one. Aiming to offer "a new perspective on heirloom jewelry" Yau uses recycled and fairmined gold to make her signature pieces.
Using only consciously sourced gems to create delicate, minimalist accessories for the modern woman, this ethical fine jewelry label was founded by Sydney-based duo Sarah Gittoes and Robert Sebastian Grynkofki.
With respective backgrounds in design and goldsmithing, they duo say they're drawn to "the beauty in modern simplicity". All of their metals are certified by the Responsible Jewellery Council (RJC) as meeting the ethical, human rights, social and environmental standards as established by the RJC's Certification System.
Latest posts by Chiara Spagnoli Gabardi
(see all)