Want to buy jewelry free from exploitation and destruction? You need to learn about these ethical jewelry certifications!
By Lora O'Brien
Sure, diamonds may still be a girl's best friend. But we have questions. Like: Where did they come from? Were children mining them? Were they sold to fund wars?
And it's not just diamonds that can be bloody, either.
Gold mining often uses child labor, and pollutes ecosystems with deadly mercury. Gemstone mines also often use children, or poorly paid labor. And conditions for workers can be less than safe, shall we say.
That's why transparency during every step of the jewelry making process is crucial! This ensures that your jewelry is mined legally, sustainably, and responsibly.
Not sure how to pick the 'cleanest' jewelry out there?
Luckily, there are some ethical jewelry certifications you can look for. These help you to shop with the confidence of knowing your jewelry comes with a conscience.
Main image Lark & Berry Image below: Sezane
11 Essential Ethical Jewelry Certifications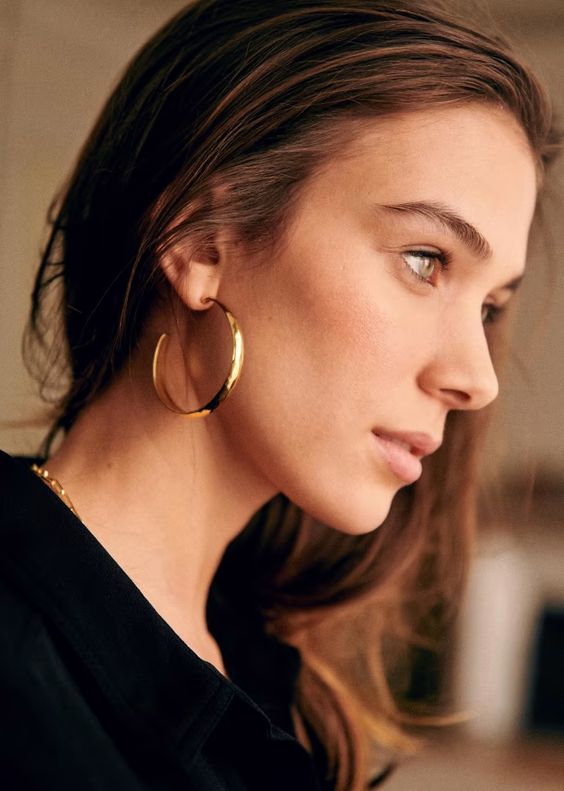 1. Fairtrade
Fairtrade is one of the best known ethical jewelry certifications. In fact, it was the world's first ethical certification system for gold.
When you buy Fairtrade gold jewelry, you can be confident that you're supporting small-scale miners who have treated their employees fairly every step of the way.
Many gold miners working in small scale mines are more often than not doing so horribly. They work under dangerous conditions. Child labour is rife. The pay is incredibly low.
Fairtrade works with artisan and small-scale mines and helps them to improve their pay and working conditions so that their wellbeing is prioritised. They also teach about safe practices and environmental protection.
The Fairtrade certification is only given once a gold mine meets the very strict Fairtrade standards and becomes a certified producer of Fairtrade gold.
Where to shop: Ingle & Rhode was one of the first ethical brands to sell Fairtrade gold. Viltier is a high-end brand that uses it, but Ten Thousand Villages offers Fairtrade jewellery that is super affordable, too.
2. Institute for Responsible Mining Assurance
This is probably one of the largest and most comprehensive of all the ethical jewelry certifications. The Institute for Responsible Mining Assurance (IRMA) exists solely to verify the performance of mine sites.
They do so by doing audits on the sites so that they can verify responsible mining practices. The IRMA certification ensures that both the social and environmental performance at mine sites worldwide adheres to responsible mining.
The results from these mine sites are made public. Brands can then work to provide credible information to potential buyers who are seeking to buy responsibly mined materials.
3. The Kimberley Process
A diamond may look pretty, but it can hold a terrible story of how it came to be. Blood diamonds, also known as conflict diamonds, are stones that have been mined in a war zone. This means they're often traded for arms. Additionally, they're frequently obtained using forced and/or child labour before being traded illegally.
The Kimberley Process Certification Scheme is a commitment to remove conflict diamonds from the global supply chain. The international certification scheme works to regulate trade in rough diamonds to prevent the flow of conflict diamonds being sold, while simultaneously helping to protect legitimate trade in rough diamonds.
Today KPCS participants work to actively prevent 99.8% of the worldwide trade. Perfect if you're hoping for an ethical wedding!
Where to shop: Brilliant Earth offers stunning ethical jewelry that is also Fairtrade Gold and RJC certified. DeBeer's are Kimberley-Process-certified.
Image: CuroModa
4. Responsible Jewellery Council
The Responsible Jewellery Council (RJC) is the global standard for the responsible jewellery and watch industry. Focused on the belief that a responsible business is the most beneficial to the planet, they help to certify brands that cause no harm to people or the planet.
RJC focuses on business ethics and responsible supply chains, and their code of practice covers everything from the primary minerals and metals used to manufacture jewellery, such as gold, silver, platinum group metals, and diamond and coloured gemstones.
Where to shop: Mejuri sells RJC certified and responsibly sourced metals and stones. Sézane also sells jewelry that is RJC certified.
5. Lab Grown Diamonds
Did you know? Ethical jewelry certifications for lab grown diamonds exist, too! In fact, they use the same certifications as the Kimberley Process. Although this Process has a few downsides (i.e. it can be very hard to trace the origins of a stone at times), lab grown diamonds are different.
Also called synthetic diamonds, these stones are made in a lab. And you can rest assured that no destruction from mining or child labor went into making them! They share all the exact same qualities as mined stones. In fact, many world-leading experts cannot tell the difference.
Where to shop: Ritani is proud that all of their lab-grown diamonds also come with a Kimberley certification. Lark & Berry also make gorgeous, authentic, ethical lab-grown diamonds.
6. B Corps
To put it simply, B Corps companies are ones that use their business as a force for good. These brands meet the highest verified standards for various factors. These include: social and environmental performance, public transparency, and legal accountability.
A B Corps certification helps consumers, sure. But it also encourages businesses worldwide to shift their businesses towards being more inclusive and sustainable. B Corps doesn't just give out ethical jewelry certifications, though. They also certify clothing.
Where to shop: Fairtrade jewelry brand SOKO is certified B Corps. It offers lots of classics and luxury pieces. Nisolo is another B Corps certified brand that collaborates with local artisans in Peru, Mexico, and Kenya.
7. Fairmined
Fairmined is another of the ethical jewelry certifications that assures gold from small-scale mining organizations embrace responsible mining and business practices. The Fairmined certification certifies that gold has come from empowered, responsible, artisanal and small mining companies. They help to shine a light on the positives of the mining industry, and highlighting brands who do good. While the use of mercury is common in gold mining, it's not used in Fairmined gold.
Likee Fairtrade, the Fairmined certification is backed by a 3rd party certification and audit system that observes whether the mining organisations are meeting the a variety of standards. These include: responsible practices, social development and environmental protection.
Where to shop: ANUKA is a brand that crafts stylish jewellery using responsibly sourced and Fairminded gold, and they have a fully transparent supply chain.
8. SCS-007
When shopping for a diamond, there are a lot of things to consider. Is it conflict-free, environmentally sustainable and ethically produced, for example? Luckily, there's one ethical jewelry certification that makes answering those questions much easier.
The SCS-007 certification offers independently verified proof of a diamond's origin and journey. This is done through evidence-based information that presents vital information to dealers, designers, retailers and customers. These facts help them to shop with confidence, while also making it harder for blood diamonds to flood the market.
Where to shop: Brilliant Earth has signed up with SCS to sell SCS-007 certified sustainability rated diamonds.
9. Regeneration
Regeneration is one of the most unusual ethical jewelry certifications. It's a revolutionary new start-up that uses the processing of waste from old mine sites to support rehabilitation activities and restore natural environments surrounding legacy mines.
Founded by RESOLVE, a Washington DC-based NGO with a proud history of endangered species recovery in the mining space, Regeneration re-mining brings important ecological benefits for our world—all while producing efficiently-mined minerals.
Where to shop: Mejuri is the only founding jewelry partner of Regeneration and has invested 1.5 million USD in the re-mining initiative.
10. Alliance for Responsible Mining
The ASM (Alliance for Responsible Mining) is a bit different from the rest. This is an innovative digital online tool. It provides reliable information about the progress of the mining organizations in their ESG practices.
While we are not at all keen on ESG practices (see why by clicking this link), the ASM also follows the codes of the CRAFT code, which mitigates safety risks in mining,  Fairmined standards, and the Forest Smart Mining standard.
Where to shop: Most larger brands, like Cartier, will source metals from the ASM, as well as other ethical jewelry certifications.
Image: Cartier
11. Gemfields
Sure, we know any diamond brand following the Kimberley Process is ok. But what about ethical jewelry certifications for colored gems? Enter Gemfields!
Gemfields is one of the newer ethical jewelry certifications. Well, it's actually not so much a certification, as a company that specialises in the mining and marketing of emeralds and rubies from some of the finest sources in the world.
They ensure sustainability all the way from the mine, through to the end consumer. Gemfields work with cutting-edge designers as well as some of the most iconic brands in the world.
Where to shop: AYA and Sandy Leong are just two awesome jewelry designers who use Gemfields stones.
Latest posts by Lora O'Brien
(see all)