Think they're just for meat? Think again! We've got tons of vegan air fryer recipes here!
By Lora O'Brien
Yep, it's true that most people use one for meat, to reduce fat. But did you know there are loads of vegan air fryer recipes out there, too?
The air fryer has revolutionised how we eat. It's the ultimate kitchen accessory for cutting down on cooking with excess oil. It's pretty much as the name suggests: a machine that allows you to get the effects of 'deep frying' food – minus the oil!
The machine cooks with hot air, and has many benefits over frying, such as being:
Safer: (deep frying can be dangerous – even tiny splats of oil can burn!)
Faster: A good number of air fryer models do not need to be preheated before use; others preheat quite fast. You can get frozen fries, chicken fingers and other snacks from the freezer, chuck them in the basket and cook right away.
More energy efficient: Unlike kitchen appliances like a convection oven, a broiler or even a toaster oven, some fryers can be more energy efficient.
Healthier: Not only are you saving yourself unwanted calories, but you're boosting your health, too. Did you know that the trans fats in fried foods are associated with an increased risk of many diseases, including heart disease, cancer, diabetes and obesity?
In short, a good air fryer is going to save you time, energy, and will give you a health boost, while providing tasty food. What's not to love?
How To Buy An Air Fryer
These machines can be a bit on the pricey side, so it is very important to look at the features and characteristics that make an air fryer "good" (i.e. worth the investment).
Some key features to look out for are: safety, maintenance, cooking capacity, and warranty. Unfortunately, the warranty is not the same for all models, as it really depends on the manufacturer and/or the seller that you're buying it from. When it comes to the other features stated, you should be able to see it even in the most basic models.
You'll also need to think about how often you'll use the fryer, and for how many people. If you're single or in a couple, a smaller model, such as this one by Faberware would be ideal. Priced at under $50, you'll have zero regrets!
On the other hand, if you'll be using the fryer more than a few times a week and/or have a larger family, you may want to invest in something like one of these super-solid air fryer models by Ninja.
From vegan fried 'chicken', fries, veggies and even air fryer desserts, the possibilities of what you can make in an air fryer are endless. But one thing is for sure – your food will not only taste great, but will also be a helluva lot healthier when using one of these bad boys!
Main image: expertreviews.co.uk Image below: airfryer.bakavonturen.club
30 Crispy Vegan Air Fryer Recipes
1. Vegan Air Fryer French Toast
What better way to say hello to a lazy weekend than with some French toast? This recipe takes things up a level with the addition of crunchy pecans and crispy oats. Enjoy as it is, or drizzle some maple syrup or peanut butter over it.
Get the recipe here.

2. Air Fryer Granola
Who doesn't love granola? Whether you enjoy it with plant milk for breakfast or use it as a yoghurt topper, you'll no longer have to bake it in the oven. Whip up a quick batch using this air-fryer recipe. Its simple, yet super yummy. The perfect staple to have on hand for breakfast during the week!
Get the recipe here.
3. Air Fryer Sushi Rolls
I bet you didn't think an air fryer could be used to make sushi? Well, what a time to be alive! These sushi rolls are delicious, a bit crispy, and super fun to make. Paired with a sriracha dipping mayo, it's the perfect way to have your sushi and eat it!
Get the recipe here.
4. Taco Crunch Wrap
This vegan crunch wrap supreme is one of my very favourite vegan air fryer recipes! This air fryer version is easy and quick to make and can be ready to eat in no time. The perfect lunch or snack!
Get the recipe here.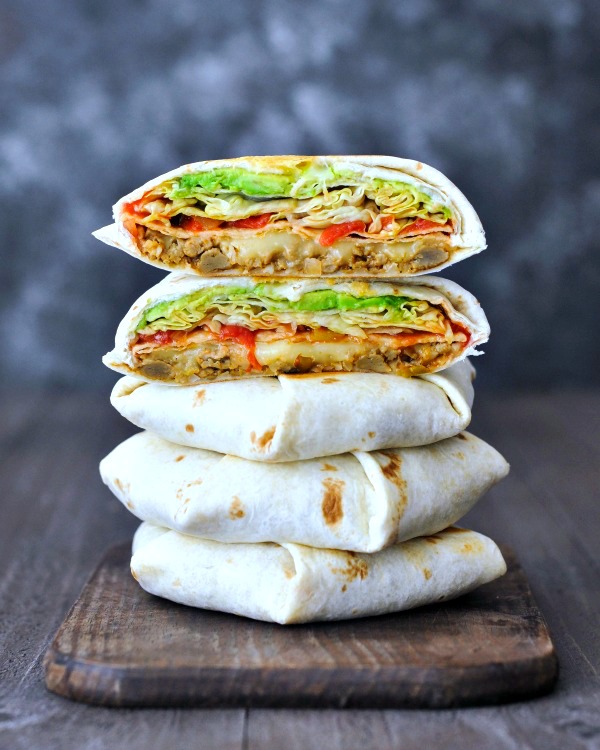 5. Vegan Arancini Balls
Arancini are delicious fried rice balls. This vegan recipe stuffs them with warm, gooey vegan mozzarella and serves them with a mouthwatering arrabbiata sauce. Cooking them in the air fryer until they're warm and oozing melted cheese is my favourite way to eat them. Yummy!
Get the recipe here.
6. Crispy Air Fryer Apple Chips
I never thought of using air fryer to make vegetable chips, and it's honestly been a revelation. If you've got leftover fruit, simply chop them up and toss them into your air fryer to make a quick and healthy snack. The possibilities are endless, but apples make a delicious place to start.
Get the recipe here.
7. Smoky Air Fryer Chickpeas
I make roasted chickpeas weekly, but every so often I forget they're in the oven until they're so hard they could chip a tooth! Pop these smoky chickpeas into the air fryer for a quick, easy and healthy snack. They're ridiculously moreish, and come out perfect crispy – although you could cook for less if you prefer them on the softer side.
Get the recipe here.
8. Air Fryer Potato Wedges
I love making potato wedges but HATE how much oil they use to become crispy. Even the healthiest of olive oils turns bad for you when heated high. But this is one of the best vegan air fryer recipes for saving on oil! They're seasoned with a bite on the outside, yet tender inside – just how a wedge should be!
Get the recipe here.
9. Air Fried Italian Style Tofu
If you've ever cooked tofu in the oven, you'll know it can come out a bit rubbery. Now you can get delicious, crispy tofu by using an air fryer – without the oil! Then you can use the tofu in salads, bowls, wraps or however you please!
Get the recipe here.
10. Crispy Air-Fryer Wontons
Got a craving for wontons? Make them at home using your air fryer! These will become your new obsession, I swear. They're vegan, healthy and fun to make. These taste like you got them at a restaurant. You'll impress your family and family with this recipe, whether they're vegan or not.
Get the recipe here.
11. Healthy Zucchini Chips
Got veggies to use up? Make veggie chips! These zucchini chips with a vegan basil aioli are a super tasty snack idea, and a great flavour-packed way to use up any lingering zucchini you may have lurking in your fridge.
Get the recipe here.
12. Air Fryer Falafels
Though easy to make, falafels are another dish that is usually deep-fried, using a tonne of oil. This recipe makes falafels that are crunchy on the outside, soft on the middle, and loaded with flavour. Stuff them in a pita packed with veggies and tahini sauce for a quick and tasty meal.
Get the recipe here.
13. Perfect Crisp Air Fryer Ravioli
These crispy, creamy, air fryer ravioli are such a fun and poppable snack! Whether you enjoy them as an appetizer, a snack or you turn them into a homemade meal, they're going to be a real crowd-pleaser.
Get the recipe here.
14. Air Fryer Baked Potatoes
Got no time to bake potatoes in the oven? Chuck 'em in your air fryer! Depending on the size of the potato, they're going to cook within 35-40 minutes. Perfectly crisp on the outside and pillowy soft inside, they will be the best baked potato you've ever tasted. Plus this is a simple, low-number-ingredient recipe to make.
Get the recipe here.
15. Easy Air Fryer Seitan Vegan Riblets
If you've ever been daunted by the idea of making seitan, you have to try this recipe – it's honestly super easy! The seitan goes through two baking cycles in your air fryer creating a chewy mock meat that is then easy to add to a whole range of recipes – like BBQ vegan ribs!
Get the recipe here.
16. Cajun French Fry Po' Boy with Mushroom Gravy
Traditionally, a Fry Po' Boy is french fries stuffed inside of a baguette and smothered with roast beef gravy. This vegan version uses fries that are baked to get a crispy crust, and a homemade mushroom gravy full of delicious umami flavours. You won't miss the meat, and you'll devour this bad boy in minutes!
Get the recipe here.
17. Potato Air Fryer Tacos
Get the recipe here.
18. Vegan Chick'n & Waffles
This popular American dish is usually laden in grease and far from healthy, not to mention non-vegan! So this vegan recipe is a refreshing take, turning the dish onto one that is both healthy and plant-based. The meatless dish is allergy-free, oil-free and made with crispy air fried "chicken" and fresh, fluffy, homemade waffles. Yum!
Get the recipe here.
19. BBQ Lentil Meatballs
Love the delicious, sweet taste of BBQ sauce? If yes, then you'll love these air fryer BBQ lentil meatballs. Chewy and flavoursome on the inside with a crunchy exterior, these are slathered in a delicious BBQ sauce. Anyone else drooling? These are perfect for adding into pasta, Buddha bowls, stews, you name it!
Get the recipe here.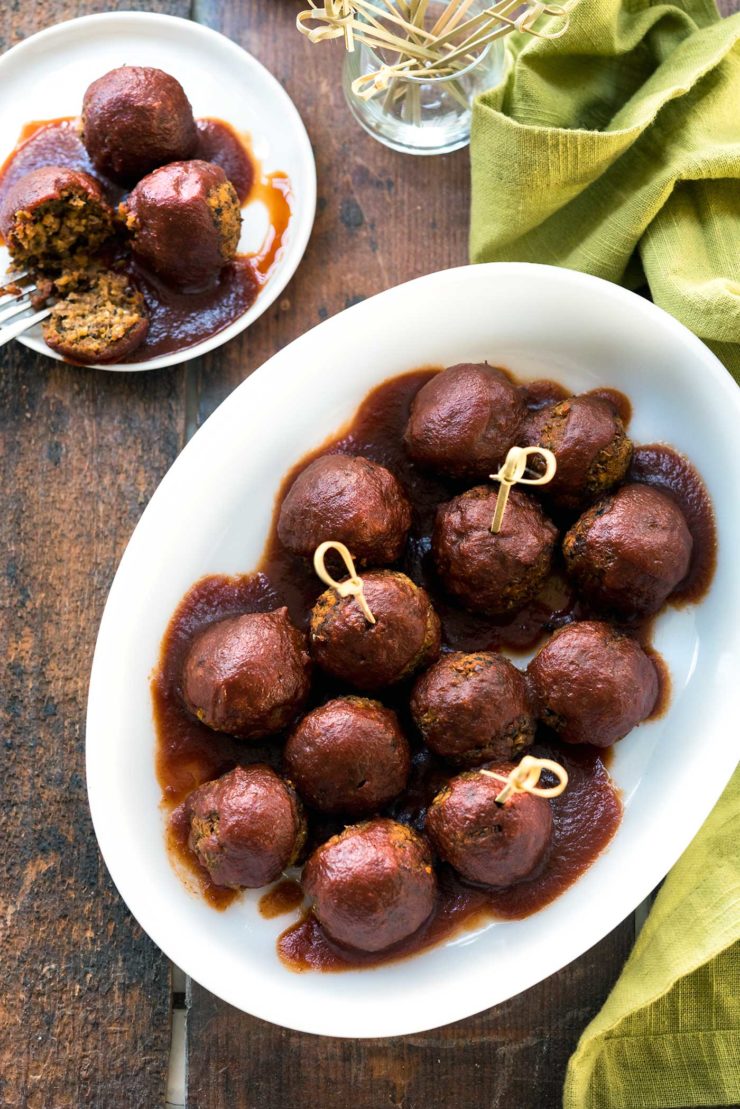 20. Air-Fried Spring Rolls
I love making spring rolls, as it's so easy to switch them up by changing the veggies you use. Serve them up alongside an Asian dipping sauce, and they will go down a real treat.
Get the recipe here.
21. Air Fried Tofu Nuggets
Got a fast food craving? These tofu nuggets may be the best of all the vegan air fryer recipes for you! They're air-fried without any oil and are super good for you. Finished with a simple panko bread crumb and nutritional yeast for the ultimate tasty crunch, they're heaps better than anything a fast food joint serves up!
Get the recipe here.
22. Portobello Mushroom Pizzas
Who said vegan air fryer recipes couldn't include pizza? Well, kinda. Portobello mushroom pizzas are a light and easy alternative to pizza. Stuff them with whatever you fancy, but make sure you add on some gooey vegan cheese – mmm!
Get the recipe here.
23. Air Fryer Cauliflower 'Steaks'
Cauliflower steaks are now a vegan staple. Looking for crispy buffalo streaks without using a vat of hot oil? This recipe will give you perfectly crispy steaks, the perfect filling for a sandwich, a burger or simply chopped up into a salad. Yum!
Get the recipe here.
24. Air Fryer Buffalo Cauliflower Wings
This is one of the tastiest vegan air fryer recipes for sharing with friends! These little bites are easier to make than fried Buffalo cauliflower wings, but are just as delish.
Get the recipe here.
25. Air Fried Beignets
Our vegan air fryer recipes don't just include savoury foods. You can use your machine to make sweet treats, too! And a great recipe to try? This recipe for vegan beignets! They're basically donuts. And they're super rich thanks to the full-fat coconut milk and dusted in glorious icing sugar.
Get the recipe here.
26. Strawberry Lemonade Vegan Pop-Tarts
I'm sure we all remember enjoying a pop tart sometime during our childhood, back when we'd grab sugary snacks like Pop Tarts as a quick breakfast. This recipe gives a healthy, vegan makeover to the popular treat, perfect for when you need a little pick me up.
Get the recipe here.
27. Air Fried Oreos
Fried fast food is trending. But not only is it super unhealthy, it can leave you feeling pretty sluggish! This fried Oreo recipe is a healthier version of those foods you'd find served at a state fair. With just 3-ingredients, they take only 5 minutes to make.
Get the recipe here.
28. Peanut Butter Oatmeal Cookies
Bake these healthy vegan peanut butter oatmeal cookies in the air fryer! They make crunchy, delicious cookies that are super moreish. Both the aroma and taste will have you drooling.
Get the recipe here.
29. Crumble with Blueberry & Apple
A crumble is a super delicious way to use up any leftover fruit. Apples and blueberries are my favourite fruits to put into one. What's even better? Using them both! This crumble is loaded with flavour, and has no oil – this recipe uses aquafaba or applesauce instead.
Get the recipe here.
30. Small Batch Brownies
Who doesn't love the ooey, gooeyness of a chocolate brownie? And now you don't have to wait for it to bake – simply pop it into the air fryer for twenty minutes and you can come back and tuck in. Yum!
Get the recipe here.
Latest posts by Lora O'Brien
(see all)