These gorgeous eco kimono brands make stuff you can wear to sleep, outside, and even on the beach!
By Neesha Gill
So essential was the kimono to traditional Japanese dressing, the word itself just translates as 'clothing'. But of course styles change, and the kimono was only used at traditional ceremonies like weddings and graduations  for awhile until the Boho trend revived the  garment as a jacket or cover up.
The loose robe we associate the word with has roots dating back to the early 16th century. In Japan's  Heian period, a new kimono-making technique was developed. Known as the straight-line-cut method, it involved cutting pieces of fabric in straight, rectangular lines and sewing them together. With this technique, kimonos could fit any body shape or size, but there were other advantages too: they were easy to fold, could be worn with many layers underneath and were suitable for all seasons. No wonder kimonos became  a sartorial staple in the Japanese closet.
Over time, people began playing with colour, using it to express the social or political class of the wearer. Warriors dressed in colors representing their leaders, and sometimes the battlefield was as gaudy as a fashion show. As they were worn by the creme de la creme of society,  kimono making grew into an art form and kimonos became so valuable, parents would hand them down to their children as family heirlooms.
The Meiji period (1868-1912) changed Japan forever. For the first time, the country was heavily influenced by foreign cultures and the government encouraged people to adopt Western clothing and habits. Wearing kimonos soon became confined to mainly formal occasions, and today Japanese people rarely wear kimonos in everyday life, reserving them for such occasions as weddings, funerals, tea ceremonies, or other special events.
Fortunately, their comfort and beauty has been revived as part  of a popular trend amongst Boho fashionistas everywhere, and pure, natural silk or organic cotton kimonos are popping up in the collections of designers from around the world. Here's our pick of some of the best eco kimono brands we know of.
5 Awesome Eco Kimono Brands
This is perhaps the most traditionally styled brand in our list. Made of pure silk and painted by hand on both the front and back, these pieces are almost lovely to wear only inside the home! We'd use one as a lightweight jacket over jeans or trousers.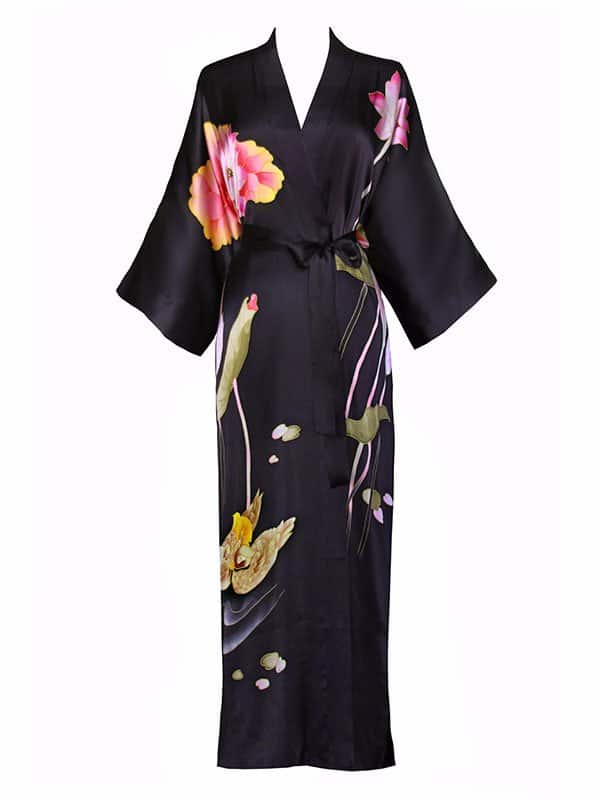 This  contemporary luxury lifestyle brand comes out of London, but their manufacturers and printing mills work with high quality silk, sourced exclusively from the UK and Italy.
Meng is best known for their  delicate and feminine oriental designs ranging from pretty cherry blossom prints to bursts of exotic flower patterns. These beauties were made for the beach…or the bedroom!
The unique eco-friendly fashion brand Abraxas Rex was founded by unique independent designer and artist Paris Kain. His hand-painted silk kimono wraps use bold and vibrant patterns and their rich colours are derived from natural sources. They're stunning, one of a kind pieces that look great worn as a dress or even over jeans.
Founded in 2002 in Sydney, Australia by talented sisters Alexandra and Genevieve Smart, this brand claims to 'design for spirited women'.
The brand is also accredited by Ethical Clothing Australia, originally the 'No Sweat Shop' label. They pride themselves on using only the finest quality materials and first rate manufacturers.
Their kimono-inspired dress collection is made  with 100 per cent printed silk, and is designed to be worn as evening wear or chic daytime dresses.
This is a relatively  new fashion brand that offers exclusive designs in digital prints. They only use premium Italian fabrics for their sewing work and digital printing, and all of their pieces are ethically  made in Spain.
We particularly like the printed 'obi', or traditional Japanese kimono belt, that adorns each design.
This site uses affiliate links with brands we trust, and if you make a purchase using a link, we may receive a commission.
Did you enjoy this post? Want to show your gratitude? Please support us on Patreon!