Think maxi dresses, high waisted trousers and slip dresses are new? Nope! They're all the result of 30s vintage fashion influences
By Angela Petraline
When we think of vintage fashion, often certain eras come to mind. The hippy chic of the 60s and 70s. The rave culture of the naughties, or perhaps 90s grunge.
But rarely do we think of the 1930s, and that's a shame, because it's one of the most important decades for fashion, without a doubt.
In fact, 30s vintage fashion has influenced pretty much all designers to some extent or another, both past and present. These include the maxi dresses of Ossie Clark in the 70s, Galliano's bias-cut dresses in the 1990s, and Prada's prints in the 2000s.
Read on to see how this era probably influenced half the clothes in your closet right now. And the best part? The modern look of 30s vintage style means you can easily incorporate clothing that's nearly 100 years old into today's wardrobe. If you can find such vintage treasures, that is!
Main image: Schiaparelli And Prada: Impossible Conversations Costume Institute Exhibition – Metropolitan Museum of Art
Impact of 1930s Fashion On Clothing Today
1. Arty Prints
Thanks to digital printing, we're seeing more motifs on clothing than ever before. Think foreign postage stamps at Mary Katrantzou; dragonfly motifs at McQueen; Renaissance art prints at Dolce and Gabbana.
But large, kitschy prints are nothing new in fashion, especially for the vintage  aficionado. In fact, 'novelty prints' have been prominent in fashion for decades. You could say we have 30s vintage fashion to thank for that.
Back in the day, many of these prints were borne of a collaboration between artists  and fashion designers as far back as the 1920s, with one of the most notable pairings being designer Elsa Schiaparelli and surrealist artist Salvador Dali in the 1930s and 40s.
Schiaparelli's work with prints was especially prolific and elegant. Many of her designs could still easily be worn today, as the Metropolitan Museum of Art's 2012 show, Schiaparelli & Prada: Impossible Conversations pointed out. In fact, can you tell Schiaparelli's work from the 1930s from modern Prada in the picture from the Met's show, below?
Some of the most common motifs were domestic animals (dogs, rabbits, cats), floral clusters and foliage, often with a polka dot background. In fact, the polka dot was possibly the defining print of the day.
Image below: Schiaparelli And Prada: Impossible Conversations Costume Institute Exhibition – Metropolitan Museum of Art
2. Gorgeous colours
But not all clothing had a pattern. Dyeing techniques from this era were experimenting with new colours. Namely, pastels, As a result, solid textiles in dusty rose, lilac, buttery yellow and cornflower blue were all the rage. So another of the 30s vintage fashion influences on modern clothing we can see is the use of new, exciting, solid colours.
Image below: Vintage pattern design
3. Hippy origins
There can be little doubt that 70s vintage is having a huge moment right now. From midi-length skirts, 'angel wing' sleeves, and maxi dresses, it feels like this summer is nostalgic for the original 'Summer of Love.'
Although may associate these silhouettes with the late 60s and early 70s today, guess which era designers from the 70s got their inspiration from? That's right: 30s vintage fashion. I'm sure those designers probably looked into grannie's wardrobe to get a few ideas. And yes, they also used a lot of print: think Ossie Clark and Biba, for example.
Image below: Schiaparelli And Prada: Impossible Conversations Costume Institute Exhibition – Metropolitan Museum of Art
4. Sexy silhouettes
You might think your gran or even great gran was a bit of a prude way back in the day. But nothing could be further from the truth! In fact, 30s vintage style was all about the sexy, slinky bias cut gowns with plunging necklines.
This look is perennially chic, but make an enormous comeback in the 90s, thanks to the likes of Kate Moss, Courtney Love and Winona Ryder, who loved wearing slip dresses out to parties. With or without an ironic tiara!
5. High waisted trousers
Here's another trend we associate with the 70's that's actually 30's vintage: the high waisted trouser. In fact, this may be one of the most important 30s vintage fashion influences on modern clothing right now.
Worn best by Katherine Hepburn in several of her films and also by Coco Chanel, these pants look utterly modern today.
They're beautifully cut, roomy and drape like a dream. Best worn with a cropped top and/or bolero jacket, with standout accessories, like large bangles or rings.
Photograph below by The Seeberger Brothers.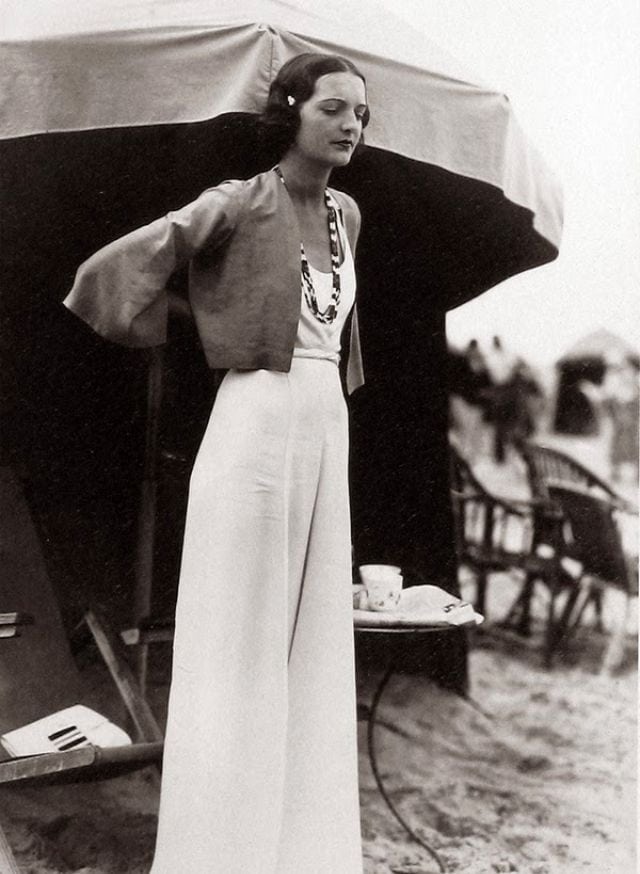 It's clear that 30s vintage fashion influences on modern clothing are strong.
For me, it's incredible how there seems to be very little new in modern clothing. But that's not a bad thing at all! It makes mixing and matching vintage pieces into your wardrobe all the simpler.
Adding vintage to your closet not only reflects the eras they were created in, but also adds a truly unique and whimsical angle to a vintage wardrobe. I think hunting for vintage clothing  is  the perfect way to stay eco-conscious, while being on trend.
And of course, if you can manage to find a treasure like a Dali/Schiaparelli print, grab it! That's not just fashion, that's art, that's bound to be a collector's item for decades to come.
Love the look of 30s vintage fashion? Click here to see more amazing vintage clothing from the 20th century at vintage specialist shop Dorothea's Vintage Closet.