These quietly eco friendly fashion brands may not be as familiar as better known ones, but they're just as green!
By Mariam Ghaidan
Going green in fashion can be done in many ways. Clothing can be made locally or through Fair Trade agreements; only organic materials can be selected; recycled fabric could be used, and so on.
Some brands, such as Organic by John Patrick or Stella McCartney are very well known for their eco-credentials. Other labels, such as Vivienne Westwood, make quite a big deal about eco-issues, but are not at all eco friendly themselves (yep, it's called greenwashing!)
And some of the most eco friendly brands in the world are a bit shy about selling their sustainable qualities. Maybe it's because they want their designs to sell the label more than their ethics. Or maybe they just assume that all consumers expect fashion labels to be sustainable today, anyway.
In other cases, eco friendly fashion brands do mention a lot about their sustainability on their sites, they're still not as well known as their competitors, for one reason or another. And we want you to know about them!
So, we've selected a handful of eco friendly fashion brands from around the globe with a wide variety of styles. They range from bridal wear to activewear. What they all have in common is that they're dedicated to green fashion – though they may not necessarily shout about it much!
10 'Quietly' Eco Friendly Fashion Brands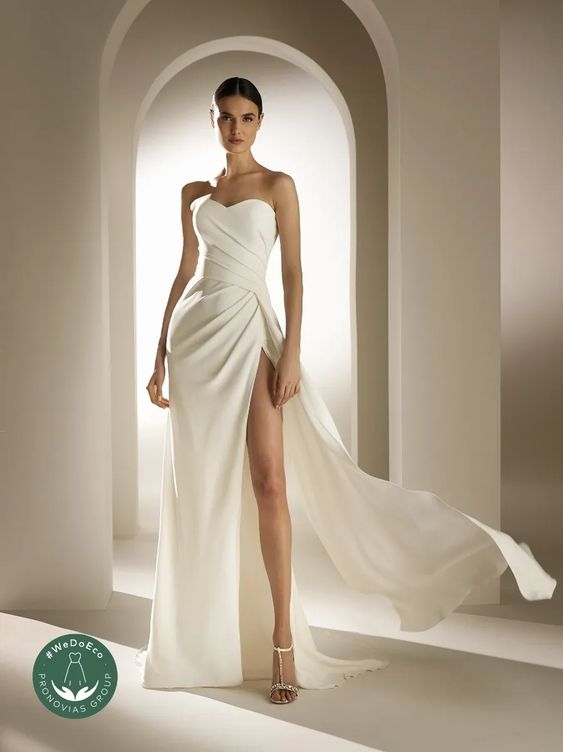 This is possibly one of the best known bridal brands in the world, but rarely is it associated with sustainability. Until now!
Pronovias has recently launched #WeDoEco dresses. These elegant bridal gowns and evening frocks are designed in Barcelona and are ethically made in the Pronovias Group workshops in Spain. Materials and accessories have been locally sourced in Europe, and all suppliers must sign of Code of Conduct protecting employees wellbeing and rights.
All the fabrics used are eco-certified, and swing tags are made of 100% recycled paper and 30% recycled fibers. Woven labels are made of 100% recycled cloth, and cover bags are comprised of organic cotton.
Pronovias #WeDoEco line is a wonderfully positive way to start off a 'new' married life!
Best for: Eco conscious brides
You may not know this, but LA based Style Saint is one of the a pioneering eco friendly fashion brands! They are proud of their sustainability, and every item for sale on their website clearly indicates why and how it's eco friendly.
They focus on quality rather than quantity, with a firm belief that fashion shouldn't be fast or disposable but worn all year round. In addition to this they are committed to making the (fashion) world a better place by taking what they have called the "creator-to-closet" approach, selling directly to customers with no retail markup.
Interestingly, all designs are determined by the customers themselves, who pin pics of their favourite looks on the site, which are then considered by Style Saint when creating their new pieces.
Their design innovations and clear labels indicating sustainability make them a firm favourite with us!
Best for: Hip, tech savvy millennials and Gen Z'ers who like to follow the transparency of a brand
You probably don't think of fast-fashion brand ASOS when it comes to eco friendly fashion brands — but that's all about to change. The Responsible Edit collection, brings this mega British online retailer into the realm of eco-friendliness. For example, one of their latest and stylish knits is made using recycled polyester, made out of plastic bottles and textile waste. This extraordinary new material saves energy, water and reduces greenhouse-gas emissions!
Best for: Fashionistas on a budget!
Although their love for nature is built into their name, many people think Amour Vert is simply a quality casual wear brand. Not all their customers realise just how earth-friendly the brand is. For example, few realise that their mulberry silk helps sustain mulberry trees, and doesn't harm the silkworm for the fabric. Nor do they know that for every tee you buy, the label will plant a tree, in collaboration with American Forests.
Another little-known fact about Amour Vert is that they only use non-toxic dyes to bring out the earth colour palette used by the label.
Best for: Wearing every day
This Canadian brand makes all the basics women need to get dressed: trousers, tops and jewellery. Though less known by more 'obvious' sustainable fashion brands like Reformation or Stella McCartney, Divinius is equally dedicated to dressing women who embrace environmental values.
One of the main fabrics they use is Tencel, which is, of course, made out of sustainable wood fibre. It's also durable and easy to wash. Additionally, Divinius makes recycled metal jewellery that's perfect for wearing on a date, at home, or at work. And the best part? Every purchase sends a donation to a charity that helps make the world a better place, whether it's by tree planting or educating female children.
Best for: Understated Canadian charm
The "Pact" this brand has made with the Earth is to use organic cotton and other sustainable materials for their clothes. Growing cotton organically saves enormous amounts of water and requires no GMO seeds or toxic chemicals whatsoever.
When it comes to manufacturing, Pact is just as conscientious, since it has partnered with fair trade certified factories, that guarantee safe working conditions and empower local communities. The collections offered by Pact are effortlessly classic, wearable and budget-friendly.
Men, women, children and even the home are all catered for by this highly transparent brand.
Best for: Everyone in the family!
This online platform gathers the most stylish sustainable fashion brands under one roof. Each one has at heart a cruelty-free, planet-friendly approach to the making of their clothing. The brands you will find featured range from Mara Hoffman, LemLem, A Peace Treaty, Eleven Six, and more.
Women will find tirelessly chic items that blend low-key and sass within the same item. You will love shopping on this quietly eco-friendly marketplace, for the wide range of pieces that you can wear for every occasion.
Best for: Finding the perfect gift for a friend. Or yourself!
Canadian consumer consciousness and Egyptian traditions merge in this cotton-based brand. Although all their cotton isn't 100% certified organic yet, Kotn is working on making that a reality. As of now, they produce all their minimalist basics from ancient strains of Egyptian cotton, which is planted, harvested and spun by fairly paid, small hold farmers and artisans.
They also ensure natural dyes are used to create their textiles, and they've even come up with innovative ways of saving both water and energy in the production of their cotton. If you would like to know more, the brand is fully transparent and provides loads of interesting information (and images) on their website.
Best for: Savvy sustainable fashionistas – there's a ton of information about their production processes on their site!
Foxology founder Dawn Foxall grew up surrounded by the Shropshire countryside, which nurtured her love for nature.
Egyptian organic cotton and Merino wool comprise the main materials for each of her designs. These materials are ethically sourced and produced in a circular way. Foxology also adamantly supports slow fashion, by making beautiful, long-lasting garments of the highest quality.
Best for: Basics with a touch of European chic
Activewear that's not only sexy, but sustainable, too? Sign us up!
Michi's fashion-forward leggings, tops, bras and jackets are both functional – and gorgeous. Some are inspired by super-heroines of the Nineties, others were inspired by the forms of nature. All materials used are eco-friendly, such as their Bluesign and Oeko-Tex certified textiles.
These materials are breathable and stretchable, and therefore deliver an outstanding performance during your workout!
Best for: Motivating you to get yourself into the gym!
Main image: Pronovias