We predict these fashion week hair trends will be huge in 2020
By Diane Small
Personally, I see fashion week as something like a glistening  crystal ball that gives us a peek into what the future will look like in terms of fashion, beauty, and hair.
And hairstyles do seem to define style decades just as much as clothes do: from 60s beehives, 70s hippy hair, 80's poufs and so on, you can pretty much tell when a photo of someone was taken depending on what their hair looks like.
So, what will the 20s look like?
Here, we've analysed all the looks from the fashion week hair trends to find the most awesome ones. There's a lot to choose from – braids, slicked back, wet look, and even teased and huge. Which style your favourite?
10 Of The Most Awesome Fashion Week Hair Trends
1. The Wet Look
One of the biggest fashion week hair trends was strands heavily shellacked in gel, pulled back in tight low buns and sculpted in fringe like formations with a glassy finish. The effect was futuristic and retro at the same time, giving a nod to the finger waves popular in the 1920s and 30s. In particular, models at Richard Quinn flaunted heavily gelled centre parted hairstyles that we loved.
Seen at: Burberry, J.W, Anderson, Richard Quinn, Victoria Beckham, Versace, Frankie Morello
Best for: Fine or thin hair, those with longer faces
Natural products to try: Herbal Choice Mari Organic glass gel. Made from organic ingredients, this will give you the look you want without the chemicals or plasticizers.
Image: @kaiagerber at Versace
2. Slicked Back Hair
Different from the wet look above, slicked back hair could look matte and flat, and instead of using gel, you can achieve it with, say, hairspray. But the main point here is that hair should be neat, tidy, and off the face. It's a timeless and elegant look that shows off your features beautifully!
Seen at: Richard Malone, Prada
Best for: Anyone looking for a clean, fresh hair look. It suits all face sizes
Natural products to try: A good natural hair spray, such as Rahua Defining Hair Spray can work for this look. You'll probably also need a few bobby pins to hold back stray strands.
Image: @prada
3. Deep Side Swept Parts
Dramatic and statement-making, side swept parts give a nod back to the stars of the silver screen in the 1940's – think Rita Hayworth or Lauren Bacall, for example. Just decide how dramatic you want the look to be: if you're down for just a bit of a side part, 'draw' a line with the tail end of your comb over the inner corner of your eye and blow dry your hair from there. Want a more defined side part? 'Draw' that line from the outer corner of the eye with the tail of your comb and do the same, then spray into place. We love this look for going out or pairing with a maxi dress.
Seen at: Prada, Longchamp, Tory Burch
Best for: Fine or thin hair, those with longer faces
Natural products to try: Use a good hair spray like this one by Josh Rosebrook to keep locks in place
Image: @BellaHadid
4. Braids Of All Kinds
Call it the Thunberg effect, but braids are back, in a big way! We saw them in pairs or in one solid plait behind slicked back hair; used as a Slavic 'crown', and there were even cornrows at Prabal Gurung!
Seen at: SportMax, Bobby Abley, Prabal Gurung, Erdem
Best for: Keeping thick hair looking chic
Products to try: All you really need are some elastics for this one – it even works on dirty hair! But to keep strands nearer the scalp in place, try some Eco Cosmetics Hair Gel.
Images: @MaxMara, @fashiontextilegallery
5. Baby Bangs
You know those teeny tiny hairs around your hairline that are really annoying and seem to get in the way every time you style your hair? Hair stylists at fashion week decided it's time for them to come out and actually feature in your 'do! And the effect is really cute: gelled strands of 'baby bangs' pair perfectly with the wet look, and were even seen as weeny little braids at Alexander McQueen.
Seen at: Versace, Alexander McQueen, Dries Van Noten (who used tiny feathers as 'bangs'), Bora Aksu
Best for: Those who have loads of hair and aren't sure what to do with it
Products to try: As mentioned above, Herbal Choice Mari Organic glass gel is great for this look.
Image: @versace
6. Caps
Ok, so it's not really a hairdo as much as a means to cover one up, but frankly, caps (and hats) were all over the catwalks, so it just makes sense to add them here. They were seen in all types of styles, from baker boy to newsboy caps, but what united the look was the fact that underneath, it was clear that hair was pulled back off the face, be it via braids or a brushed-back 'do.
Seen at: Max Mara, Prada, Michael Kors, Tommy Hilfiger, Sportmax, Ych
Best for: Bad hair days!
Products to try: Well, you don't need a hairstyling product – just a nice (preferably vegan) cap, like this one.
Image: @MaxMara
6. California Blonde
This was one of the most surprising Fashion Week hair trends – I mean, who expected Bella Hadid or Kendall Jenner would ever go Barbie Doll blonde? But they did (on certain catwalks, that is). This is, perhaps, a look best achieved with wigs if your hair is as dark as the two above mentioned models' is – bleaching is one of the most damaging things you can do to thick, dark hair. But if you're naturally mousy brown or dirty blonde, this look is a totally achievable – and light, refreshing – one.
Seen at: Peter Pilotto, Oscar de la Renta, Kate Spade
Best for: Those with mousy or dirty brown hair
Natural products to try: Madison Reed makes great natural hair dyes for blondes
Image: Peter Pilotto via @nahla.photos
7. Voluminous Waves
You know that look your hair gets when you're on holiday by the sea? That's the style we saw quite a bit on models this Fashion Week. It's easy to achieve: just loosely braid your hair when it's wet and quickly blow dry. Undo the braids, add a volumizing product to the crown, mess the hair up a bit with your fingers, and you're good to go with beautiful curly hair, like these fabulous looks seen at Ych.
Seen at: Ych, Peter Pilotto, Paul & Joe
Best for: Those with longer or rectangular faces
Products to try: Blow drying wavy hair can be tough: you want it to have volume without being frizzy. To get the look, try Herbivore Coconut Sea Mist Hair Texturizer
Image: @Ych Instagram, and Ych
8. Headbands
From delicate, tiara-like headbands to silky wide headscarves, accessories were used on the runway to pull hair back and keep it off the face. They look best with a center part and hair flowing at full volume, or copy the off-duty model look and scrape hair back and cover your hairline with a wide band, like Kaia Gerber, below.
Seen at: Simone Rocha, Dolce & Gabbana, Missoni
Best for: Everyone!
Image: @perfect_dress, @kaiagerber
9. Hair Decorations
Whether they're barrettes, tiny pearls, bows, sequins or stick on decals, hair decorations dominated the runway! It's hard to pinpoint when exactly hair decorations started trending, but they've been having a renaissance for at least a year or so. There are hundreds of options to shop online now, from shimmery hair clips to beaded bobby pins. Whatever you choose, just make sure it makes a bold statement!
Seen at: Simone Rocha, Dolce & Gabbana, Ashish, Bibhu Mohapatra, Simon Mo
Best for: Everyone
Image: Simon Mo
10. Big, Backcombed Hair
The 1960s started the trend for big hair, and it was revived in the 80s, as seen many times on the heads of the stars of hit shows like Dynasty and Dallas. Today, it's back yet once again!
Yep that's right: voluminous, vertical hair was a key beauty trend in London this season. At one end of the scale was Julien Macdonald, whose 'Julien x Gabriela' presentation featured tumbling waves and glamorous blowouts, while Yuhan Wang, on the other hand, showed structural wigs in horizontal shapes that bordered on the abstract.
Seen at: Julien Macdonald, Yuhan Wang, Fyodor Golan
Best for: Those with plenty of hair!
Natural products to try: For this look to work, you're going to need some spray – well, plenty of spray, actually! Again, we recommend Rahua Defining Hair Spray since it's so natural, and because it works!
Image: @kenpaves hair for Julien Macdonald
Main image: Dolce & Gabbana Image 2 @victoriabeckham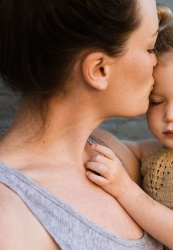 Latest posts by Diane Small
(see all)